After weeks of planning and preparation in light of the latest wave of COVID-19 cases, Americans can now sign up to get free COVID-19 tests shipped to their homes.
The Biden administration's latest testing initiative opened on Tuesday, allowing Americans to sign up to get four at-home rapid antigen COVID-19 test kits shipped directly to their homes for free. Depending on their location, some Americans won't be able to sign up until Wednesday.
You can easily enter your details to get four free COVID-19 test kits delivered with the U.S. Postal Service – the entire process takes less than a minute. There's a limit of one order per residential address. Test kits are expected to ship in late January.
Click here to place your order.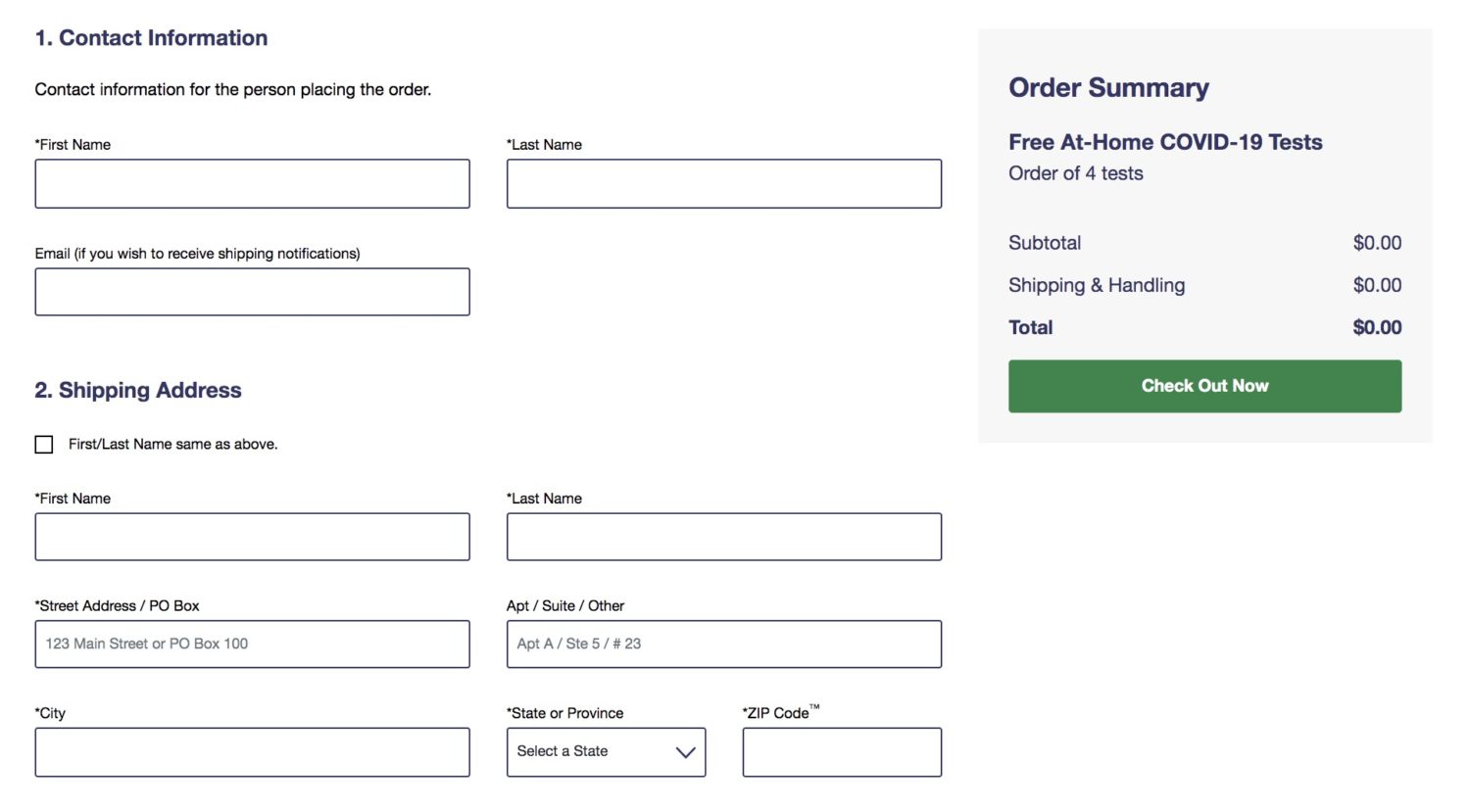 But international travelers shouldn't count on using these free tests for an upcoming trip.
The Centers for Disease Control and Prevention (CDC) requires all travelers flying to the U.S. to provide a negative COVID-19 test taken no more than one calendar day before departure. And while rapid antigen tests qualify, there's a catch: They must include a supervised telehealth appointment. 
That means these free tests provided by the U.S. government won't make the cut – you'll perform these free tests all on your own. Instead, you'll need one of just a few types of tests that are eligible, like the popular Abbott BinaxNOW tests – which recently got a major shelf-life extension.

Read our review of using at-home tests for international travel!
These free tests also won't pass muster for entering Hawaii, which requires either proof of full vaccination or a negative result from a PCR COVID-19 test.
As COVID-19 cases have skyrocketed due to the faster spreading Omicron variant, the Biden administration has turned its attention to improving supplies of rapid antigen tests as pharmacy shelves across the country have sat empty.
While considered less reliable than the "gold standard" PCR tests, rapid antigen tests provide results within 15 minutes and can help determine whether someone is currently contagious for COVID-19 to limit spread of the virus. It's unclear which brand – or brands – of tests will be distributed to Americnas through this program.
The Biden administration recently announced it had purchased 500 million tests to distribute to Americans, including through this new, free mailing program. The White House has also required insurance companies to reimburse Americans for the cost of up to eight tests a month.
Click here to order your free at-home testing kits!

This is a breaking news story, check back for more details.