Check your inboxes, Delta flyers: You could be eligible to earn up to 2,000 extra SkyMiles on coffees, cold brews, or even pumpkin spice lattes from Starbucks in the next few weeks.
Delta and Starbucks are out with a new targeted offer, allowing you to earn 1,000 SkyMiles when you visit Starbucks two (or for some members, three) times in one week, making at least a $2 purchase each visit. Plus, members who complete their visits
To take advantage, you have to register for the promotion by Sept. 12 – and the one-week countdown starts the day you enroll.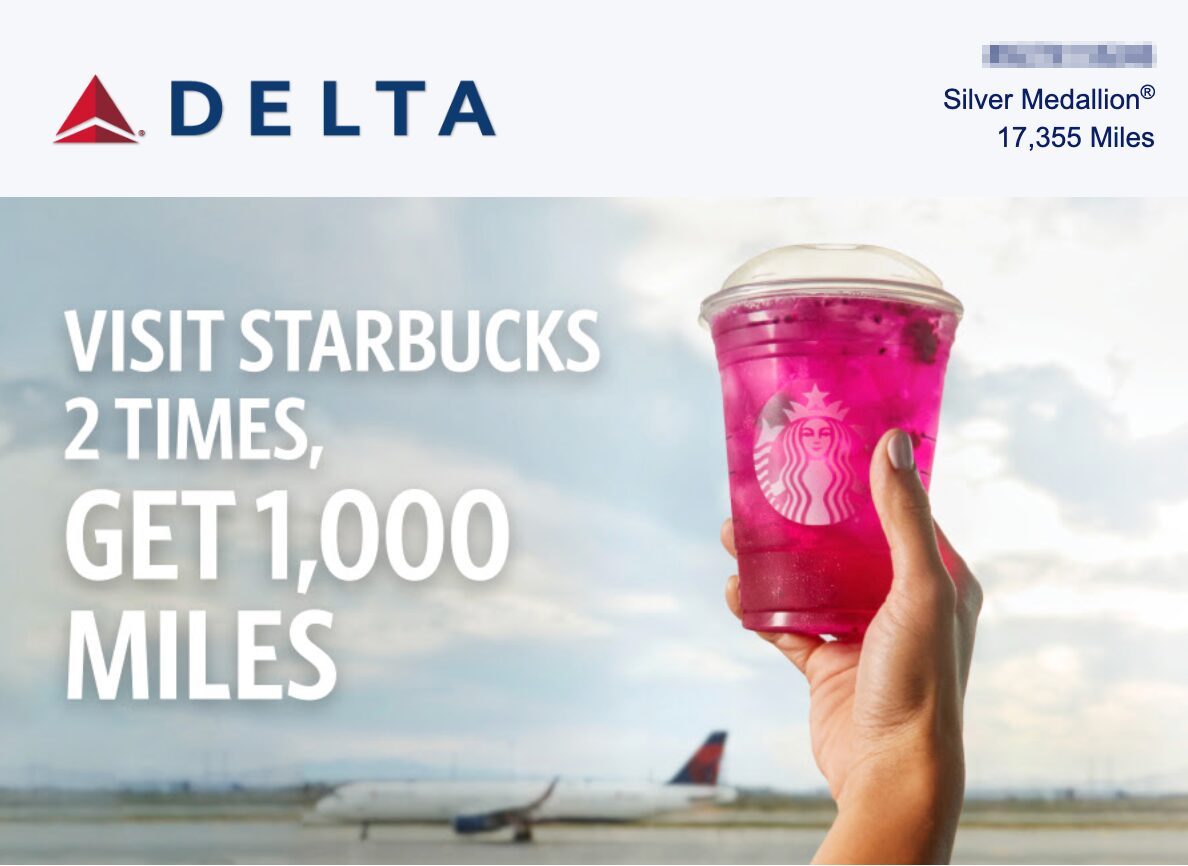 The offer appears to be targeted at SkyMiles members who have already linked their Delta and Starbucks Rewards accounts. Several members of the Thrifty Traveler team received emails on Wednesday with links to register for the promotion.

Not all offers are equal: Some only require two visits to Starbucks in a week while others say you need to visit three times to reap the bonus.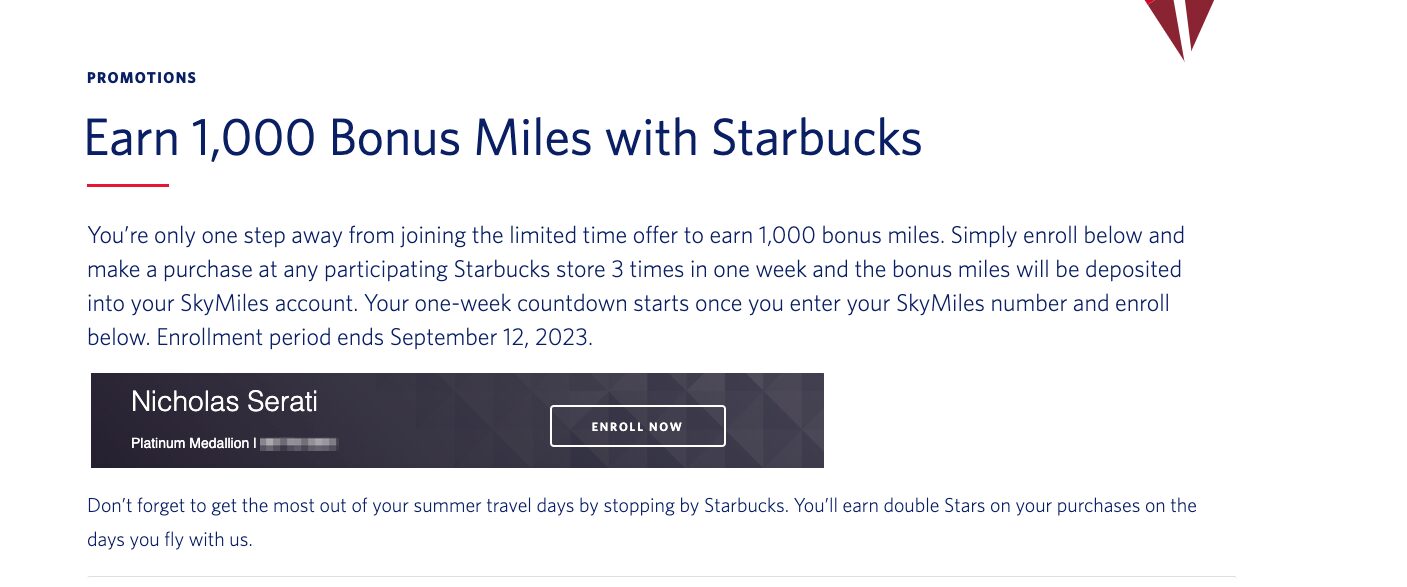 But it gets better: Once you've completed your visits and earned your bonus SkyMiles, Delta may email you with another offer to earn another 1,000 SkyMiles by making three more visits to Starbucks in the next seven days. The clock starts the day you get the email. All told, you could earn a total of 2,000 Delta SkyMiles for placing at least five (or six) orders at Starbucks in two weeks.
It's unclear if every SkyMiles member will get this secondary promotion, but multiple members of the Thrifty Traveler team received it after earning their initial 1,000 bonus Delta miles.

Delta and Starbucks nearly broke the internet when they teamed up late last year, allowing travelers to link their accounts and earn SkyMiles on every coffee order and double Starbucks Rewards Stars on select purchases.
Travelers earn 1x SkyMile per $1 spent on eligible Starbucks purchases – everything except gift cards, alcohol, tax, and tips count towards earning bonus SkyMiles at participating Starbucks stores.
On days when you're catching a Delta flight, you'll also earn double stars in your Starbucks Rewards account.
Earning an extra 7 SkyMiles for that $7 Venti Vanilla Sweet Cream Cold Brew won't exactly leave your SkyMiles account overflowing … but every little bit helps, right? But from earning SkyMiles on Instacart grocery deliveries to adding to your balance when you rent an Airbnb, book a Turo car rental, or hop in a Lyft, it's just another way to earn a few more Delta miles on what you're purchasing anyhow. And, this latest promotion just sweetens the deal.
To link your accounts, head to deltastarbucks.com, enter your SkyMiles account information, validate your Starbucks Rewards account, and you'll start earning SkyMiles at Starbucks.
Bottom Line
Delta and Starbucks are offering SkyMiles members who link their accounts the chance to earn up to 2,000 bonus miles when they visit the coffee chain at least five (or six) times in two weeks.
The targeted promotion was emailed to SkyMiles members. While it's not a ton of SkyMiles, it's more than you'll typically earn on your Starbucks order – and every little bit helps.