If you've got The Platinum Card® from American Express in your wallet and your big annual fee is due soon, you might want to give the number on the back of your card a call – or chat with an online agent before paying up.
From discounted annual fees to big points bonuses, retention offers are the banks' way of encouraging customers to keep their cards rather than canceling. And many cardholders (including myself and other members of the Thrifty Traveler staff) have recently received Amex Platinum retention offers of up to $500 or 60,000 American Express Membership Rewards points to keep their card open for yet another year.
American Express is clearly eager to keep travelers around. After adding a slew of new benefits while raising the annual fee last year, 2022 is the first year many cardholders are seeing that higher $695 price tag (see rates & fees) on their renewals. A retention offer can help take the sting out of those higher fees.
Read our guide on Amex Platinum benefits to learn more!
So if you are renewing soon (or anytime this year, really), calling American Express to seek a retention offer is a wise move … whether you're seriously considering canceling or downgrading that card or not.

Click Here to learn more about the Platinum Card from American Express. 
Amex Platinum Retention Offers: What's Available?
Just how big are these retention offers of bonus points or statement credits? Well, it depends. But we've seen and heard firsthand how generous American Express is willing to be in order to get consumers to keep their Platinum cards for another year at a higher price point:
A year ago, I was offered 60,000 points for spending $4,000 within three months to keep my card open which I had originally opened in 2020. Just today, I was offered another 30,000 points after spending $3,000 in the next three months.
A few weeks ago, Thrifty Traveler executive editor Kyle messaged Amex via online chat in his account and said he was considering canceling his Platinum Card. After running through the list of new benefits, he was offered 55,000 Membership Rewards points for spending $4,000 in the next three months.
Our points & miles reporter Peter was recently offered a choice between 30,000 points after spending $3,000 within three months or a $400 statement credit for the same spending requirement.
We've heard from other readers who received similar offers, including some annual fee discounts or points bonuses without any spending requirements.
Exactly what's available to you depends on many factors, including how long you've had your card open, how much you spend on it per year, your history with American Express, whether you've accepted a retention offer in the last year, and more. But even if you have no plans of closing your card account, it's worth a call or a quick online chat.
Not getting the offer you want when you call? We always suggest hanging up and calling again to see if another customer service representative has a better offer. In the case of Amex, it seems the offers are predetermined in your account – not something you can change by trying again. Still, it's always worth a shot later on to see if another agent can produce a better offer.
Related Reading: Amex Platinum Card Annual Fees Will Keep Rising, CEO Suggests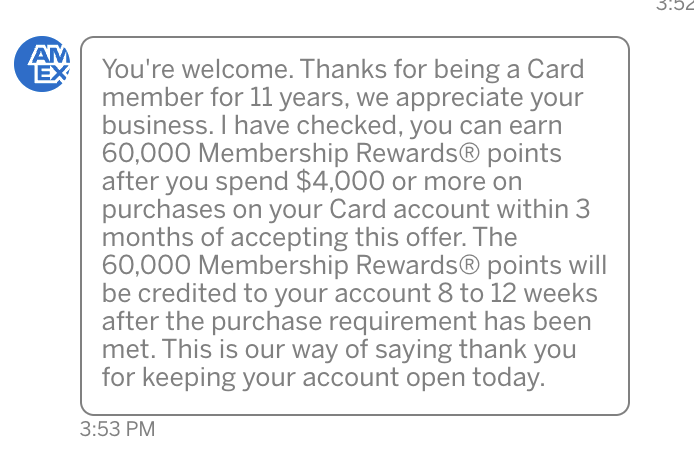 But you may need to time it right … after the annual fee initially hits your account.
When I first reached out to American Express about a retention offer last week, the $695 annual fee had not been posted to my account yet. At that time, an Amex agent told me there were no retention offers available to keep my card open. But after that fee hit my card this week, I reached back out … and sure enough, there was now a retention offer available: 30,000 points after spending $3,000 in the next three months.
Even if you don't get a retention offer, you'll still have 30 days to cancel your card and get a full refund of the charged annual fee.
The Scoop on Amex Platinum Retention Offers
With the Amex Platinum card and any credit card, it always makes sense to call (or send an online message to) your bank and see if there are any incentives to stick around before you cancel a credit card. These incentives are called retention offers.
Read our full guide on retention offers. 
Annual fees are big business for the banks, and they certainly aren't shielded from the economic downturn the pandemic caused over the past few years. In Amex's case, they need to keep their most coveted Platinum cardholders after a hefty annual fee increase. And dishing out a big retention offer is often much easier than attracting a new customer. Needless to say, Amex is dishing out a ton of points.
American Express is generally one of the more generous banks when it comes to retention offers. That was true before COVID-19, and it's even more true today. We've seen many data points suggesting Amex Platinum retention offers are plentiful. But even if you have a card like the American Express® Gold Card, the American Express® Green Card, or even a co-branded Delta or Hilton credit card, it is worth calling Amex to see what offers are available.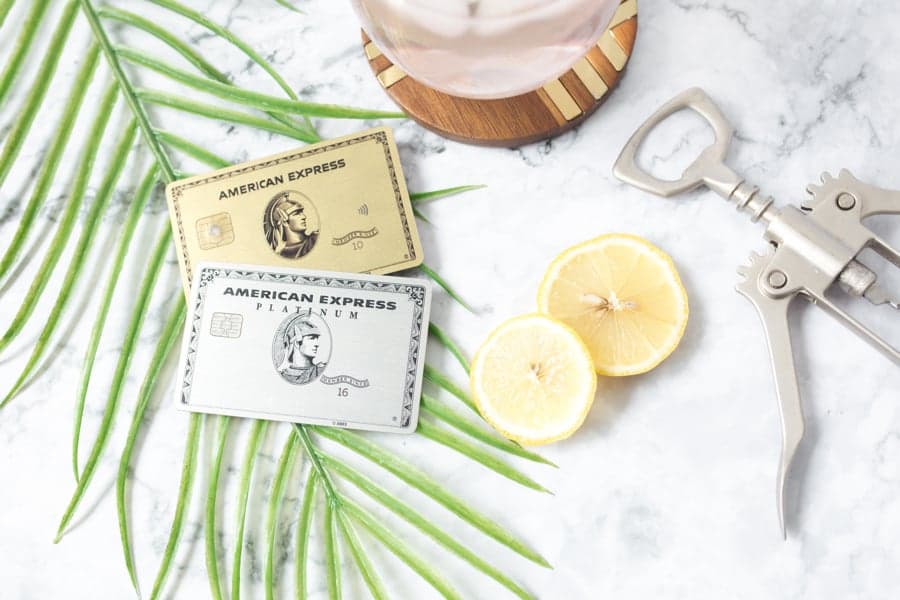 Even if you have no intention of canceling your card, it never hurts to ask. Worst case scenario, there are not any retention offers attached to your account. That could make your decision to cancel easier.
Simply chat online with an Amex representative, or call 1-800-525-3355 or the phone number on the back of your Platinum card to see if you have offers associated with your Platinum Card account.
In almost every case, an agent will run you through the list of benefits on the card in an effort to convince you to keep the card open. Simply explain that you're aware of the benefits of the card but that they don't outweigh the cost of keeping the card open for another year … unless there are any additional incentives to keep you around.
Related reading: Is the $695 Amex Platinum Annual Fee Worth It? An Honest Review
Bottom Line
For yet another year, many Amex Platinum cardholders are reporting being offered massive retention offers – of up to 55,000 or 60,000 points, or $600 – to keep their cards open for another year. That alone can make it easy to justify keeping the card open for at least one more year.
Even if you have no intention of closing your card, it never hurts to call the number on the back of your card and see if you are eligible for an Amex Platinum retention offer.