American Express has been synonymous with credit cards for decades. But last year, the titan of travel rewards cards launched a new digital checking account for small business owners… with a debit card that earns points on purchases. Amex is sweetening the deal for new business-checking customers – but only if you take advantage by tomorrow!
Through tomorrow, Jan. 3, small business owners (or anybody who qualifies for a business credit card or checking account … and that might be you!) can earn 60,000 American Express Membership Rewards points for opening an American Express Business Checking account and completing a few qualifying activities – namely, by depositing at least $5,000 and making at least 10 transactions in the first 60 days.
Keep in mind: You don't need a massive business to qualify for an Amex business credit card or checking account. Everything from a sole proprietorship to a side hustle can qualify. And this is the biggest bonus we've seen for a new business checking account from Amex – up from previous bonuses of 20,000 to 30,000 points.
Let's walk through some of the basics of this account and what you'll need to know to earn this great bonus.


How to Get the 60,000-Point Amex Business Checking Offer
Through tomorrow, Jan. 3, 2023, Amex is offering 60,000 Amex Membership Rewards points to new customers who apply for an American Express Business Checking account and complete a few qualifying activities. Here's what you need to do to earn that bonus:
Start by going to the American Express Business Checking homepage.
Once you open your account, you'll need to make $5,000 of eligible deposits within the first 20 days of opening your account.
You'll need to maintain an average account balance of at least $5,000 for the first 60 days your account is open.
You need to make 10 or more "qualifying transactions" within the first 60 days your account is open.
Qualifying transactions include mobile deposits, electronic transactions like ACH (including direct deposit and transfers from other banks), wire transfers, and bill payments. Debit card transactions from the associated card and deposits of points into your checking account are not qualifying transactions. 
That means, you could make ten different transfers of $500 each from other bank accounts totaling up to the $5,000 required for this promotion, let it sit for 60 days and you will get the 60,000 points. If you qualify to open an account, this is a pretty easy way to earn 60,000 Membership Rewards points.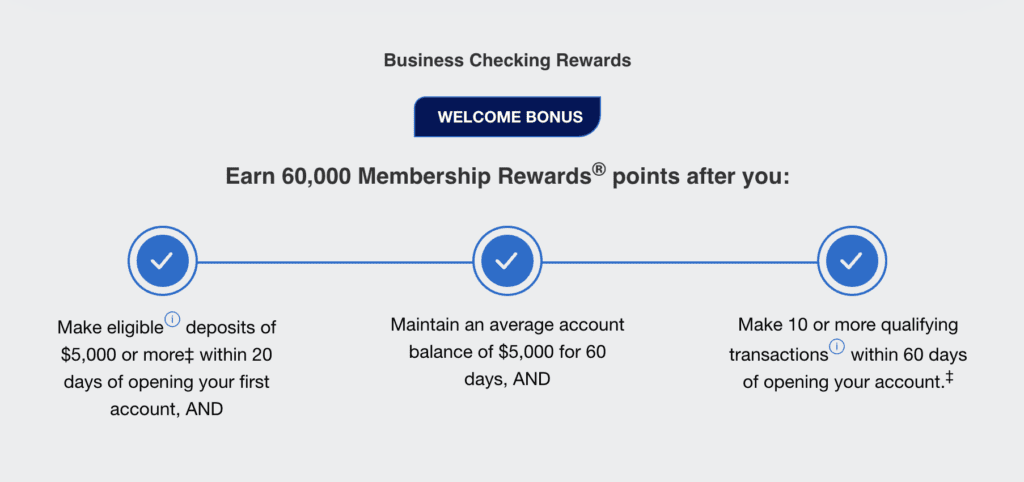 American Express Business Checking: What You Need to Know
Here are some details of Amex's business checking account that you'll want to be aware of:
Accountholders will earn 1.3% APY on balances up to $500,000.
The account has no monthly maintenance fees, and no monthly minimum balance requirements – just remember you'll need to make a minimum deposit of $5,000 and keep it there in order to earn the bonus.
You'll have access to fee-free ATM withdrawals at over 37,000 MoneyPass ATM locations nationwide
You'll earn 1 Membership Rewards point for every $2 of eligible debit card purchases. That's not a great value, and you generally shouldn't be using the card for purchases – you can do much better with a credit card.
Already an Amex account holder? This account is integrated into the Amex app which allows you to manage the checking account along with your other Amex card accounts.
If you have a card open that earns Membership Rewards points, you can redeem the points associated with the account the same way as you use points earned from cards. However, if you don't have a card that earns Membership Rewards, you will only be able to redeem your points for deposits into your checking account.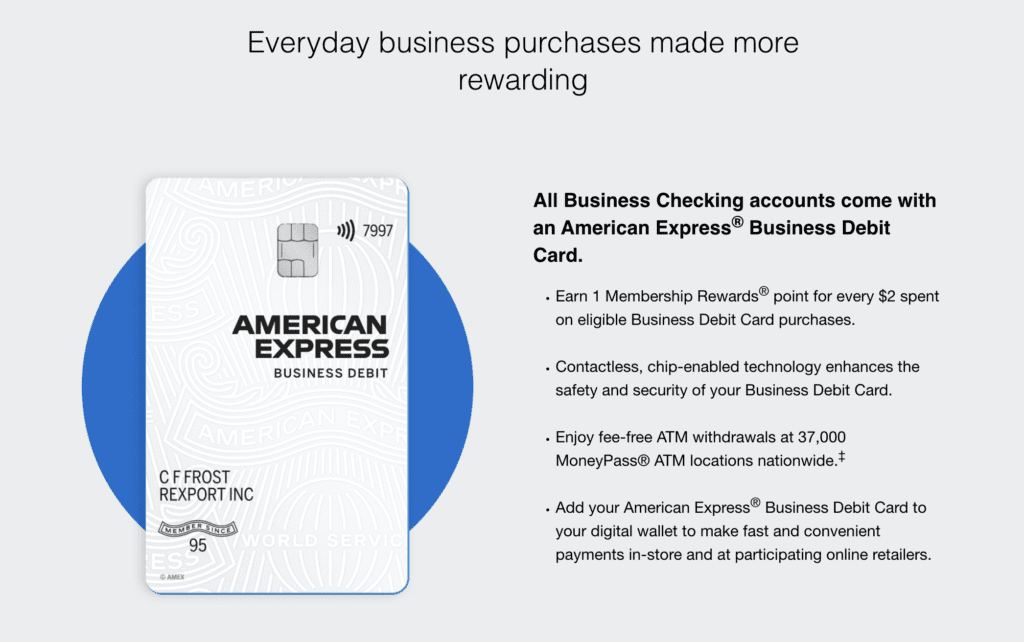 Bottom Line
American Express is out with a great new offer on its American Express Business Checking account for new customers – allowing you to earn up to 60,000 Membership Rewards by opening a new account and completing a few, simple qualifying activities.
But don't wait if you are interested, as this offer is only around through tomorrow, Jan. 3, 2023.
Open an American Express Business Checking account here