As many travel restrictions have faded away across the globe, one unpopular policy remains in place for Americans heading abroad: You need a negative COVID-19 test before flying back from any trip to the U.S. 
It doesn't matter where you're going and whether you've been fully vaccinated, you'll need to track down and take a COVID-19 test in your foreign destination in order to fly home. This requirement has gotten stricter since it was first put in place in early 2021, as you now need a negative test no more than one calendar day before flying to the U.S.
The prospect of testing positive and being forced to quarantine abroad – and foot the cost for a prolonged stay – has been enough for many travelers to put off international travel until it disappears. Despite month's of pressure from airlines and travel industry groups to drop it, there's still no clear sign on when these international testing requirements will end.
The good news? Over time, it's gotten much easier to get the test you need to fly home after an international trip. Both PCR and the cheaper (and much faster) rapid antigen tests qualify. Many hotels, resorts, and even some airports have stepped up to provide testing onsite. And certain at-home testing kits have emerged as perhaps the best way to satisfy this requirement.
Still, there are plenty of potential problems and pitfalls with this international testing requirement that could throw a wrench in your upcoming trip. Here's everything you need to know.
Want updates on this policy and other travel news? Sign up to get our free daily newsletter!

Do You Really Need to Get Tested Before Coming Home?
Yes. No ifs, ands, or buts about it.
This requirement applies to all travelers boarding flights for the U.S., including citizens returning home from a trip abroad, according to the CDC's order first issued in January 2021. So whether you're heading to Mexico, Canada, the Caribbean, making way for Europe, or all the way to the Maldives, you will need to get a COVID-19 test before returning to the U.S.
The rules have gotten much stricter since this requirement first went into effect. After previously giving travelers a three-day window to get tested before flying to the U.S., flyers now have just one calendar day before departure to get a test.
There are only two exceptions for travelers. Children under 2 do not need to be tested. And if you've recovered from COVID-19 recently, you may be exempt, too – more on that shortly.
What Kind of Test and Documentation Do You Need?
You'll need to provide a negative COVID-19 result from a test taken no more than one calendar day before your flight to the U.S. departs.
The CDC's order states it must be either a nucleic acid amplification test (NAAT), like a PCR test, or an antigen test to qualify. And it must have information to verify the results, including the name and contact details of the lab, clinic, hospital, or healthcare personnel that performed the test.
The CDC is leaving it up to airlines to enforce these testing requirements. Airline agents will check to make sure you have a negative test result when you check-in for your flight. In some cases, they may check again at boarding.

Either a paper or a digital result should suffice, however, some airlines are requiring a paper copy. So check your airline's rules to make sure you have the right documentation.
You will also need to present a completed and signed attestation form confirming your negative COVID-19 test result. If you do not have this form along with your negative COVID-19 test results, you will be denied boarding. Most airlines have these forms available at check-in desks or at boarding and may also send you this form when you're notified that it's time to check-in for your flight.
Some airlines including Delta, American, and United have implemented digital systems online and through smartphone apps that allow travelers to upload their documentation, allowing them to check in online and skip the time-consuming process at the airport. You can even complete the attestation form this way, too.
For example, our editor Kyle uploaded a screenshot of his negative test result and passport information through Delta's FlyReady portal for a recent trip home from Cancún (CUN). The process took just a few minutes.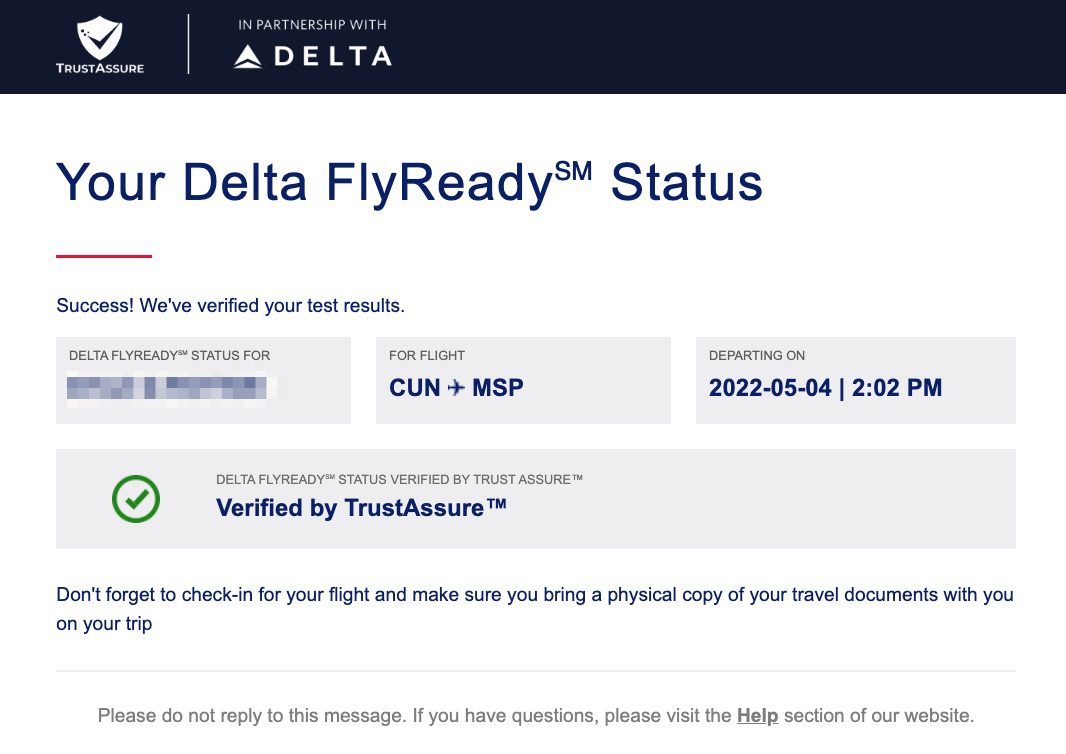 Without a qualifying test result, you will be denied boarding for your flight (and could face criminal penalties). While there have been reports about airlines slacking recently on confirming negative test results, it's not worth the risk. Plus, CDC agents are in place at some airports to confirm inbound travelers have negative test results while clearing customs and immigration.
So yes, you really need a test.
Do At-Home Test Kits Work?
Yes … but not just any test you buy at your nearest pharmacy will work.
Within months of launching this new testing requirement for international travel, the CDC made a great change: They began allowing self-testing kits, too. As the rules around testing to fly back to the U.S. tightened last winter, these at-home test kits have become our go-to way to get a negative test abroad.
But not just any test will fit the bill. Critically, it must be an FDA-approved self-test kit. And the test itself must include a telehealth appointment, where a medical professional supervises your sample collection via webcam. That means any ordinary rapid test you can find off the shelf at your local pharmacy probably won't do.
Just a few months ago, tracking down one of these tests was a tall task. Fortunately, it's gotten much easier lately. You can get: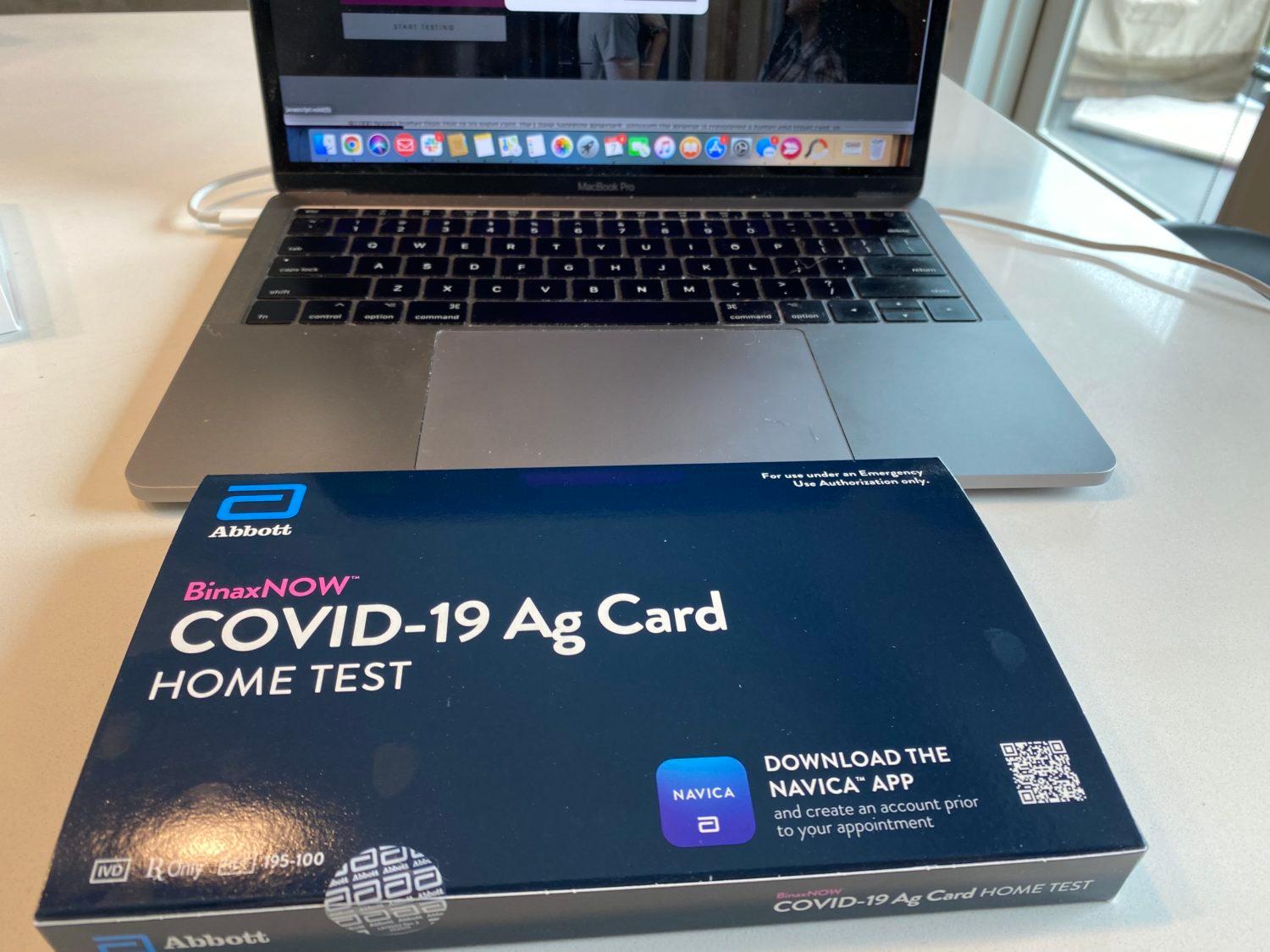 Read our review of at-home testing kits for travel! 
With any of these tests, you're set. You'll be able to schedule your appointment to get your sample, process the test, and get your results within just 15 to 20 minutes. After months of issues tracking down these tests due to low supplies, there should be no problem ordering these tests online.
Be warned: Make sure it's one of these tests and not a lookalike. You can buy some Abbott at-home test kits over the counter for a far cheaper price, but they don't include the necessary telehealth appointment. Without that, you'll be stuck abroad.
One other note: It's not a bad idea to throw a backup test kit in your bag, just in case there's an issue with your first test or you get a false positive result on the first go-around.
What if You've Already Had COVID-19? Or Been Vaccinated?
Are you fully vaccinated? It doesn't matter. You still need to get that negative COVID-19 test to fly back home.
If you have tested positive for COVID-19 within the three months prior to your trip, no longer have symptoms, and have been cleared to travel, you may not need to get a test before returning home.
But travelers who have already had COVID-19 will need to present documentation of their previous positive test result and a letter from a health care provider stating they have been cleared to travel. If you tested positive more than 90 days prior to your return flight to the U.S., you will still need to get another COVID-19 test to fly home.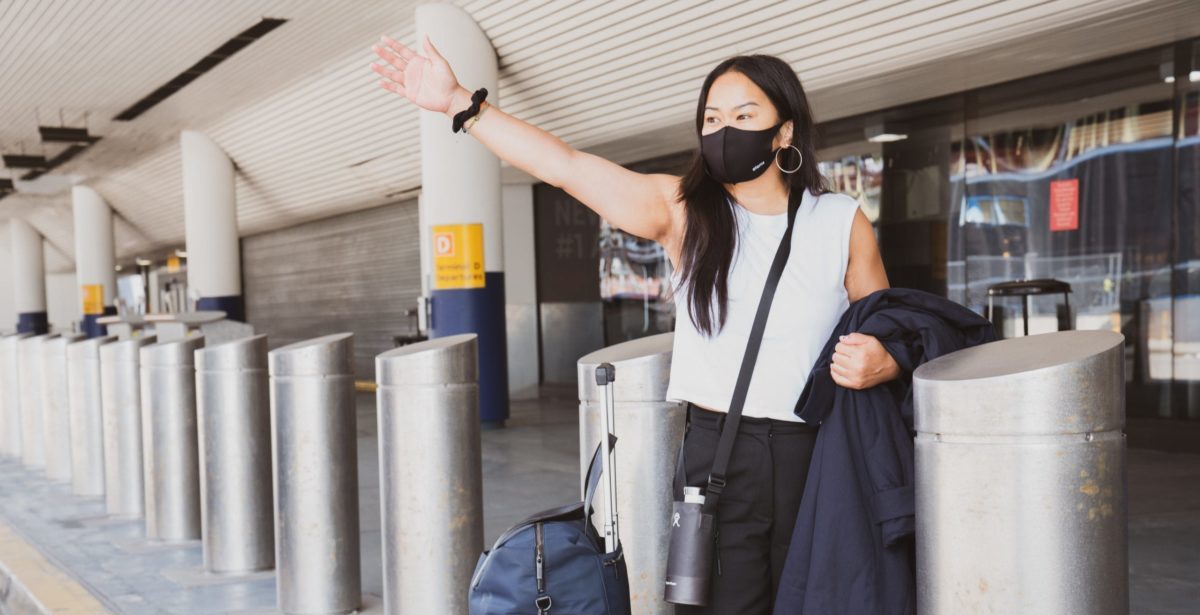 Read more: 'What If I've Had COVID?' How to Bypass Testing to Fly Home from Abroad

Does This Apply to Every Country?
Yes. 
No matter which country you're heading to and what entry requirements are in place there, you'll need a negative COVID-19 test in order to fly back home.
How About Hawaii, U.S. Virgin Islands & Puerto Rico?
U.S. states and territories are exempt from this order.
You will not have to take a test to return to the mainland U.S. from U.S. territories and states. That includes Alaska, Hawaii, Puerto Rico, the U.S. Virgin Islands, and Guam.
Should You Cancel or Delay International Travel?
This is the big question on many travelers' minds. And the answer is very personal.
Almost a year and a half since this policy took effect, it remains a hurdle for international travel. Finding a test abroad can be daunting for many travelers, though it's gotten much easier in recent months. But the threat of being forced to quarantine abroad (often at your own expense) if a test comes back positive is enough to scare many travelers into staying closer to home.
After trips to Spain, Iceland, Italy, Germany, and France, getting a test abroad is not as challenging as it may seem. But there's no question it adds more stress to traveling right now.
Read more: Tips to Find a COVID-19 Test Abroad
Do You Need Travel Insurance? What Will it Cover?
There are a couple of things to consider when looking for travel insurance for COVID-related complications.
Many travel insurance policies will provide medical coverage if you contract COVID-19 – and some destinations require you to have a health insurance policy for entry. If you want a policy that will reimburse you if you decide to cancel an upcoming trip, not just any travel plan will do: You need one with a "cancel for any reason" clause. And those can be expensive.
Read more: COVID-19 and Travel Insurance: All Your Questions Answered
If you wind up stuck in your destination due to a COVID-19 infection, travel insurance may not help you cover the costs of an extended stay. Some policies offer a "quarantine indemnity allowance," which could help cover some of those additional costs.
Now more than ever, it's critical to read the fine print. Every travel insurance plan is different, so read the full policy and make sure you understand what you're getting – and what you won't.
How Long Will These Requirements Last?
We don't know for sure.
While many expected that providing proof of vaccination would replace this testing requirement, that hasn't happened yet. Wave after wave of COVID-19 infections have led the Biden administration to proceed cautiously when it comes to this travel restriction – especially after the abrupt end of the mask mandate in April.
Earlier this spring, airline executives from Delta expressed optimism that the White House would end the order "in a matter of weeks." Executives from American Airlines echoed that, saying they hoped it would end sometime in May.
Those timelines have come and gone with no word from the White House on the future of these testing requirements. Airlines have renewed their push to drop it, arguing that it's scaring travelers off from trips abroad and unfairly hurting the airline industry.
Countries around the world have dropped pre-travel testing requirements for entry – if not cut all COVID-19 entry precautions altogether. U.S. travel restrictions are increasingly out of step with the rest of the world.
It's only a matter of time before this testing requirement ends. Exactly when that is remains up in the air.
Where Can You Get Tested?
If there's any good news, it's here. While testing capacity was a major problem at the time this requirement was first launched, it has gotten easier and easier in many countries across the globe.
Whether you opt for the gold standard PCR test or the rapid antigen tests, most major cities have plenty of labs where you can schedule an appointment for a test well in advance. At-home testing kits that fit the bill are an option. Resorts in popular tourist destinations in Mexico and the Caribbean have stepped up to provide onsite testing for guests at a steep discount – if not free.
Read up on what it's like to get tested for international travel!

Here are some tips for tracking down a test:
Search for COVID-19 testing labs in your destination – and keep in mind it may be best to end your trip from a major city so you have plenty of options. The U.S. accepts both PCR and rapid antigen tests, which are typically less expensive and can come back with results in as little as 15 to 30 minutes. The best place to find a testing site is on the U.S. Embassy website for your destination.
The U.S. also accepts at-home rapid antigen tests so long as they're performed with a virtual consultation, which means you could throw a kit in your bag and perform your own test before flying home. There are a few cost-effective options, like Abbott BinaxNOW test kits available through eMed as well as supervised appointments you can purchase through Azova for various cheaper testing kits.
Check with your hotel or Airbnb host about nearby testing options.
Many airports are adding testing on site, but be sure to book far in advance in case appointments for your travel date get booked. Also, tests at the airport will likely be more expensive because of the convenience.
What Do Tests Cost?
It varies. But luckily, it's gotten far less expensive.
Our COVID tests in Iceland and Spain cost about $60 each and our rapid test in Italy cost $25. At-home testing kits start at $25- $50 per person. If you want to splurge for a more reliable PCR test, expect to pay roughly $100 to $150 or more.
In many cases, we've seen some resorts offer testing for free to guests, albeit with minimum stay requirements.
What Happens if You Get COVID-19 Abroad?
If you test positive for COVID-19 while abroad, you will be required to quarantine for at least fie to seven days – almost always at your own expense. In order to board your flight back to the U.S., you will need to be cleared for travel by a health professional and provide documentation to that effect.
Each country will have different rules about where you're allowed to quarantine. You may be allowed to quarantine at the hotel you're already staying at if the hotel has a room available. Or you may be required to quarantine at government-approved hotels or accommodations. You will not be allowed to leave your room and will have to get food delivered.
Should You Get Tested Before Your Trip, Too?
You may need to.
While many countries have dropped pre-travel testing requirements for entry, some countries around the world still require COVID-19 tests. Others have begun accepting American tourists with proof of full vaccination. Some destinations, like Mexico, have no restrictions on travelers arriving by plane.
Still, we encourage everyone who has not been fully vaccinated to get tested before any travel – and keep in mind that a single test a few days before your flight does not mean you don't have COVID-19. A multi-layered approach with testing and quarantining before and after your trip is the safest approach.
Read More: The Master Guide to COVID-19 Testing for Travelers

Bottom Line
This COVID-19 testing requirement for international travel has reshaped what it's like to travel abroad. No matter where you're going, you'll need a negative COVID-19 test taken just a day before departure in order to board your flight home. And there's no clear sign that requirement will disappear anytime soon.
There's no question that's gotten easier in recent months. Still, it adds a lot of stress and uncertainty to your next trip abroad.