At $179 a year, CLEAR may not be worth the cost for everyone. But for years, Delta SkyMiles members, credit cardholders, and flyers with Medallion Status could cut that down as low as $79. And when those rates increased two years ago, existing members were grandfathered into their lower prices.
That's changing. Starting Sept. 1, all CLEAR members who signed up through Delta before the April 2019 price hike will pay the new, higher rates, according to an internal Delta memo obtained by Thrifty Traveler. The change is set to be announced Aug. 1, taking effect for all renewing CLEAR members as of Sept. 1.
That means everyday Delta SkyMiles members who signed up for CLEAR years ago for $99 will pay $119 a year for their next renewal. Flyers with Delta Silver, Gold, or Medallion Status or with a Delta co-branded credit card may have locked in a $79 annual rate years ago, but they'll soon pay $109 a year. Delta Diamond status holders will continue getting CLEAR for free.
By first signing up for CLEAR years ago with my Delta SkyMiles® Gold American Express Card, I've paid just $79 a year for years. Come December when my account renews, I'll now pay $109 a year.
In the memo, Delta says CLEAR is driving the pricing change for longtime members to "align all m​embers to one price structure.​" A CLEAR spokesperson did not respond to a request for comment.
Delta isn't the only airline that partners with CLEAR, but the change of heart on pricing won't affect United flyers. Back when CLEAR and United partnered up in summer 2019, their exclusive pricing already matched the increased rate for Delta flyers: $119 for United MileagePlus members, $109 for holding United status or a co-branded credit card, and free for United 1K flyers.
Dissecting the Price Increase
There are no two ways about it: This is a price increase for some of CLEAR's longest and most loyal customers.
Fortunately, the increases are fairly mild. Everyday SkyMiles members who first enrolled in CLEAR years ago will pay $20 more annually. For others, it's a $30 annual increase.
And it's gotten much easier to cover the entire cost of a CLEAR membership since the Platinum Card® from American Express rolled out a brand new $179 CLEAR credit as part of a recent overhaul, covering the full cost of enrollment. Even at these higher price points, you can still use that credit to cover the cost of CLEAR for two!
But that's the rub. At a time when travel is bouncing back, CLEAR has opened the floodgates for more and more travelers to sign up for little to no cost. There was even a recent Amex Offer to get CLEAR free for other American Express cardholders.
In short: CLEAR lanes are about to get much, much busier. That makes this price hike sting a little more for CLEAR's longtime users.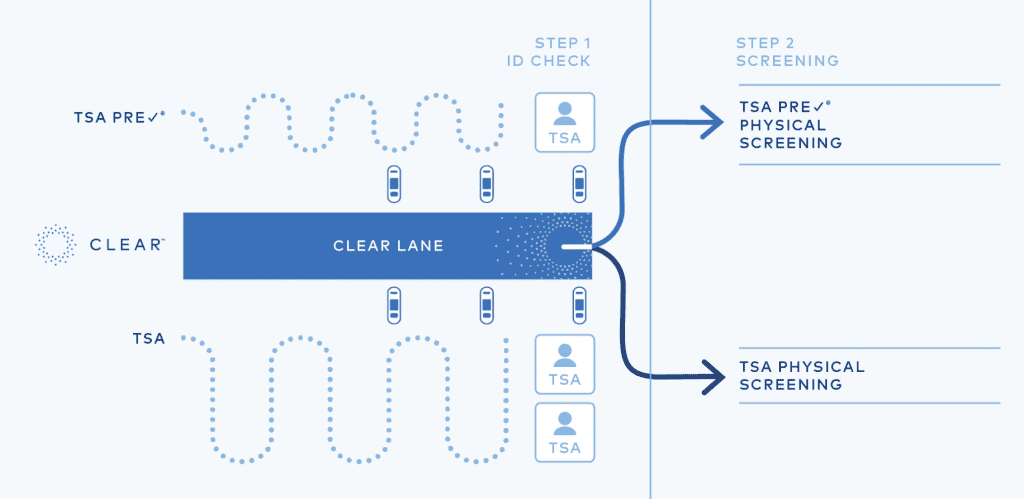 In the best of times, CLEAR can be a great time-saver at the airport, as it allows you to cut to the front of the security line. Have TSA PreCheck, too? You'll get the best of both world, skipping to the front of that shorter line, then waltzing through scanners without worrying about removing your jacket, shoes, or belt while keeping electronics and liquids in your bag.
Initially, CLEAR was available at just a handful of airports around the country. But its partnerships with both Delta and United have helped change that, fueling a major expansion into more than three dozen major U.S. airports, including most United and Delta hubs.
| Airport | Terminal(s) |
| --- | --- |
| Atlanta (ATL) | North & South Domestic Terminals |
| Austin (AUS) | Checkpoints 1 & 2 |
| Baltimore (BWI) | Checkpoints A,B,C, D & E |
| Birmingham (BHM) | Main Terminal |
| Boston (BOS) | Terminal A |
| Chicago-Midway (MDW) | Main Terminal |
| Chicago-O'Hare (ORD) | Terminal 1 & 2 |
| Cincinnati (CVG) | Main Terminal |
| Cleveland (CLE) | Center & South Checkpoints |
| Dallas-Fort Worth (DFW) | Terminal E |
| Dallas-Love Field (DAL) | Terminal 1 |
| Denver (DEN) | North & South Entrances |
| Detroit (DTW) | North & McNamara Terminals |
| Fort Lauderdale (FLL) | Terminals 1 & 2 |
| Houston-Intercontinental (IAH) | Terminals A, B, C and E |
| Houston-Hobby (HOU) | Main Terminal |
| Las Vegas (LAS) | Terminals 1 & 3 |
| Los Angeles (LAX) | Terminals 1 - 7 |
| Miami (MIA) | Checkpoints E & H |
| Minneapolis−Saint Paul (MSP) | Terminal 1 |
| Nashville (BNA) | |
| New Orleans (MSY) | Concourse D |
| New York City-John F. Kennedy (JFK) | Terminals 2 & 4 |
| New York-LaGuardia (LGA) | Terminals C & D |
| Newark (EWR) | Terminal C |
| Westchester County (HPN) | Main Terminal |
| Orlando (MCO) | East & West Security |
| Phoenix (PHX) | Terminals 2,3 & 4 |
| Sacramento (SMF) | Terminal A & B |
| Salt Lake City (SLC) | Terminals 1 & 2 |
| San Antonio (SAT) | Terminals A & B |
| San Francisco (SFO) | Terminals 1-3, International Terminals A & G |
| San Jose (SJC) | Terminal A & C |
| Seattle-Tacoma (SEA) | Checkpoints 1-5 |
| St. Louis (STL) | Terminal 2 |
| Washington, D.C. -Dulles (IAD) | Main Terminal & East Security Checkpoint |
| Washington, D.C.-Reagan (DCA) | Terminals A, B & C |
Check our full guide to using CLEAR!
Bottom Line
CLEAR's longtime members who signed up at a steep discount through Delta will soon pay more. Starting Sept. 1, annual prices are set to increase from $99 to $119 for SkyMiles members – and from $79 to $109 for travelers with Delta Medallion Status or a co-branded Delta card in their wallets.