Before the coronavirus pandemic wreaked havoc on travel, we were huge advocates of booking international flights on foreign airlines. With few exceptions, foreign carriers provide a more comfortable seat, better food, and stronger service than what you get on U.S. carriers like Delta, American, and United. Foreign airlines always top the rankings of the world's best airlines for a reason.
But with the pandemic raging on and creating more and more uncertainty around travel, our thinking has changed. Booking travel with domestic airlines is in your best interest as a consumer right now.
It's one of our top tips for booking travel in uncertain times. And there are two main reasons behind why it may be much wiser to stick with U.S. carriers when you're booking future travel…

Credits Will Be Harder to Use When You Book With Foreign Airlines
Since March, airlines have given travelers some unprecedented flexibility to change or cancel upcoming flights without losing their money.
Depending on when you're scheduled to travel, you can easily change your flight without paying a big change fee – or cancel it and get a voucher for the value of your flight. You may have to pay a fare difference when rescheduling or rebooking a flight, but it's still a good deal.
Read more: How All Major Airlines are Offering Free Change, Cancellation Amid Coronavirus
U.S. airlines have gone a step farther, giving travelers up to two years to use any vouchers earned from canceling an upcoming flight. For example, Delta is giving travelers a voucher to rebook flights through Sept. 30, 2022 after canceling any upcoming flight through the end of 2020.
Many major foreign airlines are offering free change and cancellation, too. But here's the thing: If you need to cancel your flight, you'll be stuck with a credit for that airline. That may work out – and some airlines may allow you to use their credits to book flights on a partner airline.
But it's simply going to be much harder to use up a voucher on Qatar Airways or Japan Airlines than a credit with Delta, United, or American. With international travel largely on pause, your booking options will be much more limited.
I'm dealing with this issue as we speak. I booked an amazing business class deal from New York City (JFK) to Buenos Aires (EZE) in December for just $964 thanks to a Thrifty Traveler Premium deal. Sadly, we need to cancel this trip.
Since I booked this trip through Amex Travel to use the 35% points rebate from the Business Platinum Card from American Express, I needed to work with American Express on the cancelation. As you can see, I now have an Aeromexico voucher for $964.95 that needs to be used for travel starting by August 30, 2021 at the latest. And I have to book by April 30, 2021.
That's not impossible, but it's certainly no slam dunk that international travel will resume in time for me to put this entire voucher to use. And it's going to take much more effort than a voucher on one of the large domestic carriers, which I could easily put to use (and have more time to do so).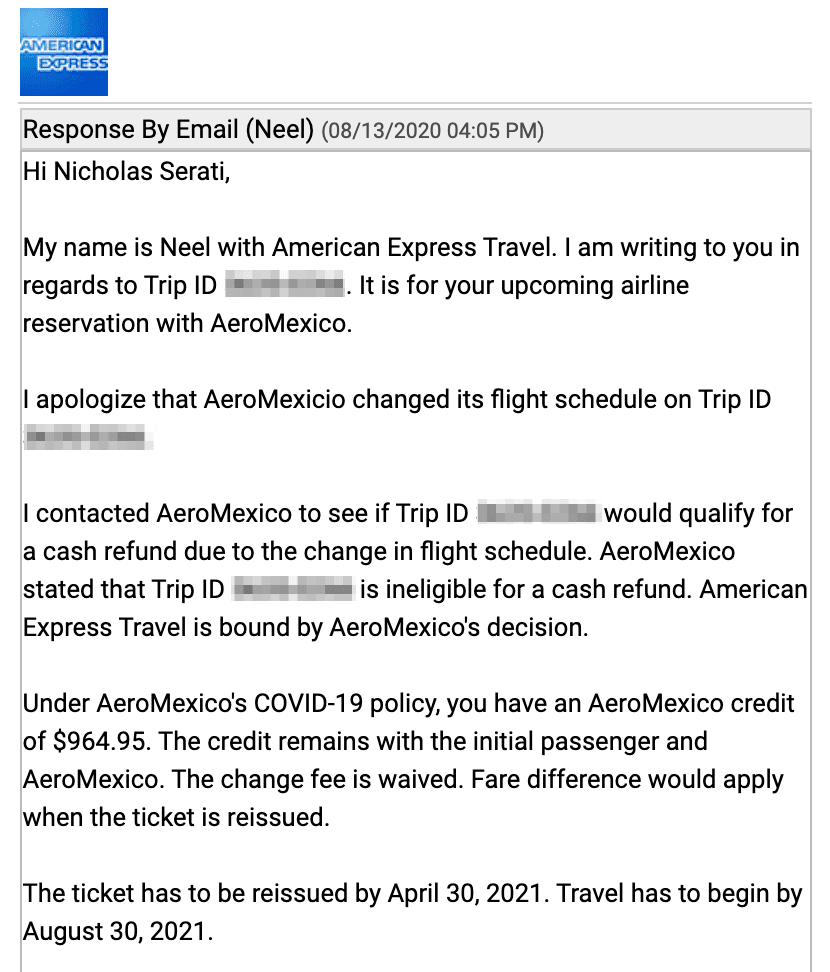 Read: Canceling Flights? Use This Flowchart to Make the Right Decision.
More Problems Getting Refunds
The law is clear: If an airline cancels your flight touching U.S. soil, they owe you a refund. The same is true if they make significant schedule changes. And this law applies to both domestic and foreign airlines.
Read more: Can You Get a Refund Instead of a Voucher?
But in practice, some foreign carriers aren't following the guidance from the Department of Transportation (DOT). Despite repeated warnings from the DOT, some carriers have refused to issue refunds. Air Canada, for example, has specifically said they don't believe the U.S. law applies to them.

In my experience, the same is true with Aeromexico. Our flights were changed drastically, with schedules shifting by more than nine hours and a new requirement to stay overnight in Mexico City on the way down to Buenos Aires. That should trigger a full cash refund.
But Aeromexico has denied the refund, instead offering only a voucher. And I'm not alone: More than 401 complaints seeking refunds from Aeromexico were filed with the Department of Transportation in May alone, according to the latest Air Travel Consumer Report. More than 900 were filed against TAP Air Portugal in May, and Air Canada was the subject of a whopping 1,705 refund complaints.
I have since joined those numbers and filed a complaint about my Aeromexico flights with the DOT, in hopes that regulators will pressure Aeromexico to follow the law and give me a refund. A few weeks later, it's unclear if that will happen.
This situation highlights another important reason to book with domestic airlines: Your odds of getting a refund if your flight gets changed or canceled are higher. 
In theory, refund laws apply to both foreign and domestic carriers. But in practice, most U.S. carriers have been better about doing right by consumers than their foreign counterparts. And while the complaint process can help, it seems foreign airlines are much more willing to flout U.S. law and deny refunds.
Bottom Line
Until travel stabilizes, we think American travelers are probably better off sticking with U.S. airlines whenever possible. The uncertainty surrounding international travel will make any vouchers much easier to use on a domestic carrier for the foreseeable future. And you may have better luck getting your money back if your flight gets changed or canceled.