Fires have been raging across Australia for months, killing more than two dozen people, destroying homes, and devastating wildlife.
The pictures from the fire-ravaged country have been heartbreaking: ashy orange skies, injured animals, and destroyed homes in abandoned towns. The toll is enormous. Australian ecologists estimate that the fires have already killed more than 1 billion animals, pushing even the iconic koala toward endangerment – if not extinction.
Bushfires are relatively common across Australia, but the fires that started in October have been particularly brutal due to severe droughts and rising temperatures. Hundreds of separate fires have combined to burn 15.6 million acres of land and counting, according to BBC News. The fires are expected to stretch into March or April.
But what does that mean for traveling to Australia? And how can you help the country recover? Keep reading.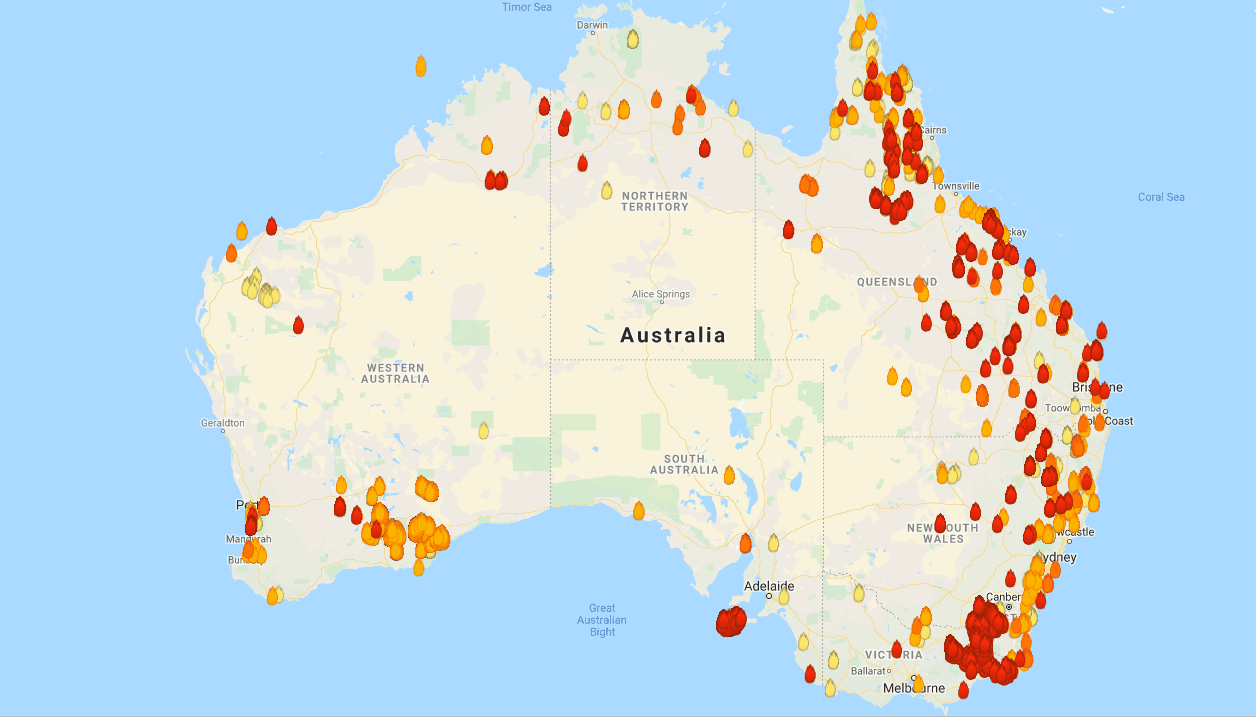 Australia Still Wants (And Needs) Tourists
The setting may be frightening, but Australian officials insist they're still ready to welcome travelers.
"Whilst bushfires continue to impact parts of Australia, many areas are unaffected and most tourism businesses are still open," Tourism Australia said in a Jan. 3 statement.  "It's more important than ever that we rally around our communities and the tourism sector who may have been impacted."
Australian Prime Minister Scott Morrison has even encouraged residents to vacation in Australia rather than leave the country.
Many major tourist sites across Australia remain largely unaffected. The fires have not effected Melbourne or Sydney, although the state of New South Wales – which is home to Sydney – has been hit hard by the fires.
Do Your Research Before You Go
The U.S. State Department issued a Level 2 warning for traveling to Australia this week, urging travelers to exercise caution.
"Tourists should consider postponing their trip to affected areas until the danger of natural disaster has passed," the warning reads. 
The U.S. Embassy in Australia has advised all Americans vacationing in the South Coast to evacuate the area immediately. They are advising travelers in other parts of Australia to exercise extreme caution and to stay up to date on fire locations and air quality, which may be poor even in unaffected areas.
Enrolling in the Smart Traveler Enrollment Program will notify the local U.S. Embassy of your location and help you stay safe traveling. You will also be contacted with up to date emergency and safety information from the embassy.
Tourism Australia recommends following the Australian Bureau of Meteorology to get updates on conditions.
Look into what your airline's policy is in disaster situations. For example, Etihad is waiving all change fees during this national emergency to and from Australia. Just call your airline – or better yet, get a quick response through social media.
How You Can Help
For starters, travel to Australia.
Tourism dollars are almost every country's lifeblood, and Australia is no exception. As the country's tourism board said, it's more important than ever to rally around the country to aid in its recovery.
But if you want to go farther, here are a few reputable Australian charities and organizations that are accepting donations:
Wildlife Information, Rescue and Education Service: Australia's largest wildlife rescue organization desperately needs donations and volunteers. Donate today.
Australian Red Cross: The Australian Red Cross is helping displaced families across the country. Donate today.
St. Vincent de Paul Society of Australia: This organization is helping displaced families with food, housing, bills, and more. Donate today.
Bottom Line
It's a scary situation in Australia, but it will get better. And with your tourist dollars and donations, it could get better faster.
Lead photo courtesy of robdownunder via Flickr