Southwest Airlines is in the midst of an unprecedented meltdown, canceling 2,000-plus flights a day with no sure end in sight. Like millions of Americans, I have a Southwest flight on the books this week that looks to be in peril. Here's what I'm doing to protect myself and ensure I get where I need to go.
Long before any hint of trouble, I booked a Southwest positioning flight to New York City-LaGuardia (LGA) in order to hop on a transatlantic flight for one simple reason: Southwest was the cheapest option … by hundreds of dollars. I'm not afraid of flying Southwest. In fact, I really love the simple, flexible low-cost carrier – especially for a ski trip like this one, as Southwest lets me check my bag of skis for free. It all made sense.
Like many travelers, I locked in this flight months ago … and now it seems I'm going to get caught up in it. Since Christmas Day, Southwest has canceled more than 7,000 flights – nearly two-thirds of their entire operation. And the airline has suggested those mass cancellations will continue at least through the end of the week. My odds of getting off the ground with Southwest tomorrow aren't looking good…
For most travelers this week, the easiest option is to punt on your travel plans, wait for Southwest to cancel, and get a full refund. But I'm dead set on getting to New York. Here's what I'm doing to make sure I do.
Monitoring My Flight Status
From what we've been seeing and hearing over the last few days, Southwest's system is so strained that travelers aren't even getting notified when their flight status changes in many cases, which puts it all on you to figure it out for yourself.
I have Southwest's own flight status tracker up on my phone and I'm continually refreshing today to make sure my flights are OK. As of right now, they are (*Vigorously knocks on wood*).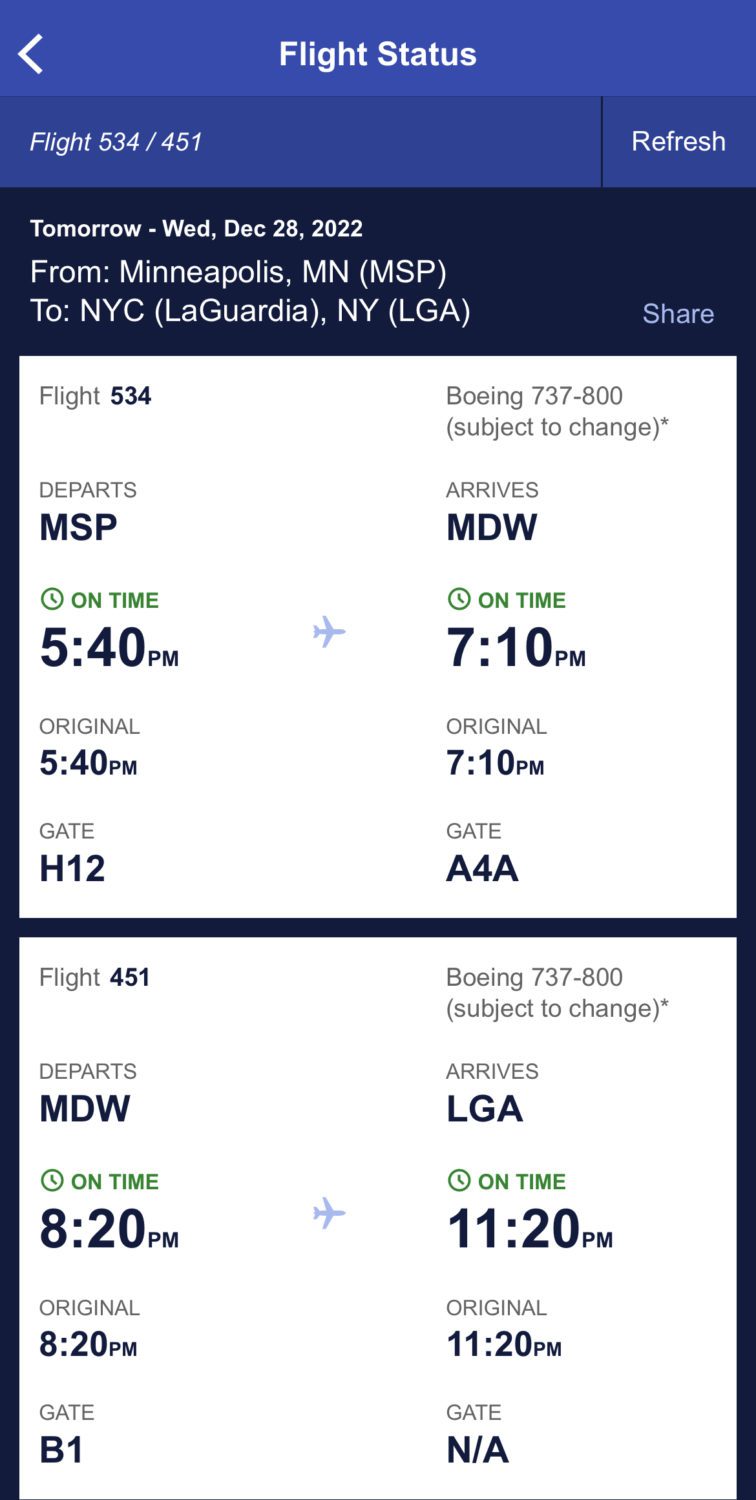 But if we've learned anything from this ordeal, it's that we need to take matters into our own hands, too. On top of tracking my flights through Southwest, I'm also using a few other tools. I'm a Flighty Pro user, so the flight tracking app will send push notifications to my phone if anything from my flight changes. I've already received a few tail number change notifications, which just means the actual aircraft I am scheduled to fly on has changed, but nothing in the way of cancelations yet.

All good there so far, too.
Finally, I've got a tab for Flight Aware open, which has some up-to-the-minute flight data for me, too.

Against all odds, Flight Aware agrees that my flights are not canceled yet.
I'm slightly superstitious, so writing this post is making my skin crawl. But even with lots of green on the board for my flights tomorrow, I need a backup plan.
Provisional Flight Booking: The Backup Plan
Yesterday, when things were starting to look especially bad for Southwest, I fired up the old Google Flights machine to find a backup way to get to New York City.
From Minneapolis (MSP), there weren't too many options left and there were exactly zero affordable options. Still, this was on the earlier end of the Southwest meltdown, so there were far more and cheaper options than there are now. As of this writing, there's nothing to NYC for less than $500 in economy on Wednesday or Thursday.
While I really didn't want to shell out $500 for a one-way positioning flight, I did have some Delta SkyMiles sitting in my account, so I used them to buy a provisional flight to New York City Thursday morning just in case Southwest axes my current plans. The new flight booking cost me an ungodly amount of SkyMiles…like, really bad guys…

My hope is that Southwest operates my flights as normal and then I can cancel this Main Cabin SkyMiles booking and have those miles redeposited in my account.
But if not, I have a way to make my flight Thursday night out of NYC. As long as I don't check in for my Delta flight, I will be allowed to cancel for a full SkyMiles and taxes and fees refund because it's a Main Cabin fare. Fingers crossed I can do so.
Knowing My Rights
So, the walls are closing in on my Southwest flights. It is statistically unlikely my flights will operate tomorrow, so I need to know how to get a refund if and when they cancel my itinerary.
For one, Southwest has issued a system-wide change waiver for all flights through Jan. 2, meaning you can rebook yourself onto any other flight without any change fees or fare difference. That, of course, is easier said than done considering how few available seats there are in Southwest's network right now. If you can, your best bet is to punt your booking as far as 14 days out from your original flight (which is the maximum allowed by the waiver).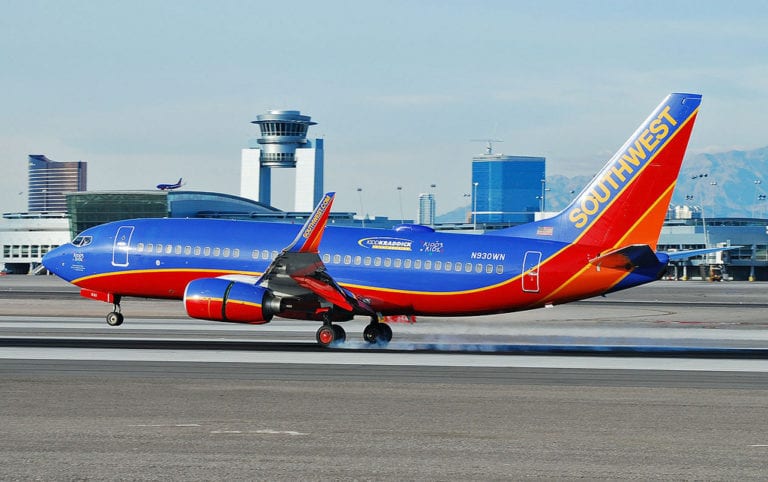 If you can't do that, however, you'll have to request a refund from Southwest if they cancel your itinerary. You can do so on Southwest's website by entering your confirmation number and your first and last name.
Remember: If Southwest cancels your flight, you are due a refund by law. Make sure you request your refund as soon as you can after your cancellation.
Also, you could potentially be reimbursed for some other travel expenses incurred as a result of the cancellations between Dec. 24 and Jan. 2. You have to go through this contact page on Southwest's website. It's important to note that Southwest does not have to honor your requests if they deem them unreasonable. The criteria for "reasonable requests" isn't listed, but Southwest's site does say it will honor reasonable requests for hotel, meal, or alternate transportation reimbursements.
Trip Delay Insurance
There are four travel rewards credit cards that offer some sort of trip delay or cancellation insurance.
Some of these cards have better coverage than others, but you have to have booked the flight with one of these cards to be eligible for the coverage. Even if you used Southwest miles to book, paying the taxes and fees with one of these cards should grant you coverage.
We have a full breakdown of all of these insurance policies on our website. I recommend you check it out to see what you could get back for your Southwest troubles this week.
In my case, I booked this flight with the Platinum Card from American Express, meaning I get trip cancellation and trip interruption coverage up to $10,000 for my troubles on a round-trip ticket under the coverage's "bad weather" provision.
Here's the caveat, though. That coverage on the Platinum Card is only available for roundtrip bookings – or, in some cases, open-jaw flights. When I initially booked this fare, it was for a roundtrip ticket to and from LGA. Since then, however, I found a better return option and I canceled the return for a voucher. So, where does that leave me as far as coverage? I'm not really sure. I have a receipt for a roundtrip fare and Southwest has all that money (I got an e-credit after canceling the return, not cash), but I no longer have the return trip on my itinerary.
I hope you and I don't have to use this coverage this week, but it's worth looking into whether or not you have some protections for a travel rewards credit card in your wallet.
Worst Case Scenarios
If a provisional flight booking is too expensive or not available, you have to exhaust your options.
That might mean packing up the car and hitting the road. If you can take your car, that's great. If not, it's time to look into some cheap rental car options.
AutoSlash is our favorite tool for finding the best deal on a rental car, especially on short notice.

If you're in a place with Amtrak service, you should look to see if you can grab a train to your destination, too.
Leave no stone unturned. It's time to dig into that travel tool bag and make it work!
Bottom Line
I have an ill-timed Southwest itinerary coming up tomorrow, so I'm taking a number of steps to make sure I'll still get to where I'm going because the airline is canceling two-thirds of its flights over the next several days.
By tracking my flight closely, booking a provisional itinerary, knowing my rights, and looking through my travel insurance protections, I'm doing the best I can in a bad situation.