JetBlue finally unveiled its spin on no-frills basic economy fares on Tuesday, with a new offering dubbed "Blue Basic" that still gives travelers some perks like a free carry-on bag and the ability to pick a seat before boarding. To start, Blue Basic fares are only available on select routes.
The New York-based airline first announced it would join the basic economy rush back in the fall of 2018. It will be the last major U.S. carrier to adopt these no-frills fares aside from Southwest, which has vowed it will never sell basic economy. From United to Delta and Alaska, just what you get on each airline on a basic economy fare varies widely.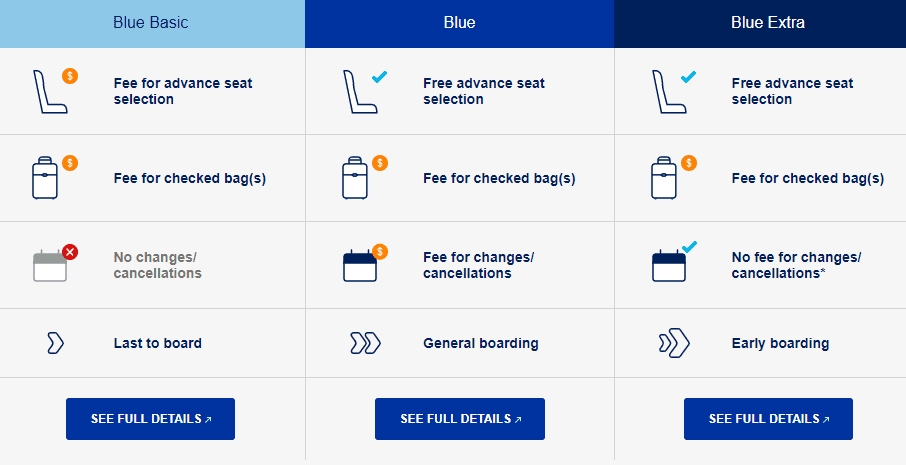 JetBlue executives said its basic economy fares would "take better care of (travelers) than other airlines do." So what do these new, skimpier fares entail?
Baggage: Get a carry-on bag and personal item for free; pay $30 each way for a checked bag
Seat Selection: Pay for advance seat selection, free within 24 hours of departure
Boarding: Boards last
Earning TrueBlue Points: Yes, but only 2x per $1 spent (compared to 6x points per $1 on other fares)
Ticket Changes and Cancellation: Not allowed, except for within 24 hours of booking
According to Reuters, these fares are currently only available on a few flights like New York City (JFK) to Long Beach, California (LGB) and Fort Lauderdale (FLL) to Nassau, Bahamas (NAS). Blue Basic fares will roll out to the rest of JetBlue's routes over the next few months, according to a spokeswoman.
Breaking Down Blue Basic Fares
These new fares are, in fact, more generous than JetBlue's competitors.
The ability to bring a carry-on bag onboard puts Blue Basic fares in line with both Delta and American. Only United bans basic economy travelers from bringing a carry on. Boarding last is a universal truth to basic economy – although it's unclear whether holding a JetBlue co-branded credit card will help beat these Blue Basic fares.
Paying to pick a seat in advance while also being able to take the best of what's left for free when the 24-hour check-in window opens is a nice touch. That squares with Delta's policy, which gives travelers two options to pick their seats even when flying basic economy.
Cutting TrueBlue points-earning by two-thirds is a low blow for frequent JetBlue flyers.
But the entire JetBlue experience is generally great, and that won't change even for travelers booked on a Blue Basic ticket. You'll still get some of the most generous legroom of any U.S. airline, streaming TV, and gate-to-gate Wi-Fi for free. Read our review of a JetBlue flight from Minneapolis-St. Paul (MSP) to Boston (BOS).
The biggest question here is pricing. Just as with every other airline, JetBlue is advertising this as its cheapest fare, and a way to compete with budget carriers like Spirit and Frontier.
In reality, that's rarely true. Instead, we typically see basic economy fares take the place of a more-inclusive main cabin fare, which increases. You wind up paying the same as you used to and getting less.
Only time will tell if that's true with JetBlue, too.
Bottom Line
JetBlue seems to have lived up to its word in offering a more generous basic economy fare with these Blue Basic tickets. Keep those restrictions in mind next time you're booking a JetBlue flight.