Back in August, we saw jetBlue increase the price of their checked baggage fee from $25 to $30, making them the first US airline to do so. Shortly after this announcement, United followed suit and announced an increase for checked baggage fees for tickets booked on or after August 31st, 2018.
On Wednesday, it was Delta's turn and they have now increased the cost of their checked baggage fees. Checking a bag on a domestic Delta flight will now cost $30 for the first bag and $40 for the second checked bag. This is up from $25 and $35 respectively.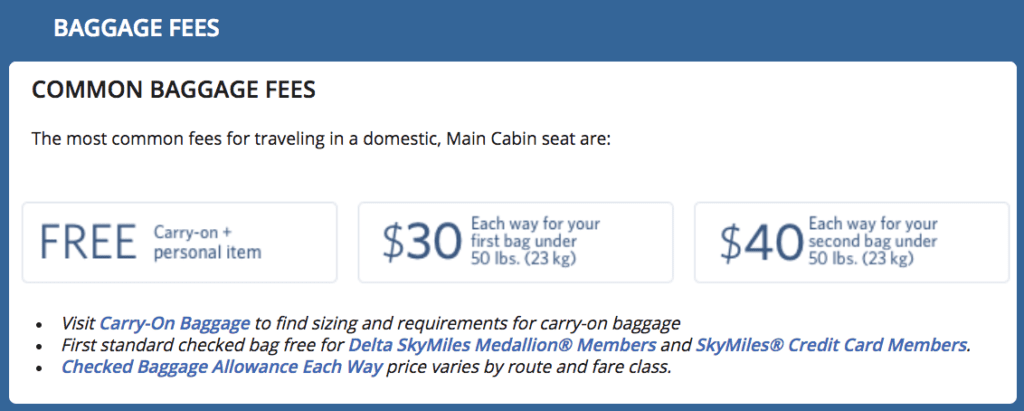 Thrifty Tip: You can find more information on Delta's checked baggage policies here.
Our Analysis
While a $5 increase in checked luggage fees isn't the end of the world, it represents another reason why it is generally a good idea to carry a co-branded credit card of an airline you often fly. With the exception of Blue Delta SkyMiles credit card, all of the Delta co-branded credit cards offer a free checked bag as a benefit of membership. With the annual fee being $95 on the Gold Delta SkyMiles card, you would only have to check a bag on two round-trip itineraries to get your money's worth out of the annual fee.
Additionally, carrying one of the Delta co-branded credit cards is the easiest way to beat basic economy fares as cardholders will receive free checked luggage and priority boarding.
Bottom Line
Avoiding checked luggage fees are one of the many reasons the Thrifty Traveler team typically chooses to carry on over checking bags. With this announcement, I imagine it won't be long before American makes a similar announcement. With the major US airlines having shareholders to answer to, increases fees for things like checked bags are an easy way to improve revenue numbers.
Lead photo credit: Chris Lundberg via Flickr