When American Airlines launched its new award chart – the cheat sheet that determines how many miles you need to book a flight – last month, it appeared to be much ado about nothing. The Dallas-based airline had been moving towards a dynamic pricing model for years by offering web specials and charging whatever it felt like for award flights and this "new, simplified" award chart just made that official.
But lo and behold, it looks like there was a change with that announcement after all, and it seems to be a positive one. Award Wallet is reporting that American has begun offering a mileage discount for roundtrip bookings to/from Europe and on limited routes to South America, for flights operated by AA. You won't see these discounts on any partner award bookings.
While we had previously seen roundtrip discounts with AAdvantage miles in the past, those were a part of American's Economy Web Specials. Now they're baked into the program, solidifying American's complete transition to dynamic pricing.
Just how steep of a discount you'll get when booking a roundtrip flight will depend on the cabin you're flying in and which route you're on, with economy class seeing the smallest savings and first class getting the greatest discount. We weren't able to find any discounted roundtrip rewards to South America, but here's what we found digging into the routes American flies to Europe.
The mileage savings appear to breakdown like this:
Economy: 8,000-mile discount
Premium Economy: 16,000-mile discount
Business: 22,000-mile discount
First: 26,000-mile discount
Let's take a look at some examples to see what this looks like in practice.
A one-way award from Dallas/Fort Worth (DFW) to London (LHR) comes in at 25,000 AAdvantage miles and $5.60 in taxes and fees.
You'll see the same pricing on the return trip from LHR to DFW, albeit with significantly higher taxes and fees, thanks to the United Kingdom's Air Passenger Duty (APD).
However, when you combine those two flights into a roundtrip award ticket, the total cost goes from 50,000 AAdvantage miles to 42,000 AAdvantage miles. You'll still be on the hook for the same taxes and fees but saving 8,000 AAdvantage miles by booking a roundtrip is still a pretty good deal!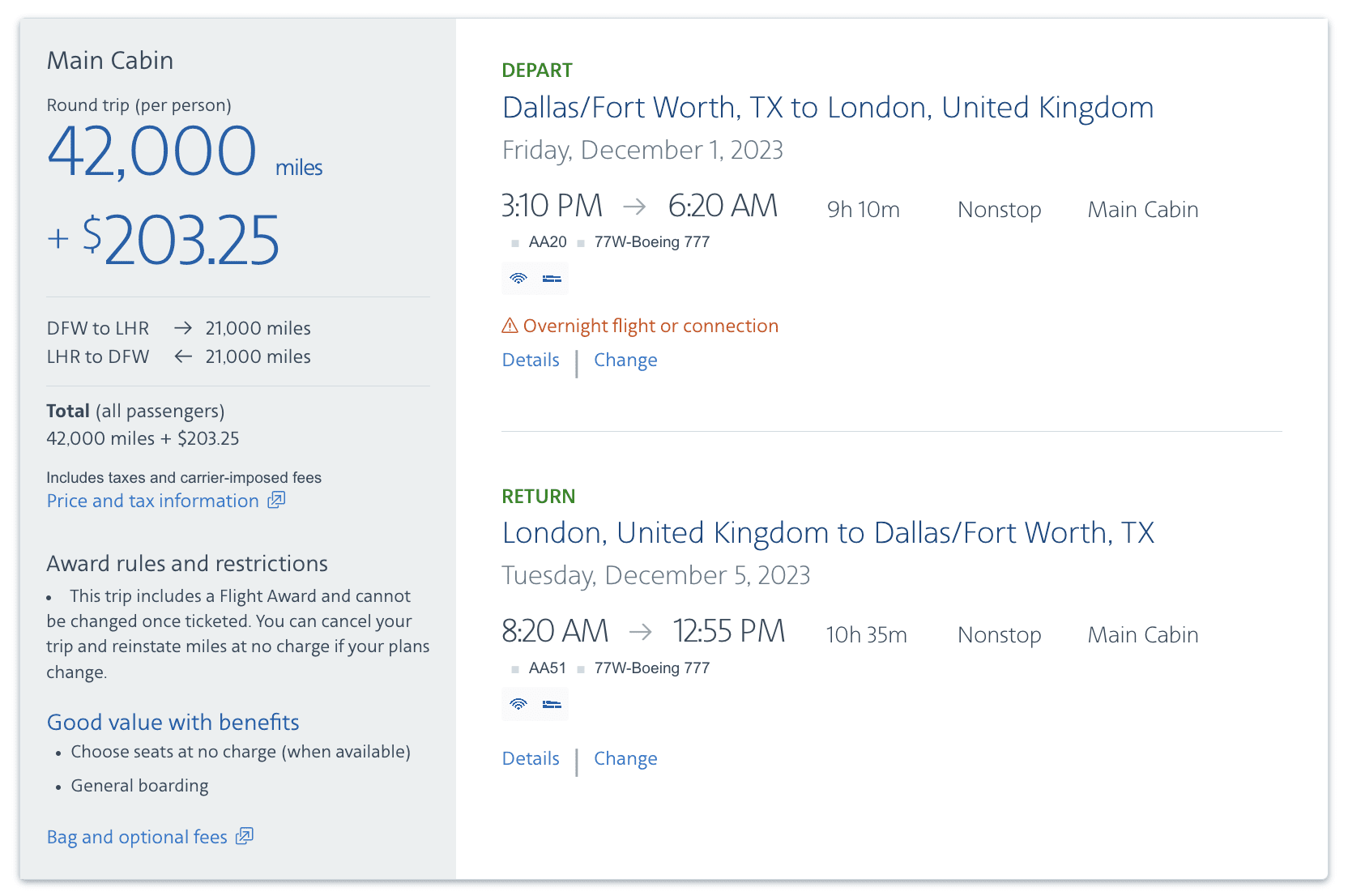 You can even take advantage of these roundtrip savings when booking a multi-city itinerary, where you fly into one city and out of another.
Here's an example: For this one-way flight from Dallas-Forth Worth (DFW) to Rome (FCO) in business class, American is charging 77,500 AAdvantage miles and $5.60 in taxes and fees.
After spending a few days in Rome, you could catch a cheap flight to Madrid (MAD) and do a little more sightseeing before eventually making your way back to the States. Flying from MAD to DFW on a one-way business class award would cost 67,000 AAdvantage miles and $49.45 in taxes and fees.
On their own, both of these one-way business class itineraries are quite reasonable given the cost of premium cabin awards these days. But when you put them together in a multi-city itinerary, the award rate drops to 122,500 AAdvantage miles, compared to the 144,500 miles it would cost you to book each of those one-way flights separately. Booking your trip this way would save you 22,000 AAdvantage miles!
While these changes might seem like great news on their face, there's still some cause for concern. This move looks very similar to the way that Delta has been operating its SkyMiles award program for years. This shift to a new pricing format could mean that going forward, we'll see award costs more closely mirror the price of a paid ticket and in turn your AAdvantage miles would be worth less when prices are high.
At this point, it's impossible to say for certain that this is the direction American is going with its awards, but it's worth keeping an eye on. For now, though, there's still excellent value to be had using AAdvantage miles on both American and its partner airlines.
See the 10 best deals we've found using American miles! 
Bottom Line
American is offering a discount on award bookings for some roundtrip flights, the first concrete change we've seen since American launched did away with its old award chart and embraced a fully dynamic pricing model.
As of right now, it's a good thing for AAdvantage members looking to save some miles when booking award flights. But it could be the first step towards American going the way of Delta and tying its award pricing to paid fares. We'll certainly be keeping an eye on it going forward.