Caught up in Southwest's meltdown last week? You might want to check your inbox for an apology from the airline's CEO – plus, a healthy stash of bonus Rapids Rewards points.
Southwest began emailing customers on Tuesday afternoon, offering 25,000 bonus Rapid Rewards points apiece in a message from CEO Bob Jordan. Since the value of Southwest points are firmly tied to the cash price of a flight, those points are worth $300. Southwest points never expire.
That's far from the mountain of lost baggage, refunds, and reimbursements for additional expenses that hundreds of thousands of Americans are waiting for after Southwest canceled more than 12,000 flights last week, but Southwest says they're working diligently on that. This proactive points bonus is separate – Southwest's way of apologizing in hopes of restoring trust in the airline.
"Our purpose has always been to connect our customers to what's important in their lives. And this holiday season, as you made plans with us to do just that, we fell short. For that, please accept my personal apology," CEO Bob Jordan wrote in the email to customers.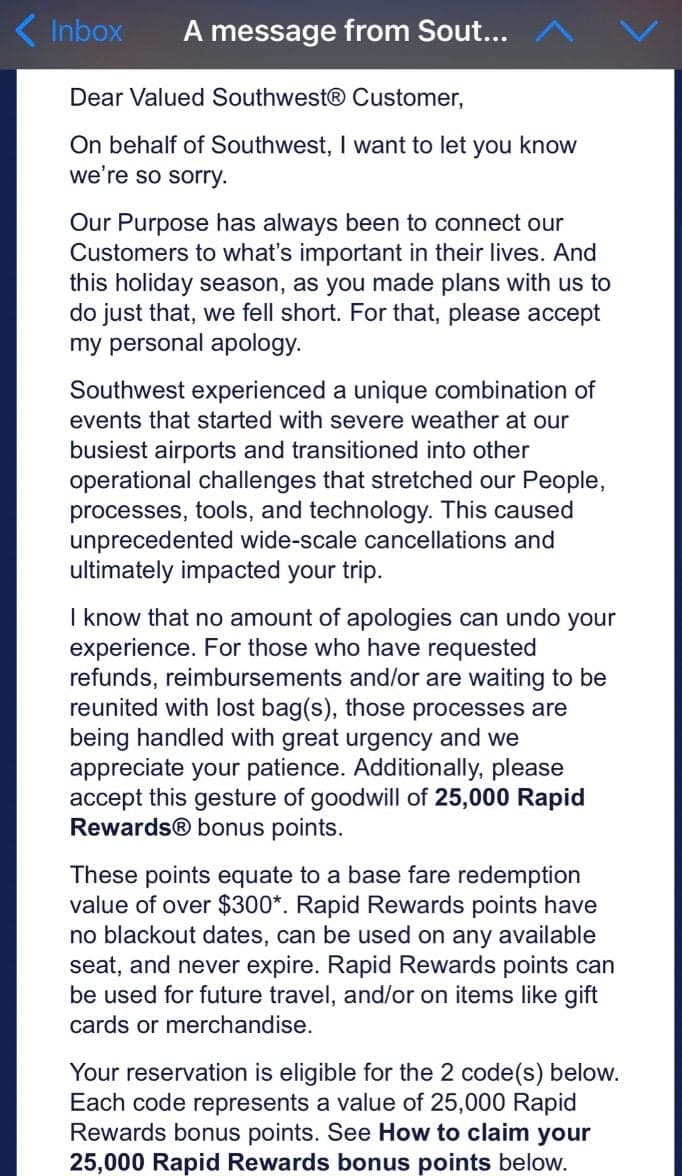 Jordan said the airline is working "with great urgency" to process requests for refunds, reimbursement, and lost bags. But he said the airline is offering 25,000 Rapid Rewards points "as a gesture of goodwill."
A Southwest spokesperson confirmed the airline was proactively offering bonus points to any customer scheduled to fly between Dec. 24 and Jan. 2 whose flight was canceled or delayed by more than three hours. Those 25,000 bonus points are available for each paid customer.
Those points won't hit your account automatically. Instead, the email contains a prompt to claim the 25,000 bonus points. Readers reported the system was clearly strained by demand Tuesday afternoon as travelers tried to claim their free points.
The winter storm that swept across the country just before Christmas bent other airlines, but it broke Southwest. It hammered some of the airline's biggest airports, straining its point-to-point flying network, and rendering its crew scheduling platform useless. From last Sunday through Friday, Southwest canceled more than 12,000 flights – nearly double what United and Delta canceled combined in the entirety of 2019, according to Bureau of Transportation Statistics data.
"Southwest experienced a unique combination of events that started with severe weather at our busiest airports and transitioned into other operational challenges that stretched our people, processes, tools, and technology," Jordan wrote.
After two years marked by mass delays and disruptions, Southwest isn't the first airline to struggle – nor the first to offer bonus miles as an apology. Over summer 2022, Delta offered 10,000 SkyMiles as a "goodwill gesture" for a slew of delays and cancellations.

Bottom Line
There's much more to do, but Southwest is starting its nationwide apology tour for last week's meltdown by handing out 25,000 bonus Rapid Rewards points to many affected customers.
If you were on a canceled or significantly delayed flight with Southwest over the last week or so, check your email inbox. You'll have to claim these miles – they won't get deposited to your account automatically.