Alaska Airlines has launched a status match aimed specifically at frequent Delta flyers who may be reconsidering their loyalty to the airline after the latest round of drastic – and painful – changes to its SkyMiles Medallion program.
Travelers with Delta SkyMiles Medallion status can apply by Oct. 31 to get matched into Alaska Mileage Plan elite status. What status you'll get and how long you'll keep it hinges on what Delta status you currently hold, whether you've already requalified for Medallion Status for 2024, and whether or not you have a co-branded Alaska credit card. But it opens the door to match into an even higher status tier with Alaska than what you've got with Delta.
That's one of the most lucrative status matches we've ever seen, especially if you've got Delta status through 2024 and a co-branded Alaska credit card (or get one by the end of the year). And since it's free, it's worth doing even if you're not sure you'll make the jump to Alaska – or even fly the airline once.
Alaska status on its own may not be the most worthwhile, especially for flyers outside the West Coast where the airline is strongest. But it could even get you upgrades and other perks flying with American thanks to the partnership between the two airlines. You can also potentially parlay your new Alaska status into status with Oneworld for plenty more benefits when traveling internationally.
Read next: How Delta Status Compares to American, United
How the Alaska Status Match Works
Like Delta, Alaska has four tiers of elite status: MVP, MVP Gold, MVP Gold 75K, and MVP Gold 100K. Each status tier gives you access to different perks from priority boarding to complimentary upgrades to excellent perks when flying American Airlines and a dozen-plus Oneworld carriers.
Alaska isn't being coy about its motivations for this special status match, saying: "Fell out of love with your airline loyalty program? We've got you covered with our best status match offer yet."
To get started with your status match, you must use this form and submit proof of your Delta status by Oct. 31. You'll be matched into at least the equivalent tier of Alaska Mileage Plan status for the rest of 2023. But you could extend it all the way through 2024 by doing one of the following:
Having a co-branded Alaska credit card or opening one by Dec. 31, 2023
Completing a status challenge within 90 days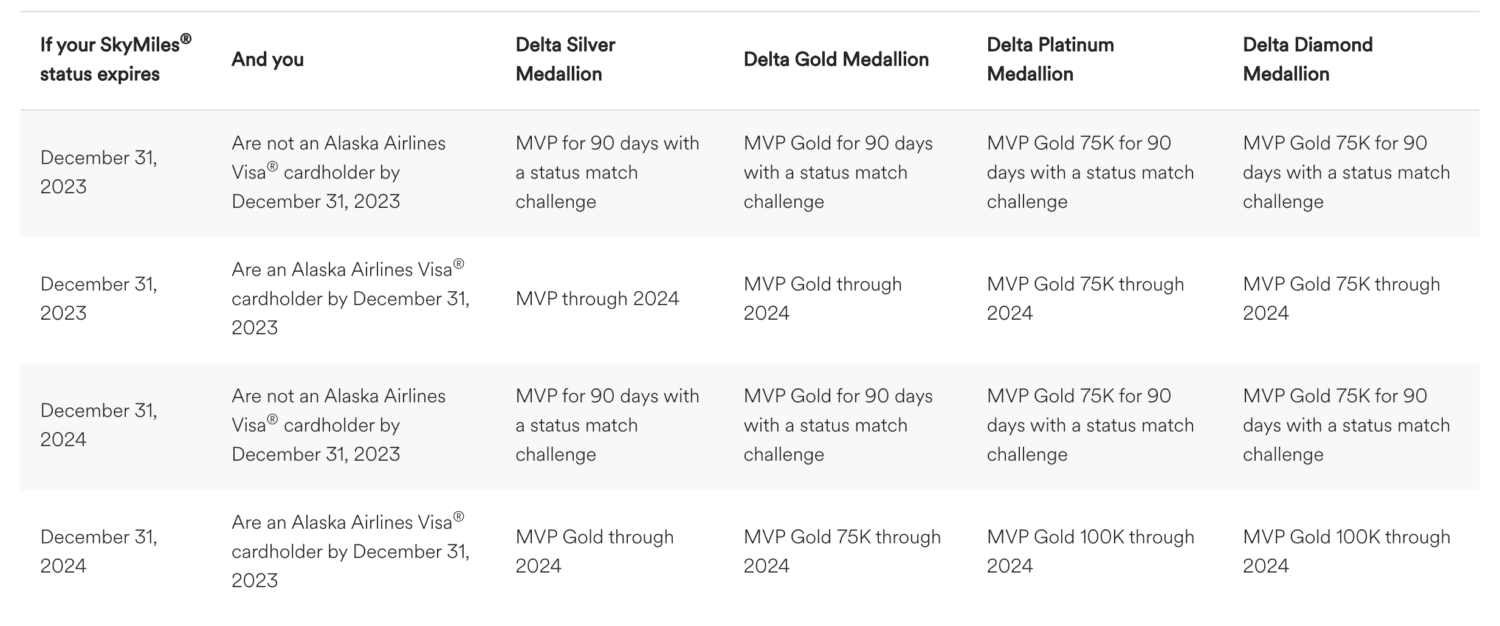 To complete a status challenge, you'll have to fly between 5,000 and 20,000 miles on Alaska within a 90-day period, depending on the level of status you're trying to keep. Better yet, just open the Alaska Airlines Visa Signature® card if you don't already have one to take care of that requirement.
If you've already requalified for Delta status for 2024 and you hold an Alaska credit card (or open one by the end of the year), you'll get matched into the next highest tier of Alaska status. So if you have Delta Silver Medallions status, for example, you'd get Alaska MVP Gold status through 2024.
What Will Alaska Status Get You?
Even the lowest tiers of Alaska status can be rewarding, but this promotion makes it easy to instantly climb the ranks for a full year (and change).
From the lowest MVP status all the way up to MVP Gold 100K, everyone earns more miles, gets two free checked bags, free priority seating and a shot at complimentary first class upgrades. Plus, you can even get extra benefits when flying American Airlines as the two airlines have reciprocal elite status.
Check out Alaska's full breakdown of the benefits of MVP elite status.
Travelers who can match into Alaska's MVP Gold status or higher are in for a treat. It unlocks Oneworld Sapphire (or, better yet, Oneworld Emerald) status with the entire alliance, getting you business or even first class lounge access when traveling internationally among many other perks with Oneworld airlines. That includes American Flagship lounges here in the states as well as countless lounges abroad.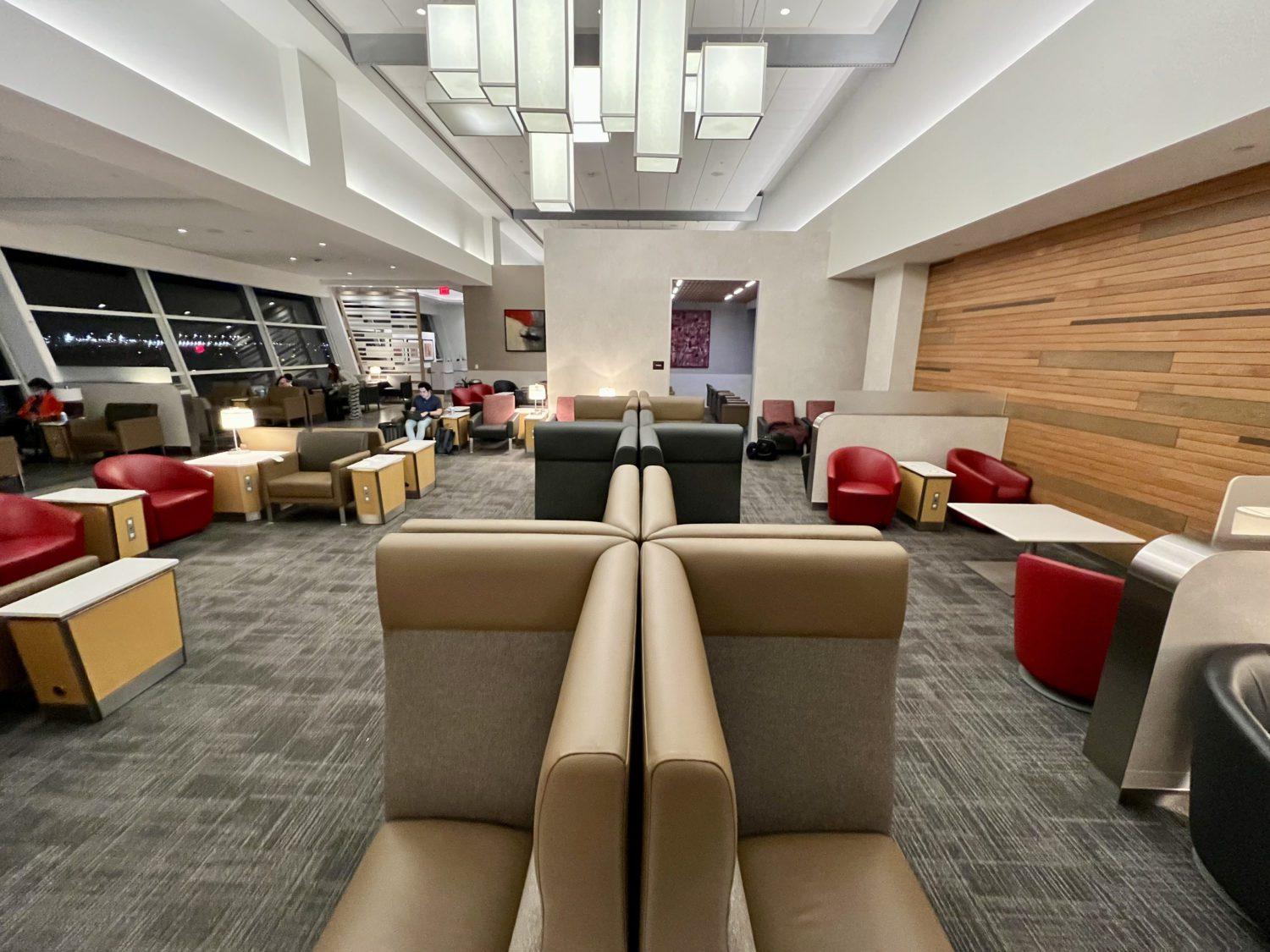 Read our full review of the American Flagship Lounge in Dallas-Fort Worth (DFW)!
Bottom Line
Weeks after Delta's disastrous SkyMiles Medallion overhaul, many Delta fans are rethinking their loyalty. Alaska Airlines is out with a status match targeting them.
Travelers with Delta status can get matched into Alaska elite status through 2023, and potentially all the way through 2024 if they hold (or open) a co-branded Alaska credit card. While Alaska status might not appeal to everyone, you can get also perks on partner airlines like American and other Oneworld carriers.
Whether you're planning to make the switch to Alaska or you may never fly the airline, it's worth taking advantage.