This is exactly what we needed right now.
With billions around the world isolating to curb the spread of coronavirus, travel is on hold. So Airbnb has brought its popular Airbnb Experiences online. 
Rolled out just yesterday, Online Experiences bring hosts virtually into your home to teach, share, lead, and instruct. It's a great way to do a bit of traveling and learning about different cultures right from your couch.
What Are Airbnb Online Experiences?
Have you heard of Airbnb Experiences? They're tours, activities, and classes led by local hosts around the world to teach you more about their home culture. Airbnb Experiences including cooking classes with Italian nonnas to sheep-petting in Wales, and everything in between. It's our favorite way to find reputable day trip and tour guides, 5-star food and bar crawls, animal-friendly excursions, and more.
With much of the world under stay-at-home orders, Airbnb has worked with Experiences hosts to bring some of these experiences online.
"They've adapted recipes based on what's in their pantries, turned living rooms into yoga studios, and choreographed dances for families at home," Airbnb says.
Not only do these Experiences offer the opportunity to tune in from home and learn something new, but you can do so in small groups of similarly interested folks around the world.Curious about what you could learn? Here are a few examples:

How fun are these? Learn a new recipe, take a wine class, workout with Olympians, meditate, take an interior design crash course, and so much more. And the best part? Most are under two hours and less than $50. Many are $15 or less, and support local creators and hosts around the world!
Here are a few Experiences that caught our eye:
There's even a free class, and it just might be the best one yet: Meet the Animals of Little Tail Farms! Naturally, this one is already sold out, but check back for more open times.

This is brand new so there aren't a ton of Online Experiences yet. Here's hoping we see more hosts join the homebound fun soon.
How to Search & Book Airbnb Online Experiences
I know you're curious now! Head to Airbnb Online Experiences to browse all the online options. When you've found one you're interested in,  click to view more information. Here, you can see a description and photos of the class, read the reviews, check out the group size, and more.
Take an Irish Dance Masterclass with Aneta, a professional Celtic dancer from Ireland, for example: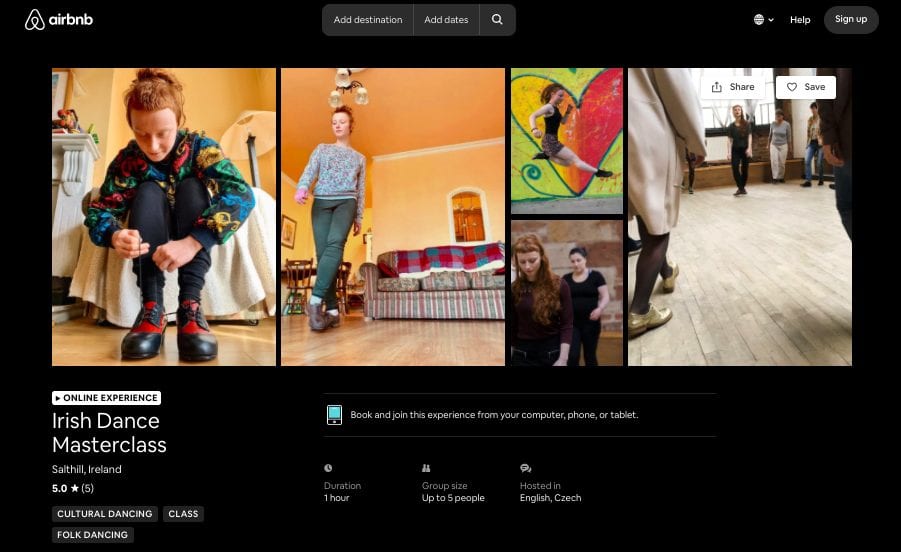 You can also see what items you'll need for the class. For some, the list will be short. But for others, like the cooking and creating classes, the list may be longer. Take the $4 Coffee Masterclass and you'll need these things: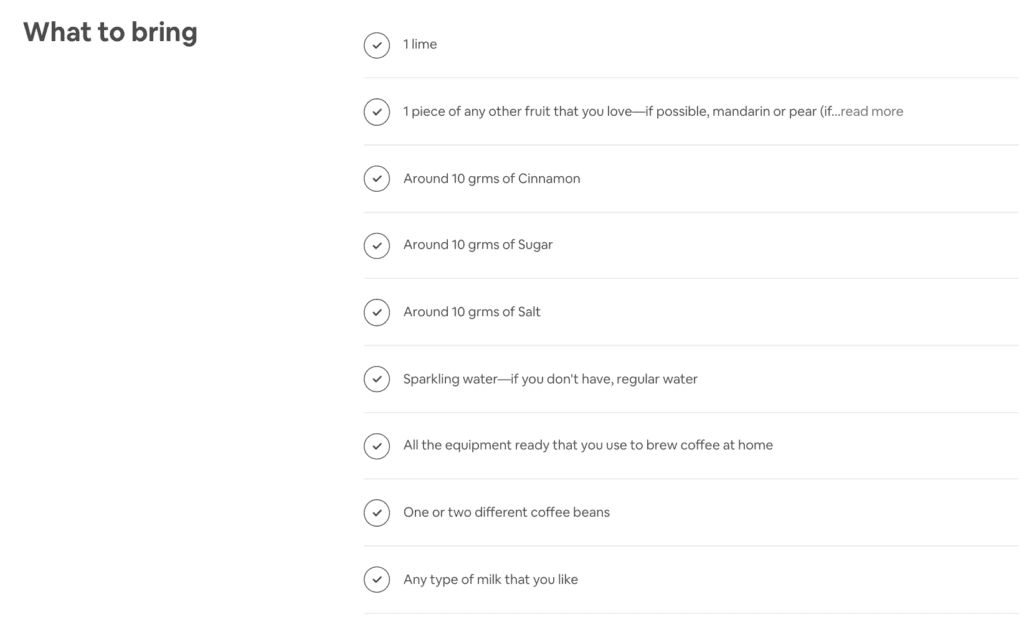 Set on an Online Experience? It's time to select your Experience time! Click the red "See Dates" button at the bottom of the page to see available class dates and times.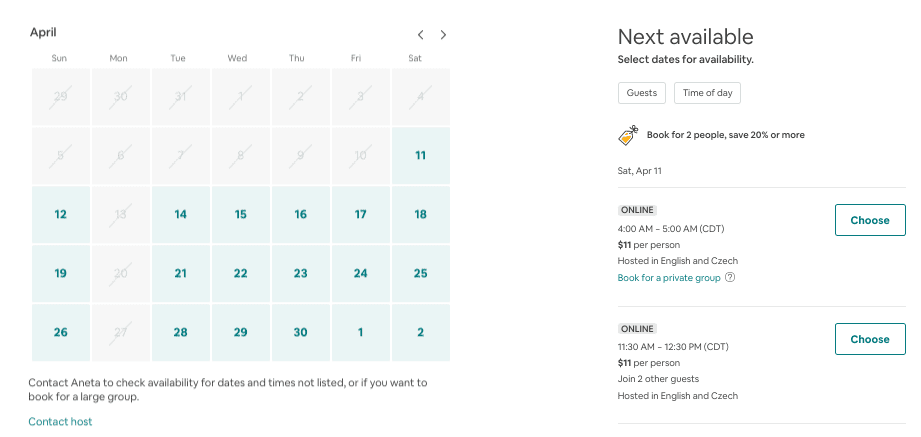 Note that many of these courses are focused on the small group experience. Many are limited to between five and 10 people, so times may fill up quickly. You can see how many spots are left on time slots, or even choose to book a time for a private group.
Bottom Line
If you find yourself with an hour or two free and are craving some fun and cultural learning, this is the perfect remedy. What better way than to support creators and Experience hosts from around the world, while learning a new activity or skill?