Over the years, I have tried and tested numerous gadgets and accessories during my travels. Some are fantastic products while many others have left me less enthused. Over the past year, I have realized that there are 6 travel accessories in my carry-on backpack that I absolutely never travel without.
These items make my travels better in the air and once I am at my final destination. Read on for the list of the 6 items I never travel without.
Bose QuietComfort 35 Wireless Noise-Canceling Headphones
These headphones are definitely not cheap, but I can't think of an item in my travel backpack that I use more often. The QuietComfort series from Bose has become a favorite among travelers due to their patented noise canceling technology.
The QuietComfort 35 model is the first in the series to offer wireless Bluetooth capability. I purchased a pair of these for myself back in 2016 and they're incredible. The rechargeable battery that powers the noise canceling technology lasts for up to 20 hours before needing a charge. I can honestly say that these headphones are one of the best travel investments I have ever made.
Available at Amazon, $299.00
Twelve South Wireless Headphone Transmitter
I picked this device up earlier this year and I am a huge fan. My Bose headphones discussed above are great until you want to use them with the seat back entertainment on your next flight. Since these monitors are not Bluetooth equipped, you have to use the wired cable included with the headphones.
The Twelve South wireless headphone transmitter solves this problem. It plugs into the headphone jack of the seatback entertainment system and automatically pairs with your wireless Bluetooth headphones. This allows you to use those headphones the way they were intended to be used, wirelessly.

Available at Amazon, $39.99
Belkin SurgePlus Surge Protector Power Strip
I can't count the number of hotels I have stayed in that don't have ample plugin space for my devices. The Belkin SurgePlus Surge Protector solves this problem, giving you three power ports and two additional USB ports. The wall plug itself is on a swivel, ensuring you'll be able to plug it in no matter how wonky the wall outlet is. I never travel without this thing.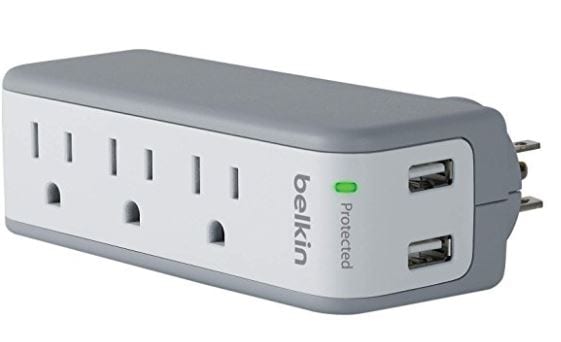 Available at Amazon, $14.99
Anker PowerLine+ Charging Cable (6ft)
Anybody who owns an iPhone or any Apple device that is powered with a lightning cable knows the struggle. The standard cable that comes in the box is too short (3ft) and not very durable. I find that the cable jackets tend to rip or crack very easily.
I bought this charging cable after leaving my old one in a hotel room. This thing is the real deal. The jacketing is a double braided nylon material which seems extremely durable. It's also 6 feet long (twice the length of the standard cord from Apple) and comes with a great travel case making it very easy to store in your carry on.
Available at Amazon, $13.99
The Sidewinder Macbook Charger
Gone are the days of a tangled mess in my carry-on bag from my laptop charger. The Sidewinder Macbook charger provides an organized way to store your laptop charger in a space efficient manner. I was skeptical of this when I first bought it, but I have quickly fallen in love with it. I have received numerous questions and compliments on it as well.
Available at Amazon, $28.99
Anker PowerCore 20100 – Ultra High Capacity Power Bank
A compact power bank has become a staple item in the carry-on bags of frequent travelers. There is nothing worse than having your devices die when you need them most. I received this as a gift last Christmas and it has not disappointed.
This thing will charge my iPhone X 6 of 7 times before I need to recharge its battery. It has 2 USB charging ports which allows you to charge multiple devices at once. This thing is a lifesaver and another item I never travel without.
Available at Amazon, $49.99
Bottom Line
I have tried and tested all of these products and can attest they are worth your time and the space in your carry on bag. Grab one, two, or all 6 and start traveling smarter and more comfortably.