Around every corner in Washington, D.C. there are converging moments of history that built this great nation and modern-day moments that jolt you back to the present. It's both Alexander Hamilton and Lin-Manuel Miranda's Hamilton. It's our people's history: for good and for ill, all on display.
And its food scene is no less of a tapestry. The city is packed with delicious things to eat that hail from every corner of the globe – just like this country's story. 
After taking in as many museums as possible (remember all the national ones have free admission), stuff yourself silly at some these fantastic restaurants in the nation's capital.
Thip Kao for a Taste of Laos
Thip Kao is an exceptional Lao restaurant is run by chef Seng Luangrath and her son Bobby Pradachith in a beautiful, relaxed setting. It's an outstanding pick for a lunch filled with fresh herbs and funky fish sauce flavors.
Don't miss the Sai Oua, an herby pork sausage served with peanut, pineapple-soybean sauce. It's a perfect bite.
Pisco Sours at China Chilcano
Pop into China Chilcano, an outstanding Jose Andres restaurant, for sublime pisco sours at happy hour from 4 p.m. to 6 p.m. all week long.
Drinks and Bites at the Dabney Cellar
The Dabney Cellar is exactly what you're looking for in a swanky wine bar: a subterranean location and eminently fun bottles to drink. Pair your beverage with the fantastic raw bar or charcuterie built for fancy snacking.
It's also handily located near the Convention Center, if you're in town for business.
Middle Eastern at Maydan
It's remarkable the number of tables and chairs that can fit into Maydan, a slim Middle Eastern restaurant setting. The fire used to cook the food is all part of the show, filling the room with thrill and a few wisps of campfire aroma that clings to the hair.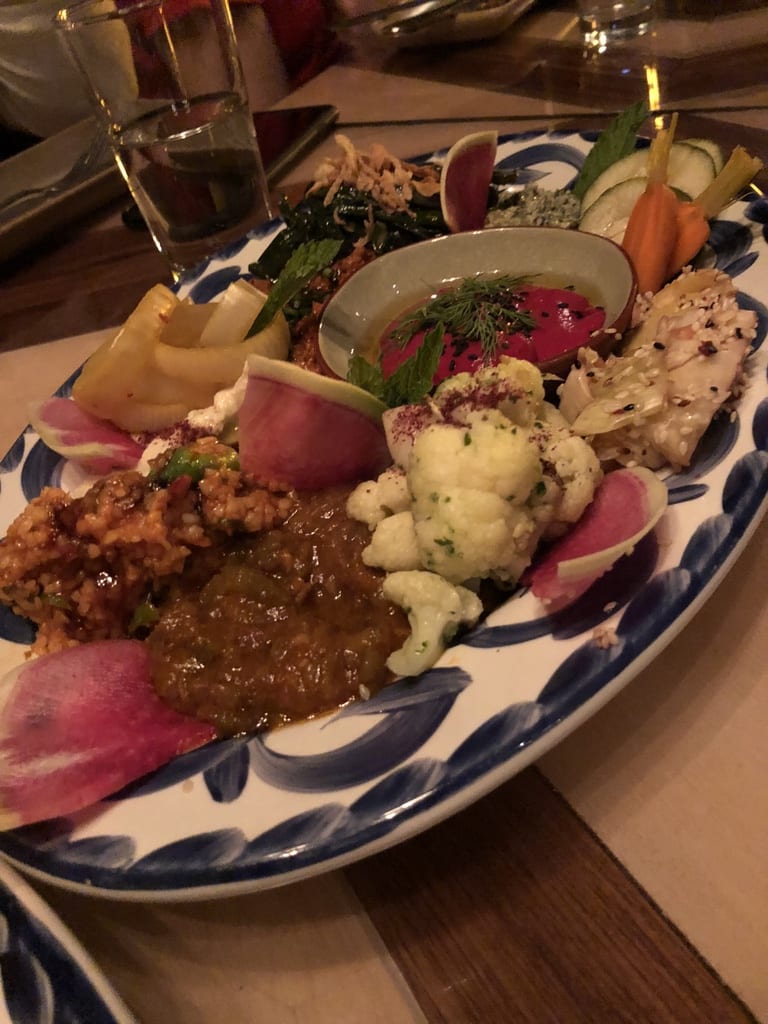 This is the spot to come famished and order heartily. And don't be afraid if you accidentally break a plastic chair after a mega feast like I did; they're very nice about that kind of personal mortification.)
Bring friends to share the roast chicken to share and order extra of the light and fluffy garlic sauce – it goes beautifully on everything.
Sonny's Pizza
Fat, bready crust makes for a wholly satisfying meal topped with gooey cheese and pepperoni that are satisfyingly charred around the edges. Every town has its pizza joint, and Sonny's Pizza is Washington, D.C.'s. This new spot is worth the trip.
Kith and Kin
Stop by Top Chef's Kwame Onwauachi's restaurant Kith and Kin at the base of the Intercontinental hotel for a knock-out breakfast. On the breakfast cost scale, it's not exactly thrifty.
But if you're looking for a more affordable way to sample this internationally acclaimed restaurant, here's your chance.
Bottom Line
This is just a sliver of what you can (and should) eat and drink in Washington, D.C. But in a town like this, you just need to get started.