The thought of traveling alone can be nerve-wracking. There's really only one way to cross it off your list: Just do it.
Head off on your first solo travel trip, and you'll find it can be a liberating experience. Being on your own opens up possibilities you may not have while traveling with a partner, friend, family, or group. Plus, there's no more arguing about where to go – for your flight or for dinner.
Whether it's your first trip alone or you're a seasoned solo traveler, use these tips to stay safe and have a great trip.
1. Start Small
If you've never traveled alone before, ease yourself into it with some solo experiences closer to home. Try spending a full day experiencing a nearby city alone. Go to a cafe in the morning, out for lunch by yourself at noon, a walk around the city in the afternoon, and a solo movie at night. Check in with yourself: How did it go? How did you feel about your day spent exploring alone? Are you up for more?
Once you've gotten comfortable, maybe try a solo trip within the U.S. Never been to Austin? Want to check out Boston? Traveling within the more familiar confines of the U.S. can be a great way to feel out how you'll react to solo travel before adding in the stress of a foreign language, different currency, and lack of cell service.
2. Pick the Right Spot
Next, it's time to pick a solo travel destination abroad. Readers often ask: "Where's the best place to go for a solo trip?" And the answer is: wherever you think you'll feel most comfortable.
Feel most comfortable where most people speak English? Try a solo trip to Hawaii, Canada, New Zealand, the U.K., or Australia. Visiting London or Ireland is a great way to explore a new city without worrying about whether you'll be able to communicate with locals.
Want to go backpacking and already have a few trips under your belt? Check out some cities in Europe or Southeast Asia. Places like Budapest, Prague, Thailand, and Vietnam are major destinations for other solo travelers looking to explore. Stay at a hostel and meet other solo travelers just like you!
Have some foreign language capabilities you've been wanting to dust off and use again? Head to a country where you can practice your skills. I speak Spanish, so I loved my solo experiences in Madrid and Barcelona.
There really isn't one country that I'd recommend – or recommend against – for solo travelers! The destination that's best for you depends on what kind of experience you're looking for and how comfortable you are navigating travel abroad. In general, I'd recommend starting out with a country that speaks your native language. Once you're comfortable, start planning solo trips to other destinations.
3. Be Prepared
The more prepared you are for your solo trip, the less stressful it will be. Here are some tips for getting prepared and staying during your trip:
Share your plans with loved ones. Create a shareable Google Sheet spreadsheet or a Google Trips folder that includes all your flight, accommodation, and transportation information. I like to include the reservation numbers and flight departure/arrival dates and times. This will help you stay organized and keep loved ones in the loop. I recommend sharing this with close family, a partner, or a friend so someone other than you has access to your travel plans in case of an emergency.
Have a plan – and directions. I use Google My Maps to organize the places I want to see on a trip and easily find those spots for Google Maps directions. The best part? Even if you don't have data on your trip, you can still use Google Maps to find your way back to your hostel or to the next cafe on your list.
Getting a phone plan for your solo trip is up to you. Many solo travelers get by just using WiFi at their hostel and cafes/restaurants during their stay. But if you'll be driving or think you'll need a phone plan abroad, check out our master guide to international phone plans for some of the best options.

4. Packing for Solo Travel
Packing for a solo trip doesn't need to be daunting. Bring everything you normally would, plus these must-haves:
Protect your passport with your life. This isn't unique to solo travel, but it's still vitally important. Bring multiple color photocopies of your passport and pack them in a different place than you keep your passport. I travel with my passport in a Lewis & Clark passport holder around my neck. It's nerdy looking, I know. But I always know exactly where it is in transit.
Bring a lock. Some choose to wear their passport around their beck all day, but I typically lock up my passport in my hostel locker. But keep in mind that you typically need to bring your own lock. I recommend a strong combination lock so you don't have to worry about carrying a key.
Stay connected. When traveling solo, your phone is your connection to the world. It is your map for directions to your next stop, connection to family and loved ones, and so much more. Make sure you keep it charged with a universal adapter and strong portable charger.
Pack a selfie stick or a GoPro. Just trust me: You aren't going to want to ask someone to take a picture of you at every attraction. Send some fun selfies back to loved ones to give up them updates and let them know you're safe!
5. Stay in Hostels
If you're traveling alone, staying in hostels is a must.
For starters, not all hostels are glorified dorm rooms. If you need your privacy, look for a hostel with a private room – there are plenty out there, and some are just as nice as a spendy hotel.
Not only is it a great way to surround yourself with like-minded travelers, but many of them will be traveling solo just like you! Grabbing a drink at the hostel bar or striking up a conversation in your dorm can lead to plans to visit a museum or a cool restaurant with new friends. Staying in a hostel surrounded by other travelers always makes me feel safe and comfortable in a new country. Even if I don't chat with anyone, the common areas of a hostel makes me feel less alone abroad.
Hostels often organize walking tours, day trips, food tours, and bar crawls for their patrons. Be sure to choose a hostel that fits your style, has stellar reviews, and provides awesome opportunities like these. Otherwise, I highly recommend finding free walking tours (like Sandemans in Europe) or booking an Airbnb Experience. These tours will get you out and about to explore the city with other travelers like you.
Never stayed at a hostel before? Read my other reasons why you've got to stay in a hostel, and my guide to booking the best hostels online.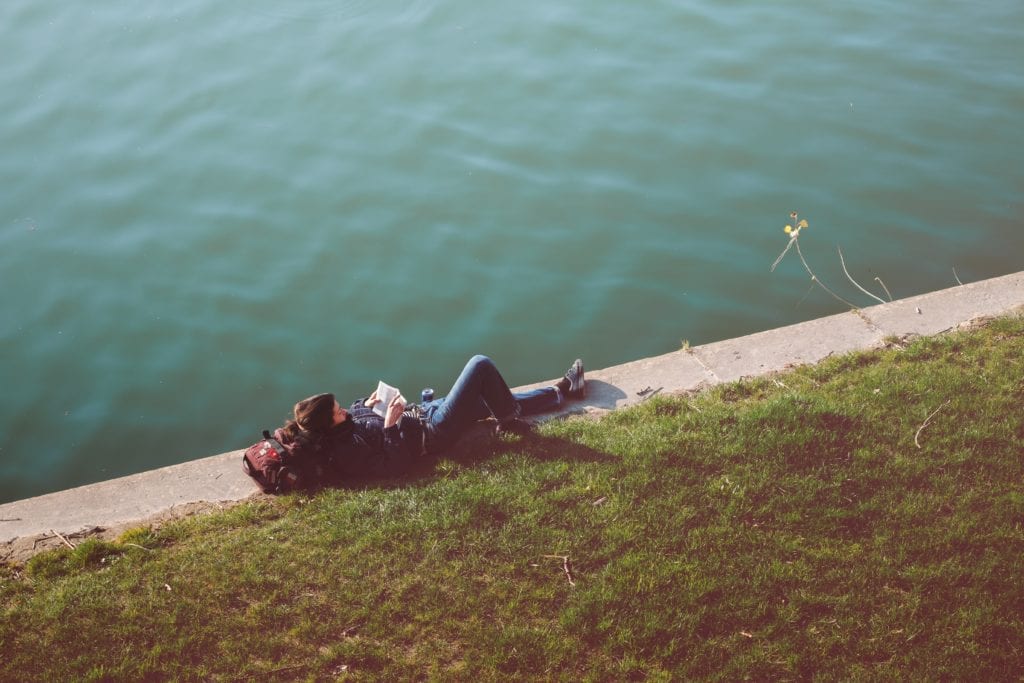 6. Enjoy Your Alone Time
You're going solo … make the most out of it! When traveling solo, I find that my senses are heightened and I'm in the perfect mindset to soak in my new surroundings and reflect on my travels and life. Here's how I make the most of my alone time:
Grab a bite to eat at a local joint. Rather than pulling out your phone and scrolling through social media, I like to revel in the alone time. I'll bring a book or my travel journal to lunch and just enjoy being in a foreign city solo. Or, take this alone time to simply take in your surroundings. The quiet chatter of locals in a cafe can be some of your most vivid memories of your trip. If you're feeling chatty, eat dinner at the bar and strike up a conversation with the local barkeep.
Do something YOU want to do. Have you ever been traveling with a spouse, friend, family, or travel group and felt like you couldn't spend the time you wanted to at a store, or take your time in a museum? Have you been overruled by where the family wants to eat dinner? Traveling solo is the perfect time to do what you want to do, when you want to do it. Do you love spending the day getting lost in an art exhibition? Do it. Would you rather wander the streets of the city center than ride the touristy hop-on hop-off bus? Do that. Want to go skydiving, but your usual travel buddy is scared of heights? Now is your chance. Take solo travel as an opportunity to do exactly what you want to do – nothing more, nothing less.
Journal. When I talk with friends about their solo travel experiences, we all tend to agree that solo travel makes you feel reflective. Being alone in a foreign country has a funny way of bringing up past experiences, old memories, or emotions that have been tucked away. Use the solo time to lean into those feelings, reflect, and explore yourself. My favorite way to do this is by journaling. I'll bring my travel journal to a cafe and spend an afternoon reflecting on my trip but also writing down my thoughts and feelings, even if they're unrelated to the trip itself. For me, my travel journals are not only a chronology of a trip but a snapshot of who I was at that time in my life. And you don't get that with a companion at your side.
Bottom Line
Traveling alone is empowering, challenging, inspiring, and frustrating all at the same time. It's not easy, but travel isn't meant to be.
Set yourself up for success by selecting a destination that you're comfortable with but still pushes your boundaries. Put your mind at ease by preparing your itinerary and sharing it with loved ones back home. Surround yourself with like-minded solo travelers in hostels. Make the most of your trip by embracing the time spent with yourself – and write about it in a travel journal so you can look back and feel proud! Wherever you travel, let your solo trip be the time for reflection, awe, and inspiration you needed.