If you're planning a trip to Salzburg, Austria, be sure to buy a Salzburg Card before or when you arrive. This card saved us so much money during our stay in this beautiful city and allowed us to see as much as possible without breaking the bank on admission tickets. Read on to learn what attractions are included with the Salzburg Card, and how we used it during our trip to maximize our time and our savings.
What is a Salzburg Card?
The Salzburg Card gets you free and fast entrance to all of Salzburg's tourist attractions and museums. Plus, just for having the card, you will also be able to ride all public transportation for free!
What Does the Salzburg Card Include?
A Salzburg Card includes the following:
One-time FREE admission to all city tourist attractions and museums
Free travel on public transportation (incl. Festungsbahn funicular, Untersbergbahn lift, Mönchsberg lift, Salzach River Tour I)
Additional discounts at many excursion destinations
In some cases, express entrance without having to stand in line at the ticket window
Below are some of the many attractions the Salzburg Card includes that we took advantage of during our four days in Salzburg.
Monchsberg Lift
Rising 60 meters in total, this modern lift carries passengers in just 30 seconds up to the Mönchsberg and the Museum of Modern Art. From the terrace, you can get a spectacular view of the city of Salzburg with the fortress and mountains in the background. The lead photo for this article is a photo I took from the top of this lift!
DomQuartier
The DomQuartier is a unique cultural highlight in the heart of Salzburg. Tour the magnificent state rooms and learn about the history of this city.
Cable Railway to the Hohensalzburg Fortress
Thanks to the FestungsBahn, making your way up to Hohensalzburg Fortress couldn't be easier! In just 54 seconds, this modern funicular transports you to the most popular sightseeing attraction in Salzburg. At the top, snap some photos of the view from above, explore the fortress grounds, visit the museum and exhibitions, and even book a sunset dinner with live music at the fortress restaurant.
The cable car ride is typically 8.60 euro and a basic fortress ticket is 12.20 euro, but all is free with the Salzburg card.
Stiegl Brewery Tour
Get a free tour of the famous Stiegl Brewery while in Salzburg. Walk through the exhibition anytime between 10 am and midnight, or join the guided tour at 3 pm daily. You'll not only get an extensive tour of the brewery but receive a free beer of your choice and free gifts at the end! This tour typically costs 12.50 euro but is free with the card.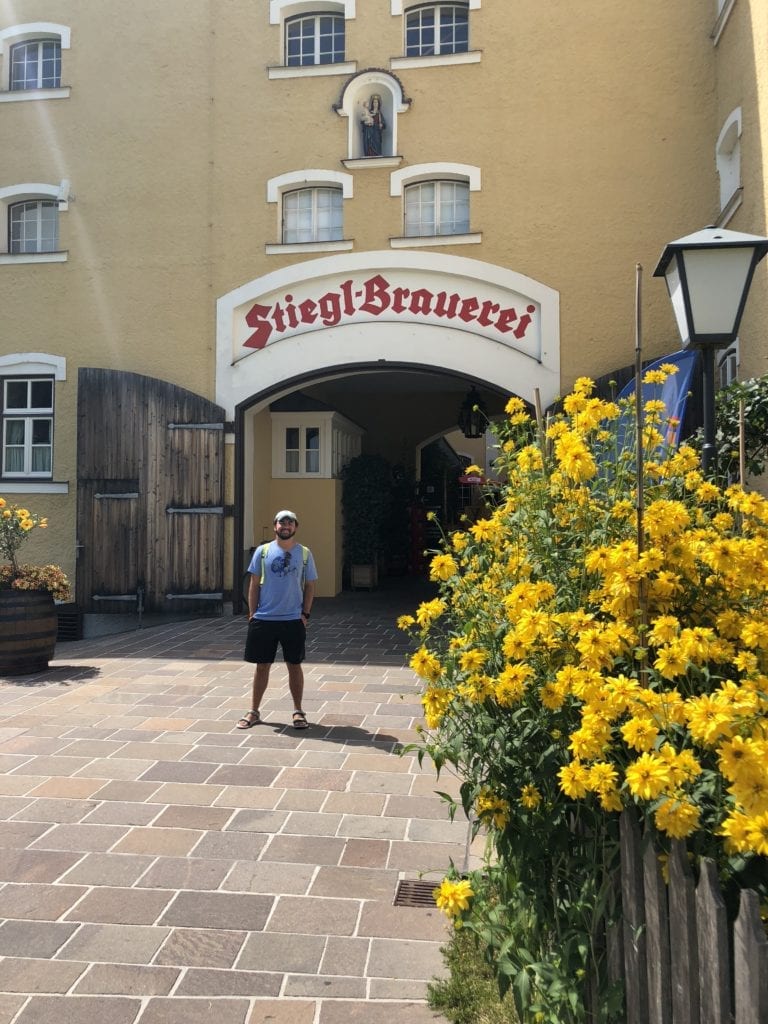 St. Peter's Cemetery and Catacombs
 This 7th-century church and abbey have been the spiritual heart of the city of Salzburg for a long time. Aside from its striking Christian architecture, the cemetery and catacombs are also a must-see for fans of "The Sound of Music".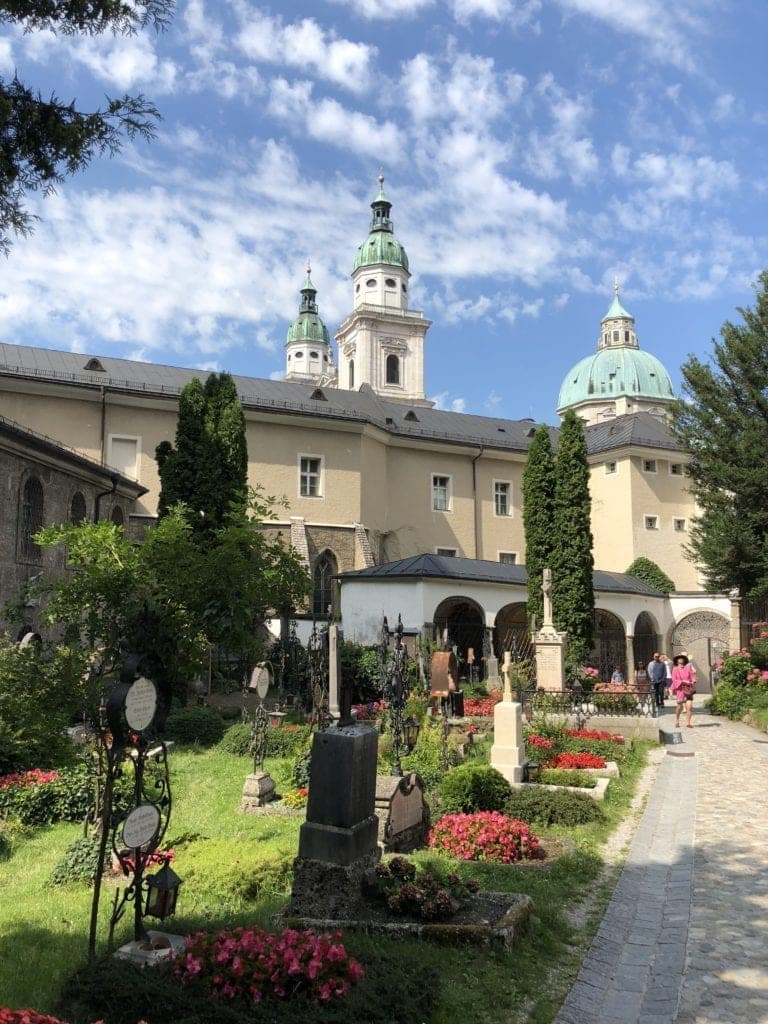 Mozart's Birthplace
W. A. Mozart was born in 1756 in the "Hagenauer Haus" at No. 9 Getreidegasse in Salzburg. Today, Mozart's Birthplace is one of the most visited museums in Austria. Typically 11 euro for a ticket, admission is free with your Salzburg card.
Mozart's Residence
From 1773 to 1787, the Mozarts lived at the so-called "Dance Master's House", standing on today's Makartplatz. The spacious eight-room apartment on the first floor is now home to a museum highlighting several of Mozart's instruments and sheet music. Admission without a Salzburg card is 11 euro.
River Cruises
We had a blast seeing Salzburg from the river perspective. The panoramic speedboat "Amadeus Salzburg" offers extraordinary views of the city and its scenic surroundings on its journey along the Salzach river. Tickets for this cruise ride are usually 15-30 euro, but your 1-hour ride is free with your card.
Hellbrunn Palace and Trick Fountains
For more than 400 years, Hellbrunn Palace has enchanted and amazed its visitors with its trick fountains. We had an absolute blast on our tour, with trick fountain surprises waiting around every corner and attraction in these beautiful gardens. Tickets are typically 12.50 euro but entrance and a guided tour are free with your card.
Believe it or not, this isn't even the full list of free attractions included with the card. To see the full list of museums and attractions you can visit with the Salzburg card, check out their website here.
It's also worth noting that the Salzburg card also gets you discounted tickets at even more attractions. You can get a special discount at the Berchtesgaden Salt Mine tour, a Mirabell palace concert, and much more.
How Much Does the Salzburg Card Cost?
The card is available for 24, 48 or 72 hours. As shown below, a discount is given if you purchase a 48- or 72-hour card. There are no student discounts, but child tickets are half price.
Note that the attractions listed above can cost up to 15 euro alone: if you do just two things on the list a day, a Salzburg Card is worth purchasing. Plus, you won't have to buy a public transit pass either.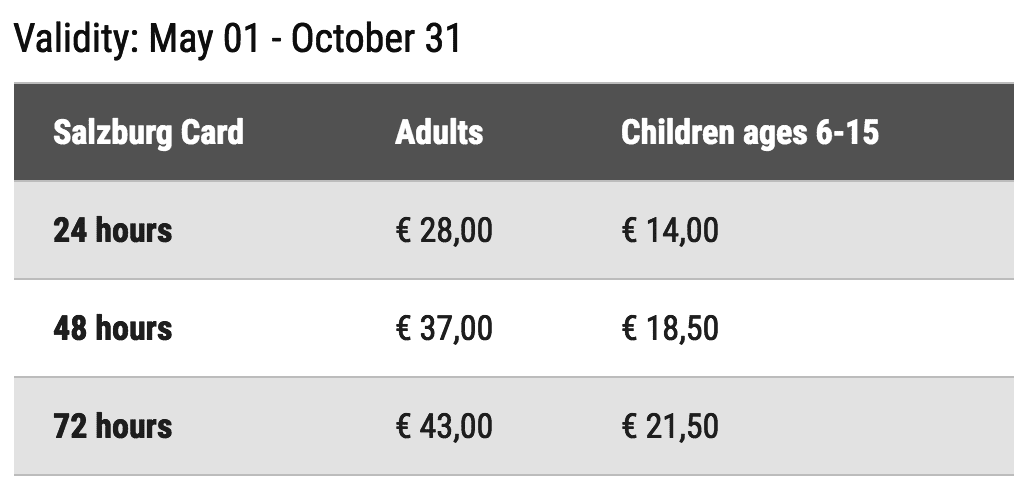 Where Can I Buy A Salzburg Card?
You can book your Salzburg Card online or pick one up at your hotel reception, at any tourist information office in and around the city, at ticket bureaus or at the airport. We purchased our Salzburg cards from our hostel reception desk.
Bottom Line
If you're planning to visit Salzburg and are looking forward to the attractions above, the Salzburg Card is a must! It saved us so much money that we would have otherwise spent on each separate admission ticket. Remember to plan out your day to maximize your time and see everything on your bucket list while in Salzburg.