There's so much to see in the massive city of Budapest, it can feel overwhelming at first. After spending 5 days and exploring all this beautiful city has to offer, here are some top things to do in Budapest. Read on to find out what's worth checking out (and what's not) during your time in Budapest, and how to save while you're there.
The Budapest Thermal Baths
If you haven't yet been to the thermal baths in Budapest, get ready for ultimate relaxation. Budapest sits on nearly a thousand natural warm spring water sources, making thermal baths a popular pastime for centuries. These thermal baths are known to have healing and medicinal purposes. These natural thermal water sources gave rise to a bathhouse culture in Budapest that is still strong today; a trip to the baths remains one of the top tourist attractions to Budapest. So, pack your swimsuit and get ready for a public bathhouse experience to remember.
If you're headed to Margaret Island to check out the Japanese Gardens and stroll the island park, make a stop at the Palatinus Baths. The Palatinus Baths have an expansive outdoor swimming pool area, with pools for children, pools with massaging jets, a lazy river, and more. Catch some sun outside and enjoy the pools (each set to different temperatures), or head inside for the thermal baths.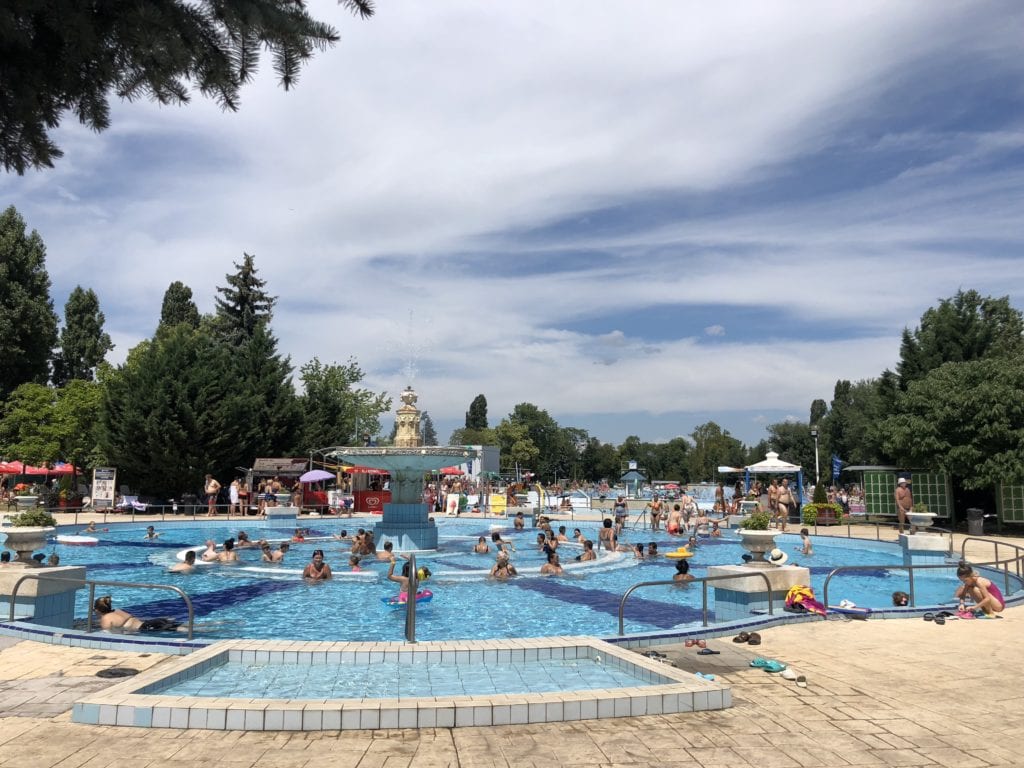 While in Budapest, you've got to visit the most famous thermal baths of all: the Szechenyi Baths. This world-famous thermal bathhouse is known for its gorgeous yellow building surrounding the outdoor pools. The outdoor pools are warm and include some massage jets and a lazy river. You can find a lap pool in the middle as well.
At Szechenyi Baths, you can buy your tickets in advance or online. If you have an ISIC card, bring it for a discount. You can rent a locker for an extra fee: I highly recommend locking up your phone and wallet, as your belongings will be left unattended while you're soaking. Bring your own bathing suit, towel, and snacks for the day. Food is available at the baths, but the menu is limited to snacks and prices are steep.
Thrifty Tip #1: Remember to also pack a few bottles of water: they sell them at the bathhouse, but you can bring them for much cheaper. Stay hydrated during your trip to the thermal baths: the hot water can really take it out of you. Especially if you stay for more than a few hours.
Spend some time having fun outside in the pools, then make your way into the thermal baths indoors. There are multiple different thermal baths inside, so take your pick. Each one will be at a slightly different temperature. Inside at Szechenyi, you'll also find a steam room, sauna room, and ice baths.
Note that most bathhouses in Budapest have a pool or multiple pools, but then a separate indoor area for the hot thermal baths and other spa attractions, like steam and sauna rooms. Don't let Google Images fool you; the most beautiful parts of the famous bathhouses (Gellert and Szechenyi) are often views of the pools, not the thermal baths.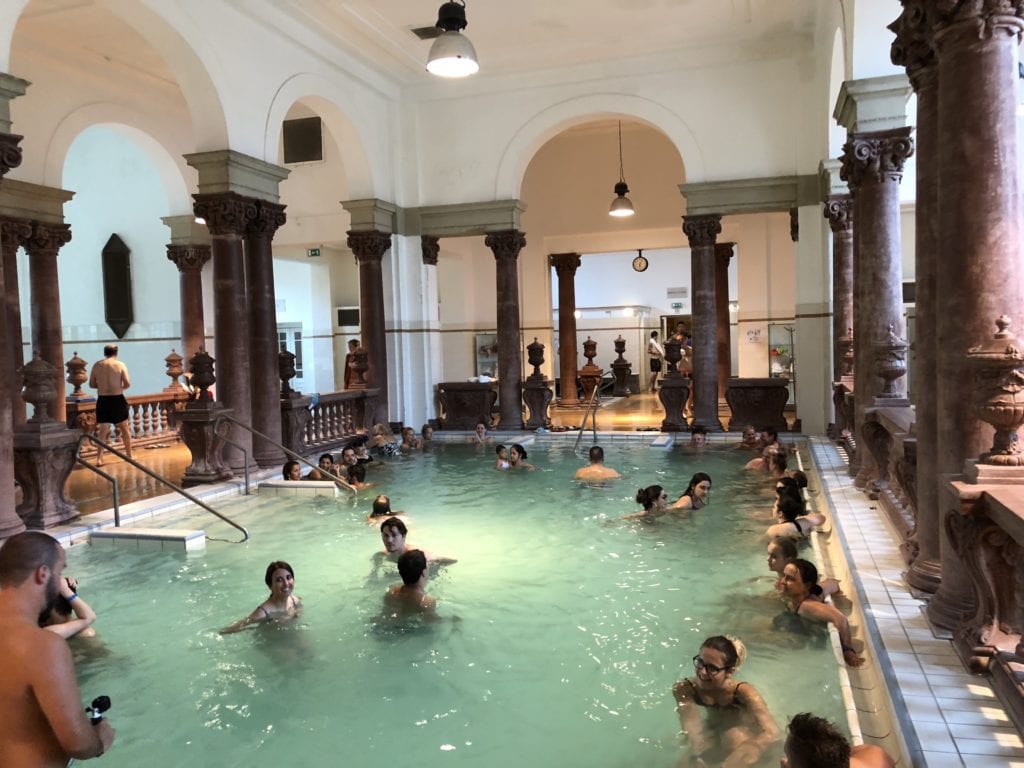 We booked a massage during our day at the Szechenyi baths to take our relaxation to the next level. Book online in advance to reserve massage time slot and get baths access and a locker room included.
There are many more thermal baths in Budapest than can be included here. Gellert Baths and Kiraly Baths are two of the other most frequented bathhouses in the city. No matter which one you pick, remember to pack smart and allow yourself plenty of time here for a truly relaxing day.
Top Budapest Attractions
In my opinion, Budapest hasn't fallen into the common trap that other European cities have. They haven't let tourists and tourist attractions take over their city. When visiting Budapest, I felt that the locals went about their daily lives regardless of it being peak summer (aka tourist season). There weren't touristy trinket shops or restaurants on every single corner. This city is by and for locals, but still, a welcoming place for tourists to enjoy.
A few areas did seem to be hyped up as tourist attractions, and this worked to concentrate all the visitors in certain areas and leave the rest of the city open for regular activity. Below are a few such "tourist destinations" besides the thermal baths, and whether they were worth the visit, or not.
The Central Market Hall
I had read that the Central Market Hall was a fun tourist attraction to check out. I was expecting a food market with hundreds of local foods to sample. However, the market was almost entirely fruit, vegetables, and raw meat on the first floor. It was more like a farmer's market for locals.
On the second floor, all of the touristy stores are crammed in next to one another. If you're looking for a spot to buy souvenirs, this is an option, though they can be rather inflated prices for less-than-unique gifts. There are a few food stalls on the second floor serving quasi-local foods in a fast food fashion, but the area is so packed with tourists we could hardly squeeze by to keep walking, let alone order anything. I wouldn't go out of my way to see this again.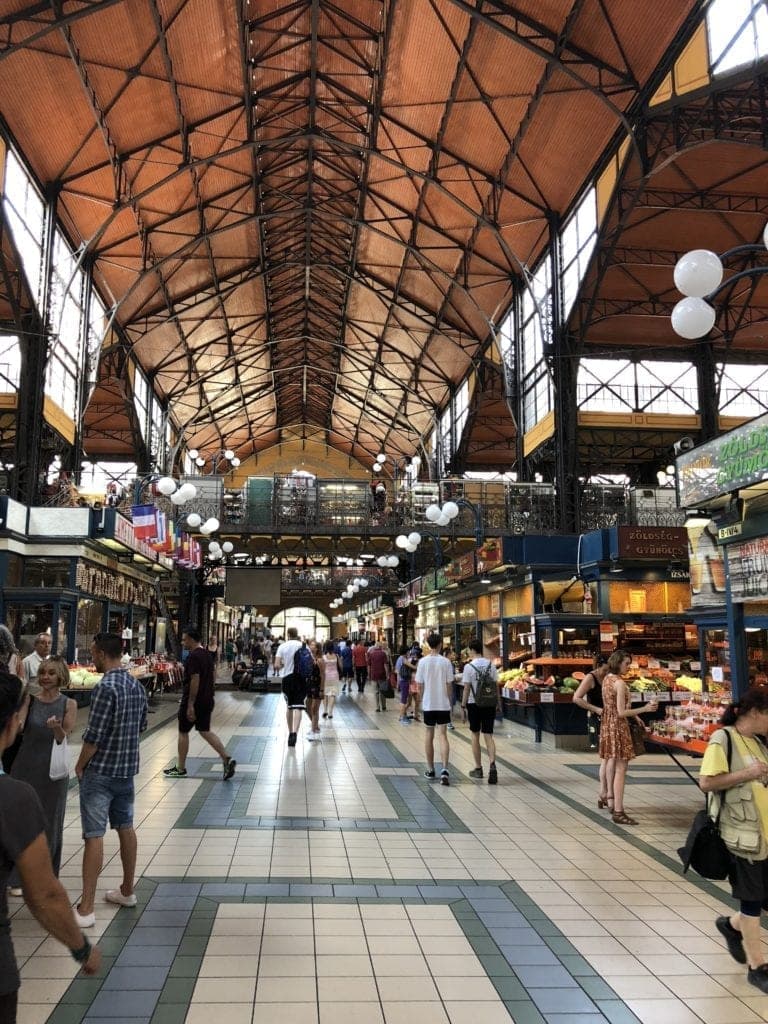 Fisherman's Bastion
We were pleasantly surprised to find this 19th-century fortress was a gorgeous viewing terrace with a spectacular panoramic view of the city. If you want the striking view of walking up the beautiful white stairs, be ready for a workout.
If you don't feel like making the climb, take the escalator right next to the Hungarian National Gallery and walk a short distance over. No stairs necessary. The Matthias Church right next to the main square in the Fisherman's Bastion does cost money to enter, but is definitely worth the price and includes a museum and gallery inside.
Thrifty Tip #2: There is a cafe at the top boasting stunning panoramic views, but you don't have to buy a pricey breakfast or a round of drinks to enjoy this view. There are hundreds of openings, viewpoints, and nooks from which you can get a stunning photo and enjoy the view. However, if you want to avoid the tourist rush, come in the morning or late afternoon.
The House of Terror
The House of Terror seemed to be on every "What to do in Budapest" list, so we decided to check it out. This museum is meant to tell the story of communist and fascist regimes in Hungary, and also serve as a memorial to those who were tortured there.
However, this museum was a disappointment on all levels. They didn't offer any student discounts, and tickets were shockingly expensive. The museum was poorly organized: no audioguide, and just a few pieces of paper with information in English in 8-point font. Everything else on the exhibits, videos, and plaques to read was in Hungarian. Exhibits seemed tossed together without thought, and it was very hard to follow the "story" of the museum. The exhibits themselves had a very negative and strange message, and it left us confused and frustrated. I'd recommend passing on this tourist attraction.
The Budapest Parliament House at Sunset
I saw the Parliament house at dusk and knew that I wanted to watch the sunset here. We took an easy metro ride over to the station opposite the Parliament House (Batthany ter) an hour or so before sunset and found a spot to sit on the ledge. It was wonderful to watch the lights slowly turn on as the sunset faded — a must-do in Budapest. Pack snacks, picnics, drinks, and a blanket or jacket for the evening. There isn't much for food or drink right nearby this metro station or area, and it can get chilly after sunset.
Thrifty Tip #3: Take public transportation! There are no Ubers here, and taxis can cost a decent amount, so opt for tram, train, and bus service to get around the massive city of Budapest. The city really isn't walkable if you have a short time and want to hit multiple attractions. I highly recommend getting one of the 10-pack metro passes (purchase from a machine or ticket counter in an underground metro station). This will get you 10 separate trips around the city for cheap. Just remember to validate a new ticket each time by punching a hole at the stall in the station.
Dining in Budapest 
I'd be lying if I told you we didn't eat our fair share of kebabs while in Budapest. We fell in love with this cheap and delicious food in Berlin and were so excited to find just as many scattered around the city when we arrived in Budapest. If you're looking for an inexpensive and delicious way to fill your belly in Budapest, check out Ararat Kebab and others in the area.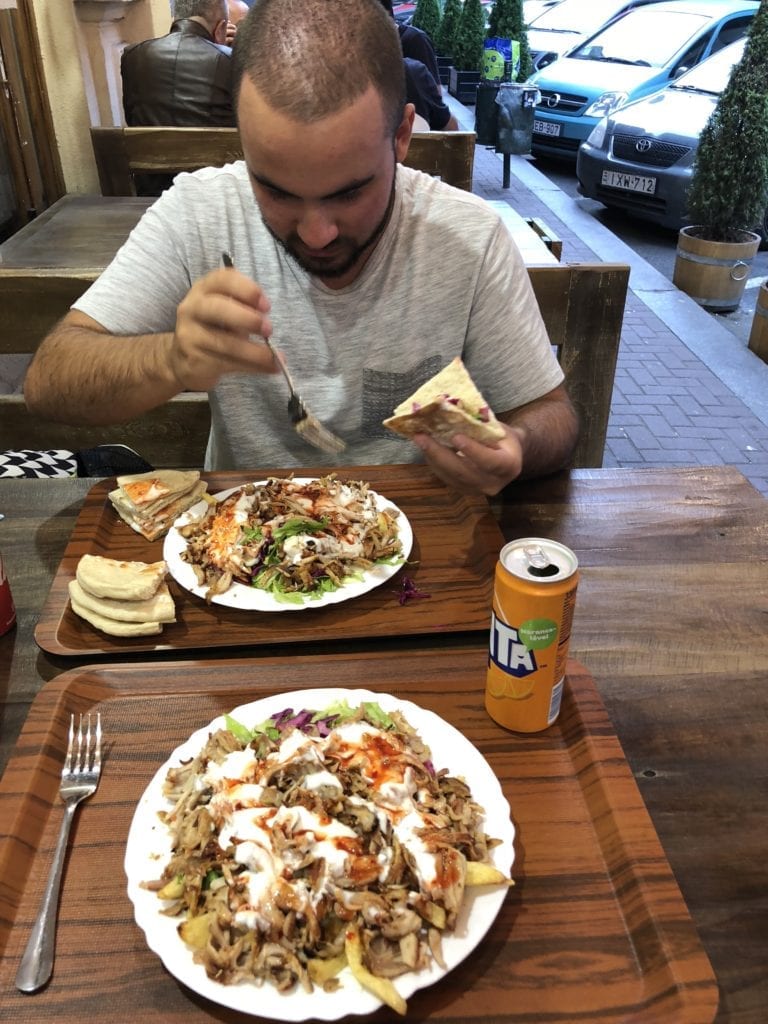 We found a number of cute cafes and restaurants to check out in the area surrounding the ruin bars. The old Jewish quarter is a more touristy area because of the ruin bars, but we really enjoyed exploring these streets. There are adorable vintage clothing boutiques, secondhand and homemade goods stores, bars, and small local restaurants, and cafes. One of our favorites was a Japanese-style cafe with pine trees and chandeliers called Vintage Garden.
In that same area, we found a few different areas that hosted food trucks. The food truck space was so adorable, and vendors were serving authentic Hungarian delicacies. Besides goulash, the main Hungarian food on our list was langos. This is a deep-fried dough (think funnel cake) topped with sour cream and freshly grated cheese. We picked up our langos at one of the food trucks in the area around the ruin bars. Absolutely delicious!
The Ruin Bars
Of course, one of the biggest tourist attractions in Budapest besides the thermal baths are the ruin bars. The old Jewish quarter of the city was in ruins, but in the early 2000s, a group of friends took a gamble on a condemned building and turned it into the first and most famous ruin bar: Szimpla Kert. These unique recycled spaces have it all: character, history, funky decor, and good food and drinks.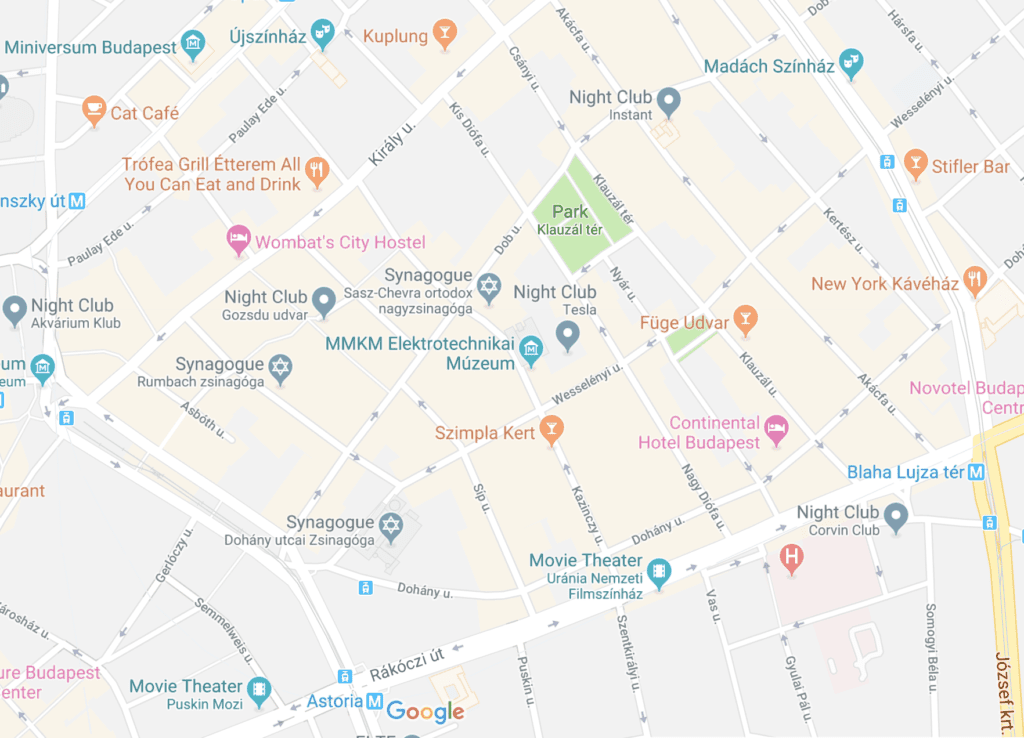 The ruin bar area is all organized in a square around the Park Klauzal Ter square and is within an easy walking distance from many metro lines: Blaha Lujza ter, Astoria, Deak Ferenc ter, and others. You'll want to see more than just one, and these bars are fun at any time of day, so I'd recommend visiting 2-3 a day during your stay in Budapest.
You absolutely cannot leave Budapest without a visit to Szimpla Kert, the original and largest ruin bar. This massive building has an insane number of different rooms, each with a different theme, strange decorations, and specialty bars.
You really just have to see this place for yourself to experience the glory that is multi-colored lights, tropical plants, tables in every color, and a bathtub cut out to be a seating bench. Everyone told us to order a "carrot" here, so we thought it might be some secret cocktail or shot, but no: it's a carrot. An interesting bar snack to say the least.
Another favorite of ours was the Kuplung ruin bar. This cute ruin bar is much smaller than Szimpla, but is decorated in an underwater theme, and has some crazy unique cocktails. They also run specials on Mondays, so head there for half price drinks all night.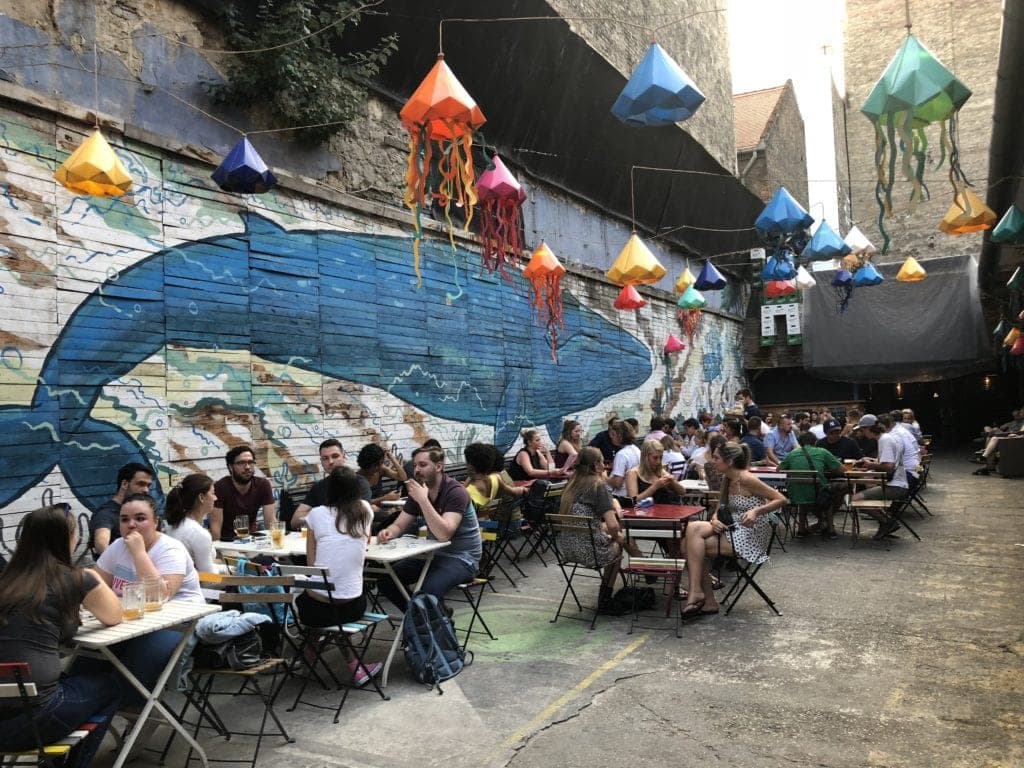 There are so many ruin bars to check out, but a few others we loved were Ellato Kert, a colorful ruin pub with Mexican beers and tacos, and Instant, a crazy multi-club with 6 bars in one. Check out Ellato Kert in the afternoon and save Instant for an evening out.
Bottom Line
If you're headed to Budapest, don't miss the thermal baths, ruin bars, and city views. Use our Budapest guide to get around the city and see the best attractions in Budapest for less. Say hello to the Pearl of the Danube for me!