You don't need to fly far for the perfect, easy weekend getaway. Look right in the middle of the country.
Yes, Chicago. With two airports – Chicago-O'Hare (ORD), a hub of both United and American Airlines, and Chicago-Midway (MDW), a Southwest stronghold – it's easy to reach from near or far. Pro tip: Fly into Midway, if you can – it's much closer to the city.
And whether it's your first time to the city or you're a frequent visitor, there is plenty to see and do. We've put together a few of our must-see places that are sure to please.
Hotel Julian
Lodging can be overwhelming in any city, and the options are endless in Chicago. This one is our personal favorite.
Not only is Hotel Julian budget-friendly, but it's in a prime location. It's in the heart of downtown right near Millenium Park, The Bean, and the Magnificent Mile. Many theaters and restaurants are just a stone's throw away. Being a quick walk from so many great spots around the city make Hotel Julian our go-to for every visit.
It's got a modern, classy vibe from the lobby to the rooms and everywhere in between. There's a great restaurant called Last Knife in the lobby for drinks or dinner, too. It's a great value all around.
Got hotel points to burn? World of Hyatt points will get you far in Chicago with some great options like The Thompson Chicago, bookable for just 15,000 points per night. As of March 22, even the Chicago Park Hyatt will drop down to 20,000 points per night.
Stan's Donuts
It doesn't matter if you're starting your day or ending it, coffee and donuts from Stan's Donuts right across the street from Millennium Park and Hotel Julian is a must. This is a favorite little stop of ours.
It's practically a Chicago staple, and it shows. Depending on the time of day, lines may be out the door.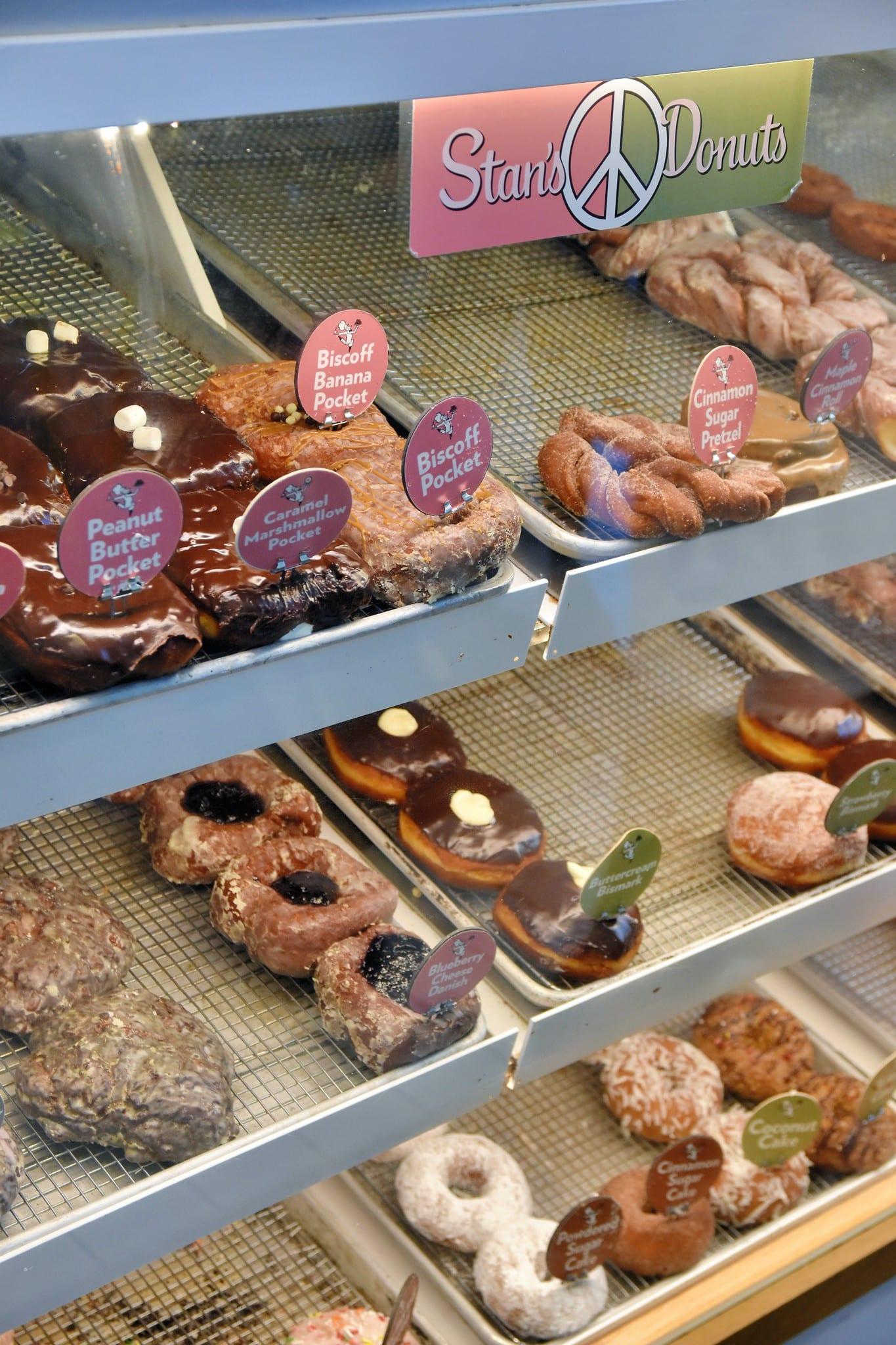 And for my gluten-free friends out there, they've got you covered, too! They offer a gluten-free cake donut with three topping options, blueberry, chocolate, and my favorite: pistachio. You can't go wrong!

Willis Tower SkyDeck
You can still call it Sears Tower if you'd like. But if you want an unforgettable VIP experience, try breakfast or supper on the SkyDeck of what was once the world's tallest building: Willis Tower.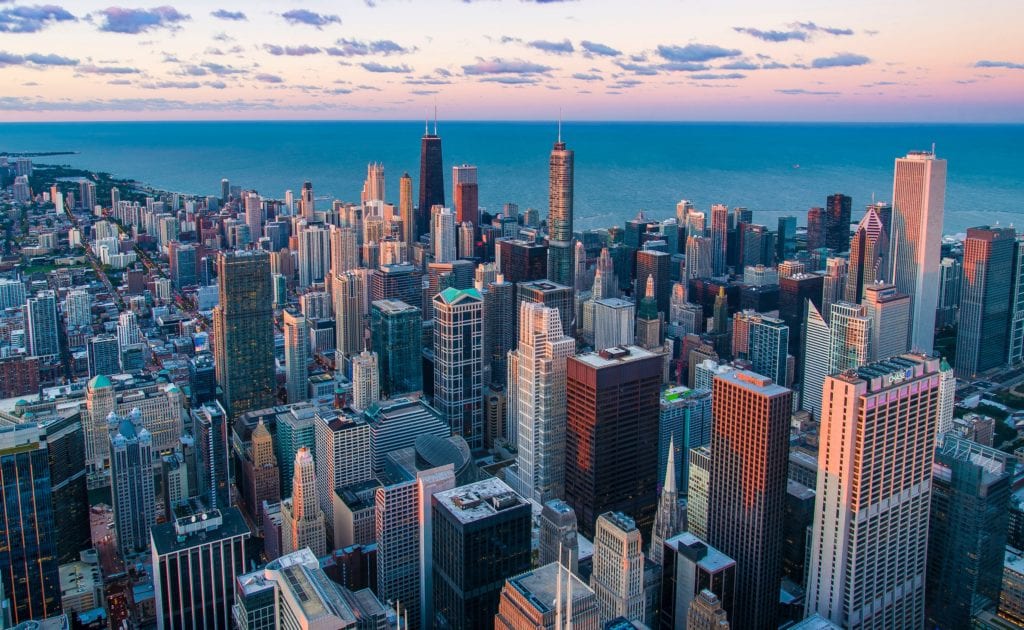 It's closed to the public, but you can enjoy a delicious menu while soaking in an unbeatable view of the city. With only seven tables available each day, it's a coveted experience – be sure to book at least five days in advance. With The Ledge practically to yourself, watch the city come alive in the morning or twinkle at night. Take photos on the glass platform hovering 103 stories up with no one else in line!
Be warned: It's not cheap. Breakfast rings in at $125 per person. The SkyDeck's dinner package is a slightly cheaper option at $100 per person and includes a three-course catered meal from Giordano's Pizza. Both are great experiences.
If that price tag isn't in your budget, that's alright. Come 2020, Willis Tower will have a new addition: Urbanspace, a great food hall with affordable prices that you can tack onto any venture to Willis Tower.
For those with their own dining agenda, just make sure to arrive at the SkyDeck EARLY to avoid most of the crowds. You'll be glad you did.
Lucky Strike and For the Win Chicago
Lucky Strike and For the Win Chicago (at the Streeterville location) is one of the best spots in town.
This place has it all! It's an entertainment complex featuring bowling, billiards, ping pong, movie theaters, and 130 arcade games. Grab supper while bowling a few rounds in their upscale alley. Sneak in a movie or shoot some pool, Then head over to the bar at the arcade for a drink and a little blast from the past. Enjoy this modern arcade suited for adults and open late. Let your competitive side have a little fun while you laugh the night away.
Millennium Park
Just because it's popular doesn't mean you should skip it. Just the opposite: Millenium Park is a must-stop for first-timers.
Full of beauty, art, and architecture, it's easy to spend hours at Millenium Park.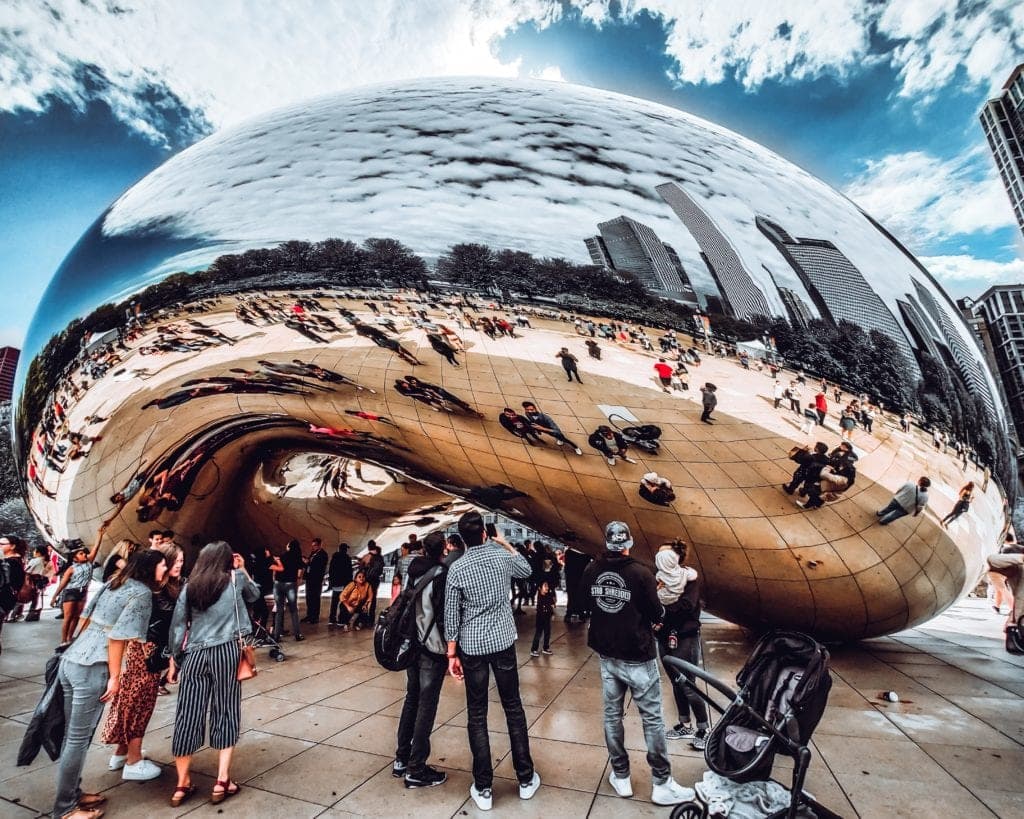 Take in one of the free events or concerts, or enjoy a picnic for lunch. During the winter, you can even ice skate. No matter the season, Millennium Park is the perfect place for a stroll. Just don't forget those photos at the iconic Bean!
RPM Steak
Need a place for a business dinner, cocktails, or a nice date night? You want to go to RPM Steak.
This isn't your typical steakhouse – it's got a sophisticated, classy atmosphere with top-notch cuts of meat to match. And everything is amazing, so be sure to order up some family-style sides, too. My personal favorites are the crispy brussels sprouts and the Millionaire's potato, but you really can't go wrong – you'll be stuffed regardless.
Chicago Sports

Chicago is one of 11 U.S. cities with teams in all five major professional sports leagues – baseball, basketball, hockey, football, and soccer. And that makes it the perfect place to take in a game.

But Wrigley and Soldier Fields are absolutely iconic. Feeling the roar of the crowd is unlike anything else. Grab tickets to one of the major sporting events in town and spend your day or evening experiencing true Chicago.
John Hancock Center
Get the SkyDeck view without the price tag at the John Hancock Center.
Some say the Signature Room on the John Hancock Center's 95th floor offers the best brunch in town. At $65 per person, it's a good alternative to the SkyDeck breakfast – with a similar view.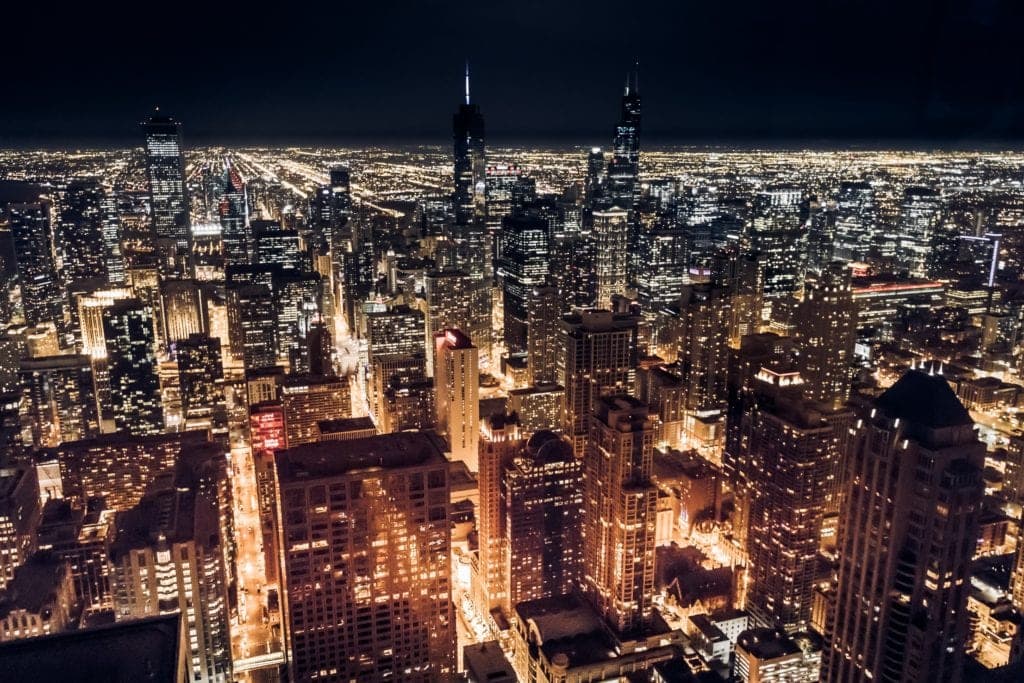 Want to save more but get the same experience? Head over to The Signature Lounge on the 96th floor for a drink. It's cheaper than the restaurant below, with great appetizers and desserts in addition to cocktails. It's a great place to take in the skyline over cocktails with the lights of the city as your backdrop.
While you're there, don't miss the view from the bathroom. Yes, you read that correctly.
Chicago Riverwalk and Lake Front Trail
One of our favorite ways to see a new destination is to get outside for a workout. Whether you're a fitness enthusiast or just want to enjoy the culture and outdoors, the Chicago Riverwalk and Chicago Lake Front Trail fit the bill.
The Lake Front Trail is great for biking. It runs about 18 miles or so, connecting many beaches and parks with other attractions like Navy Pier and Solider Field. The views of the city, major landmarks, and the river are fantastic.
For you walkers and trail runners, the Riverwalk is a shorter distance of about 1 1/4 miles each way. It's the perfect place for a date-night stroll while hitting up the various restaurants and attractions as well.
Bottom Line
Looking to relax? Done. Want to dive into a vibrant city? You're covered. Explore a new (or familiar) place? Check.
This variety makes Chicago the perfect weekend getaway. Hit up a few of the major must-see spots, but then plan as much or as little as you'd like. Either way, there are amazing views, restaurants, and nightlife scattered around the city to keep you busy for a full weekend or more.