An underrated but critical part of getting ahead with credit cards, and points and miles is organization. From meeting minimum spending requirements to earn that big bonus to tracking renewal dates to keeping tabs on your Chase 5/24 rule status, there's a lot to keep track of. And that's true whether you've got just one or two credit cards or have opened dozens, like me.
You can track it all manually in spreadsheets, of course – that's what I did for years. But then I stumbled upon Travel Freely, and it has completely changed how I keep my travel credit cards organized. To this day, Travel Freely's tools are the best solution I've found to keep all my ducks in a row and prevent a costly mistake.
Read on for a full review of Travel Freely, how it works, and why you should use it – whether you're just getting started with travel credit cards or have a wallet full of them.
What is Travel Freely?
Put simply, Travel Freely is an online tool that automates your credit card organization. It automates many of the most important data points to track on your credit cards.
You just enter the date you opened a card – and what card you opened, of course, and Travel Freely will do some handy things to help you out:
It'll automatically track how much time you have to meet a minimum spending requirement in order to earn a welcome bonus.
You'll get an email alert 45 days before your annual fee is due on each card, giving you ample time to decide whether to keep that card or cancel it. For example, I recently got an alert for my Alaska Airlines Credit Card from Bank of America, which is set to renew June 1.
Based on how many cards you've added to your Travel Freely account and when, it will calculate your current Chase 5/24 status. That's critical, as Chase will deny you for almost any credit card if you've opened five or more credit cards in the last 24 months – from any bank, not just Chase. Read more on the Chase 5/24 rule!
Considering picking up a new credit card? Travel Freely will even time out when you are most likely to get approved, using a 90-day window from your last approval.
One of my favorite parts about Travel Freely is that it allows you to track both open and closed credit cards for up to two users. So if you're in two-player mode, managing credit cards for both yourself and a spouse or significant other, it makes it easy to track both in one place.
Notably, Travel Freely doesn't keep any sensitive information about any of your credit cards. When you add a card to your dashboard, you simply enter the date on which you opened it and the welcome offer bonus. You never enter your credit card number or account information – or any other personal information, for that matter.
Who is Travel Freely For?
Travel Freely works great for anybody that wants to keep things organized when it comes to credit cards. Organization is key – losing track of your card portfolio is a recipe for costly mistakes.
And that's true whether you are just getting started with points and miles, or somebody who is more advanced and has been earning and burning points and miles for years. Trust me: The best time to get organized with points and miles is when you first get started. It makes things so much easier as you get further down the road, and you'll thank yourself later.
When you first get started with Travel Freely, you'll need to provide your name and a valid email address, verify your email and create a password and you'll be up and running. Once you have an account, you can expect a few periodic emails from Travel Freely founder Zac Hood with different info helping you utilize the service.
Using the Travel Freely CardGenie
Another cool feature of the Travel Freely service is the CardGenie.
This tool takes into account the credit cards you have currently open, all the cards in your history, and all the bank rules and restrictions. From there, it makes suggestions for cards based on what it knows you would be eligible for. And there's a lot to that – every bank has its own rules and regulations surrounding when it will (or won't) approve someone for a new card. The CardGenie tool makes it easy to understand what you are eligible for pretty quickly and easily.
For example, Chase will not allow you to get a Chase Sapphire Preferred or Reserve card if you have earned the bonus on either card in the last 48 months, or four years.
So although my wife is underneath the Chase 5/24 rule, neither the Preferred nor Reserve show up on her CardGenie dashboard as she isn't eligible for either card. That's because she just opened a Chase Sapphire Preferred Card last fall – she won't be eligible to earn a bonus on either card again until at least the fall of 2024.
Is There a Cost for Using Travel Freely?
No. Travel Freely is completely free to use.
By signing up and creating a free account, you will be put on their email list and receive occasional tips, tricks, and alerts of new welcome bonus offers for certain credit cards.
Like Thrifty Traveler, Travel Freely works with credit card issuers. So if you apply for a credit card using a link on the Travel Freely website, they will receive a commission if you are approved. That's what ultimately allows them to offer the credit card tracking functionality for free.
Does Travel Freely Track Points & Miles Balances?
Travel Freely doesn't currently have a way to track your balances of airline miles or hotel or credit card points. As we mentioned previously, the service does not collect any personal information from your financial accounts or loyalty programs.
If you are looking for a tool to organize your actual balances of points and miles, you'll want to check out Award Wallet.
The Travel Freely Mobile App
Until recently, Travel Freely was only available on a laptop or desktop computer. That's changed as they recently launched a mobile app which is available in both the Apple App Store and on Google Play.
Admittedly, I still find myself mostly using the tool via the web, but it is nice to quickly reference things (like my Chase 5/24 status) via the mobile app. It is also handy as a quick reference point for when an annual fee is due on a credit card.
All of the same functionality exists between the mobile and desktop versions. Head to the app store to download Travel Freely.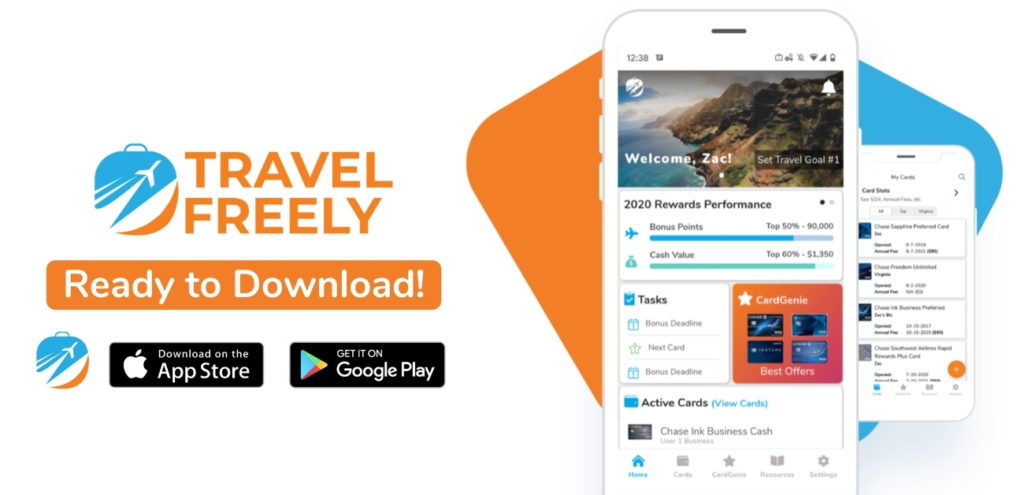 Bottom Line
After using Travel Freely for a few years, I don't think I could ever go back to tracking my opened and closed credit cards on a spreadsheet.
The Travel Freely interface is clean and easy to use, making credit card organization a breeze. Whether you are just getting started, or are a seasoned points-and-miles pro, Travel Freely is the best option out there for setting yourself up for points and miles success.
Create your free Travel Freely account today!