JetBlue is a fan-favorite airline for many Americans living on either coast thanks to generous legroom, free Wi-Fi, and great snacks and onboard service. Booking these flights with cash is straightforward, but using points and miles? Not quite.
JetBlue isn't part of one of the major airline alliances, which means there aren't as many options to put credit card points or airline miles to use for a JetBlue flight. But there are a few unique ways to book a JetBlue flight for (nearly) free, whether you're fine flying economy or want to splurge for a fancy JetBlue Mint seat – but some redemptions are better than others.
As you'll see, in many cases it might make most sense to simply book a JetBlue flight with cash. But if you're aiming to head overseas on JetBlue's flights to London, want to avoid the airline's stingy basic economy fares, or are set on scoring a seat up front without shelling out a ton of cash, these methods will come in handy.
Here are our favorite ways to book JetBlue flights with points and miles.
Capital One Purchase Eraser (… Not the Portal)
The easiest way to use points and miles to book JetBlue flights starts just like buying any other flight: Simply book the flight directly with JetBlue … but be sure to put the charge on your Capital One Venture X Rewards Card or Capital One Venture Rewards Card.
From there, you can go back and remove the charge from your statement using Capital One purchase eraser. While you can't book JetBlue flights through the Capital One Travel Portal, there's no problem here.
You'll have 90 days from the date of purchase to "erase" the charge from your statement. Every Venture mile is worth 1 cent toward airfare … or any travel purchase.
So whether you find a cheap flight searching on Google Flights or sent straight to your inbox from Thrifty Traveler Premium, you can book the deal directly with JetBlue – like this $178 roundtrip, nonstop flight from Minneapolis (MSP) to Boston (BOS) – and use 17,800 Capital One miles to erase the purchase.
It's a super easy process. You can book any flight, there are no blackout dates, and you'll earn JetBlue TrueBlue points on the flight itself. And since you're booking the flight directly with JetBlue, you'll only need to deal with the airline if something goes wrong during your trip or if you need to make any changes.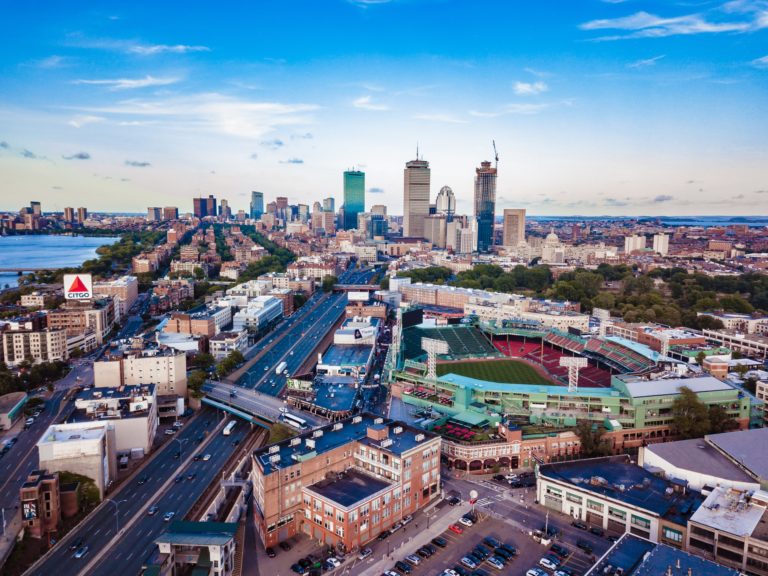 Chase Travel Portal: Best for Sapphire Reserve Cardholders
Another easy way to book JetBlue flights with points is through the Chase travel portal. Rather than paying cash for a flight, you can use your Chase points as if they were cash – the cheaper the flight, the fewer points you'll need.
Better yet, if you hold the Chase Sapphire Preferred® or Chase Sapphire Reserve® Card, you'll get a discount. Every point from the Preferred Card is worth 1.25 cents toward travel, while you get 1.5 cents apiece from the Chase Sapphire Reserve.
Best of all, you won't have to pay any additional taxes or fees – they're covered by your points. And unlike using airline miles, you'll still be able to earn JetBlue TrueBlue points on your flights when booking through the Chase portal.
Here's an example of a cheap nonstop flight from New York City (JFK) to Miami (MIA) for $138 roundtrip. With the Sapphire Preferred Card, you can book the flight for 10,975 Ultimate Rewards points. With the Sapphire Reserve Card, it would only be 9,147 points.

Using the Chase Portal for JetBlue flights will be the cheapest if you're booking a JetBlue basic economy fare. But if you'd like to bring a carry-on bag and have the flexibility of free changes, you'll need to book a standard "Blue" fare. In these cases, it may be cheaper to transfer your Chase points to JetBlue and book with TrueBlue points.
JetBlue TrueBlue Points: Best for Blue Fares
JetBlue's TrueBlue frequent flyer program prices flights booked with points that more or less follow the cost of a cash ticket. When cash tickets are more expensive, they'll cost more points as well. When they're cheaper, you'll spend fewer points.
But there's one huge advantage using JetBlue points rather than booking through a travel portal. With JetBlue TrueBlue points, you'll always be booking at least JetBlue's standard economy fares – dubbed "Blue" fares. JetBlue doesn't sell basic economy for points.
If you want to avoid JetBlue basic economy, it may make sense to book your flight using TrueBlue points. For instance, check out these nonstop Blue fares from San Diego (SAN) over to Boston (BOS) for $338 roundtrip.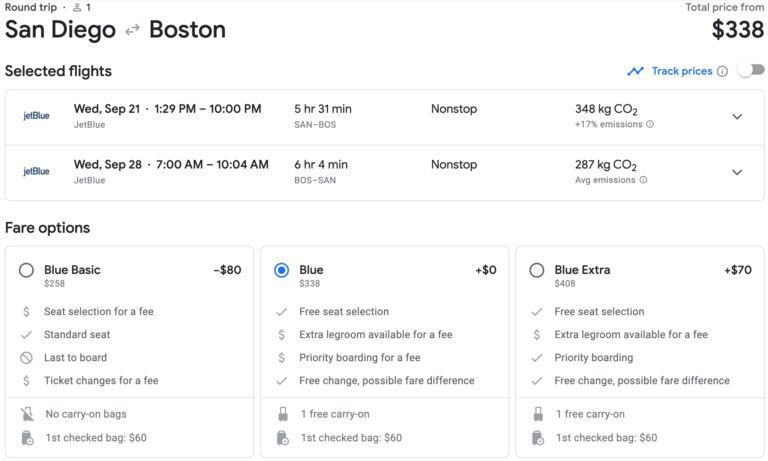 If you were to book these flights with JetBlue TrueBlue points, it would cost 21,600 points and $11.20 in taxes and fees.

Meanwhile, those same flights would cost Chase Sapphire Preferred cardholders nearly 27,000 Chase Ultimate Rewards points if you were to book the Blue fare through the Chase travel portal.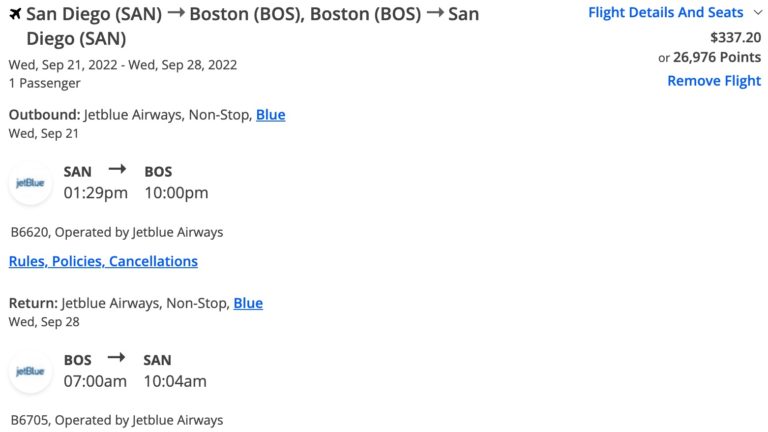 Of course, Sapphire Reserve cardholders would get a better deal booking through the Chase portal, which generally makes it an equal value compared to booking with TrueBlue points. And you won't earn any TrueBlue points on the flights if you book your flights using TrueBlue points.
Still, if you'd like to spend as few points as possible and travel with a carry-on bag when flying JetBlue, it will often be cheaper to book with JetBlue TrueBlue points than through Chase … unless you're a Sapphire Reserve cardholder.
Chase Ultimate Rewards transfer instantly to JetBlue at a 1:1 ratio. Keep in mind that you'll need to transfer in increments of 1,000 points.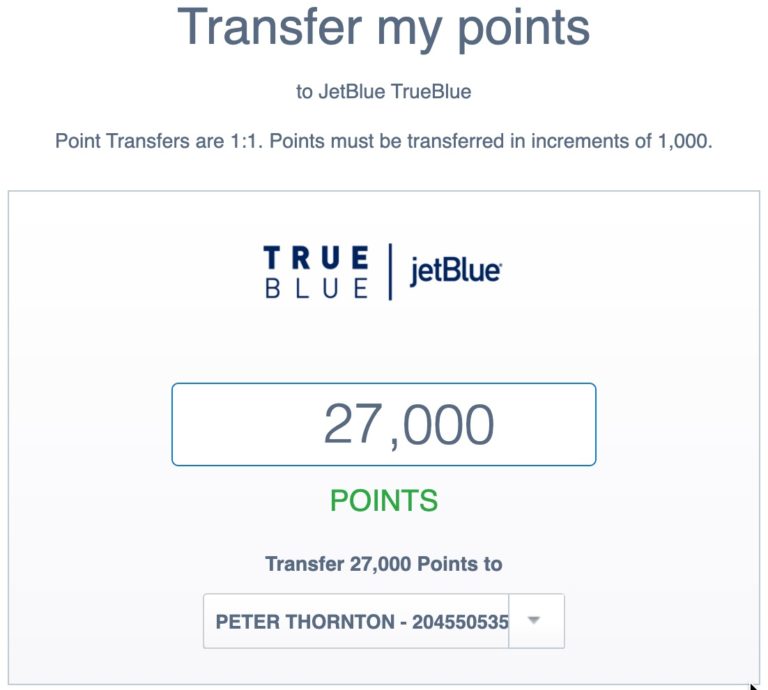 JetBlue is also a transfer partner with American Express Membership Rewards and Citi ThankYou points. If you hold an Amex Membership Rewards card like the American Express® Gold Card or The Platinum Card® from American Express, your points will transfer to JetBlue at a 1:0.8 ratio. This means that for every 1,000 Amex points you transfer, you'll only get 800 JetBlue points.
Citi Premier® and Prestige® cardholders can transfer ThankYou points to JetBlue at an even 1:1 ratio, while other Citi cardholders transfer at a 1:0.8 ratio, similar to Amex.
JetBlue TrueBlue points can be a great way to book a standard economy ticket on JetBlue, but JetBlue charges ridiculous rates for its Mint business class seats using TrueBlue points. If you'd like to fly up front, there's a better way to book with points and miles …
American AAdvantage Miles: Best for JetBlue Mint
American Airlines and JetBlue started a unique partnership in 2020. As of late 2021, you can book JetBlue flights using your American Airlines AAdvantage miles.
Unfortunately, not all of JetBlue's routes can be booked with AA miles – most notably, you can't book JetBlue flights to London with AA miles. But you can find some great value when booking several other JetBlue routes, including transcontinental flights in JetBlue Mint.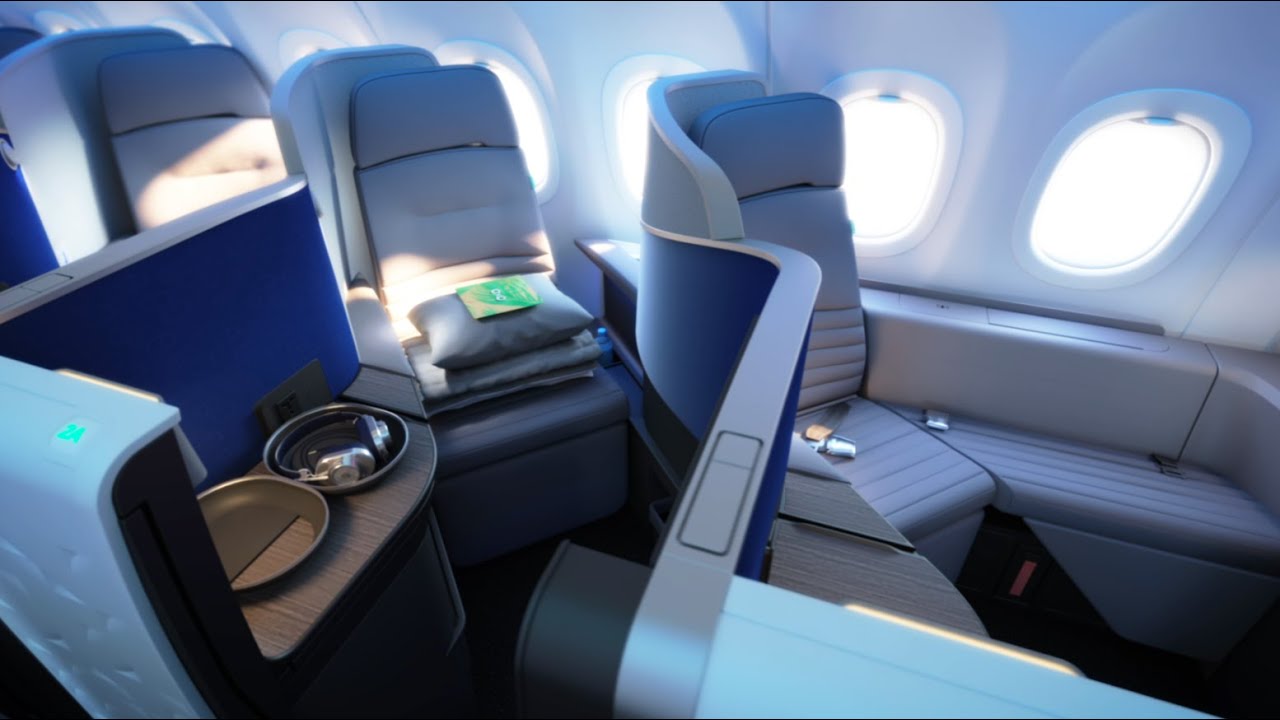 Starting from 50,000 miles one-way, it doesn't exactly sound cheap for a domestic flight. But that's a reasonable price to pay for what we consider the best domestic business class experiences in the sky – especially on JetBlue's newest seats.
The quality of the seat and service is on par with international business class and a transcontinental flight is nearly as long as a flight from the East Coast over to Europe. And if you compare the 50,000-mile rate to what an international business class award costs, it's a pretty stellar deal.
The cheapest Mint routes are flights between Las Vegas (LAS), San Diego (SAN), Seattle (SEA), and JetBlue's two main hubs in Boston (BOS) and New York City (JFK). You'll need 50,000 AA miles and $5.60 to book a one-way flight in JetBlue Mint on these routes.


Thrifty Traveler Premium+ subscribers received an email alert earlier this year with a ton of award space for up seven passengers to fly JetBlue Mint this fall using American Airlines miles.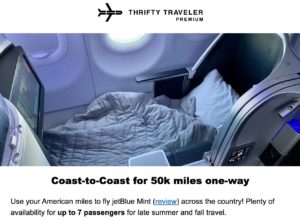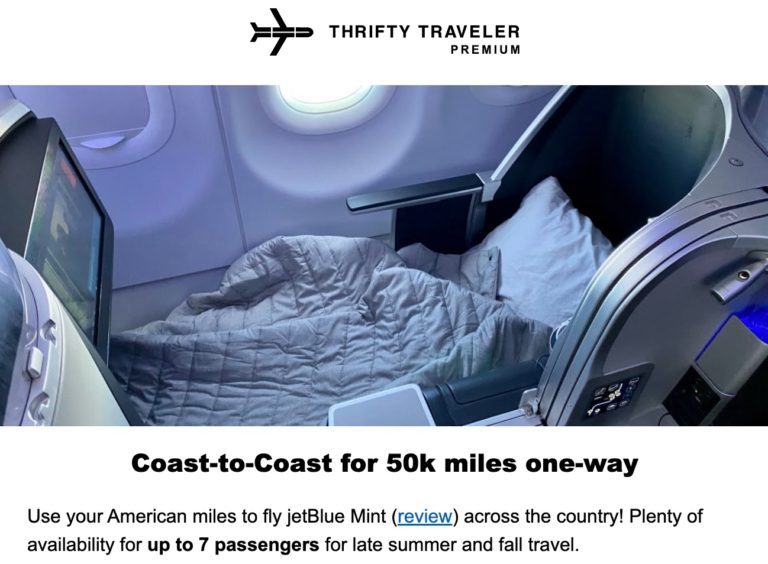 Get flight deals and award availability alerts like this sent straight to your inbox with Thrifty Traveler Premium+!
Looking to fly to or from Los Angeles (LAX) or San Francisco (SFO)? You'll have to pony up more miles – American charges an extra 15,000 miles each way if you'd like to book JetBlue Mint flights departing or arriving in these cities.

While this stings a bit for Angelenos and the Bay Area, it's still a pretty good deal to fly a superior product on the long flight across the nation. Especially when you compare it to what JetBlue Mint normally costs when paid for with cash.
Instead of paying over $1,000 for a one-way flight from San Francisco to New York ….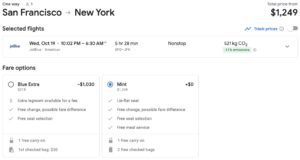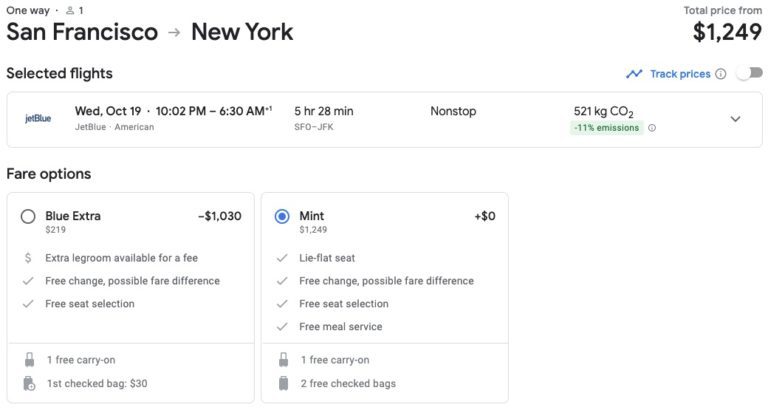 You could book the same flight for 65,000 AA miles and $5.60.


Looking to fly JetBlue Mint to the Caribbean? JetBlue also flies its Mint product from Boston and New York to several island destinations in the Caribbean. It's a unique way to start off your vacation by flying in a lie-flat seat. Flying JetBlue Mint to the Caribbean costs 52,500 AA miles one-way.

You can also book JetBlue economy tickets using American miles. While American charges a variable rate for its own flights, JetBlue flights that can be booked with AA miles will always be charged the standard saver rate.
12,500 miles one-way for domestic flights
17,500 miles one-way for flights to the Caribbean, Mexico, and Central America
20,000 miles one-way for flights to South America
These rates aren't anything to write home about, but when you consider that you'll be booking into JetBlue's standard economy "Blue" fare bucket – which includes a carry-on bag – it can be a valuable redemption when fares are high. Of course, booking JetBlue flights with AA miles is subject to availability.
Earning American AAdvantage miles can be trickier as American isn't a transfer partner with any of the major banks. However, a handful of credit cards allow you to quickly earn up to 110,000 American miles.
Your best bet is the Citi AAdvantage Platinum Select World Elite Mastercard, which comes with a $99 annual fee, though that's waived in the first year. Another solid option is the Barclaycard AAdvantage Aviator Red World Elite Mastercard, which currently offers a 50,000-mile bonus after making a single purchase within three months. The annual fee is waived for the first year ($99 after that).
Another unique way to earn AA miles is to earn points on rent with Bilt Rewards and transfer points from Bilt to American Airlines.
Emirates Skywards: Not Much Value (For Now?)
Believe it or not, you can use miles from Dubai-based Emirates to book JetBlue flights.
In fact, until recently, using Emirates Skywards miles was the best way to book Jetblue Mint Class, period. But no more: Unfortunately, Emirates quietly stopped allowing JetBlue Mint seats to be booked using Emirates Skywards this summer.
Ouch. The award rates were great, too: You could use Skywards to book JetBlue Mint seats for 40,000 miles one-way to the Caribbean, 52,000 miles one-way domestic, or 64,000 miles one-way to London.
We're hoping this redemption opportunity to book JetBlue Mint via Emirates returns – especially since booking economy flights with Emirates Skywards is nowhere near as compelling. Emirates uses a distance-based pricing model for JetBlue flights, starting from 8,000 miles one-way in economy – but that's just for really short flights up to 250 miles. The rates go up quickly depending on flight distance.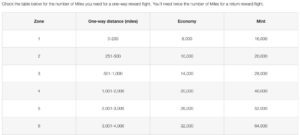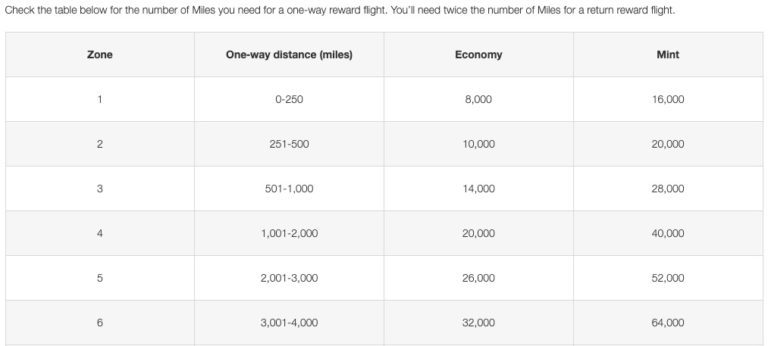 The only real value here is JetBlue standard economy to London for 32,000 miles one-way. Since one-way flights to Europe tend to be expensive when paying cash, this can be a great way to fly JetBlue across the pond if you're looking for a cheap one-way flight.


Roundtrip flights for 64,000 miles aren't too bad either, but you'll often find a similar price or lower when booking with TrueBlue points.
In order to book JetBlue flights with Emirates miles, you'll need to log in to your account and start your search from the advanced search page. Make sure to select "Book Classic Rewards Flight" and "Search partner flights only".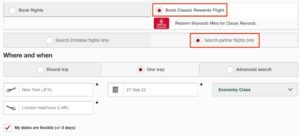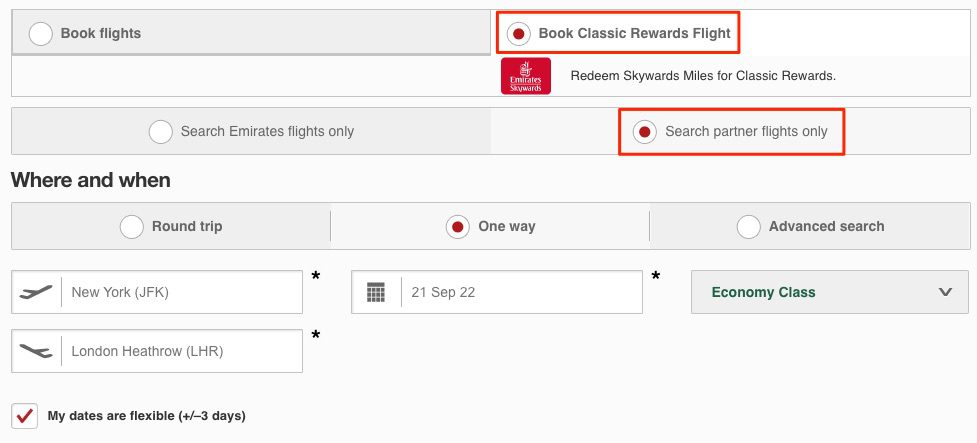 The best part about booking JetBlue flights with Emirates miles is the fact that Emirates Skywards miles are some of the easiest miles to earn. You can transfer from all major transferrable points programs, including Amex, Bilt, Capital One, Chase, and Citi.
Bottom Line
Booking JetBlue flights with points and miles may not always make sense. But when it does, there can be some real value here.
If you have the cash on hand, it might be best to just book a JetBlue flight and skip the points. If you're set on using points and miles, exactly which redemption to turn to depends on where you're going – and how you want to get there.