With discounts, sales, and deals galore, it can be easy to fall into the same pattern every year around the holidays. Buy a gift, wrap a gift, give a gift, done.
But for the traveler in your life, there is no better present than the gift of travel for next year … especially after a year without it. More than ever before, travelers are yearning for better travel days. And whether it's a future trip together, the supplies for a bucket list adventure, or the gift of cheap travel for 2021, you can help make those travel dreams come true.
Here are some ways to incorporate the importance of travel into your giving this holiday season.
Give the Gift of Cheap Flights for 2021
If the traveler in your life wants to see more of the world for less, it's time to introduce them to Thrifty Traveler Premium. Gift them a year of the best domestic and international flight deals we find so they can make their travel even cheaper! As a Premium member, your favorite traveler will also enjoy complimentary travel rewards consulting if they're looking to get into the world of points and miles.
You can give someone – including yourself, lucky you! – a year of this service for just $39 (normally $45). This one-year membership will be activated on Jan.1, 2021. This is not a subscription: It will end on Dec. 31, 2021.

Read more and buy it for $39 for your loved one, then print off this image to stuff in their stocking! 

Treat Them to a Vacation (or Mini-cation) with You
Giving the gift of travel doesn't have to mean spending thousands or use all your vacation time! Treat your loved one to a road trip together over a weekend or a few days you're both free. Here's how:
Snag a cheap flight within the U.S.! Sign up for Thrifty Traveler Premium to get the domestic (and international) flight deals we find. Or head out on a road trip!
Book affordable accommodations for a night or two in a unique Airbnb.
Map out a few cheap or free things to do in your destination: hiking, exploring the city, window shopping, and visiting museums and parks are all free (or cheap!) ways to mini-cation on a budget.
Plan the big reveal in a fun way! A few years ago, I gifted my brother a trip to Boston. I got an awesome scratch-off card like this one below from Etsy so he had something to unwrap and discover when we exchanged gifts!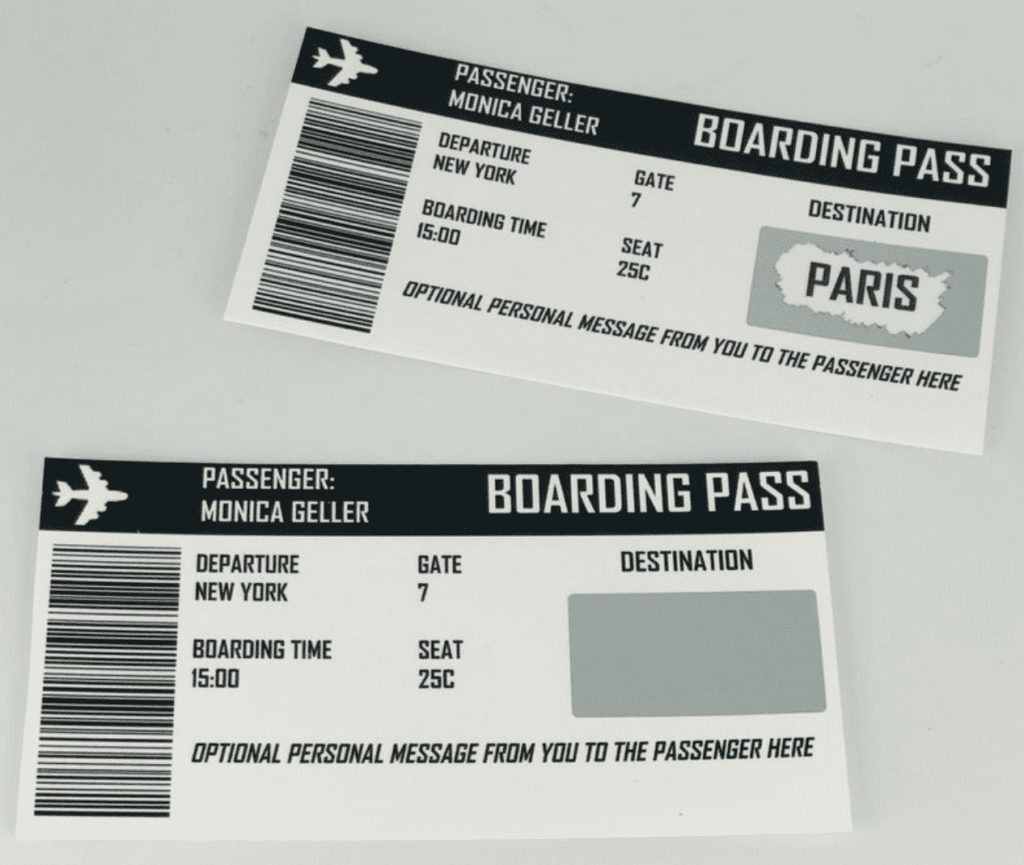 Buy on Etsy from $9.83
Prep Your Traveler for an Upcoming Trip
Have a loved one who is planning to study abroad, take a big trip in 2021, or visit a bucket list destination? Give them a thoughtful gift to prepare them for their trip! Here are a few of my favorites to give:
A Rick Steves' guide for the city they're traveling to, or a book based in the city they're visiting to read before or during their trip.
Help out with a necessity they'll need for their trip. Camping trip? Gift a mini-emergency kit or LifeStraw! Studying abroad? Buy a Polaroid so they can take photos and hang them in their new room.
Make their flight or train ride more comfortable and packing easier with some of our favorite travel accessories.
Give a Visa gift card or airline gift card for your loved one to put towards flights or accommodations on their upcoming trips.
Spin the Globe…er…Google Flights Explore Map
If you're in the mood for a trip yourself too, why not give the gift of a big 2021 trip to a loved one? Traveling and making memories together is the most valuable gift you can give – or receive.
If you don't have a destination in mind, spin the globe, or use Google Flights Explore to "spin" (or in this case, search) the globe for a cheap flight!
If you're not familiar with Google Flights Explore, you're in for a real treat. You can read all about using Google Flights Explore here, but this Google Flights tool allows you to see destinations around the world with the cheapest flights from your home airport(s). Set it to a specific date range or keep the dates flexible, and the Google Flights Explore map will show you the cheapest flights available.

If you're looking to be spontaneous with your travel destinations in 2021, this is the ticket. Spin the Explore map and see where a cheap flight will take you and your giftee!
Bottom Line
Giving the gift of travel is one of the most meaningful presents you can give. Whether you give your loved one an airline gift card to take that much-needed vacation after a rough 2020, plan a mini getaway for the two of you when countries reopen, or give them the tools to travel more for less.
Making travel a bigger part of their life is a gift that keeps giving.