This is a confusing time for travelers in understanding their options to change or cancel travel plans. We're here to help.
Most airlines are currently offering travelers fee-free changes or cancellations. That even applies to basic economy tickets and award bookings on some airlines. But if your flight was canceled by the airline due to coronavirus, you're eligible for a refund. At least in theory.
Some airlines aren't playing nice when it comes to giving refunds for canceled flights – they try to stiff travelers with vouchers for future travel instead. That led the Department of Transportation to warn airlines they must issue refunds when the airline (not the traveler) cancels a flight.
If you're struggling to get the refund you are owed from the airline, one option to get your money back is to file a credit card chargeback. I used this process back in 2018 after Primera Air collapsed and needed a refund. But the same process works whether your airline went bankrupt or your flight got canceled and your airline won't give you a refund.
One note: You may not always get your bank to process the chargeback and give you your money back. But it's worth a shot if your airline won't budge!
What Can I Request a Chargeback For?
Flights on Bankrupt Airlines or Nonresponsive Companies
If your airline is still in operation, you can request a voucher to cancel your booking. And if the airline cancels the flight, you're eligible for a refund.
But what if the airline goes out of business and you can't get ahold of them? You can request a chargeback for a flight you won't be able to take because the airline went bankrupt. If your flight has been canceled and you cannot get ahold of the airline, you can use a chargeback as a last resort to recoup your payment.
Travel Bookings with Bankrupt or Nonresponsive Companies
Did you make a hotel, homestay, or excursion booking with a company that has gone bankrupt or is unresponsive? This is another time you can use a credit card chargeback to recoup those funds. Exhaust your options to get a refund from the company first, but if that doesn't work, request a chargeback.
This is why it is so important to book travel with a credit card rather than a debit card – you can request a chargeback much more easily.

How to Request a Chargeback
I purchased my Primera Air ticket using my Capital One Venture One credit card. But if you purchased an airline ticket with a different credit card, don't worry: the process will be similar for any credit card.
When the announcement came out that Primera Air had filed for bankruptcy and was immediately ceasing operations, I went to my Capital One online account and located the charge. From there, I selected "Report a problem".

This button brought me to a series of prompts to report a problem with the charge. The first screen, shown below, asks whether this is an unauthorized charge or the charge is incorrect. Because I knew I had purchased a ticket with Primera but would not be able to take the flight, I selected "I recognize this purchase, but it's wrong."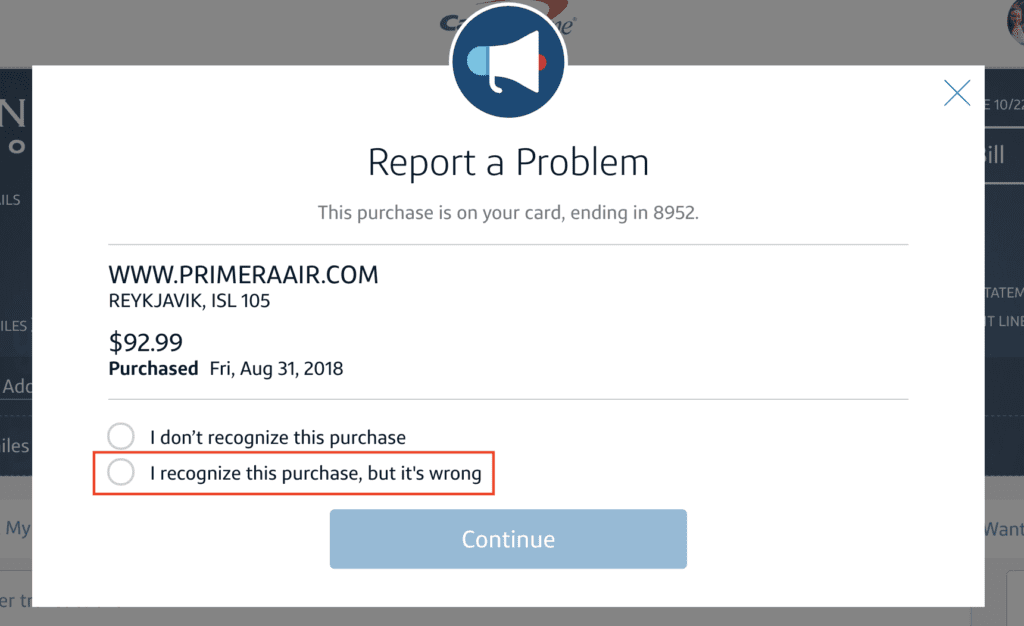 Next, I was prompted to give more information on what was wrong with the purchase, since I did recognize the purchase. Because I wouldn't be flying the airline in a few weeks due to their bankruptcy, I selected "Never received what was paid for." The same answer will apply if the airline has canceled your flight but refuses to refund you.

On the next screen, I was asked to provide more details about any contact I had made with the merchant. Because Primera had shut down operations almost immediately after announcing their bankruptcy and nobody was answering calls or emails, I selected "Other" to describe why I had not contacted the merchant. The prompts provide a "merchant was out of business" option, which applied to my charge dispute.

Next, I was prompted to select the amount I am disputing. In this case, I disputed the full amount of the ticket, as seen below.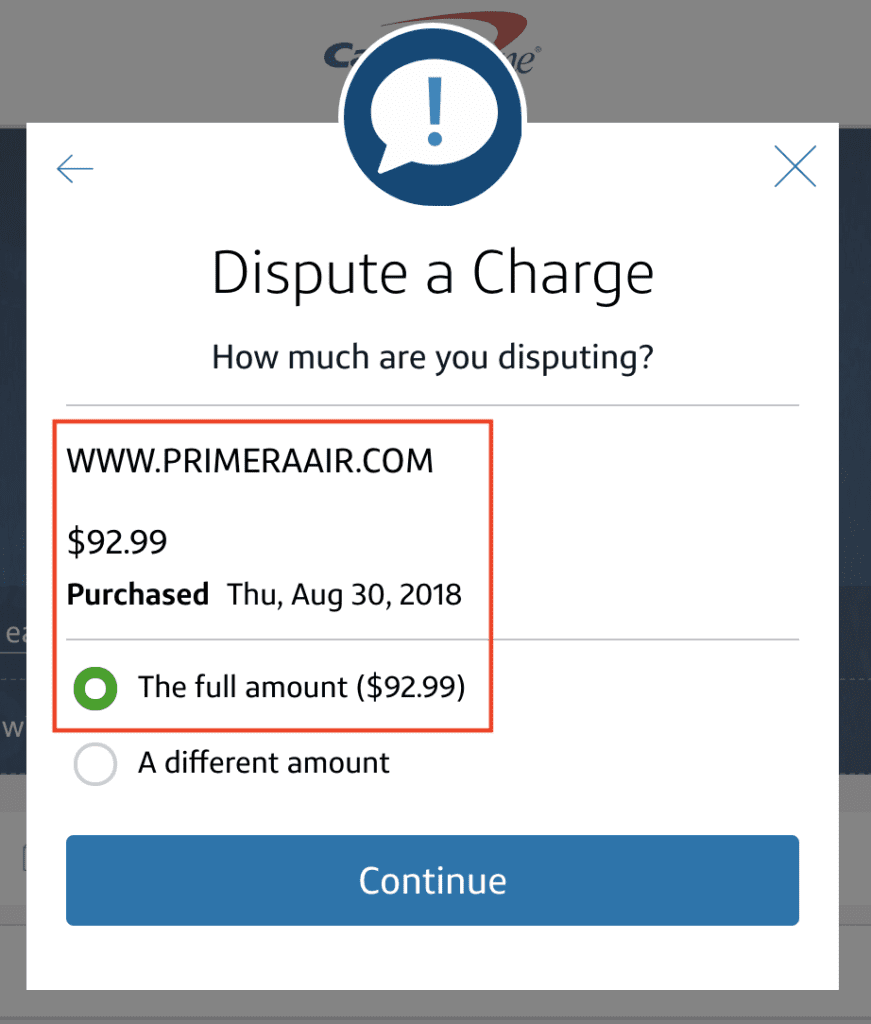 The Capital One chargeback process next asked me whether the purchase was merchandise or a service. I selected "Service" for the airline ticket I was requesting a chargeback for.

Finally, I was prompted to describe what was purchased. Here, I wrote what the purchase was for: a flight on Primera airline. For the expected date of service, Capital One's calendar only allows you to select the current date or a previous date. Although my flight was a few weeks later, I just selected the current date.

Once you submit your Dispute a Charge form, you'll see this page below. Keep your confirmation code until you see the chargeback on your account.

It only took me one day for my purchase adjustment chargeback to be posted to my Capital One VentureOne credit card account. That's a really fast turn around for what I was assuming would be a much more complicated process! The chargeback showed up as a credit to my account for the full amount charged by Primera Air.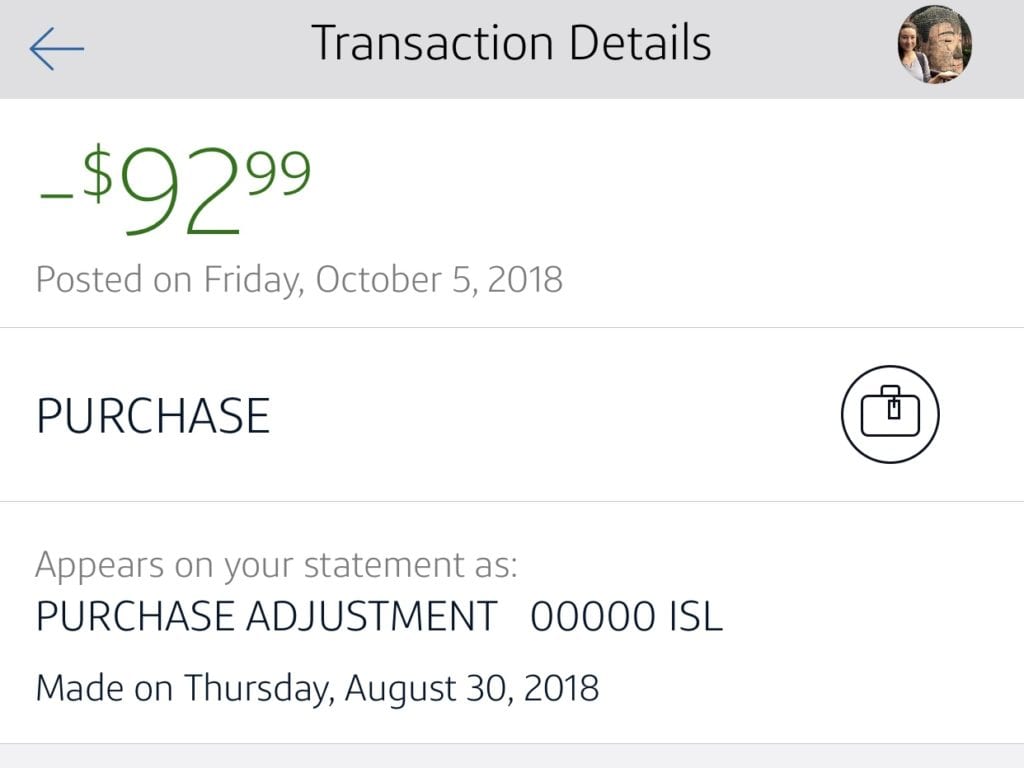 Bottom Line
Each chargeback process will be different for different credit card companies. But if you find yourself with a ticket that's suddenly useless – whether your airline went bankrupt or canceled your flight – a credit card chargeback can help you recoup your money.
I was expecting a long slog to get my money back, but this process was quick and easy. That said, that may not always be the case: Your bank or airline may fight the chargeback. Still, it's worth a shot if you can't get the refund you deserve directly from your airline.