Don't worry, it's not just you. Flight prices for travel this coming summer are looking high right now. But that doesn't mean you cant get to where you want to go affordably in 2022.
After two years of the pandemic, things seem to be on the path back to normal … and travel demand is surging. This summer is shaping up to be a summer unlike any other as countries lift travel restrictions and airlines launch new routes or resume old ones. Travel is coming back in 2022 – and that means flight prices are looking sky-high for summer trips right now.
Let's take a look at what's happening with airfare this summer and how you can still snag a good deal for a trip in 2022.
Summer Blues
We're constantly on the hunt for cheap flight deals for our Thrifty Traveler Premium subscribers for trips year round.
Whether you're aiming for Europe or somewhere closer to home, fares like this one to France have become all too common: Great prices … but you won't find cheap flights in June, July, or August.

As you can see in the "Dates" section of this France flight deal alert above, the awesome fares we found in the $400s from places like Appleton (ATW) to Atlanta (ATL) are only available March through May and again September through January. Those popular summer travel months got left out.
This pattern has played out again and again and again to destinations near and far. While airlines are slashing ticket prices for 2022 trips to destinations near and far, fares for summer travel remain high – in many cases, higher than we've seen in years.
This France deal wasn't the only one. We've sent out a bunch of flight deals all over the world in the last few months, including some mind-bendingly cheap fares on very popular routes. This deal included nearly all of United's nonstop flights from the U.S. to Europe and also had a summer-sized hole in the middle of it.

From Stockholm (ARN) to Rome (FCO) and everywhere in between, our Thrifty Traveler Premium subscribers got a first look at these stunning fares, but there was no summer availability. We did, however, find fares in the $300s in the spring and fall, plus some rare availability during the holidays.
Fares like these during the summer to Europe can easily climb north of $1,000 roundtrip. For domestic airfare, you could be looking at spending $500-plus to get to the most popular destinations, too.
So if you're looking to travel during those peak summer months when the weather is warm and the kids aren't in school, it might seem like you're going to have to break the bank or skip the trip altogether to make it happen.
So, what should you do if you're hoping to fly this summer for a good value? We've got some ideas.
Aim for Shoulder Seasons
Summer airfare is expensive for a reason. Outside the school year and during the best weather of the calendar year, summer is the most popular time of year to travel. But everybody else thinks so, too.
Our best tip: Book travel on the fringes of summer or during the spring or fall. It's called shoulder season. 
For instance, look at this flight deal we sent to our subscribers a few weeks ago with some sweet, sweet fares to Athens (ATH). This deal included fares this spring, a beautiful time of year to visit the Mediterranean.

Get unbelievable deals like this sent straight to your inbox with Thrifty Traveler Premium!
Those same fares to Greece in peak summer can normally be higher than $1,000 apiece. And when you get there, you're going to be dealing with peak hotel rates, peak crowds, and just general peak tourism frenzy.
Here's another good example of how targeting the shoulder season can save you bigtime. Germany is another beautiful summer location, but if you aim just a little off the beaten path, you can save hundreds of dollars and visit during one of the best months of the year: September.

Not only are you avoiding the most expensive times of year to travel and the peak summer crowds, by booking some of the September fares on this deal. You could plan your trip around Oktoberfest, too!
Looking to stay in the States? One destination that has surged in popularity during the pandemic is Alaska. Its national parks, scenery, and wild vibe have made it a summer travel hotspot in recent years. But now, airfare during the most popular months is surging.

We found fares to Alaska in the $100s and $200s in this deal, including some late August and September fares. But if you want to go in June or July, some of those fares are close to $700 roundtrip in economy.
So what kind of a difference are we talking here? Let's break it down by looking for some flights to Paris-Charles de Gaulle (CDG) in and around summer 2022. Of course, we always use Google Flights to find the best deals, using the calendar tool to zero in on the cheapest days to fly. Here's a look at a search from Minneapolis-St. Paul (MSP) to Paris.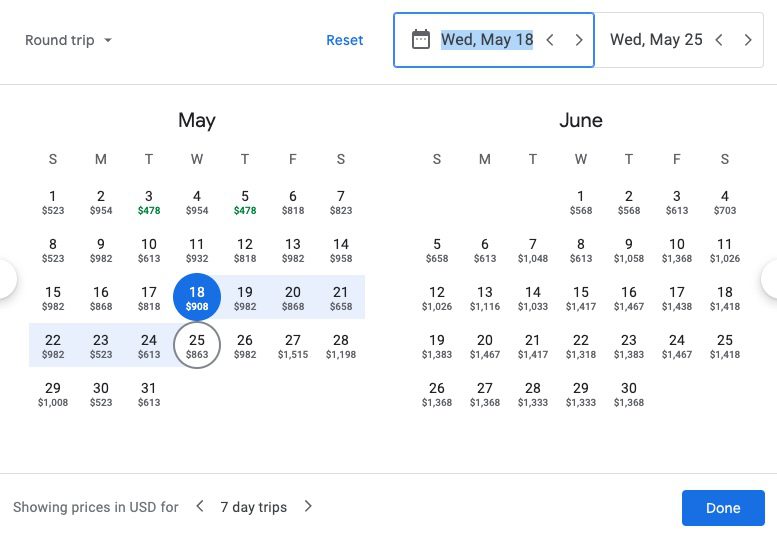 As you can see, the cheapest rates (in green) are all in May, along with some other reasonable fares. As you get into June, however, prices go up significantly. If we toggle over to the next few months of summer, it's more of the same.

July is almost completely a no-go at those prices. But as you get towards the end of August, prices become more bearable.

Finally, we get to September and October, where you can find some awesome flights to France in the $400s. September and October may not be the height of summer, but the weather during those months is beautiful all across the Northern Hemisphere.
And like we said above, you're also not dealing with peak summer hotel rates or peak summer crowds when you visit during those times.
Use Positioning Flights and Search Other Airports
Everyone wants a nonstop flight to their destination from their home airport at a bargain. Unfortunately, it's just not always in the cards.
We find flight deals all the time from 200+ U.S. and Canadian airports for our Thrifty Traveler Premium subscribers, but some airports get better deals than others. For example, you'll almost always see better prices flying out of New York City (JFK) than Buffalo (BUF).
Unless you're pondering a move to the Big Apple, we suggest building your own connections to major gateways like New York, Washington, D.C., Boston, and elsewhere. The trick is using something called positioning flights.
Positioning flights are separately booked domestic flights that you book around your international travel. You book your transatlantic fare out of New York City, then book a separate positioning flight from your home airport to New York in order to catch that flight across the pond.
It can save you hundreds of dollars, easily. Take, for example, this outstanding deal we sent with peak summer travel to the Portugese Azores islands.

This deal included the new nonstop United Airlines route from Newark (EWR) to the Azores (PDL) for just $338! If you live in, say, Atlanta and have to build in that connection, it could cost you hundreds of dollars more.
However, we found a New York City flight deal for our Premium subscribers a few months ago that included a $97 roundtrip flight from Atlanta (ATL) to Newark (EWR). If you time it right, it can bring the total of your trip to the Azores under $450. It's all thanks to a positioning flight that is much cheaper than the connection.
So if the prices from your home airport are too high, start searching from other U.S. airports to find the best deal, and then book your positioning flights to get there. If you don't have time to expand your flight searches tenfold, though, you could always let us take the reins…
Sign Up for Cheap Flight Alerts for Rare Summer Deals
Realistically, most people don't have the time to be constantly searching for airfares and analyzing the latest trends in flight pricing from more than 200+ U.S. airports. But we do.
This is exactly what we do at Thrifty Traveler Premium. We search the globe, every day, in search of the lowest airfare on the best flights and send them straight to your inbox the moment we find them.
We are especially watching for great deals during those peak travel dates over June, July, and August, too. For 2022, we've already found some great fares to some of the most popular destinations in the world.

We found these awesome Icelandair fares flying to a bunch of European cities with rare peak summer availability. Plus, these fares work with the airline's stopover program in Iceland, meaning you can tack on a few days in one of the most beautiful countries in the world free of charge!
One Premium subscriber told us that he took advantage of this deal and booked himself and three family members to London to see some family in June for rates he didn't think were possible. And the London love didn't stop with the Icelandair deal, either.

This flight deal alert we sent to subscribers included tons of dates in August, meaning you could take the family on a dream trip to England before the school year begins.
In the U.S., we have some incredible summertime cities, too. One of my favorites is Chicago, where the Lake Michigan shore is dreamy during those summer months. And just a few weeks ago, we sent our subscribers some peak summer nonstop fares to Chicago all under $200!

We don't think we've seen the last of great summer availability, either. While demand remains high to destinations like these over the summer, we're searching those dates every day to make sure that no good fare slips by. Sign up for these email alerts and you won't miss them either.
Bottom Line
Demand for peak summer flights is going to be high in 2022, meaning it will be harder to find affordable airfare during June, July, and August. But if you use a few handy tricks, there's no reason why you can't make your dream trip happen on a budget.
Make sure you're using Thrifty Traveler Premium flight deal alerts, aiming for the shoulder seasons, and using methods like positioning flights to make your trip happen for less in 2022.