In October 2017, Delta introduced their new Airbus A350. The A350 will be a huge leap forward for Delta as they continue to replace their aging wide-bodied aircraft fleet.
Last October, Mr. TT had the opportunity to take the inaugural flight on the A350 from Detroit (DTW) to Tokyo (NRT) in the Delta One Suite. Delta's flagship business class offering. Further, we recently reviewed the Premium Select offering on board the A350 aircraft which also makes a great way to cross the Pacific.
In this post, we will outline all of the Delta A350 routes you can currently fly.
Features of Delta's Airbus A350
New Delta One Suites with Privacy Doors
New Premium Select Cabin with Premium Meals and Enhanced Amenities
Main Cabin Seats featuring Memory Foam Cushions
Wider Windows throughout the Aircraft
Larger Screens for In-Cabin Entertainment
More fuel efficient and quieter exterior engine noise
Capable of pressurizing the cabin to a more comfortable level than standard, easing any jet lag

Current Delta A350 Routes
Interested in flying on a Delta A350 route? These are the routes that are currently available. We will continue to update this post as Delta adds additional routes.
Detroit, MI (DTW) – Tokyo-Narita, Japan (NRT)
Detroit, MI (DTW) – Seoul, South Korea (ICN)
Detroit, MI (DTW) – Beijing, China (PEK)
Detroit, MI (DTW) – Amsterdam, Netherlands (AMS)
Detroit, MI (DTW) – Shanghai, China (PVG)
Atlanta, GA (ATL) – Seoul, South Korea (ICN)
Los Angeles, CA (LAX) – Shanghai, China (PVG)
Seattle, WA (SEA) – Tokyo-Narita (NRT)
Los Angeles, CA (LAX) – Tokyo-Haneda (HND)
Atlanta (ATL) – Amsterdam, Netherlands (AMS) – These routes will operate seasonally from 9/1 – 10/25, 2019
Minneapolis-St. Paul (MSP) – Shanghai, China (PVG) – Proposed to start in June of 2020
Things to Note When Booking Your Flights
A350 flights will be highlighted with a red "NEW" banner, which makes them easy to pick out.
When you click the details section highlighted in the image below, you should be able to see the aircraft type. Make sure this notes Airbus 350-900.
At this time, only the A350 is offering a Premium Select class of service. If you see a flight with Premium Select available, this should be the Airbus A350. However, Delta will be adding Delta One suites and Premium Select cabins to their newly refurbished Boeing 777 aircraft starting on July 2nd.
If you book a Premium Select or Delta One ticket with a connecting flight, you will get a Comfort+ seat for your connecting flight. For example, I purchased a Premium Select ticket from MSP to NRT with a stop in Detroit (DTW). My MSP to DTW legs were in Comfort+.
Compare price differences between the cabins. Sometimes you may find that a roundtrip ticket in Premium Select is only a few hundred dollars more than economy. Based on our experience, this can certainly be worth it.
SkyMiles redemptions in premium cabins on the A350 can be tough to find for a good value. There is simply a lot of demand to fly this product right now and with Delta's lack of an award chart, they can charge a premium for these seats.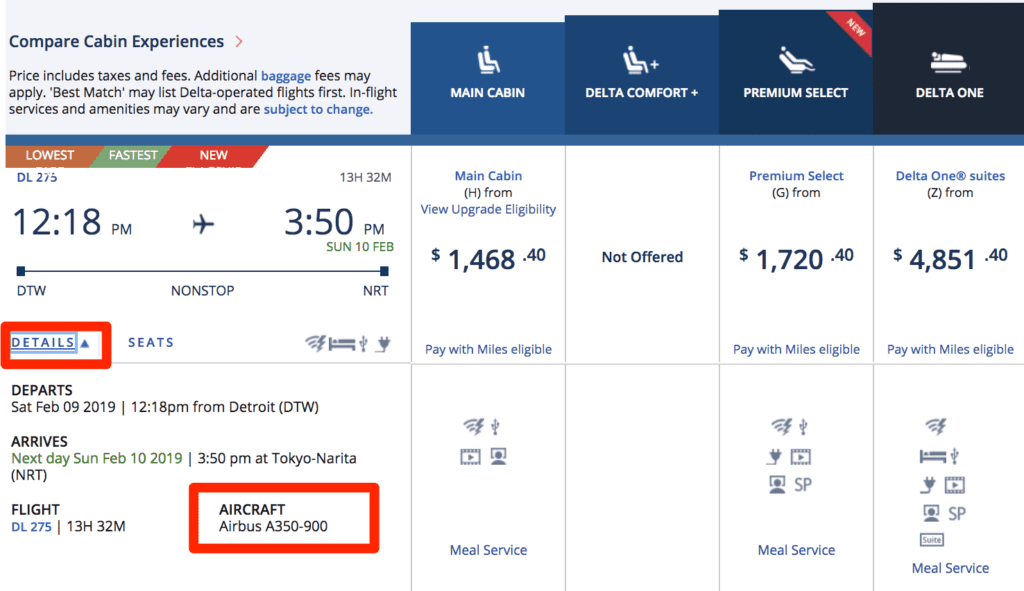 Bottom Line
If you are flying into any of the destinations that Delta flies the A350, be sure to try and get on board the new aircraft for an elevated experience. They are the newest aircraft in the sky and should provide you with a much more comfortable ride.
Lead Photo (CC BY 2.0):  Delta News Hub via Flickr