We've touted the *chase sapphire preferred* and the *chase sapphire reserve* as some of the best travel rewards cards on the market. But there's one perk you get with these cards that's flown under even our radar until now.
Ever heard of Ennismore? I hadn't either. But, the lifestyle and hospitality brand (formerly known as sbe) owns more than 130 upscale hotels and resorts worldwide, including some you might recognize like the Delano Las Vegas.
Thanks to a partnership between Chase and Ennismore, Sapphire cardholders can get elite-like benefits at more than a dozen of these properties. Travelers who book a stay at a participating property will get perks like free breakfast, room upgrades, late checkout, and – most importantly – a fourth night free. Given that these hotels are often pricier than most other hotel chains, this benefit can be extremely valuable.
So let's take a closer look at Chase's partnership with Ennismore and how you can take advantage of it.
Read our full review of the Chase Sapphire Preferred Card! 
Benefits for Chase Sapphire Cardholders
Ennismore has more than 130 hotels and resorts across over 30 countries, including some major U.S. cities. While you might not be familiar with the company itself, you've likely heard of some of its hotel brands: SLS, Hyde, Mondrian, and Delano, to name a few.
But Chase Sapphire cardholders won't get elite benefits at all of Ennismore's properties, although the list has grown over the years. As of publication, only the following properties are eligible:
Ennismore Chase Sapphire Participating Properties

SLS Baha Mar (Bahamas)
Delano Las Vegas
Mondrian South Beach (Miami)
SLS Puerto Madero (Buenos Aires)
Mondrian Shoreditch (London)
SLS Brickell (Miami)
SLS Cancun (Mexico)
Sanderson (London)
SLS LUX Brickell (Miami)
Mondrian Doha (Qatar)
St Martins Lane (London)
SLS South Beach (Miami)
Hyde Hotel Dubai (UAE)
Mondrian Los Angeles
Mondrian Park Avenue (NYC)
SLS Dubai (UAE)
Hyde Midtown (Miami)
Mondrian Seoul (South Korea)
Through the Chase Sapphire and Ennismore partnership, you'll get things like free breakfast, room upgrades, late checkout, and a fourth night free at nearly 20 participating properties. This gives Chase cardholders an elite-like experience without needing any level of elite status. In fact, Ennismore's own Dis-loyalty program (yes, that's seriously what it's called) doesn't even offer those kinds of benefits to members.
Here are the full details of what you can expect when you book a stay at an Ennismore property with your Chase Sapphire card.
Free Breakfast
You'll receive a free continental breakfast for two people each day of your stay. In the event your hotel doesn't offer continental breakfast, you'll instead receive one complimentary drink per person (up to two per room) each day at the hotel's lounge or bar.
Currently, the Hudson Hotel in New York and Hyde Midtown Miami are the only two properties participating in this partnership that don't offer breakfast.
Room Upgrades
By booking with your Chase Sapphire card, you'll be eligible for a complimentary room upgrade when available. Whether or not you get an upgrade is typically determined at the time of check-in based on availability.
Additionally, if you book more than one room, you'll be eligible for upgrades for up to four rooms in total.
Fourth Night Free
The fourth night free benefit is far and away the most valuable of all the perks offered through this partnership. If you're already intending to spend four nights at one of these properties, it's a simple way to save hundreds of dollars on your stay.
It's easy to look at this benefit and think of it as getting 25% off. But since it's a true fourth night free – as in the fourth consecutive night of your stay costs you nothing – you can actually save even more than that. Let me explain: Your room rate will likely vary from night to night (many hotels charge more on the weekends). So if your fourth night ends up being the most expensive night of your stay, you can actually make this benefit even more valuable by getting that specific night for free.
Take the SLS South Beach in Miami for example. This property averages $400 to $600 per night for most dates in November. With the fourth night free benefit, the average cost of a four-night stay drops to $375 a night. And since the fourth night of this reservation falls on a Saturday – which has a more expensive nightly rate –  you're actually saving over $600 with this perk. That's pretty darn valuable!
If you have an American Express travel rewards credit card, you'll see that many of the same Ennismore properties are also bookable through Amex Travel as part of the Fine Hotels & Resorts (FHR) and The Hotel Collection. While you get some of the same perks as you do with a Chase Sapphire card, there's no fourth night free benefit. And without that, you'll be paying a whole heck of a lot more for your stay.
How much more? Nearly $700 more for the same dates and room type booked through the Chase Sapphire partnership.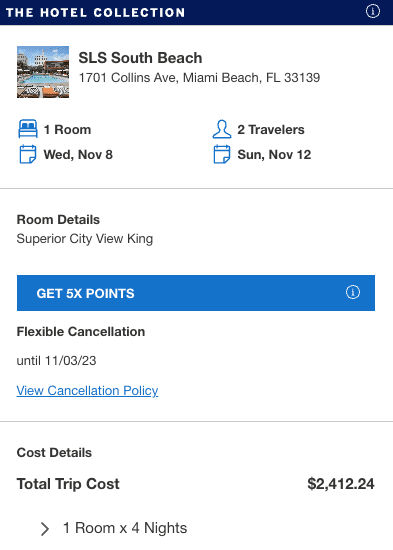 And if you're wondering whether you can find a better deal by booking with an Online Travel Agency (OTA) like Priceline – the cheapest (refundable) rate I could find for the same dates and room type was identical to what you'd get by booking through Amex Travel … without the perks.

This is just one example, but it does a good job illustrating just how valuable this fourth night free benefit can really be. Sure, you won't always be able to save $700 on your stay but even if you're getting a $200 savings that's still a win.
Food & Beverage Credit
When booking through the Chase Sapphire partnership, you'll get a $30 food and beverage credit for each room booked. You can use this credit at any of the hotel's restaurants or bars – as well as your in-room mini-bar.
This credit is the same no matter if you're staying for one night or a whole week.
Late Check-Out
You'll be eligible for late check-out when available and at the discretion of each individual hotel. The terms of this benefit are pretty loose, so I wouldn't expect much and instead hope that each hotel does its best to prioritize late check-out requests for Chase Sapphire cardholders.
How to Book
If all these benefits sound good to you and you're ready to start browsing hotels, you're going to need to know where to look. Simply going to Ennismore's website or any of the individual hotel brands won't cut it. Since not all of Ennismore properties are participating in this partnership, you'll want to start your search through the dedicated Chase Sapphire/Ennismore promotional page.
Once you've zeroed in on a property that you like, you'll be able to select your dates and room type just like you would on any other hotel booking platform.

Be sure to use either your Chase Sapphire Preferred or Chase Sapphire Reserve Card when completing your reservation. This ensures you're getting the promotional rate as well as all the benefits that come with this partnership.
Thrifty Tip: Several of the participating Ennismore properties tack on even more benefits to bookings made through the Chase partnership, things like a complimentary welcome drink and priority access to beach cabanas and lounge chairs. You'll see many additional benefits listed when booking, although it's not a guarantee.
Does it Matter Which Sapphire Card You Have?
The short answer is no, not really. You'll get the same benefits no matter which version of the card you hold.
With the *chase sapphire preferred* you earn 2x Chase Ultimate Rewards points on all travel purchases – including hotels booked through this partnership. You also get an annual $50 hotel credit but that only applies to bookings made through the Chase Travel portal, not for bookings made directly with the hotel or through this partnership.
Learn more about the *csp*.
With the *chase sapphire reserve* on the other hand, you earn 3x Chase Ultimate Rewards points on all travel spending and you get an annual $300 travel credit. Unlike the hotel credit on the Sapphire Preferred Card, the Sapphire Reserve's $300 credit couldn't be any simpler to use and would be triggered by one of these hotel bookings. All you'd have to do is use your card for the reservation and Chase would issue a statement credit of up to $300 a few days later.
Learn more about the *chase sapphire reserve*.
Read more: Chase Sapphire Preferred vs Chase Sapphire Reserve
Bottom Line
We've spilt plenty of digital ink on both the *chase sapphire preferred* and the *chase sapphire reserve* over the years – and for good reason. They're undoubtedly two of the best travel travel rewards credit cards on the market today.
But this Chase Sapphire partnership with Ennismore has largely flown under the radar and it's time for that to change. With elite-like perks and free hotel nights, booking one of these upscale properties with your Sapphire Card is a no-brainer.