Costco is good for more than just bulk toilet paper, snacks, and groceries. Many travelers swear by Costco Travel as their go-to way to save on packaged vacations, car rentals, hotels, and more.
But how does it work? And are you guaranteed to save on your trip just like when you buy two gallons of milk?
Keep reading – we'll break down the ins and outs of Costco Travel, when it makes the most sense to use it, and when it may be worth skipping for other travel-saving methods.
What is Costco Travel?
If you're already a Costco member, you know that the in-store savings you can find on everything from fresh fruit to TVs can be pretty substantial. The same can be said for Costco's travel offerings.
Costco Travel is the big box store's in-house travel agency. They use the same bulk-purchasing approach to get deals from hotels, cruise companies, rental car agencies, and other travel companies. This means Costco shoppers can get a great deal – sometimes at the cheapest price around.
In essence, Costco is acting like any online travel agency like Expedia or Priceline. But you need to be a Costco member in order to purchase travel through Costco Travel. 
Not a member? You can still browse the deals by using Costco Travel's website to browse their offerings: vacation packages, hotels, cruises, rental cars, and more.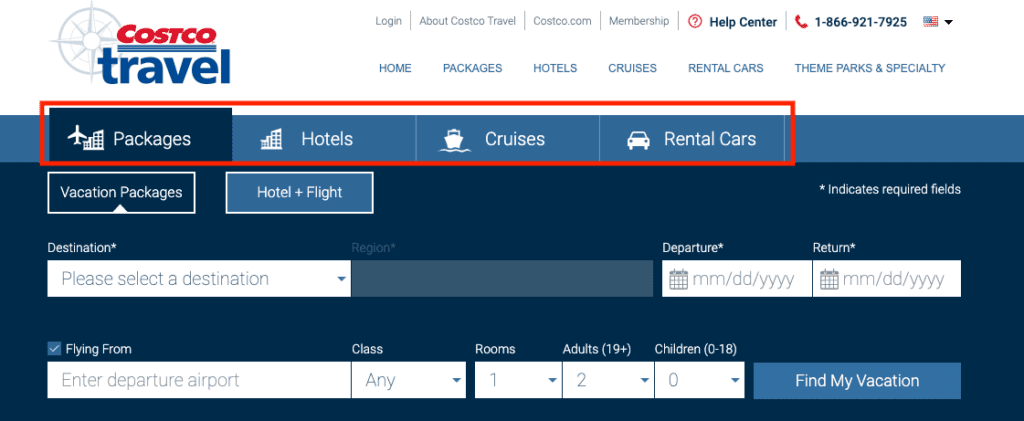 Can I Use Costco Travel?
If you're a Costco member, you're set.
Costco offers two levels of personal membership: Gold Star which costs $60 each year, and Gold Star Executive, at $120 each annually. Executive members earn 2% on all Costco purchases and often have access to added Costco Travel benefits and offers.
Not a Costco member? The savings on travel, beyond shopping in-store, could be worth the $60 per year.
It's also worth noting Costco's credit card here. If you're a Costco member and spend a lot at the gas pump, the Costco Anywhere Visa® Card by Citi might be a good option for your wallet – it's one of our favorite cashback credit cards.
That's because the Costco card earns 4% cashback per dollar spent on up to $7,000 each calendar year at gas stations (1% thereafter). You'll also earn an unlimited 3% cashback at restaurants and on travel, making it a great cashback option for travelers.
Costco's credit card also earns 2% cashback on all purchases from Costco or Costco.com, and 1% back on all other purchases.
And while the card doesn't technically have an annual fee, it requires that you hold a Costco membership. Executive members earn 2% back on up to $50,000 of spending each year, which can be combined with the 2% cashback earned from the Costco cashback credit card (4% total).
Whew, got all that? That's a lot of cashback earnings stacked on top of each other.
Click Here to learn more about the Costco Anywhere Visa Card by Citi.
Always Compare Prices to Save on Costco Travel!
Before we dive into searching for deals on Costco Travel, there's something important to keep in mind. And sorry if we offend you, Costco worshippers.
Just as with any online travel agency or travel site, Costco Travel won't always have the cheapest price. So while it's worth checking Costco Travel for deals on your upcoming trip, don't assume you're getting the best deal just because you shop through Costco.
There's no replacement for comparing prices against other sites or doing the math on whether it makes sense to buy a package deal or book separately.
When you're searching, ask yourself these questions:
If it's a package: calculate the price of each individual part of the package. Does buying the flight, hotel, and other additions cost more or less?
If it includes a flight: Search that same route in Google Flights. Can you book directly with the airline instead and save more?
For hotels, cruises, and rental cars: Compare prices on other online travel agencies (OTAs) and directly with the company. Which is the cheapest?
A few other things to keep in mind when comparing prices on Costco travel deals:
Costco Travel includes taxes and fees in the total price shown — not all other OTAs and companies do. Compare apples to apples and make sure you're looking at the total price.
Take added benefits into consideration. For example, a Costco package may offer a Costco gift card bonus, hotel transfers, activities, or other benefits. On the other hand, booking directly with a hotel you have status with could get you free breakfast or an upgrade. You likely won't get those benefits booking through Costco. Additionally, you likely will not earn points on a hotel booking through Costco Travel.
For example, one of the benefits you'll see on some Costco Travel packages are Costco Shop Cards. These are essentially rebates you can use after your vacation at a Costco store or gas station. Consider this like a gift card bonus to your booking.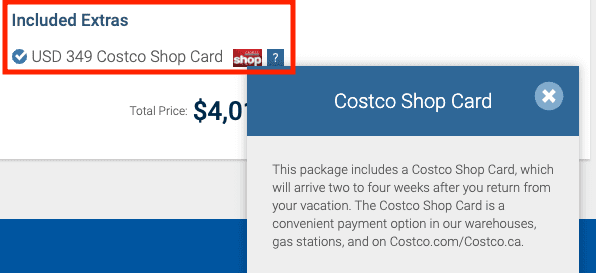 Costco Travel Package Deals
Above all else, travelers love Costco Travel for these worry-free travel packages.
Want to get your trip done in one fell swoop? Costco Travel definitely boasts some cheap prices and extra perks. Still, it's important to compare prices. So that's what we'll do.
Let's compare package pricing on Costco Travel to another package OTA giant: Priceline.
Costco Travel Deal Example:
We're looking at flying from Chicago to the Bahamas from Feb. 7-14 for two people.
Costco Travel.
United economy nonstop flight
Royal Tower terrace view room with 2 queen beds
Airport to hotel transfer
Included activity: Round-trip boat transfers from downtown Nassau, lunch including one drink, and a $45 credit toward select excursions (per person). The available excursions are the Dolphin Encounter, Dolphin Swim, and Stingray Encounter.
Total: $4,240.25
You can find a similar vacation package on Priceline. The initial pricing looks substantially cheaper, but keep in mind that Priceline isn't initially showing added features or taxes and fees on these results.

Compare to Priceline Travel Deal:
Upgrade United flight from basic economy
Same hotel room
Add airport to hotel transfer for $51/person
Hotel fees: $830
Total: $4,120.80

In this case, Priceline will save you about $120 over Costco Travel. But that doesn't count the value of Costco Travel's activity: a boat transfer, lunch and drink, and another $45 per person towards an excursion.
These perks could easily sway you to book with Costco Travel. As always, it's up to you to do the math and decide which deal makes the most sense for you.
Other Ways to Save with Costco Travel
How to Save Money at Hotels with Costco Travel
If you're looking to book just a hotel, there are some great deals to be found on Costco Travel. Costco partners with the following hotels: IHG, Hyatt, Fairmont, Swissôtel, Marriott, and Raffles.
Take this Aruba hotel for example. Through Costco Travel, a seven-day stay at the Aruba Marriott Resort in January will run you $3,811.66.
Note that it includes an important Costco benefit we discussed before: a Costco Shop Card for $281 upon return, effectively lowering the cost of the stay to $3,530. And this booking also includes hotel transfers to and from the airport, and a $100 tour credit. These added benefits are worth a chunk of change, too.

The same room on the same dates on the Marriott website costs $5,520.77 – nearly $2,000 more! And that far higher price tag doesn't include airport transfer or tour credits, either.
It won't always be the case, but it's safe to say Costco Travel could save you a boatload on your hotel reservation.

But there may be more to it than the price tag. If you hold status with a hotel chain, benefits like free breakfast, free nights, or just using points to book instead of cash are worth considering. You won't get those benefits when booking through Costco Travel – and you likely won't earn any hotel points on your stay, either. 
If you don't hold status or have a stash of hotel points to burn (or the savings are obvious, like in this case), Costco Travel may be the clear winner.
How to Save Money on Cruises with Costco Travel
Looking to book a cruise? Travel agencies and bulk-purchasing companies like Costco have an upper hand on getting cheap cruise deals.
Make Costco Travel your first stop on your cruise search. They partner with nearly every major cruise line: Carnival, Celebrity, Disney, Norwegian, Princess, Royal Caribbean, and more.
If you don't know where you want to go, use their handy explore tool to see potential vacation destinations on a map. As with all other travel bookings, be sure to compare the pricing with other online travel agencies and directly with the cruise line's website.
Don't care where you go, so long as it's sunny and affordable? We get it. Choose the "$799 and Under Per Person" cruise category: this is your holy grail to finding the cheapest deals Costco has on cruises.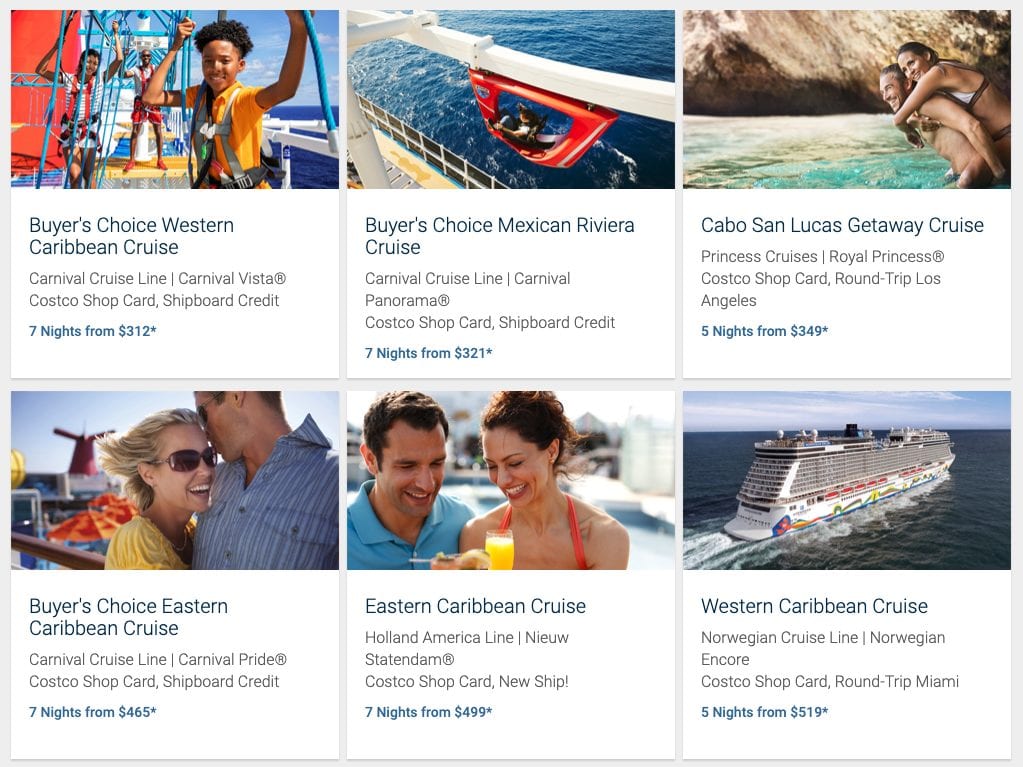 Another honey pot for cruisers is Costco's "Kirkland Signature Vacations." These are special cruise packages with extra savings – and extra benefits.
How to Save Money on Rental Cars Using Costco Travel
Booking your rental car with Alamo, Avis, Budget, or Enterprise? Check Costco Travel too to see if their rates are better.
Costco Travel uses its "Low Price Finder" to compare discounts and prices across companies to find you the best deal they have. Sometimes, it will be cheaper than booking with another online travel agency or the rental company itself.
One lucrative benefit of booking through Costco Travel is that you get an additional driver included, which often comes with hefty fees through other travel companies and platforms.

But it may not always work out in your favor.
For this example, I searched rental cars from Las Vegas (LAS) for a week in October. Costco Travel's cheapest option was $286 for the week, booking with Budget Car Rental.
For the same car and dates, the exact same rental directly on Budget's website was $210.39 for the week – substantially cheaper.
This underscores the most important part about booking with Costco Travel – or any travel, for that matter. No matter how much you love it, you still have to do some price shopping and comparison.
& Beyond!
Just when you thought we covered it all, there's more. You can also find discounts on theme park admission and group tours through Costco.
They offer discounted packages on Walt Disney World, Universal Orlando, and Disneyland resort packages, all including park tickets. The benefits on some of the Disney packages are wild: multi-day tickets, "free day" park admission, Costco Shop Cards like the ones we saw with hotel bookings, Express Passes, Early Admission, and more.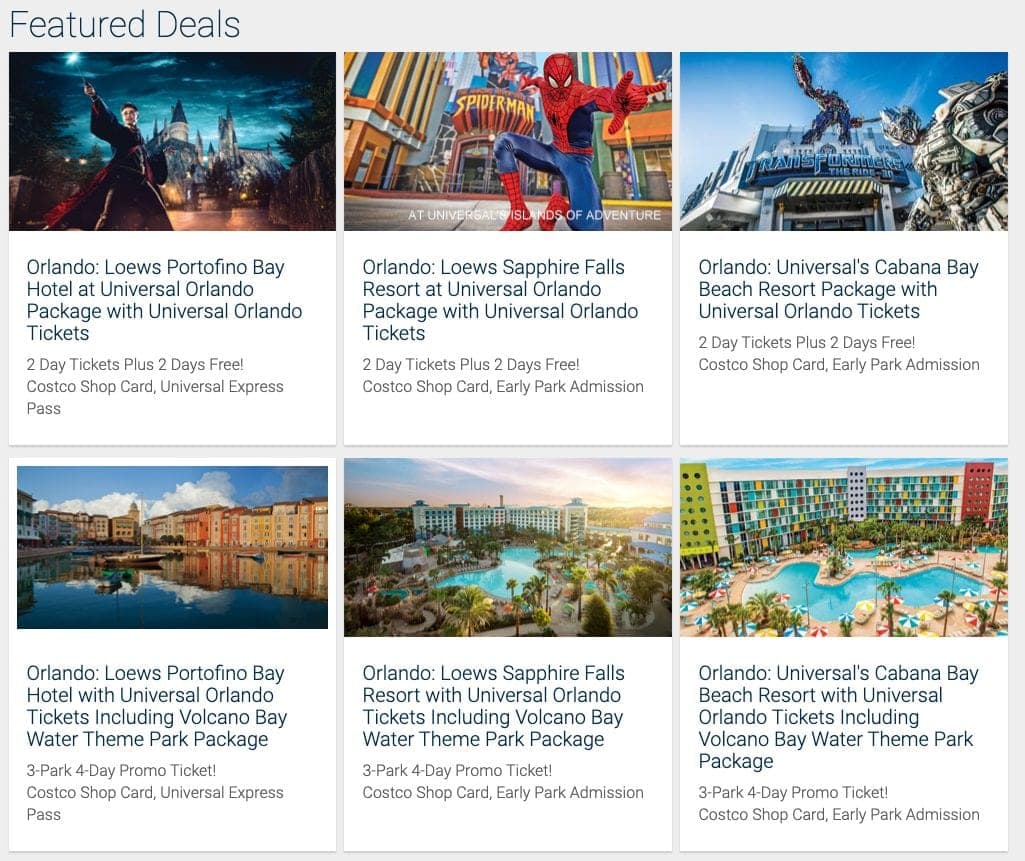 Beyond theme parks, you can browse tour packages with:
ADVENTURES BY DISNEY
Trafalgar Guided Vacations
African Safaris
Contiki: Exclusively for 18-35-year-olds
and several other tour companies.
Bottom Line
If you're a Costco member, Costco Travel needs to be on your checklist on your hunt for cheap travel. You may find crazy good rates on packages, hotels, rental cars, cruises, and even Disney park admission.
But as with booking all travel, you still need to do your research and compare prices elsewhere. You might score a great deal, but don't assume you're getting the best deal possible just by booking with Costco Travel.