In just a few short months, COVID-19 has drastically reshaped travel. And nowhere is that change more pronounced than in airport lounges.
If you haven't been in an airport lounge, you've heard of them – maybe even longed to visit. A quiet place to sit with chargers for your phone in easy reach, free food and drinks … it's easy to see why.
I checked out two lounges during a recent work trip to see just how that has changed – in this case, two Delta Sky Clubs. And what I found shocked me. Read on to see why.
What's Even Open, Anyways?
First things first: To get into a lounge, it needs to be open. And that's no sure thing right now, as coronavirus forced many lounges across the nation – and the globe, really – to shut down.
Trying to get into an airline lounge? Locations at some of the airlines' largest hubs have reopened, but it's spotty at best outside of that. And from American Express Centurion Lounges to Priority Pass, many independent lounges remain closed.
Here's a look at where things currently stand as of July 27:
Alaska: Alaska's lounge in Seattle (SEA) Concourse D is open, but all other locations are closed. Additional lounges in Seattle, Los Angeles (LAX), Portland (PDX), and Anchorage are tentatively set to open Aug. 1. See Alaska's site for more information.
American: Several Admirals Clubs at Charlotte (CLT), Chicago-O'Hare (ORD), Dallas-Fort Worth (DFW), Los Angeles (LAX), Miami (MIA), New York City (JFK), New York City-LaGuardia (LGA), Phoenix (PHX), Philadelphia (PHL), and Washington, D.C.-Reagan (DCA) are open. All Flagship Lounges are closed. See American's site for more information.
Delta: Some Delta Sky Clubs at Atlanta (ATL) have reopened, as have single locations in Boston (BOS), Denver (DEN), Detroit (DTW), Los Angeles (LAX), Minneapolis-St. Paul (MSP), New York City (JFK), New York City-LaGuardia (LGA), Orlando (MCO), Phoenix (PHX), Salt Lake City (SLC), Seattle (SEA), and Washington, D.C.-Reagan (DCA). See Delta's site for more information. 
United: United has select clubs open in Chicago-O'Hare (ORD), Denver (DEN), Houston-Intercontinental (IAH), Los Angeles (LAX), Newark (EWR), San Francisco (SFO), and Washington, D.C.-Dulles (IAD). All Polaris Lounges remain closed. See United's site for more information.
American Express Centurion Lounges: All Centurion Lounges nationwide are closed, with no official word from Amex on when they may reopen.
Escape Lounges: Only the Cincinnati (CVG) Escape Lounge has reopened; all other U.S. Escape Lounges remain closed.
Priority Pass: Some of the lounges in Priority Pass's massive network are still open, but many have closed or limited their hours. Check on an individual Priority Pass lounge on their website.
Empty, Empty, Empty.
There's a reason beyond health for closing down airport lounges during the pandemic: No one is there.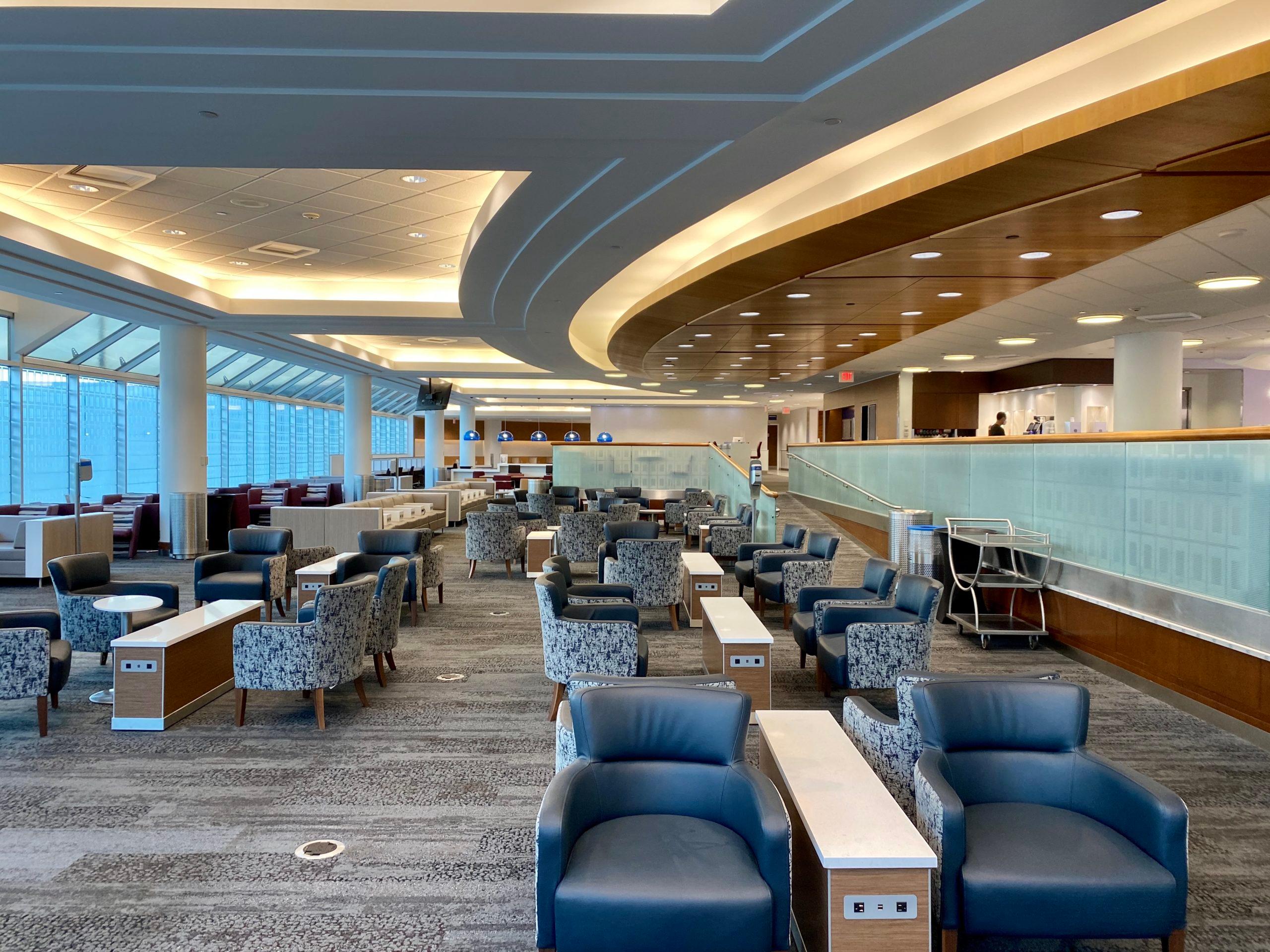 That's Delta's primary lounge in the F/G Concourse at Minneapolis-St. Paul (MSP). Before coronavirus decimated travel, this Sky Club was typically packed with hundreds of travelers. Whether you visited in the morning, afternoon, or evening, finding a seat was hard.
During the course of my 90-minute stay a few weeks ago, I saw six other people … and three of them were Delta employees. The Delta agent behind the bar told me that they've gone from hosting 3,000 to 4,000 flyers a day to just a few hundred daily.
While any traveler can get into airport lounges with specific credit cards (I got into the Delta Sky Club with a Platinum Card from American Express), lounges are the domain of frequent business travelers. These are the road warriors whose employers pony up for spendy annual lounge memberships.
The Sky Club at Washington, D.C.-Reagan (DCA) was equally empty. I saw just four or five people during a two-hour stay in a lounge that's also typically busy.
Never in my life have I seen airport lounges so empty as during the coronavirus pandemic. Well, except maybe Qatar Airways' Al Safwa lounge. But that's another story.
Just what your airport lounge looks like will vary greatly based on when you fly – as well as what airline. Flying on off-peak days like Tuesdays, Wednesdays, and Saturdays is a safe bet to have your run of the house.
Read more: Tips for Your First Flight During (or After) Coronavirus
Food and Drink: Diminished
Hot buffets are out, prepackaged snacks are in.
Such is life in an airport lounge during a pandemic. To limit the risk of unnecessary contact and contamination, airlines and lounge operators have drastically scaled back their food and drink offerings.
At the Sky Club in Minneapolis in the morning, breakfast was a choice of cereals, do-it-yourself oatmeal with fixings in small plastic containers, packaged muffins, banana bread, and saran-wrapped fruit.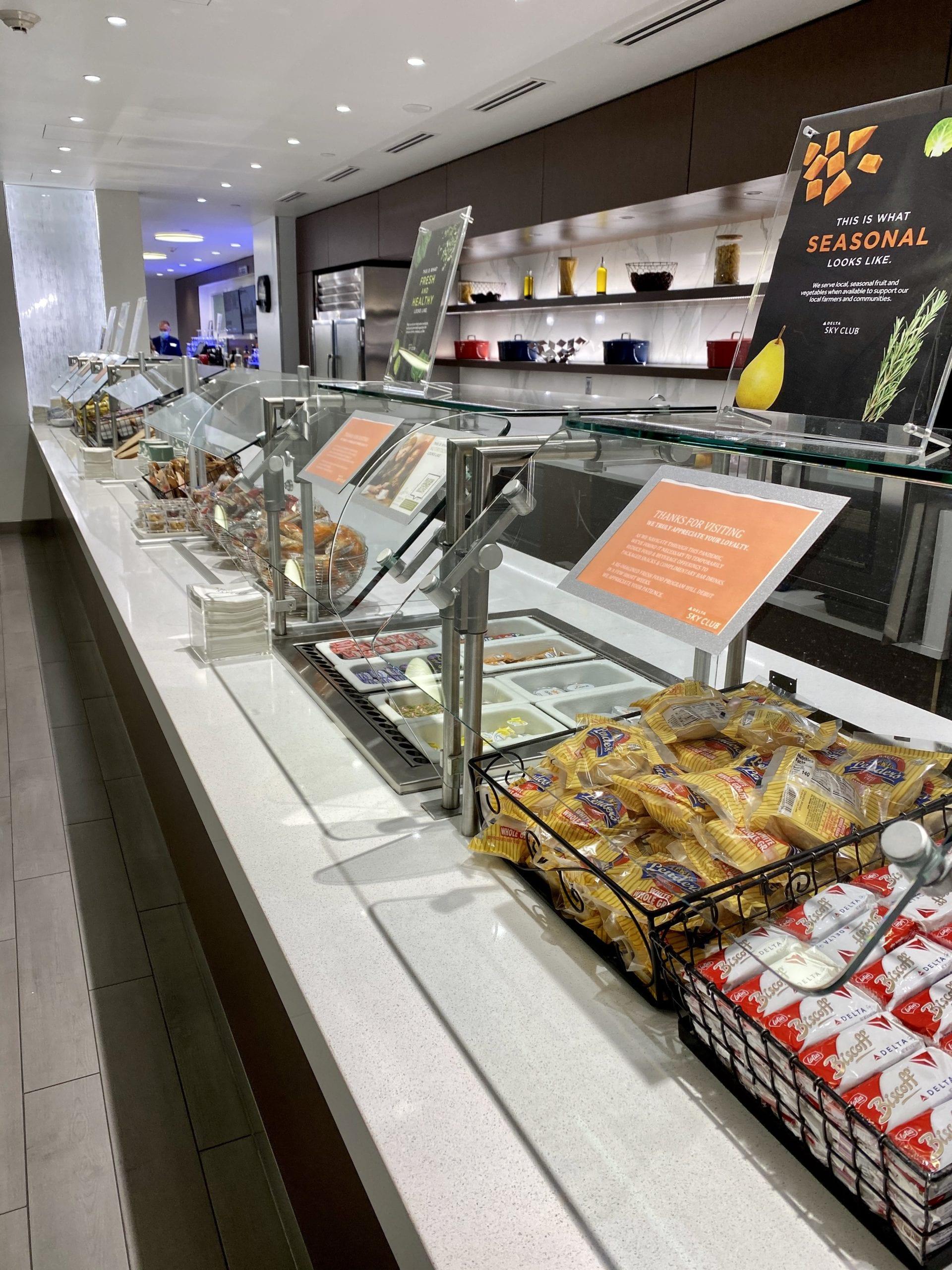 Surprisingly, the Starbucks Espresso machine was still up-and-running. And with no lines to queue in, getting an Americano was never faster.
The lunch hour at the Washington, D.C. Sky Club was quite similar. There were prepackaged containers with pasta salad, wraps, and pita flatbread, along with some cup noodles.
The bar was open, but at the time Delta was only pouring free beer and wine – not allowing you to buy champagne with SkyMiles or cash. That fun feature is slowly returning at select Sky Clubs across the country.

As with all things in travel, exactly what you find will vary by airline and lounge. But the general rule of thumb is to expect light bites in prepackaged. With few exceptions, hot food is not available at your lounge – unless if it offers a pre-order service. And that's something you rarely find in U.S. airport lounges.
Perhaps moreso than ever before, I would not bank on getting a full meal from an airport lounge.
Constant Cleaning
In my experience, lounge attendants outnumbered lounge guests. And there's a good reason why: rigorous cleaning.
In both Minneapolis and Washington, D.C., lounge attendants were constantly cycling through the Sky Club to wipe up surfaces and clean up dishes. Within less than a minute of getting up from my seat, my dishes were cleared as I got up for another glass of water.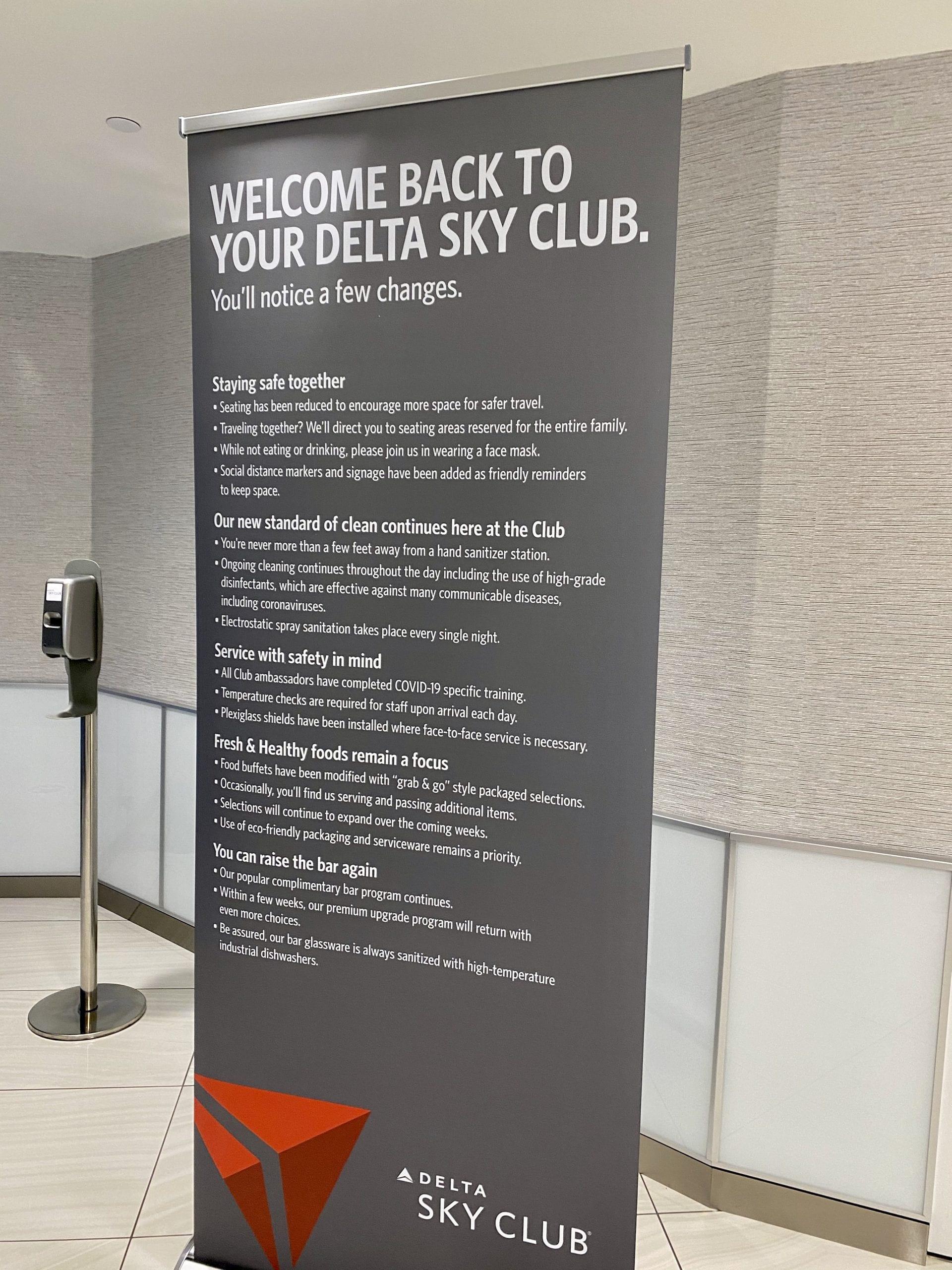 At least in Delta's case, that's little surprise. Delta has made safety and cleanliness the hallmark of its coronavirus playbook.
Delta employees themselves were always wearing face masks – something Delta has explicitly required for months, not just on flights. What few fellow travelers were also in the lounge did a good job of wearing masks while not eating or drinking.
Bottom Line
Everything about the lounge experience during this pandemic was absolutely fine. There is food, there are drinks, and there is more space than I've ever seen. Every cutback and change is completely understandable.
But there's no denying it's different than just a few months ago. And given the trajectory of coronavirus, airport lounges will likely be different for a long time.