Rakuten is one of the absolute best shopping portals out there – an easy way to earn extra cashback (or valuable Amex Membership Rewards points!) on your online shopping. If you want a huge bonus, you'll want to shop using Rakuten today.
To celebrate the start of New York Fashion Week (NYFW), you can currently earn 10% (or more) at a number of high-end clothing retailers. Most notably, if you have *amex platinum card*, you'll get 10% back (or 10x Amex Membership Rewards points) for every dollar you spend at Saks.
Platinum cardholders get a $50 statement credit to spend at Saks twice a year. You'll get up to $50 to spend January through June, and another $50 to spend from July through December.
That statement credit stacks with this promotion – making it a great time to burn through it if you haven't done so already.
Read our full review of The Platinum Card from American Express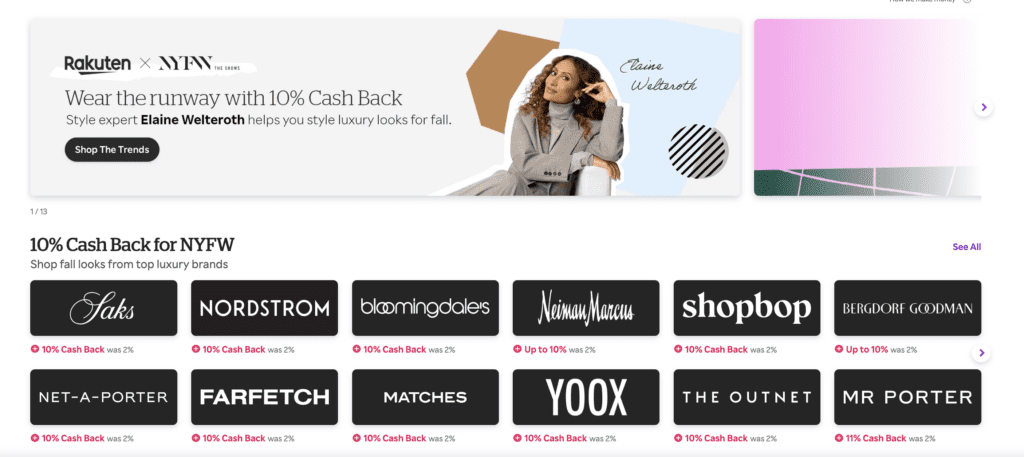 In addition to the stores offering 10% cash back for NYFW, there are also a number of retailers offering at least double cash back (or American Express Membership Rewards points). You can see the full list here.
It gets even better if you've never used Rakuten: You can stack those 10% cashback rates with a big bonus for first-time users, earning an extra $30 after signing up for Rakuten and making your first purchase of at least $30 or more.
Remember: Rakuten allows all members to earn Amex points instead of cashback. So that $30 initial cashback bonus nets you 3,000 Amex points – plus the bonus you get from the retailer itself. That's a great return if you've got some online shopping to do.
Thrifty Tip: Add the Rakuten browser plugin to Google Chrome and Rakuten will alert you when you can earn cashback on your purchase through that retailer!
Taking advantage of these huge bonuses is as simple as navigating to Rakuten.com, clicking through to the retailer, and making your purchase.
How Rakuten Works
Getting in on these cashback bonuses is easy. First, sign up for Rakuten if you haven't already. You'll earn an additional $30 bonus after completing your first purchase of at least $30 in the first 90 days. Full disclosure: We also get a bonus, so we appreciate it if you use our link!
Whether you're shopping at Amazon and Target or buying a Blue Apron subscription, you'll get a percentage of your purchase price back from hundreds of stores. You'll get paid every three months, through either a paper check or a PayPal transfer.
Here's an example of just how powerful stacking these bonuses can be. Let's say you've been eyeing a $200 excursion through Viator, which is currently offering 4% back through Rakuten. Here's what you'd want to do:
First things first, sign up for Rakuten
Click through from Rakuten over to Viator, then make your purchase as normal
You'll earn 4% cash back on that $200 purchase: $8 – or 800 Amex Membership Rewards points
You'll also earn $30 cashback (or 3,000 Amex points) for your first purchase of $30 or more
Add it up and that's $38, reducing your net cost to $162 – or you're earning 3,800 valuable Amex points on the purchase.
Read more: Use Online Shopping Portals to Earn More Points & Miles!
Bottom Line
Rakuten is one of the best ways to get something more out of your online shopping. With a $30 referral bonus for new members and big 10% cashback bonuses available at many stores, it's a fantastic deal and a no-brainer for any shopping you need to get done.
But you'll want to pull the trigger on those purchases soon. It's not clear when these 10% cash back offers end.