Editor's note: Within about 12 hours of posting this story, much of this availability to book the Secrets Impression Moxché with points was booked or pulled.
Of all the amazing ways to use Hyatt points, one new all-inclusive property in Mexico stands far above the rest: The Secrets Impression Moxché. But this could be your last chance to book before it costs twice as many points.
After disappearing for many weeks, we're again seeing wide-open availability to book the Secrets Impression Moxché in Playa del Carmen from this month all the way into early 2024. Most days aside from holidays are bookable, from the peak spring break season all the way into February 2024. And you can book for 21,000 points to 29,000 points per night – a great deal considering it typically costs $1,000 a night or more.
But you'll want to book ASAP, as the hotel (or Hyatt itself) could pull all this availability in an instant. If you've got Chase points from a card like the Chase Sapphire Preferred® Card, you can transfer them instantly to a World of Hyatt account and book.
We knew this deal was too good to last long. Come March 28, the property will cost twice as many points per night as it shifts from a Hyatt category C resort all the way up to category F, one of the worst changes in Hyatt's looming devaluation. That means these rooms will soon cost between 42,000 to 58,000 points per night.

Booking Hyatt Ziva and Zilara properties and other new additions in its growing portfolio of all-inclusive resorts has long been one of our favorite ways to use Hyatt points. But the Secrets Impression Moxché is in another league – both in terms of getting the best bang for your buck as well as the quality of the resort itself. And it's not particularly close.
Think of it as a high-end hotel within a hotel: It's located within the broader Secrets Moxché resort, sharing some facilities but with its own space and amenities, too. This adults-only property has less than 200 rooms, each with a bigger footprint than your standard resort complete with a huge terrace with an outdoor hot tub on each.
Need a ride to the resort? We're big fans of using USA Transfers in and out of the Cancún (CUN) airport
There are private pools (including a rooftop infinity pool) and beaches and upgraded amenities, all scattered around a beautifully designed property that just screams "exclusive." Oh, and don't forget the amazing restaurants, top-shelf liquor or handmade cocktails, and a nightly taco stand – all another step above Hyatt's already typically excellent offerings at its other resorts.
We haven't stayed here ourselves yet, but reader and longtime Thrifty Traveler Premium+ member Jess A. recently returned from a stay there and gave it rave reviews, calling it the "best all-inclusive property that I've been to – and I've been to several."
"Best in terms of room quality, food quality, exclusiveness, and variety of amenities and activities. It truly delivered a 5-star resort experience but with all the comfort and conveniences of an all-inclusive," she said.
She said the food quality was excellent and bartenders at the Impression-only pool kept the drinks flowing, always referring to her by name. Service was friendly and personable, but occasionally quite slow.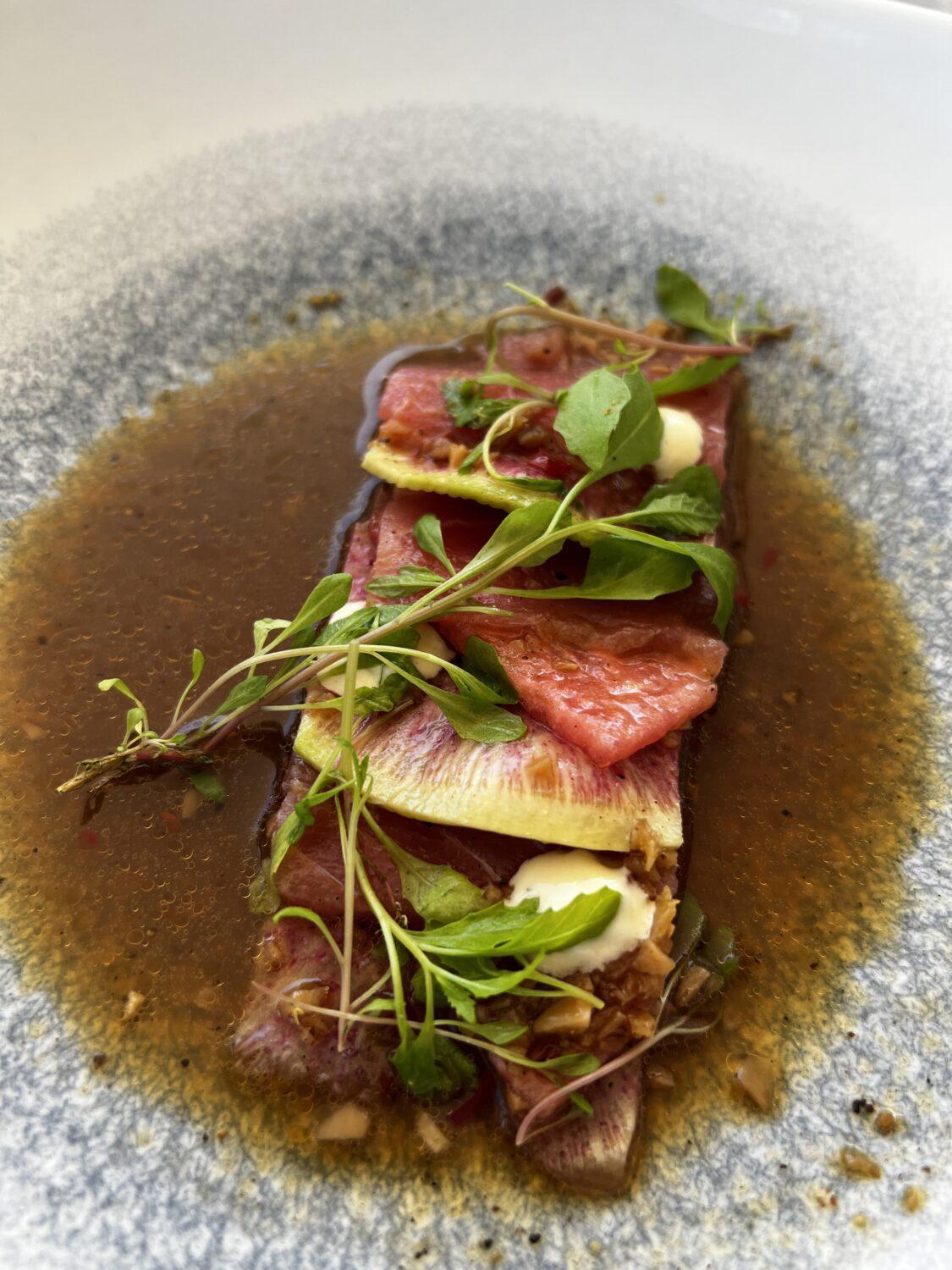 Secrets Impression Moxché Availability
We're seeing wide-open availability almost every day from April 2023 all the way into February 2024. If you're planning a last-minute trip to Mexico next month, there are scattered dates in March as well.
Just a handful of dates were unavailable as of publication, including a handful in April and mid-May and again over Christmas and New Year's Eve. Otherwise, you shouldn't have a hard time locking in a stay with your Hyatt points – at least so long as you act fast.
How to Book
Quickly.
Earlier this week, there were only four dates on the entire calendar that were bookable with Hyatt points. So while the floodgates appear to be open right now, that could change.
Just how many points you need will depend on when you go, thanks to Hyatt's peak- and off-peak pricing system:
Off-peak stays (typically from late May through October) will run you 21,000 points per night
Standard award stays cost 25,000 points per night
Peak season stays (over the early spring, winter, and holidays) are 29,000 points per night.
Bookings on or after March 28, 2023, will price out at 42,000 to 58,000 points per night. Booking now is an incredible deal.
Keep in mind you might see some variance in the award rates here, where some days are bookable for 21,000 points each night but others jump to 25,000 points, for example.
So far as we can tell, there's no minimum stay requirement to book. Anything from a one-night stay to a weeklong trip or more should be fine.
One thing to watch for: The hotel says there's a $50 fee to cancel any reservations from the time you book until four days before arrival – and a penalty of two nights if you cancel within three days of your stay.
Need some Hyatt points to book?
If you've got some Chase Ultimate Rewards points from cards like the Chase Sapphire Preferred® Card or the Chase Sapphire Reserve®, you're set. Hyatt is a Chase transfer partner – and one of the best, if you ask us. A stash of 50,000 points gets you 50,000 Hyatt points and enough for two nights at this amazing property.
It's likely far too late to open the  World of Hyatt Credit Card or the World of Hyatt Business Credit Card in time to earn enough points to book this property, but a bonus on either card could set you up nicely for the next great Hyatt deal like this one.
Bottom Line
Don't wait, book now.
By all accounts, the Secrets Impression Moxché is one of the absolute best all-inclusive resorts you can book with points – and easily one of the best ways to use Hyatt points, period.
Availability like this had all but disappeared recently … and odds are, that will happen again soon. Book while you can because come March 28, this property will cost you double the points.