Just a little over an hour south of Cancún, Tulum has exploded in popularity over the last few years. Between the Mayan ruins, cenotes, great restaurants, cocktails, and beaches, there is a lot to love. Here's your key to do it for less.
Marriott is out with a fantastic deal at the new Aloft Tulum with all-inclusive rates starting at just $239 a night. First spotted by our pal at God Save the Points, you'll be hard pressed to find a better deal on a Tulum stay through the fall.
Read on for everything you need to know about this great opportunity to save on lodging and meals on a Tulum vacation.
The Deal
Starting as soon as this weekend and running all the way through November, 2021, you can book a room for two with an all-inclusive package at the Marriott Aloft Tulum by selecting the "All Day Tulum" rate.
Using the "All Day Tulum" rate will make you eligible for room rates starting at just $239 per night for two people, valid all the way through the end of November 2021. While not all dates will price out at $239, there are plenty of dates you can grab at either $249 or $259 per night, depending on the time of year. No matter what, that's still a great deal.
These all-inclusive packages are available beyond November, but the cost rises above $300 a night once you get into the winter months.
Here is what is included on each date with the "All Day Tulum" rate.
Breakfast for up to two guests each morning at W XYZ
Lunch for up to two guests each afternoon at Ático Rooftop or W XYZ
Dinner for up to two guests each night at Ático Rooftop or W XYZ
Snacks
Cocktails at Ático Rooftop or W XYZ
Soft drinks
Ocean Front Beach Club passes
How to Book the Aloft Tulum All-Inclusive Deal
If you are interested in taking advantage of this great deal, simply head to the Marriott home page, search for the Marriott Aloft Tulum, and select your desired dates. Remember you'll need to complete your stay by the end of November for the cheapest rates.
Once you have selected your dates, select the "view rates" button. From there, select the "Deals and Packages" tab.

Once you are on the "Deals and Packages" tab, you can select your room type and scroll down to see the All Day Tulum Package rate. Note that if you select an upgraded room type, the All Day Tulum Package rate will increase.

Can You Book With Marriott Points?
The Marriott Aloft Tulum is a category 5 property that can be booked with Marriott Bonvoy points.
Because of how Marriott's award chart works, a category 5 hotel can be booked for 30,000 points per night during off-peak times, 35,000 points per night during standard times, and 40,000 points per night during peak times. That also means you can use a Marriott free night certificate issued from certain co-branded Marriott Bonvoy credit cards for an off-peak or standard stay.
However, stays booked with Marriott Bonvoy points are not eligible for the All Day Tulum Package rate. You must book the stay with cash. However, since you are booking directly with Marriott, the stay would earn Marriott Bonvoy points, and would also be eligible to earn elite night status credits. Any Bonvoy status benefits should be recognized, too, including possible room upgrades.
Thrifty Tip: Use the Rakuten browser extension at booking to get an additional 1.5% cash back on your booking (or 1.5x American Express Membership Rewards points per dollar spent).
Marriott Aloft Tulum Location
The biggest thing to be aware of about the Marriott Aloft Tulum is that it is not located on the beach. That may not be a bad thing.
Instead, it's situated in the city with great views of the countryside and the Parque Nacional Tulum.

You might quickly forget about the proximity to the beach after you set foot on the property – it's a great spot, and the town itself is a great spot to be. If you want to get to the beach, expect about an eight to ten-minute cab ride to a designated beach club.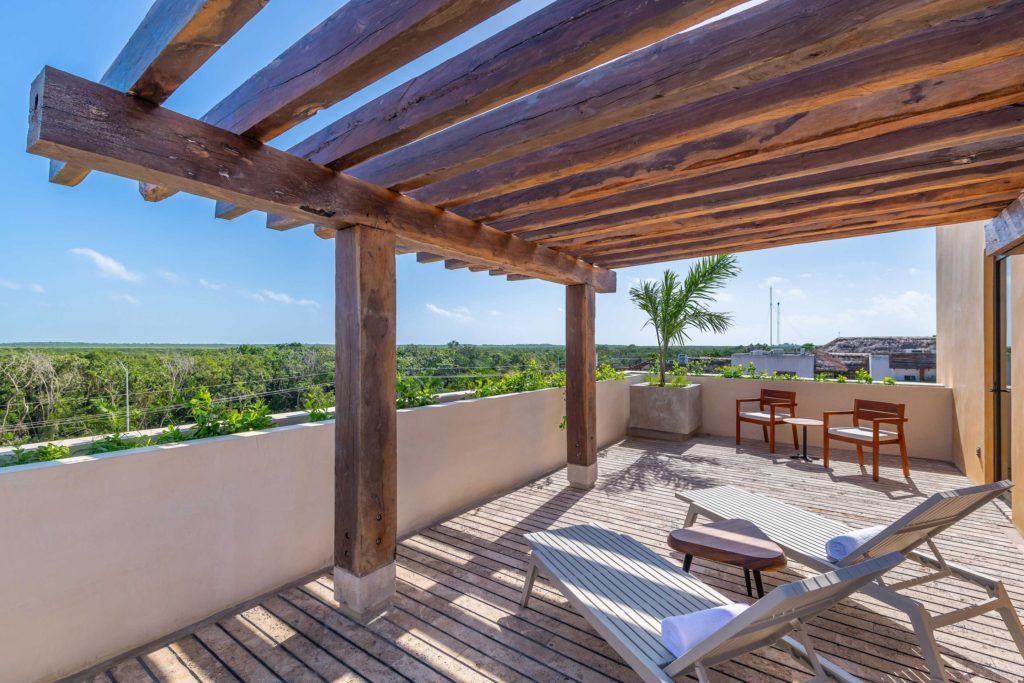 Getting to Tulum
Tulum doesn't have its own airport, so visitors will need to fly into Cancun (CUN) and then drive roughly an hour and a half south. Be warned: During the busier travel seasons, that drive can take much longer.
Looking for a flight deal to Cancun? We find and send deals from 160+ U.S. & Canadian Airports via our Thrifty Traveler Premium flight deal alert service.
And Cancun is no stranger to good flight deals. Just recently, our members received the deal below from 12 different cities to Cancun starting at just $250 roundtrip. While this deal is no longer available, it was bookable all the way through April 2022.

Never miss another deal! Subscribe to Thrifty Traveler Premium to get alerts for the best flight deals. 
Bottom Line
This all-inclusive deal for the Aloft Tulum can be a steal: It's a great way to save some money on your next trip to Mexico. The best rates are only available through November, so don't wait to book your trip.