If you've ever wanted to visit the white-sand and crystal-blue waters of the Maldives on a budget, this is your ticket.
Travelzoo is back with another outstanding travel package, selling a five-night voucher for two at the SAii Lagoon Maldives, a Curio Collection Hotel by Hilton, for just $995 … total. That's $199 a night in the Maldives! This deal was on sale weeks ago but quickly disappeared, but now it's back!
Unfortunately, packages for the quintessential overwater villas are not available. But there are plenty of packages left for oceanview rooms with a private patio. And yes, the Maldives are already open to U.S. travelers.
This booking comes with a lot of extra goodies, but two things stand out. It includes a roundtrip speedboat transfer to get to the resort, which means you won't have to pay the usual $700 to $900 extra fee for a seaplane transfer.
And this is available to book all the way through Dec. 23, 2022 – and it's fully refundable! Buy your voucher now and reserve your stay later, or get your money back if you decide not to go.
Here's what each package includes:
5 nights for two people for $995 in an oceanview room with private balcony, including
Roundtrip speedboat transfers from the airport to the resort ($300 value)
Daily breakfast with complimentary sparkling wine
$100 resort credit
20 cocktail vouchers redeemable at the resort's bar ($200 value)
15% discount at the resort's restaurants, including in-villa dining and private dining
15% off spa treatments
Complimentary activities include yoga, zumba, cocktail classes and use of snorkeling equipment, kayaks, and pedal boats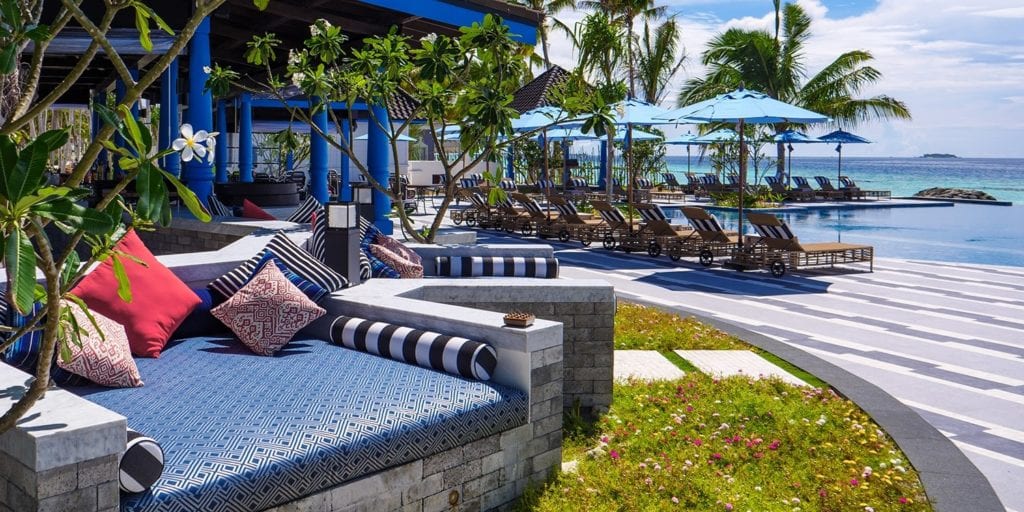 Trying to fly to the Maldives for cheap, too? Sign up for Thrifty Traveler Premium and wait for a flight deal, then book your hotel stay! Or use American AAdvantage miles to fly Qatar Airways – including Qsuites!
This is a fairly new property, and it gets pretty solid reviews. So what's the catch? It's fairly close to the main island of Male, so it's not quite the secluded island experience many are looking for in the Maldives.
But this package adds up to at least $1,500 in savings – if not much more. The room itself typically sells for at least $350 per night, and that's before adding in food, beverage, and round-trip transfers.
Great Flexibility Through 2022
One of the best parts of this deal is that it's a voucher, so you don't have to lock in your dates right away. Check-in any day through December 23, 2022 with a few exceptions. The deal is not available from Dec. 28, 2020 – Jan. 7, 2021; March 28 – April 3, 2021; Dec. 28, 2021 – Jan. 7, 2022; and April 1-16, 2022.
To reserve your stay, Travelzoo states:
 You must call to confirm your dates with the hotel by Nov. 23, 2022 and we recommend calling as early as possible, at least 30 days prior to your stay, to avoid disappointment.
This gives you ultimate flexibility but if you can't find dates that work for you or you can't travel, this voucher is fully refundable through December 2022.
Promotion Details
There are a few other details to know:
Book with Travelzoo
All taxes and fees are included in the price except for a $6 per person per night green tax
Multiple vouchers can be combined to stay for longer, or add nights for $199 each.
You can add third adult for $100 more per night (including breakfast) when using the sofa bed
Fully refundable up through December 2022
Travel through December 23, 2022
Blackout dates: Dec. 28, 2020 – Jan. 7, 2021; March 28 – April 3, 2021; Dec. 28, 2021 – Jan. 7, 2022; April 1-16, 2022
Pros & Cons of this Deal
Pros
Come on: It's the Maldives.
Save $300 on speedboat transfers
No $750 per person flight transfers like most islands
20 drink vouchers nets you a savings of $200 or more on cocktails
Daily breakfast with sparkling wine is worth at least $250
Private island attached to other islands which means you can eat and explore away from the resort
Cons
Not secluded in the middle of the Indian Ocean
Close to the main island which means more traffic
Close to other resorts
Not nearly as luxurious as other much more expensive options (like the St. Regis)
Bottom Line
If you want to do the Maldives for cheap, this is the way to do it. Combine this with the ultimate flexibility to reserve a stay as far out as December 2022 or cancel and get your money back, and it's tough to beat.
If you're looking for the best private and secluded island experience, this deal might not be for you. But if you want to check out the Maldives and still have a blast, this is the thrifty way to do it.
All Photos Courtesy of Hilton