Rally the group chat, text your partner, and get ahold of your boss, because if you want the best price for a winter getaway this year, you should book your flights today!
In the last 48 hours, airfare for this fall and winter has been flipped completely upside down in the best way possible, but this amazing airfare climate isn't long for this world. Today is possibly your best chance to book cheap flights to warm-weather destinations like Hawaii, Mexico, and the Caribbean this winter. 
Why today? Because Southwest is running a sale that ends Thursday at midnight ET. But the savings extend way beyond Southwest.
Southwest, as it often does, started this cheap flights bonanza by announcing a 50% off sale this week. When Southwest drops airfare, other airlines like Alaska, American, Delta, and United fall all over themselves to match prices so they don't lose customers. And when the airlines start competing on fares, we're all winners!
We're seeing some of the lowest airfare we've ever seen from cities all over the U.S. big and small to warm weather destinations like Hawaii, Mexico, and the Caribbean this winter. But when Southwest's sale is over, we expect these low fares on other airlines to dry up, too. That's why you should book your winter getaway flights today, and figure out the details later. Remember: You always have 24 hours to cancel and get your money back.
Our Thrifty Traveler Premium members have been bombarded with these sweet deals. But things are so good out that we wanted to issue a public service announcement to all travelers. So what exactly are we talking about here?
Hawaii from $123 Roundtrip
When Southwest added flights to Hawaii a few years ago, everything changed. The low fares Southwest offered were so good that other airlines had no choice but to match them or risk losing customers. Now, finding a cheap flight to Hawaii isn't the grind it used to be.
So when Southwest announced a 50% off sale, Hawaii was the first place we looked. And wouldn't you know it…
These Southwest fares have quick, clean connections and can get travelers from nearly anywhere in the U.S. to Hawaii for close to record low prices from some cities.
The pressure that Southwest put on the other airlines also led to some ridiculously low fares from some of Alaska and Hawaiian Airlines' West Coast hubs, too.
See what we mean? You're not going to beat these fares for travel to the Hawaiian Islands this fall or winter.
But when the Southwest sale ends on Thursday, we expect to see the low fares from other airlines dry up, too. So get to booking!
Read next: Booked a Cheap Flight to Hawaii? How to Save on Your Lodging, Too.
Cancún from $216 Roundtrip
Straight up: We've never seen airfare this low to Cancún (CUN) from many of these cities, and we may never see it again. I'm not trying to be hyperbolic, but if you live in a place like Grand Forks, North Dakota (GFK), Missoula, Montana (MSO), or Rapid City, South Dakota (RAP) and you can find sub-$299 roundtrip fares to Mexico, run – don't walk – to Google Flights and book your Mexico beach getaway.
Want to be the first to know about cheap flights to Mexico? Join Thrifty Traveler Premium to get the next deal in your inbox! 
This deal featured hundreds of U.S. cities under $399 roundtrip to CUN, and dozens of them were even sub-$299. It's a deal so widespread that we could barely fit a quarter of it in this screenshot.
There's no time to dawdle. Go book these incredible fares to Mexico and figure out the details from there. If the logistics don't line up, you can take advantage of the 24-hour rule to cancel your flights and get all your money back.
The Caribbean from $150 Roundtrip
Passport held up in the government's hands? No problem. A Caribbean getaway to the passport-free island of Puerto Rico is as cheap as we've ever seen it for this winter.
If you have more than $150 in your travel budget and you live in one of these cities, Puerto Rico flights are waiting for you.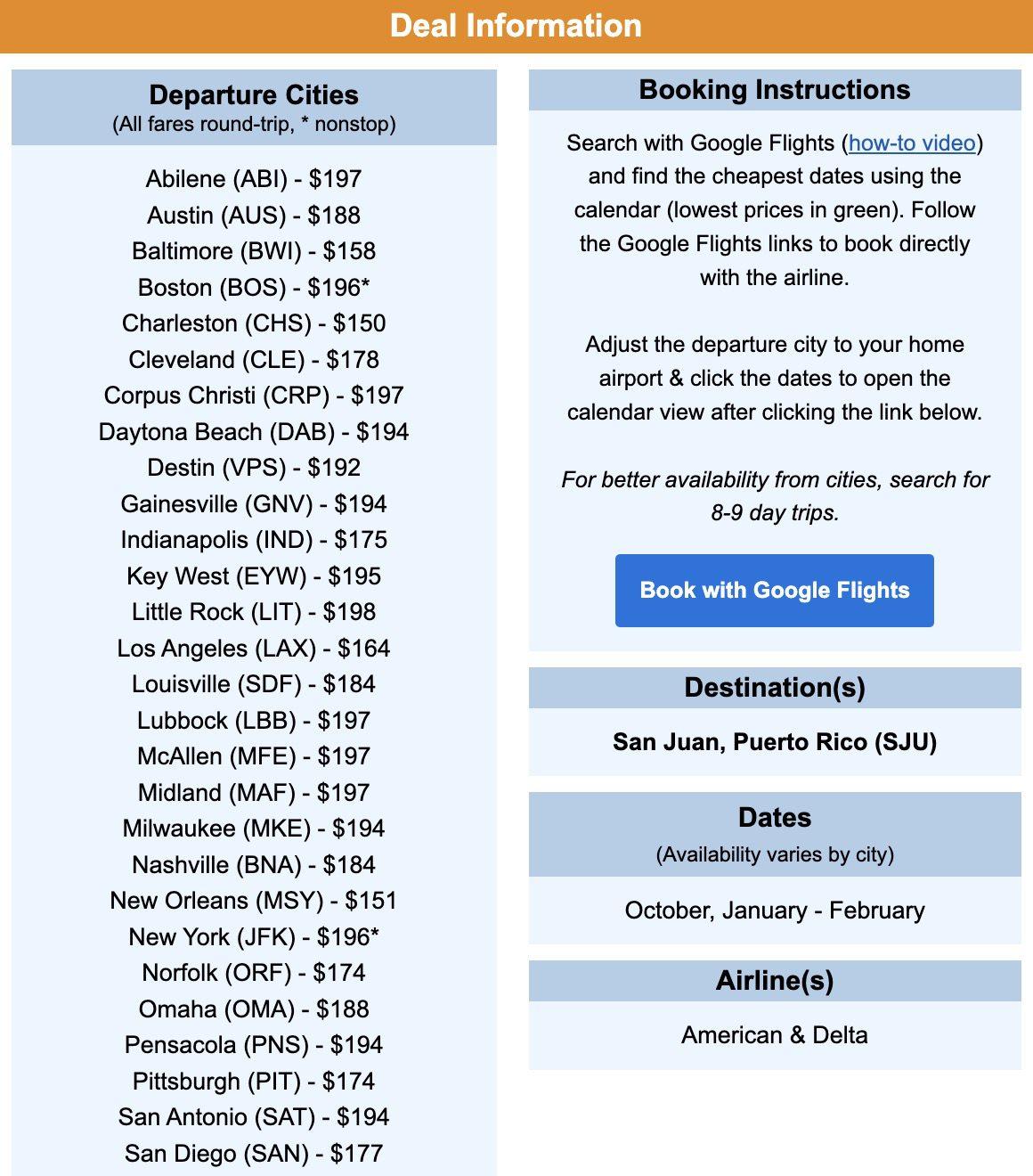 Some of these fares are truly wild. Omaha, Nebraska (OMA) to San Juan (SJU) for just $188! And how about those fares from the West Coast? Los Angeles (LAX) and San Diego (SAN) flights to Puerto Rico clocking in under $177 roundtrip.
If you do have your passport dusted off, you can go further into the Caribbean to take advantage of even more flight deals. One of our most recent roundups was for nonstop flights to Montego Bay, Jamaica (MBJ).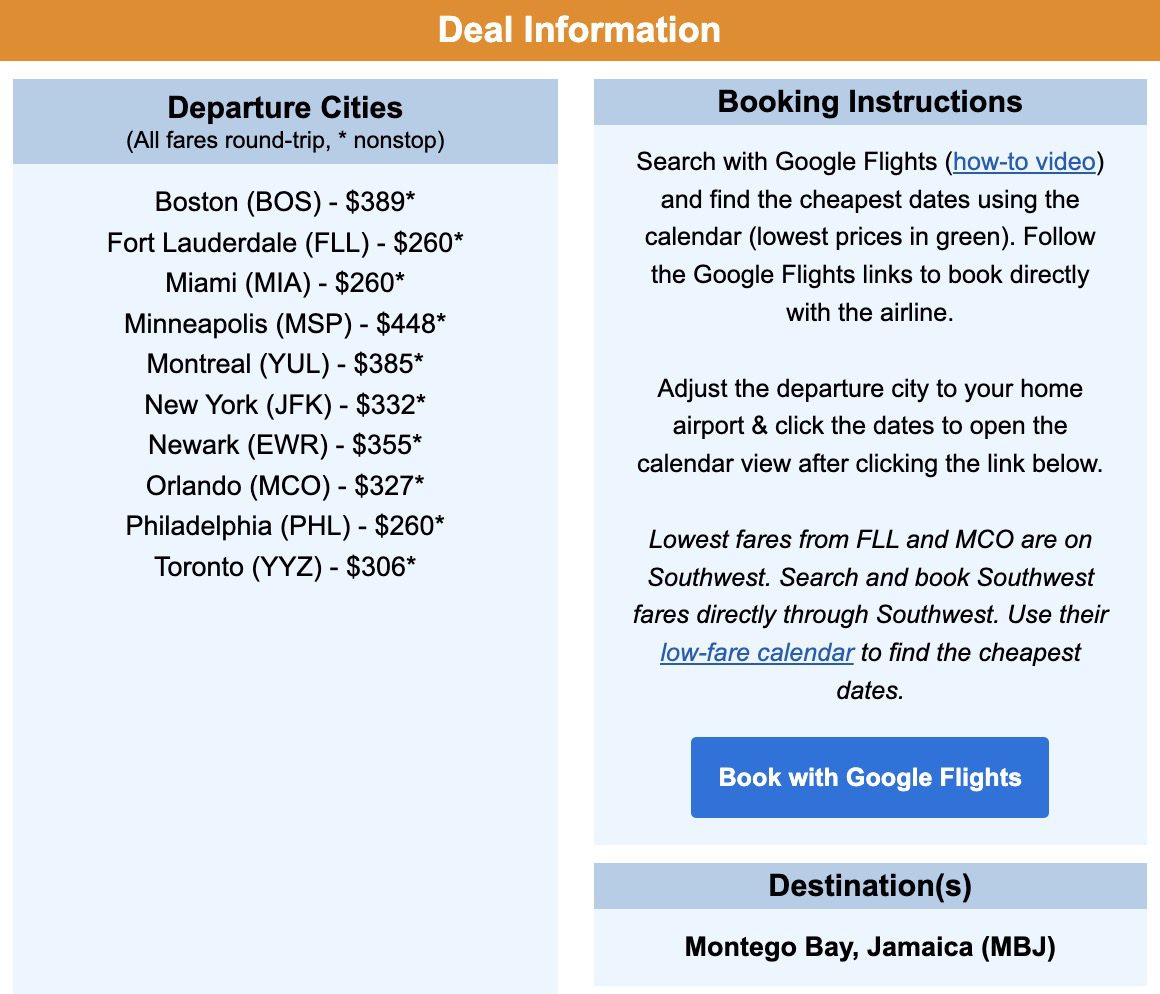 The best fare on this list is the nonstop route from Philadelphia (PHL) which has settled in at just $260 roundtrip. Sell your Sixers tickets on Stubhub and use that money to fly to Jamaica for the second week in February instead.
Close by in the Dominican Republic, fares to the resort town of Punta Cana (PUJ) also plummeted this week.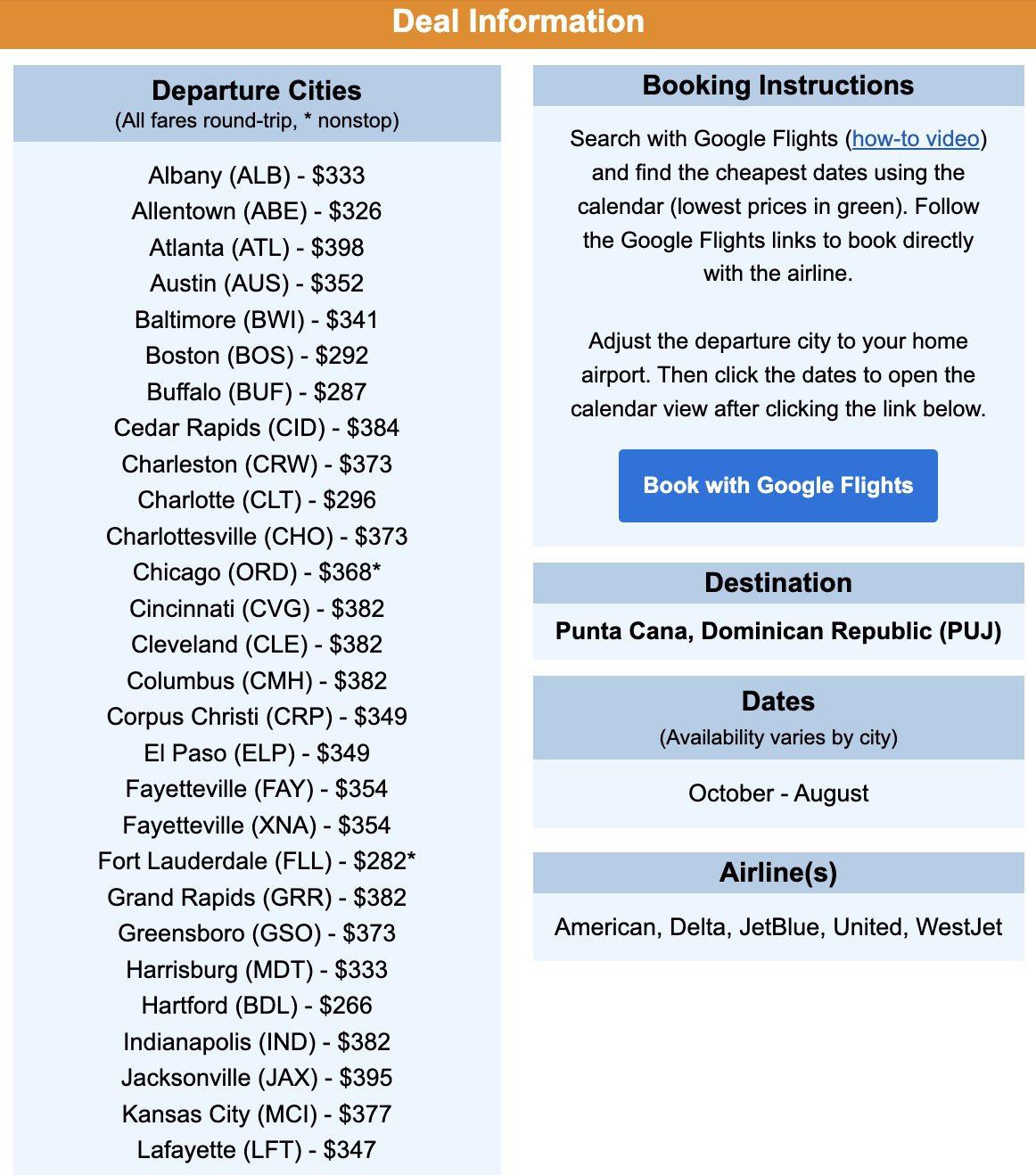 Usually, places like New York and Miami get all of the love when it comes to cheap flights to Punta Cana, but not this time. If you live in Grand Rapids, Michigan (GRR), Charleston, West Virginia (CRW), or Cedar Rapids, Iowa (CID), your winter getaway just got a whole lot more affordable. Don't settle for Florida when the Caribbean is even cheaper!
Bottom Line
Airfare for this fall and winter has been flipped upside down in the best way possible, but these low fares won't last past Thursday. Book now for the cheapest possible winter getaway.