Places with names like Fiji and Tahiti call to mind images of white-sand beaches fronting beautiful, mossy mountains and high-end, luxury resorts. And if you didn't know any better, they might seem like the kind of places only Scrooge McDuck can afford.
Fiji, Tahiti, New Zealand, Australia, and thousands of other islands in the South Pacific are all part of a region called Oceania. And while those long, long flights to Oceania can routinely exceed $1,000 roundtrip for just economy, it doesn't always have to be that way.
In the past few weeks, we've noticed a big drop in flight prices down to these exotic Pacific islands this fall, winter, and spring. That's exquisite timing: The dead of winter for us in the northern hemisphere is the middle of summer in the South Pacific, meaning the flights that are getting cheaper to Oceania are for peak season travel – exactly when you're trying to escape the cold in the U.S. and Canada.
Whether you want a nonstop flight to Tahiti for $575 roundtrip, a 2-in-1 trip to Hawaii and the Cook Islands under $800, or a lie-flat business class seat all the way to Australia for just 60,000 miles each way, there's a little something for every traveler to find themselves the Oceania getaway of a lifetime.
Australia and New Zealand
Australia is the largest landmass on the continent of Oceania and is also probably the most popular destination on North Americans' travel bucket lists.
The problem is flight prices to places like Sydney (SYD), Melbourne (MEL), and Brisbane (BNE) can reach astronomical highs (think $1,300+ in some cases) due to this perpetual demand among North American travelers.
But when the airlines drop fares, even for just a few hours, our Thrifty Traveler Premium members get alerted to them.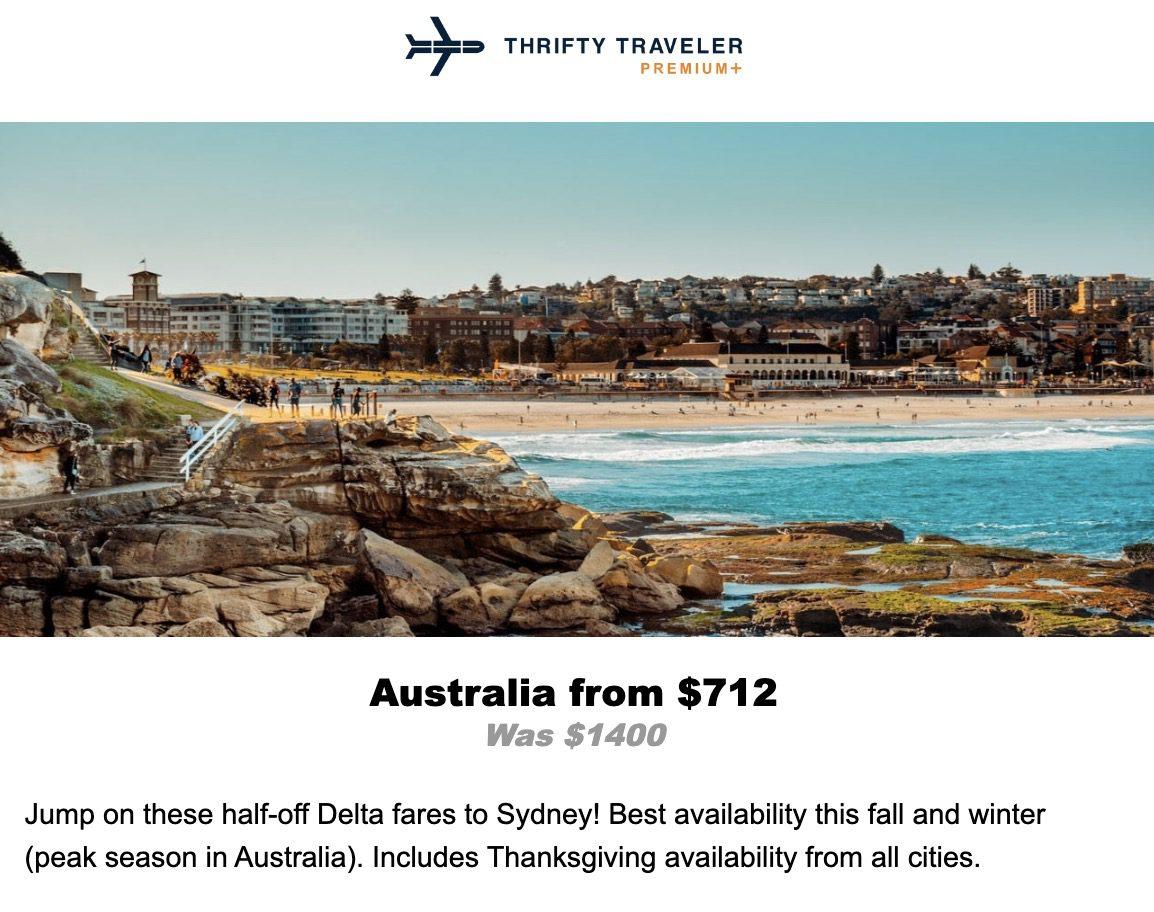 If you like flying Delta, this flight deal in particular was an incredible value. Connecting through Los Angeles (LAX), you could make the journey to and from Sydney (SYD) for as little as $712 roundtrip.

But low cash fares to Australia don't come about all that often, so the best value to fly down under is almost always using your points and miles.
This American Airlines AAdvantage miles deal to Australia included a number of cities on the West Coast connecting through LAX, and all the fares were Main Cabin, too! So if you need to cancel for whatever reason, you can have all the miles deposited back into your account and all your taxes and fees refunded, no questions asked.
If you're a Delta loyalist, this SkyMiles deal to Australia and New Zealand also featured some insane fares.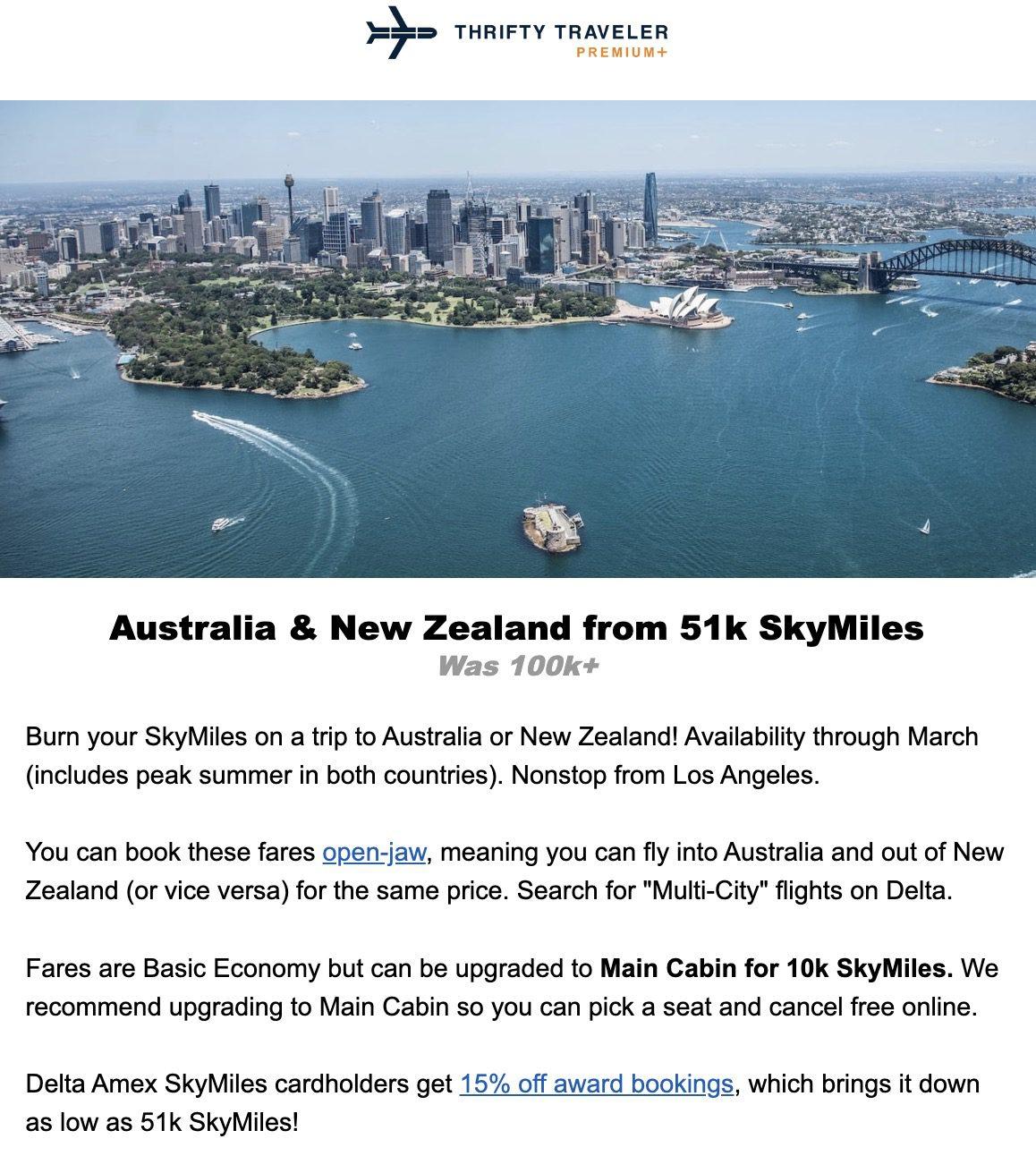 Even better: You could book this deal for both destinations. By booking multi-city flights, also called an open-jaw itinerary, you could fly into Sydney (SYD) and out of Auckland, New Zealand (AKL) for the price of one roundtrip ticket. Then, all you have to do is book a cheap flight between the two to have an epic, two-country trip.
If the idea of a 2-for-1 trip sounds right up your alley, there's plenty more where that came from. How about visiting both New Zealand and Hawaii for the price of one?
Hawaiian Airlines not only connects U.S. travelers to the Hawaiian Islands, but it flies all over the Pacific Ocean from its hub in Honolulu (HNL), too. That gives travelers some pretty amazing opportunities to book a stopover in Hawaii on the way to or from their final destination.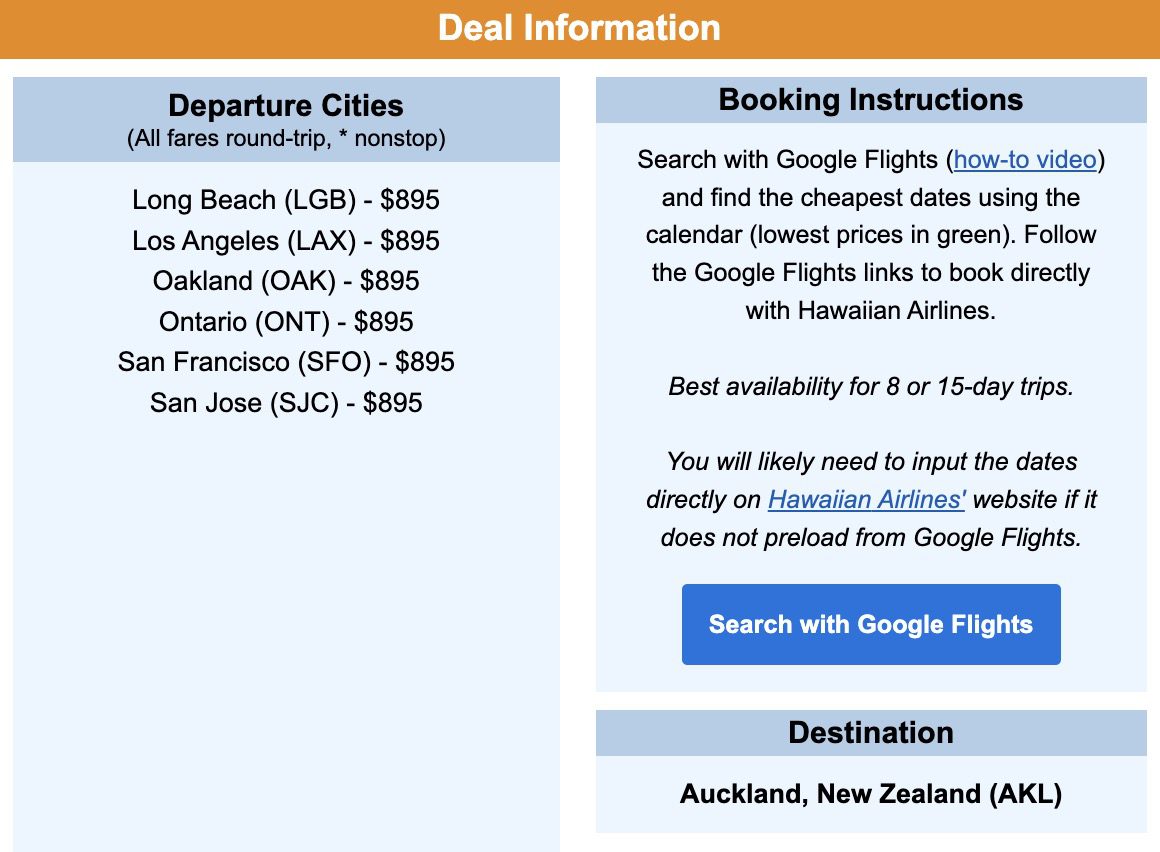 This flight deal taking travelers to New Zealand via HNL included fares under $900 – a great price, especially considering you could tack on Hawaii, too.
Tahiti
With epic mountains framing vivid blue waters, French Polynesia and its main island of Tahiti are what travel dreams are made of.
And if you want to find a cheap way to Tahiti (PPT) this year or next, the flight deals are plentiful.
You're more likely to see flights to Tahiti for $1,000 roundtrip – or more. But this sale on Delta and Air France flights to Tahiti connected all of these west coast hubs to Papeete (PPT) on the main island of Tahiti for less than $883 roundtrip.
Or you could save that cash and use your Delta SkyMiles instead.
Delta recently put these flights to Tahiti on sale for just 80,000 SkyMiles roundtrip this winter! And if you hold a co-branded Delta SkyMiles credit card, you get 15% off those award flights, too.
Fiji
Fiji is the far-off, fancy-sounding destination that seems more likely to be a screensaver on your computer than a place you'd actually be able to visit.
But getting to Fiji doesn't have to drain your travel budget. Roundtrip flights to Fiji from $596 don't come around often, but you'd better bet our Thrifty Traveler Premium members got this in their inbox as soon as we found it.
Getting to Fiji doesn't have to drain your travel budget, either. Roundtrip flights to Fiji from $596 don't come around often, but you'd better bet our Thrifty Traveler Premium members got this in their inbox as soon as we found it.
Fiji Airways helps make these fares possible, running nonstop flights to Honolulu (HNL), Los Angeles (LAX), and San Francisco (SFO).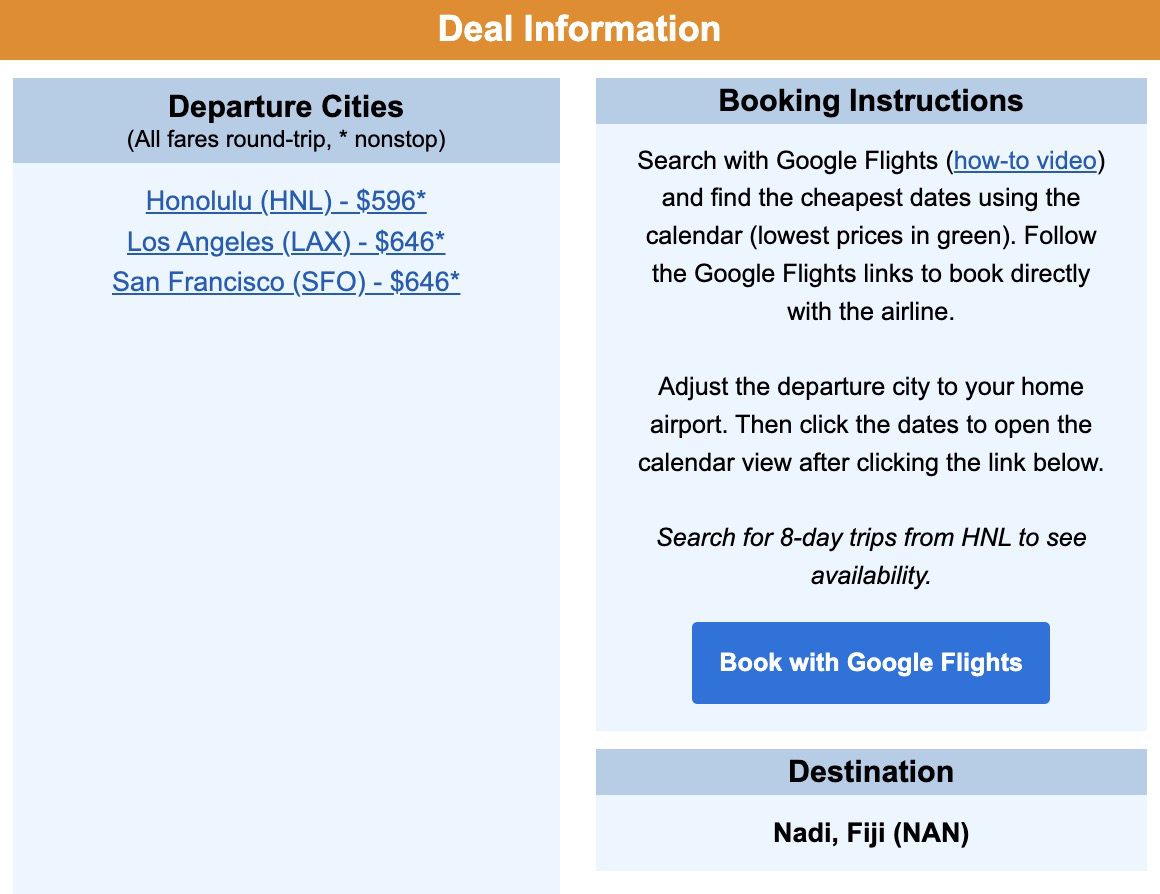 Fiji fares don't always go on sale all at the same time like this, but when these sales pop up, it could be exactly what you need to build a Fiji trip of your own someday soon.
Cook Islands
Ever heard of the Cook Islands? Me neither!
The Cook Islands were not on my travel radar until I heard that Hawaiian Airlines was adding nonstop service from Honolulu (HNL) to the Cook Islands (RAR) this year.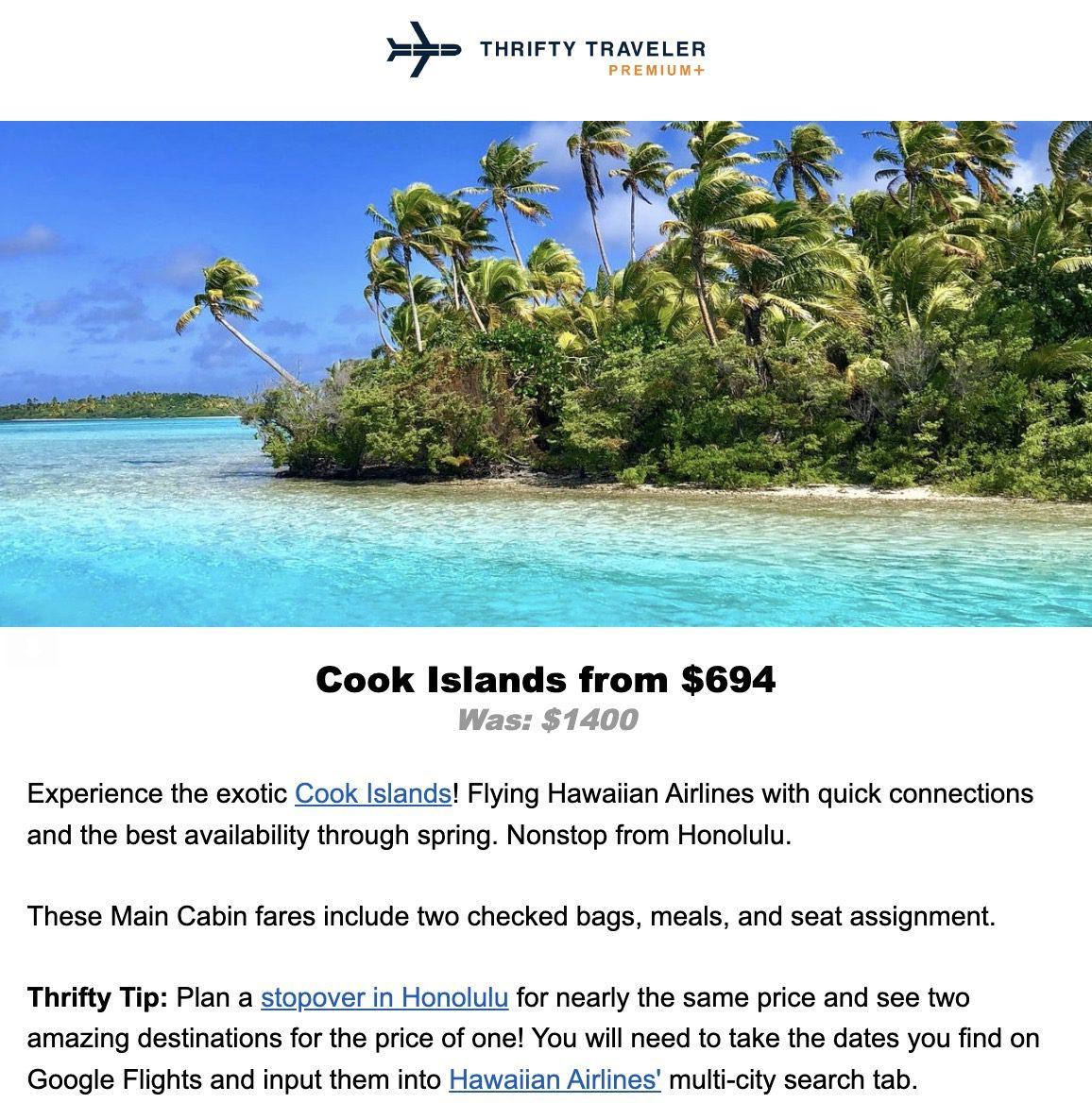 These fares to Rarotonga were unheard of before Hawaiian added this service. Thanks to Hawaiian's network of U.S. flights from the West Coast, thousands of our Thrifty Traveler Premium subscribers got a chance to take advantage of these one-stop itineraries this archipelago in the South Pacific this year or next.
And because it's flying Hawaiian Airlines, you could add in a few extra days in Honolulu on this itinerary, too!
The Cook Islands plus Hawaii? It's honestly too good of a trip, one that might cause your friends to unfollow you on social media. But it'll be worth it.
Business Class Flights to Oceania
What's the one drawback to flying to Oceania? The length of the flights. No matter where in the region you're looking to fly, if you're coming from North America, you're looking at at least eight hours in the air. Oof.
So what's the antidote to a long, uncomfortable flight? Business class.
For the long, long journey to Australia or New Zealand this year, you could do worse than a United Polaris Business Class seat. Have a few glasses of champagne at the lounge, a full meal after takeoff, and then settle into your bed in the sky on the way down under. Sound pretty good? Thanks to a transfer bonus from American Express, you could book this flight for just 70,000 American Express points one-way. These seats were also bookable for just 80,000 Avianca LifeMiles if transferring from Capital One or Citi.
Want to spend even fewer miles? We also uncovered some American Airlines award space that could put you in one of their lie-flat seats for just 60,000 miles each way.
If you're eyeing a trip to Fiji or New Zealand (or both!), consider flying Fiji Airways' swanky business class to Fiji and then connecting onwards to New Zealand from there.
Just 55,000 Alaska miles is all you need for one of these seats flying across the Pacific. No Alaska miles, no problem: 80,000 American miles would also do the trick.
Bottom Line
While even economy flight prices to Oceania can routinely exceed $1,000 roundtrip, it doesn't always have to be that way. Lately, we've been finding some of our favorite flight deals ever to places like Fiji, Tahiti, Australia, and New Zealand.
Whether you want to fly nonstop under $599 roundtrip, make a stopover in Hawaii for the cost of one flight, or fly lie-flat business class down under this year, Thrifty Traveler Premium members can have it all.