Delta doesn't make it easy to maximize your Skymiles. Thankfully there are still plenty of incredible deals out there if you know where to look.
We offer the only flight deal alert service that sends travelers both cheap cash fares and award alerts to use their points and miles – and finding Delta SkyMiles flash sales are our bread and butter. We know finding SkyMiles deals can be tough on your own, which is why we do all the hard work for you and send flight deal alerts straight to your inbox.
We sent more than 60 SkyMiles deals to our Thrifty Traveler Premium+ subscribers in the last year, with deals to NYC, Hawaii, Tokyo, Cancún, Tahiti, and even Australia. While these deals are no longer bookable, we're finding more similar deals for flights into 2024!
These unadvertised sales are easily the best way to use your Delta SkyMiles. With 60 to pick from, it's hard to pick favorites. But these are 11 of the absolute best Delta SkyMiles deals we unearthed for our members this past year.
Maui from 17K SkyMiles
We start with the best, and it really doesn't get much better than this: Just 17,000 SkyMiles to Maui (OGG) and back.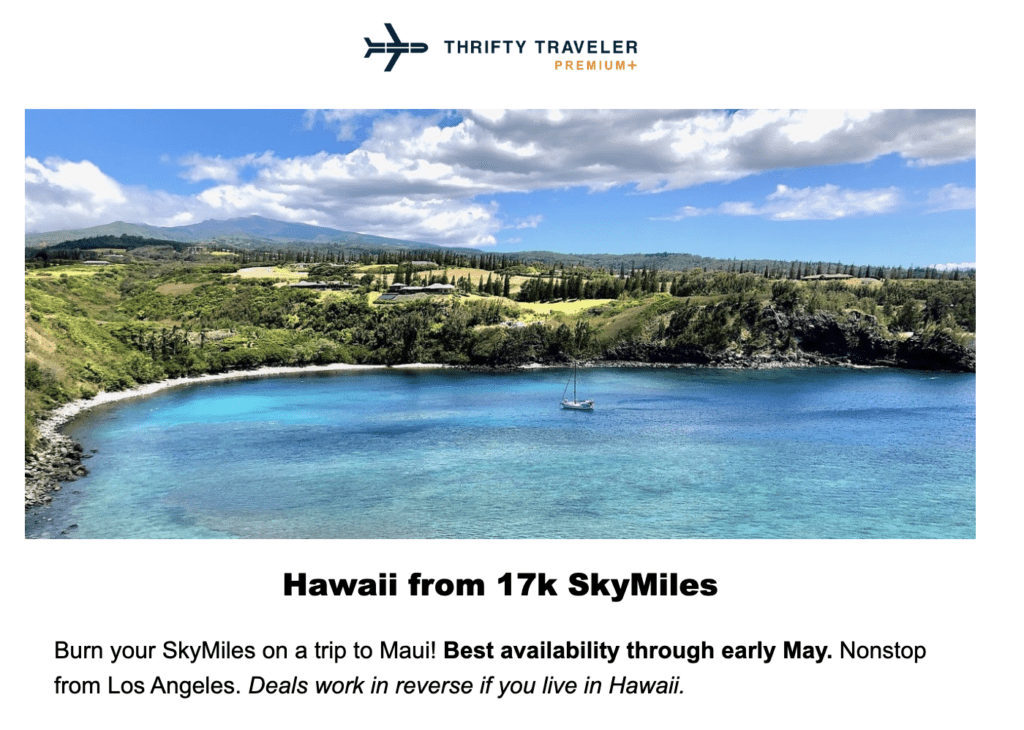 Only Thrifty Traveler Premium+ members get award alerts for amazing Delta deals like this – sign up today to get the next one!
This SkyMiles flash sale we dug up featured some enormous value for subscribers from Los Angeles (LAX), Minneapolis-St. Paul (MSP), and almost everywhere in between. Best of all, every city on the list could get to Maui and back for less than 39,000 SkyMiles roundtrip – if not much less!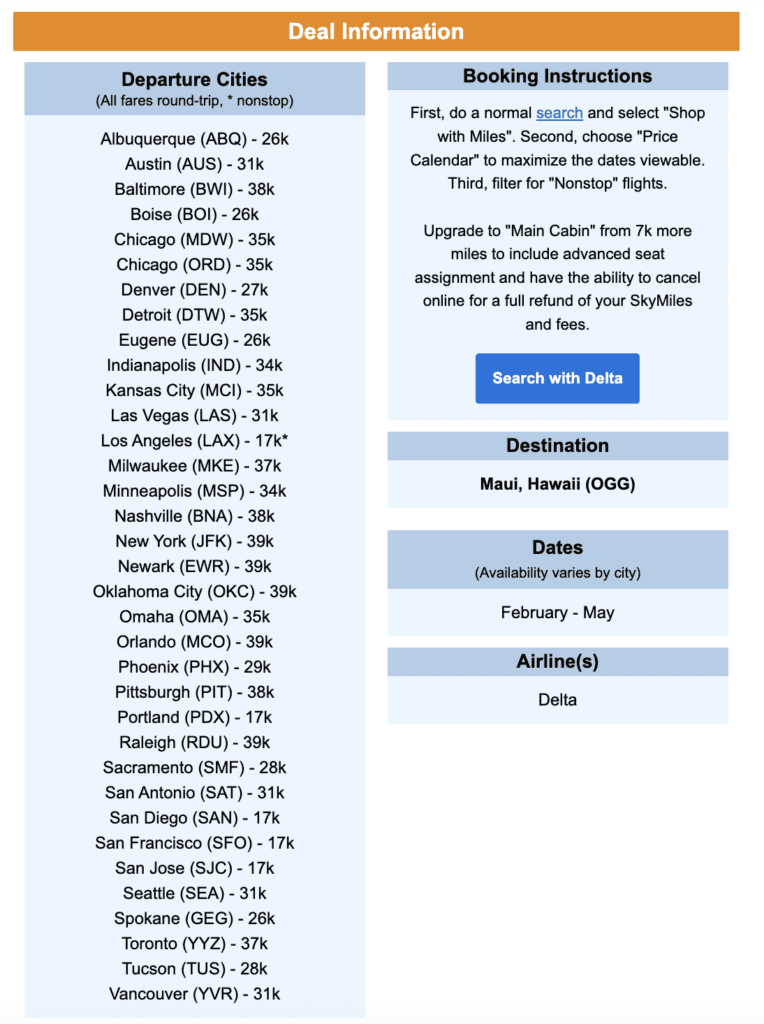 This was one of our favorite Hawaii deals ever, led by a truly bonkers fare from Los Angeles.
Europe for 32K SkyMiles
It doesn't happen often, but when it does, it's a huge win for Delta flyers. The airline slashed award rates on nearly all its flights to destinations across Europe.
From New York City (JFK) to Minneapolis-St. Paul (MSP) to Des Moines (DSM) to Greensboro (GSO), nearly 200 different cities got in on this deal with roundtrip flights to Europe … for 32,000 Delta SkyMiles. That's a fraction of what Delta typically charges and less than half what you'd pay using American or United miles.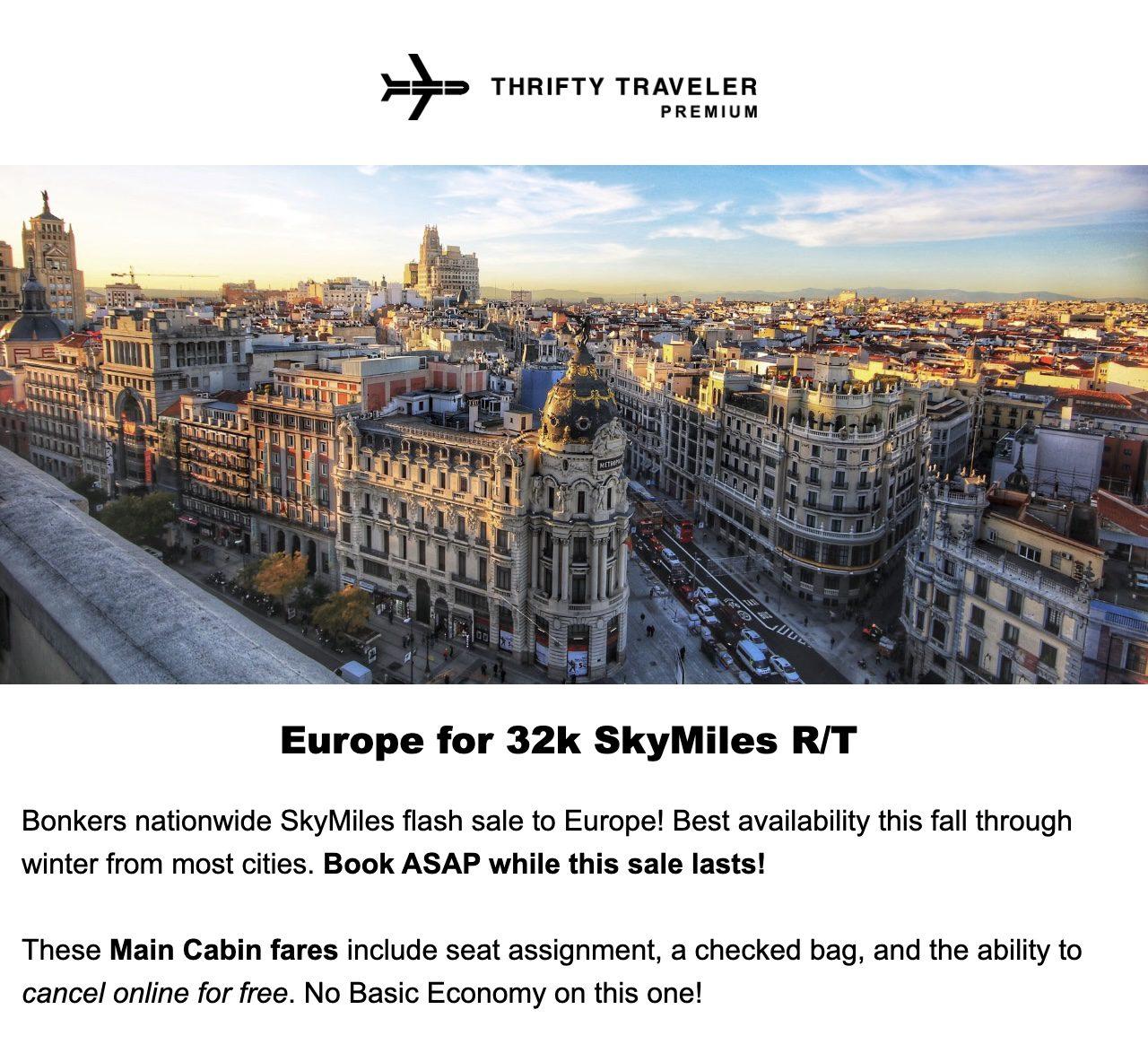 These main cabin economy fares included a checked bag, free seat assignment, and they were bookable as "open-jaw" itineraries – allowing you to fly into one European city and back from another at the same rate. It's one of our favorite travel tactics to help you see more of Europe for less.
Taxes and fees clocked in as low as just $57 on these fares, too. That made making a trip from Minneapolis-St. Paul (MSP) to Madrid (MAD) a breeze.

Australia for 70K SkyMiles
Delta SkyMiles can take you far – even the land down under.
Deals like this one are rare, but this Delta SkyMiles flash sale was a ridiculous value for our Thrifty Traveler Premium+ subscribers right after Australia reopened to travelers earlier in 2022. And it helped travelers get to Australia well into 2023!
Nearly every city with Delta service in North America got in on this deal, offering roundtrip main cabin fares to Sydney (SYD) for 80,000 SkyMiles or less! Delta typically charges 200,000 SkyMiles (or $2,000!) or more for these flights!
From Boston (BOS) to Bozeman (BZN), Australia was suddenly just a SkyMiles booking away. It was definitely one of the more memorable deals of the year.
Discounted Delta One to Europe!
If you want to fly business class abroad, Delta SkyMiles aren't the safest bet. Scoring a Delta One Suite across the pond or over to Asia regularly costs 250,000 SkyMiles or more … each way. Pass.
But every now and again, we find a rare gem like this one…
Get the next discounted Delta business class deal with Thrifty Traveler Premium+!
At just 148,000 SkyMiles for roundtrip business class flights all across Europe this past fall and winter, it was one of the best deals we've seen using SkyMiles for lie-flat seats. This unannounced sale spread all across the continent, helping travelers across the U.S. get to almost anywhere in Europe in style this year or next.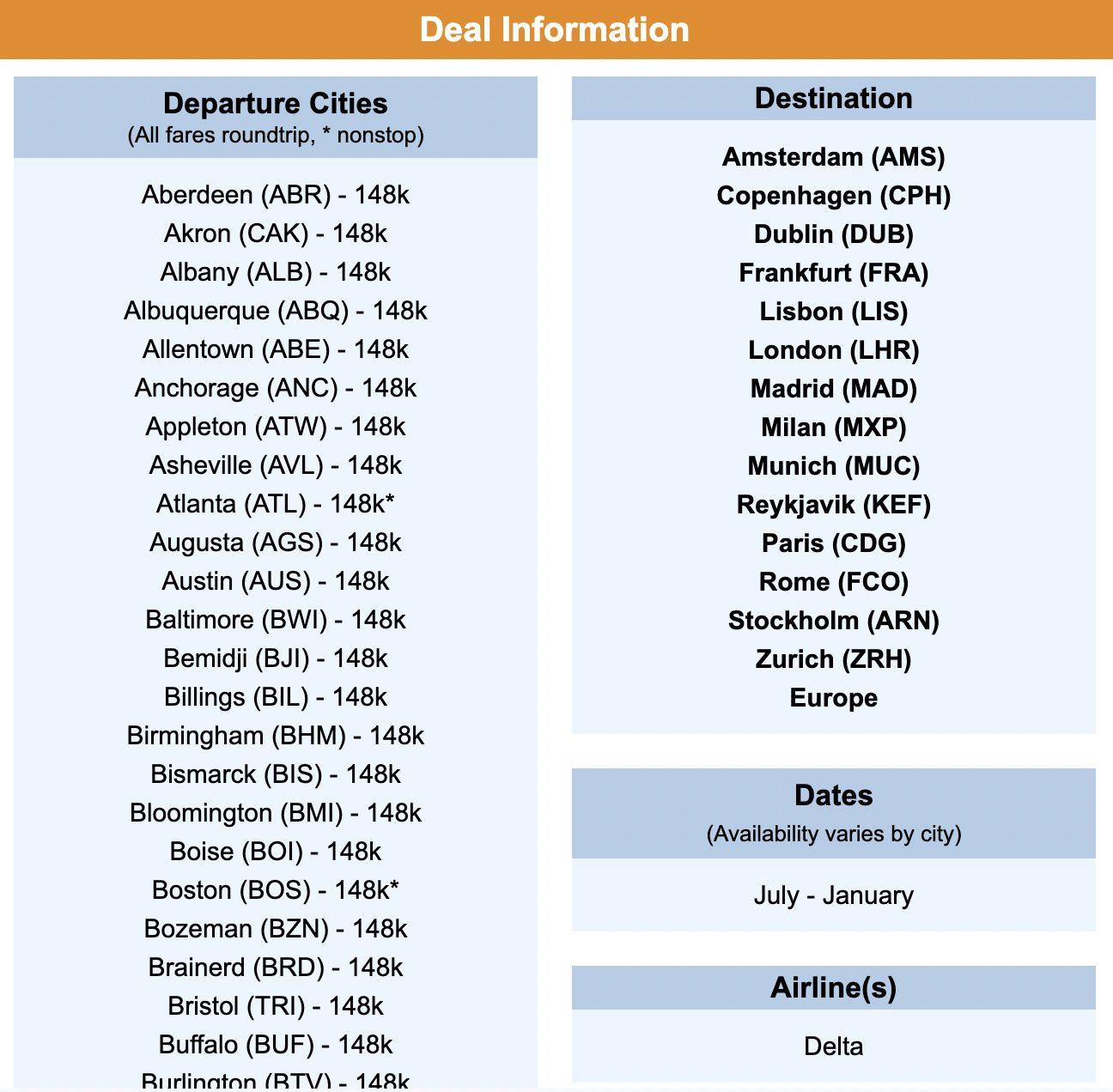 A Trip to Tahiti for 50K SkyMiles!
In July, Delta announced that it would begin service to Tahiti for the first time ever. Just days later, we found an amazing deal to get travelers there for less than many domestic flights.
That's right: Just 50,000 SkyMiles for a trip all the way to Tahiti and back in 2023!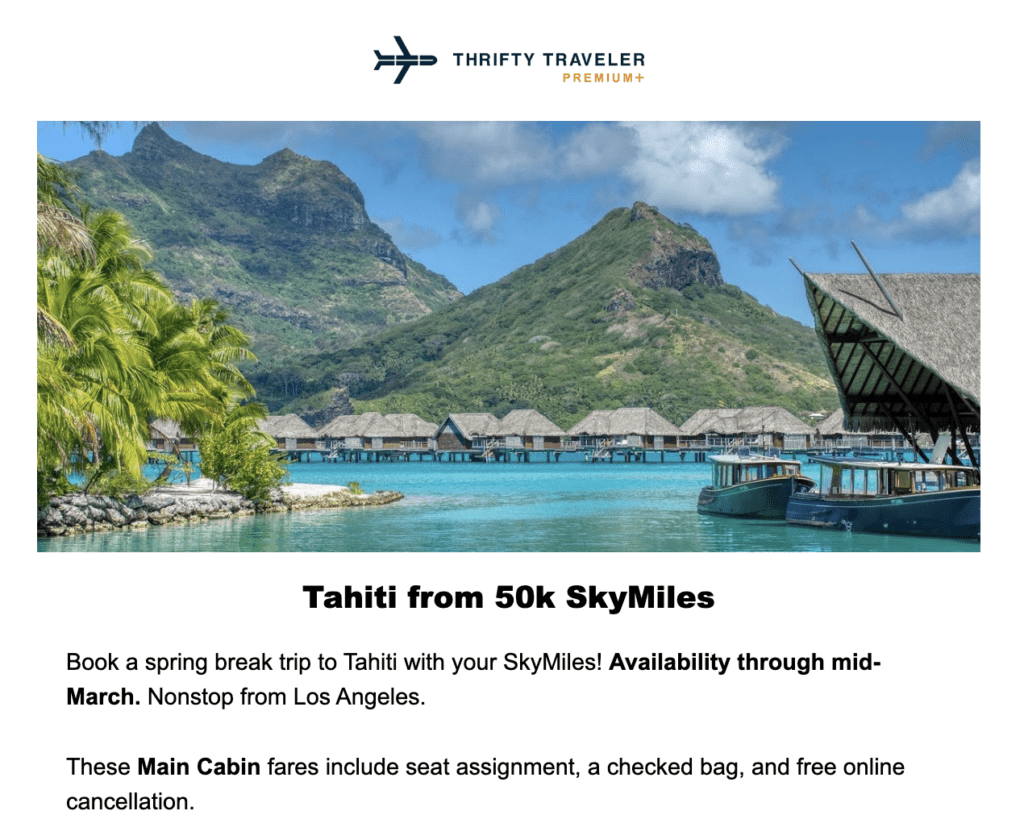 This deal featured 41 different departure cities and included roundtrip fares to Tahiti (PPT) between 50,000 and 80,000 Delta SkyMiles.
These changeable Main Cabin fares only charged $60 in taxes and fees, too. It was a special kind of SkyMiles fare that many of our members jumped on.
Head Back to Tokyo for 60K SkyMiles
After nearly three years off-limits, Japan is back open to international travelers. This deal we sent to Thrifty Traveler Premium+ members helped them get there for less in 2023 – much less.
Was it the best deal to Tokyo-Haneda (HND) of all time? Not quite. But these main cabin SkyMiles fares could get travelers with Japan on their list from peak ski season (known as "Japanuary") through Cherry Blossom bloom and all the way through the middle of summer and into fall for as low as 60,000 SkyMiles. Delta typically charges 100,000 SkyMiles or more for these flights, so it was a bargain.
And this deal was also nationwide! From Aberdeen, South Dakota (ABR) to Los Angeles (LAX), this one was almost definitely in your wheelhouse if you had a few SkyMiles to your name.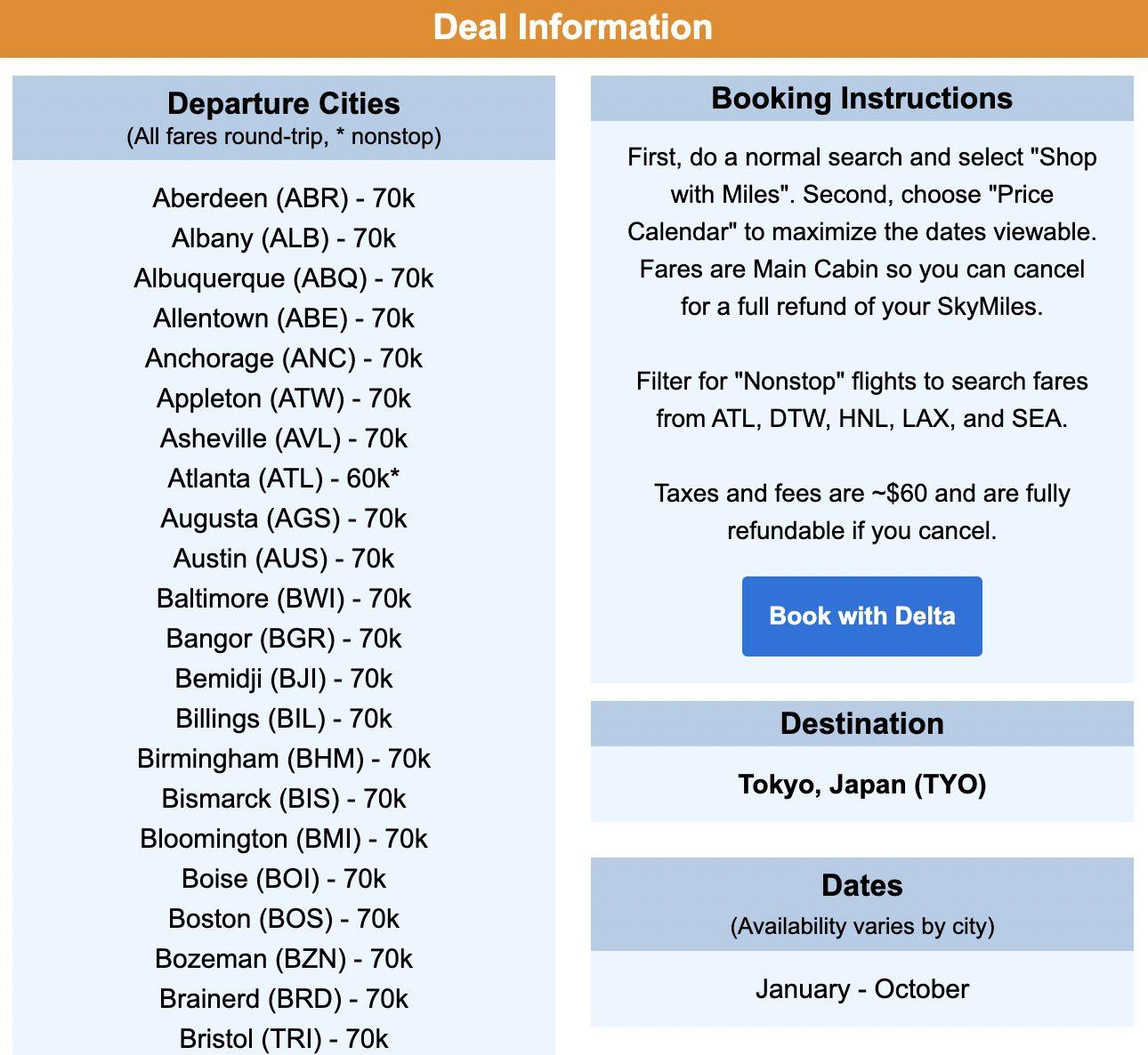 Even the long, the nonstop routes to Tokyo (HND) from as far away as Atlanta (ATL) clocked in at just 60,000 SkyMiles roundtrip!
Beaches of Mexico for 11K SkyMiles
Our team is based in Minneapolis, so we (selfishly) love digging up amazing deals flying in and out of Minneapolis-St. Paul (MSP) … especially when it involves using a few thousand Delta SkyMiles. Cheap flights to the beach don't get much cheaper than this.
We kicked off 2023 by finding the lowest SkyMiles rates we've ever seen flying Delta nonstop from Minneapolis to Cancún (CUN) and back: Just 11,000 SkyMiles roundtrip! That's less than most one-way flights to Las Vegas (LAS) or Chicago!
If you live in Minnesota or have visited Minneapolis in February, you'll know just how much this dirt-cheap deal to Cancún means for a cheap escape from frigid temperatures.
Banff National Park for 25K SkyMiles
Have Banff National Park on your list? We recently dug up an amazing deal in to Calgary (YYC) for just 25,000 SkyMiles roundtrip. Almost every airport with Delta service got in on this deal.
No matter if you live in Destin, Florida (VPS) or Grand Forks, North Dakota (GFK), you could get to Banff for just 25,000 SkyMiles roundtrip with both summer and fall availability.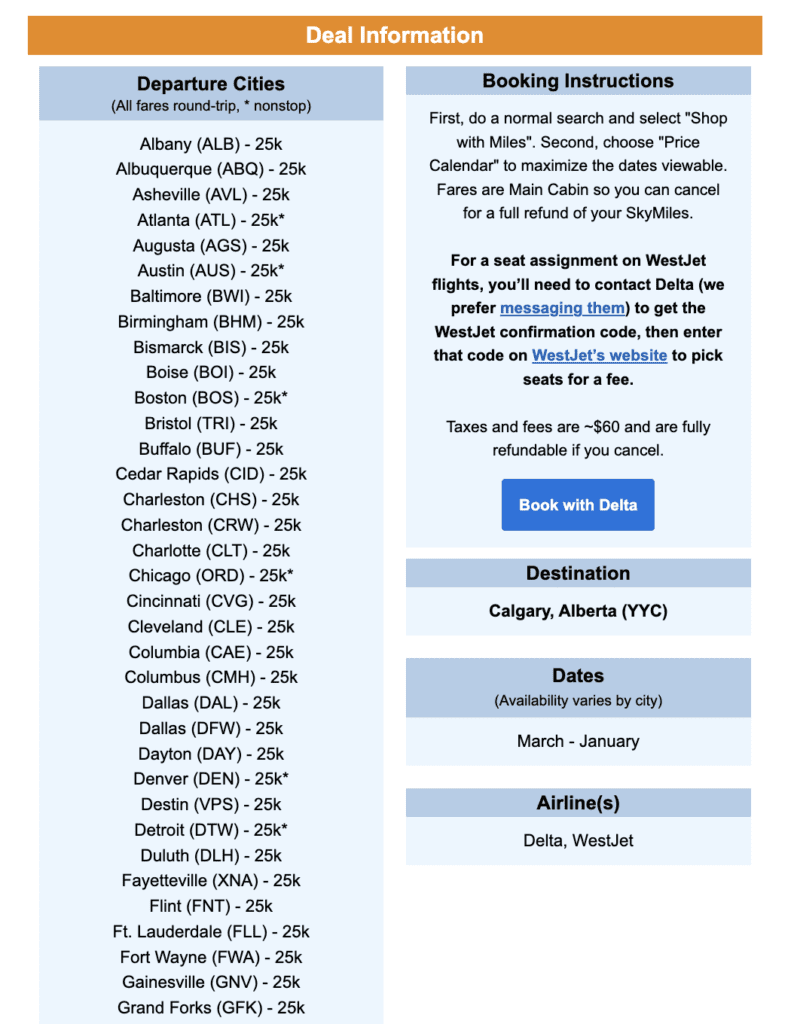 This was an especially great deal from Delta hub airports like Detroit (DTW) and Minneapolis – St. Paul (MSP) who sometimes pay a premium for the best SkyMiles deals… not here.

Cabo or Puerto Vallarta … for 5K?!
This list is filled with low SkyMiles rates – much lower than you'll typically see on your average search. But it doesn't get any lower than this.
No, you're not seeing things. Delta really sold roundtrip flights down to Puerto Vallarta (PVR) and Cabo (SJD) in Mexico for just 5,000 SkyMiles. That's it. It might be the single-best Delta SkyMiles flash sale of all time.
These unbelievable award fares were only available flying out of Seattle (SEA). It's all part of Delta's long-running dispute with Alaska Airlines for dominance at this hub airport.
Still don't believe us? Here's the proof. It was a mind-boggling fare that we still think about.
Costa Rica from 19K SkyMiles
Costa Rica contains the best of both worlds. You can spend a few days exploring the incredible diverse landscapes of the rainforest, and then escape to some of the finest beaches on the planet all in the same week.
But flights to get there aren't always cheap. With this deal, they could be.
We loved this deal to both San José (SJO) and Liberia (LIR) in 2023 from Los Angeles (LAX) and Minneapolis-St. Paul (MSP). With flights to Costa Rican paradise as low as 19,000 SkyMiles, can you blame us?
These nonstop SkyMiles fares had taxes and fees of just $81, too. It was one of our favorite uses of SkyMiles all year long.
Colombia from 10K SkyMiles
Colombia is one of the most alluring South American destinations. It's the kind of place that is high on many travelers' lists … but I bet many travelers scratched it off last year thanks to this deal.
Just 10,000 Delta SkyMiles for a trip to South America and back? That's unheard of.
But it was real! And for just a few thousand SkyMiles more, you could get from many cities across the U.S. down to Bogotá (BOG).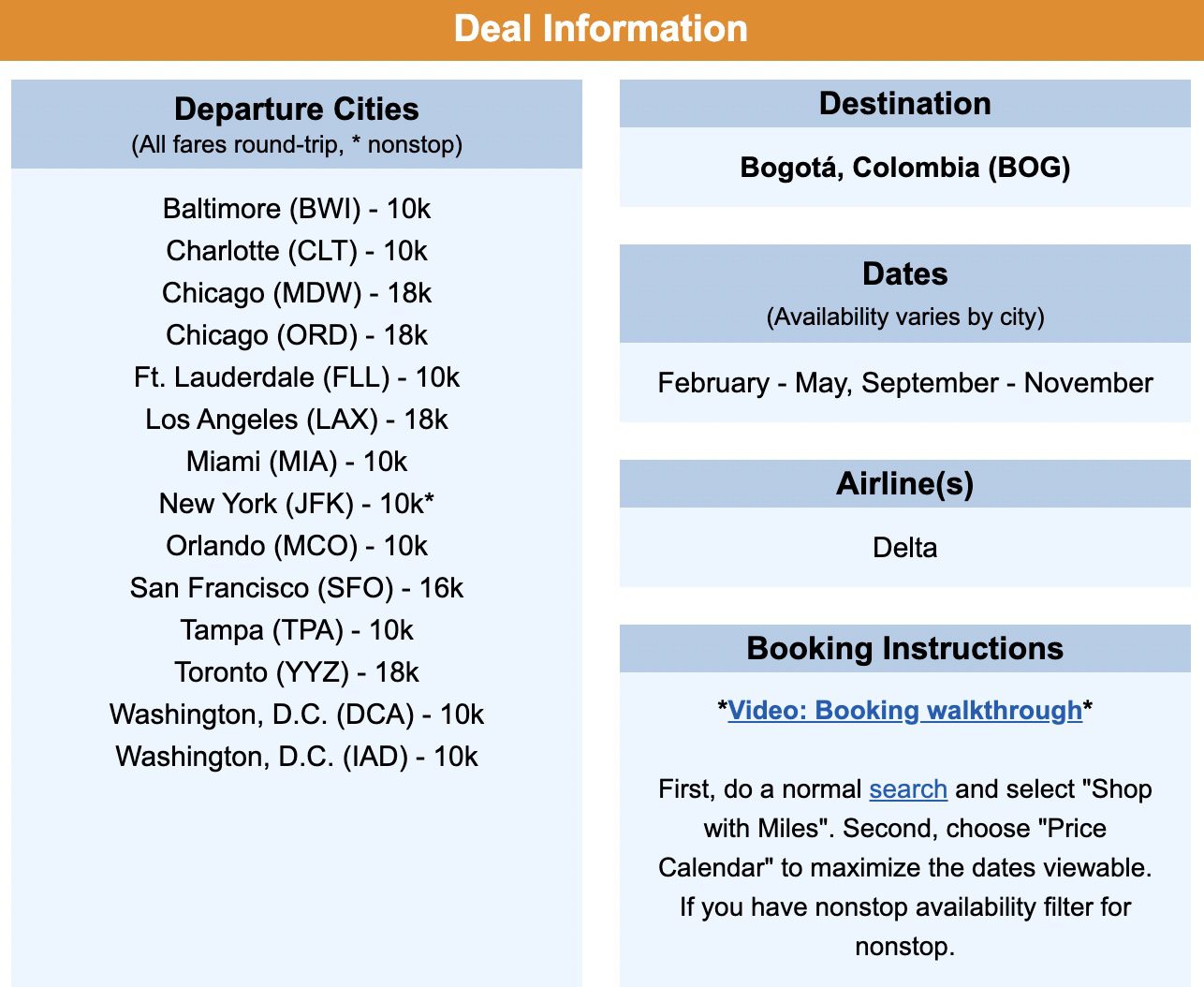 New York City (JFK) to Bogotá is a long, six-hour flight. I'll Let you do the math on how many SkyMiles per hour that would cost you!
Honorable Mentions: Our Best Domestic Deals
Normally, some of the best uses of Delta SkyMiles are on domestic flights. There are some really good SkyMiles redemptions to use inside the U.S, so we couldn't ignore them altogether this year.
Just how cheap can domestic deals using SkyMiles get? How about this fare from Seattle (SEA) to Denver (DEN). I mean…4,000 SkyMiles roundtrip? That's nothing!
That was a crazy redemption, but there were more widespread deals like New York City, too as low as 9,000 SkyMiles roundtrip!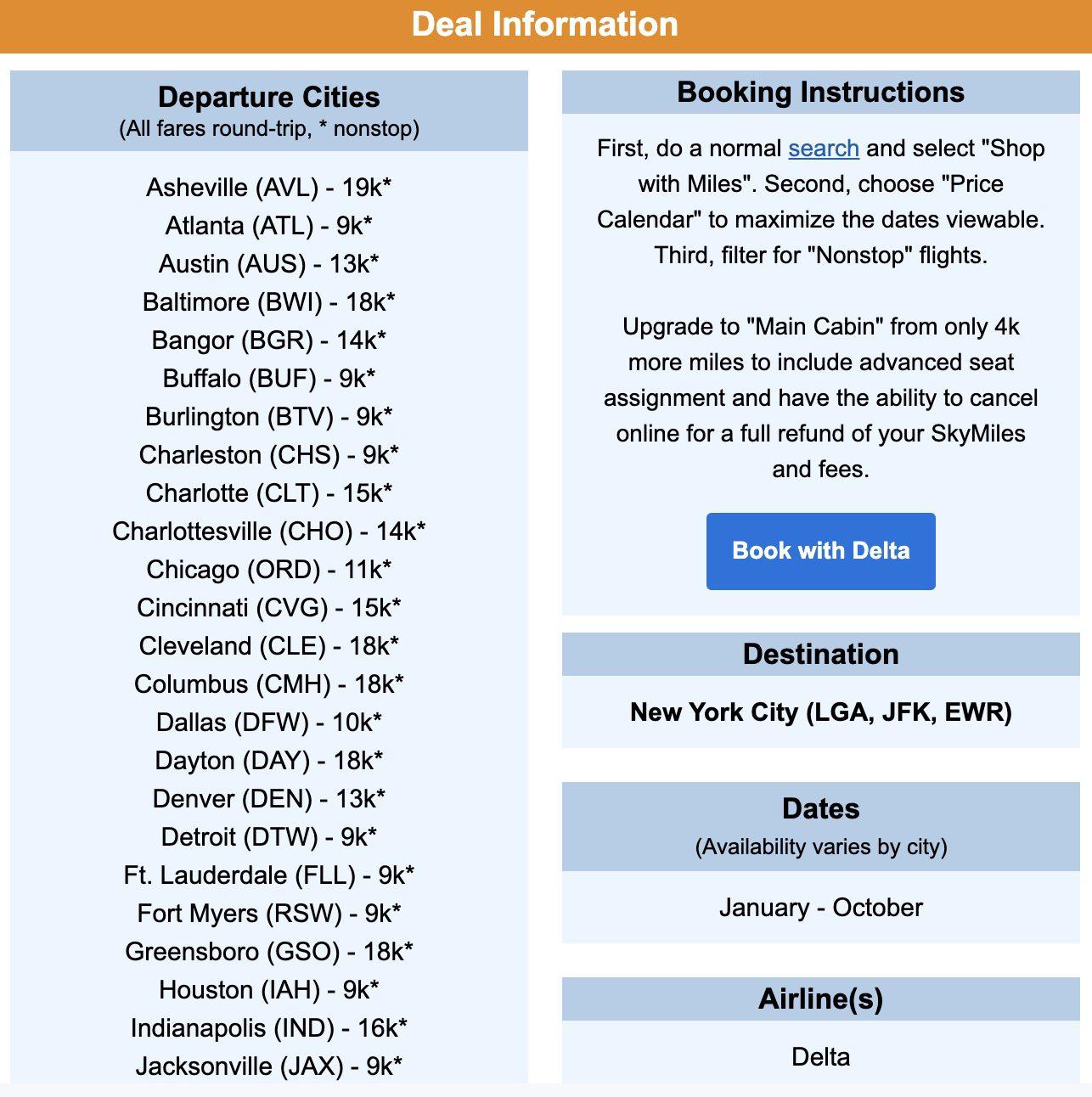 If you need somewhere to take the whole family, a quick, cheap trip to Orlando (MCO) might be just what the doctor ordered, too. And starting at just 9,000 SkyMiles roundtrip, it wouldn't drain your account to bring everyone along, too.
But the list doesn't stop there, either. We sent Delta SkyMiles flash sales to Minneapolis-Paul (MSP), Las Vegas (LAS), Boston (BOS), Miami (MIA, FLL), San Francisco (SFO), Seattle (SEA) and more this year – all for 12,000 SkyMiles roundtrip or less!
Bottom Line
Of the more than 60 Delta SkyMiles flight deal alerts we have sent to our Thrifty Traveler Premium+ subscribers in the last year, these were the 11 best.
This was an incredible year for travelers with SkyMiles because the flash sales we dug up could take you to Tahiti, Copenhagen, Cabo, Bogotá, and beyond for a fraction of what you'd normally pay.
Make sure you're signed up for Thrifty Traveler Premium+ so you don't miss the next great deal.