After Black Friday comes Cyber Monday, and the deals on travel just aren't stopping.
There are flight deals whether you're using cash or points, and there are some savings on hotels to be had, too. Many of the best deals on airfare were available well before Black Friday – but they'll end soon. If you're on the lookout for cheap travel gear, check out our separate post tracking some of the best deals. 
This list will keep growing throughout the day, so keep checking back as we find more great deals. But keep in mind that you can find an amazing flight deal any day – just because it's Cyber Monday doesn't mean you're getting the best possible fare.
Airlines
Aer Lingus
Aer Lingus is cutting prices to mark the occasion, with $100 off select flights between the U.S. and Europe and $200 off in business class. That means you can fly from a handful of U.S. cities, including Minneapolis-St. Paul (MSP), Chicago-O'Hare (ORD), Boston (BOS), Toronto (YYZ), and more. And it's not just Dublin (DUB) you can fly to for cheaper, but other European cities like Edinburgh (EDI), Geneva (GVA), Manchester (MAN), and more than 20 other European cities.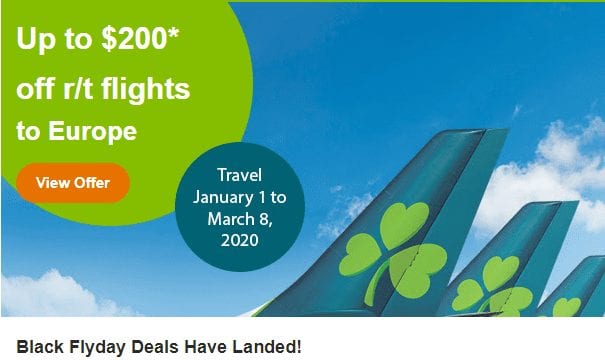 But those savings only apply when you fly between Jan. 1, 2020 and March 8, 2020. And you must book by Tuesday, Dec. 3 directly at AerLingus.com. Head to the airline's promotional page for more info!
Alaska Airlines
Alaska dropped some rock-bottom prices on select routes for Black Friday and Cyber Monday, starting at $29 one-way.
Find select transcontinental fares from $89 one-way, and even some fares from the West Coast to Hawaii for as low as $129 one-way. Book today and travel Jan. 7 – March 11, 2020. See all the details on Alaska's website.
Cathay Pacific
One of the world's best airlines is getting into the flight deal action for Black Friday and Cyber Monday.
Hong Kong's Cathay Pacific is touting savings of 70% on flights from the U.S. to much of Asia – in both ecconomy and premium economy. That can drop the price under $600 for a round-trip flight in economy, and below $1,300 for premium economy. These savings are available from many of Cathay's U.S. gateways, including Chicago-O'Hare (ORD), Boston (BOS), Los Angeles (LAX), San Francisco (SFO), and more.
These flights are available through Tuesday, Dec. 3. Check Cathay's Black Friday page for more details.
Delta
Delta is getting in on the shopping season action, too. And it's a mixed bag.
You'll find plenty of fares already available on Delta's list of Black Friday sales. Nothing stands out as tremendous value, but scan the list to see what you can find. And keep in mind that Delta often slashes prices far beyond what it advertises, so search from your home airport.
Emirates
The flashy Middle Eastern airline is back with some hot Cyber Monday sales.
Emirates has slashed prices on several of its routes from the U.S. to Europe. New York City (JFK) to Milan (MXP) for $429 round-trip is a steal – and even cheaper than the airline's Black Friday sale. You can fly to Athens (ATH) on one of the world's best airlines for just $489 round-trip. Flights to Dubai (DXB) and Delhi (DEL) start at just $729.
Just head to Emirates' fare sale page to book. These flights are available now through Nov. 30 – but the best deals may sell out faster.
JetBlue
JetBlue is getting into the Cyber Monday spirit with a sitewide sale, offering fares as low as $39 each way.
Tons of fares make the cut, so be sure to head to JetBlue's sale page to check out what's available. It's good for travel between Dec. 10 and Feb. 13, 2020. Book by midnight (11:59 p.m. EST) tomorrow, Tuesday, Dec. 3.
One thing to note: Some of these fares may be JetBlue's Blue Basic fares, the airline's new spin on basic economy.
Singapore Airlines
Singapore Airlines always offers some sweet deals for Black Friday, and this year is no different.
The airline is offering fares as low as $499 round-trip from Los Angeles (LAX), San Francisco (SFO), Seattle (SEA), New York City (JFK), and Newark (EWR). And the savings are good for flights to Singapore (SIN), Hong Kong (HKG), Tokyo-Narita (NRT), and other destinations throughout Asia!
Check out Singapore's promo page for a full list of discounted fares. And be sure to book by Tuesday, Dec. 3!
Southwest Airlines
What, you thought Southwest would miss the boat on Cyber Monday?
The beloved budget carrier is out with fares as low as $59 each way. Pricing varies widely based on your origin and destination, so head for Southwest's sale page to zero in on the deals that work for you. It gets even better if you're flying between the Hawaiian islands – you can score those flights as low as $39 each way. 
You've got some extra time to book, as these sale rates last through Dec. 5. In many cases, you can find these lower rates on travel all the way through early May 2020.
Qatar Airways
Qatar Airways is back with more promotions, this time teasing fares from the U.S. to destinations worldwide as low as $545 round-trip!
There are some great deals to be had here: New York City (JFK) to Cyprus (LCA) for just $545; Boston (BOS) to Beirut, Lebanon (BEY) for $620 round-trip; Los Angeles (LAX) to Athens (ATH) for $675.
Splurging for Qatar's unbeatable business class? There are even some savings to fly up front, too.
Just check out Qatar's sale page for a full list of fares. And that's not all: Qatar is also offering free in-flight Wi-Fi on all these flights.
Book by midnight (11:59 p.m. EST) tonight to save. And you'll have to fly between Jan. 11, 2020 through May 19 for these discounts to work.
United
United has something different up its sleeve for Cyber Monday.
Rather than slashing cash prices, United is teasing some lower award rates when using miles to fly round-trip from the U.S. to Europe or Asia – all thank to its new dynamic pricing model. While the airline says you can find flights as low as 30,000 miles round-trip, we're seeing flights nationwide to Europe for 42,000 United miles round-trip.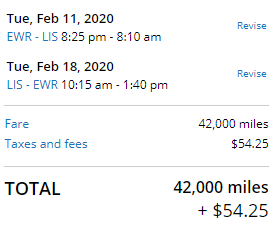 It's only valid for travel between Jan. 12, 2020 and March 29, 2020.
Virgin Atlantic
The U.K.'s hippest carrier is slashing prices on round-trip flights from the U.S. to London for Cyber Monday.
You'll find steep savings from airports like Orlando (MCO), Los Angeles (LAX), and Boston (BOS). But there are plenty of other airports are on sale if you can be flexible with your departure dates.
You're most likely to find these low prices in January or February, but click through each departure city on Virgin's Cyber Monday page to find the best dates at the lowest prices. You've got until Wednesday, Dec. 4 to book at these rates.
Hotels
Expedia
Online travel agency Expedia is offering some major discounts on hotel bookings for Black Friday and Cyber Monday. But you'll have to be fast.
After offering a big, 75% discount on select bookings for Black Friday, Expedia is going bigger. For Cyber Monday, they'll offer 95% off discount codes. Only a small number of these codes will be available, so make sure to set up your account, download the app, and be lightning fast. Learn what you need to get ready at Expedia's Black Friday page.

Priceline
What's better than 95% off? 99% off.
That's right, Priceline is upping the ante with a potential to score a 99% discount on hotel bookings. Just sign up for Priceline's Insider Emails, and Priceline will send out special deals on both Black Friday and Cyber Monday.

The cream of the crop is a Cyber Monday 99% mystery coupon for a Priceline Express deal, where Priceline only reveals the exact hotel (but provides other details like rough location and rating) after you book. Other users will get 15% or 10% off.
IHG
It may not be a Black Friday or Cyber Monday sale exactly, but there are still savings to be had booking IHG hotels.
The IHG hotel chain – which includes brands like Intercontinental, Kimpton, Crowne Plaza, Holiday Inn, and more – is offering 25% on select hotel bookings from Nov. 11 through Dec. 17. You have to be an IHG member to get those discounts, and your stay must occur before June 1, 2020. Head to IHG's Cyber Sale page to book.

Want the best flight deals and travel tips delivered to your inbox?
Sign up for Thrifty Traveler, and like us on Facebook or follow us on Twitter & Instagram

Editorial Note: Any opinions, analyses, reviews, or recommendations expressed in this article are those of the author's alone, and have not been reviewed, approved, or otherwise endorsed by any card issuer.