Chase is out with an exciting new offer, giving some travelers with cards like the *chase sapphire preferred* or *chase sapphire reserve* a chance to save up to 10% on their next Southwest Airlines flight – but only if you act fast.
There's a new, targeted offer giving select Chase cardholders 5% or 10% back in the form of a statement credit when spending $50 or more with Southwest Airlines when you book before Sept. 3. Exactly how much you can save depends on which offer you get – and not every single Chase cardholder will be targeted for these offers. Just a few members of the Thrifty Traveler team had these offers available on their Chase cards, while others came up empty-handed.
If you've got one, just add it to your Chase card, then use that card to book a Southwest flight by Sept. 3. One version of this offer will get you 10% back when spending $50-plus with Southwest, for a maximum savings of $40.
Other Chase cardholders may have an offer for 5% back, resulting in a maximum of $20 in savings.
You'll have until Sept. 3 to take advantage, but that doesn't mean you have to complete your flight before then. As long as you book by September 3, you'll be eligible for the statement credit.
Where to Find Chase Offers
If you haven't used Chase Offers before, they're the copycat program to American Express' Amex Offers. You can think of them as digital coupons exclusively for Chase cardholders for purchases like airfare and hotels as well as dining, entertainment, and everyday shopping.
Simply log into your Chase account and scroll down near the bottom of the screen. There should be a box about midway down on the right-hand side called Chase Offers – it's available through the Chase mobile app as well. If you see an offer you like, click the plus sign in the corner to add the offer to the card and make a qualifying purchase at that business with your card. You should receive a statement credit for the offer within a few days or weeks of making a purchase.
Not familiar with Chase Offers? See our complete guide to using Chase Offers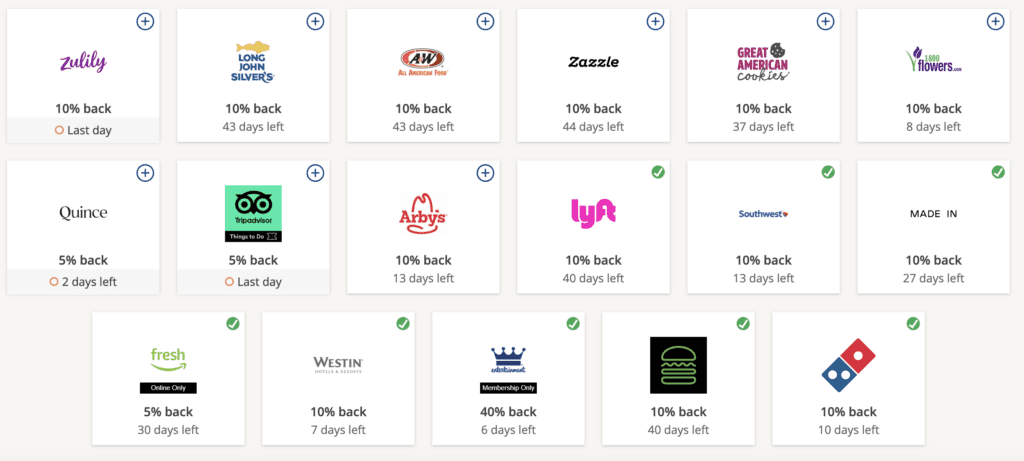 Thrifty Tip: Many offers are targeted, so not every cardholder – or even every card – will be eligible for the exact same offers. Make sure to check all of your Chase cards if you don't see a specific offer.
Bottom Line
Chase is out with a great new Chase Offer to save up to 10% (for up to $40 back) booking flights with Southwest Airlines. No matter which version of the offer you were targeted for, you'll have until Sept. 3 to book a Southwest flight in order to save.
Simply find the Chase offer, add it to your card, and book a Southwest flight before the Sept. 3 deadline to save.