Iberia just outdid themselves. Want to visit Madrid during your next trip to Europe? You can stopover in Madrid for free up to 6 nights with Iberia's new stopover program.
What Are Stopovers?
If you're looking to travel thrifty and get more bang for your buck on airfare, stopovers are your new best friend. Several airlines have stopover programs to encourage you to visit their home city on your way to another.
Think of stopovers as layovers with a purpose. Instead of spending your layover at the airport, make it a stopover for anywhere from a day to a week! See two cities for the price of one by turning your layover into a stopover.
You can stopover in Iceland on Icelandair, Tokyo on ANA, and many more. See our roundup of all the airlines offering stopovers.
Iberia's Hola Madrid Stopover Program
Iberia isn't skimping on their new stopover program. You can book a stopover in Madrid for up to 6 days at no extra cost. If you're flying Iberia to one of their other European destinations and your flight has a stop or layover in Madrid, turn that layover into a stopover to get out and see Spain's capital city.
The savings don't stop there. Besides what is basically a buy one get one (BOGO) flight to Madrid, Iberia has also partnered with several local companies to make your stopover stay as affordable as possible. Some of the offers for stopover passengers include:
40% off stays at Melia hotels,
Two free days of public transit,
Up to 20% off museums,
3 free beers at Mahoe,
and more!
For more information on Iberia's stopover program and other benefits like these, head to their Hola Madrid Stopover page.
Thrifty Tip: Stopping over in Madrid? Make sure you check off these must-sees!
How to Book Iberia Stopovers in Madrid
Booking an Iberia stopover in Madrid is easy. Find a cheap fare to another destination city on Iberia. Use Google Flights or our Thrifty Traveler Premium service to find out about the hottest international flight deals.
Once you've found a cheap flight deal, visit Iberia's Stopover webpage with those dates in mind. Enter your departure airport and final destination and the dates you'd like to travel. For your stopover, select whether you'd like to stop in Madrid on your way to your destination or on the way home. Then, select how many nights (1-6) you'd like to stay in Madrid.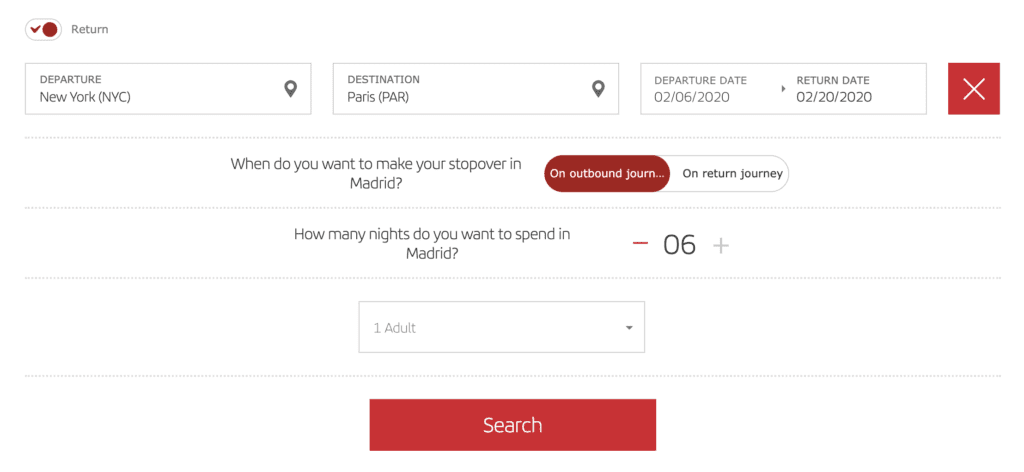 From there, select your flights and book. That's how you get a two-for-one deal on flights!
Bottom Line
Iberia might be late to the stopover game compared to other European airlines like Icelandair and TAP Air Portugal, but their stopover program may be one of our favorites. Stopover in Madrid for up to six days at no additional charge and make your next European adventure a BOGO deal.