For years, the Charles Schwab debit card has been the clear choice for international travel. It has no ATM fees worldwide, no balance requirements, and it's free to use. This was our number one recommendation for getting cash abroad.
Now it has some competition.
It's called SoFi Money and it boasts many of the same benefits of Charles Schwab, including a debit card with fee-free withdrawals anywhere in the world. It also has some big advantages over the Charles Schwab debit card. Simply put – it's easy to open and use, plus you get a $25 sign-up bonus almost immediately after putting $100 in your account at the start.
Here's everything you need to know about SoFi, and why it might be a great fit for your money while traveling.
SoFi Overview and Highlights
SoFi Money boasts a fee-free online account service. Here are all of the perks that come along with a SoFi account:
No account fees
ATM fees reimbursed worldwide
No foreign transaction fees
No overdraft fees
No hard credit pull when you apply
Transfer money via mobile from major U.S. banks or check deposit
$25 sign up bonus when you deposit $100 or more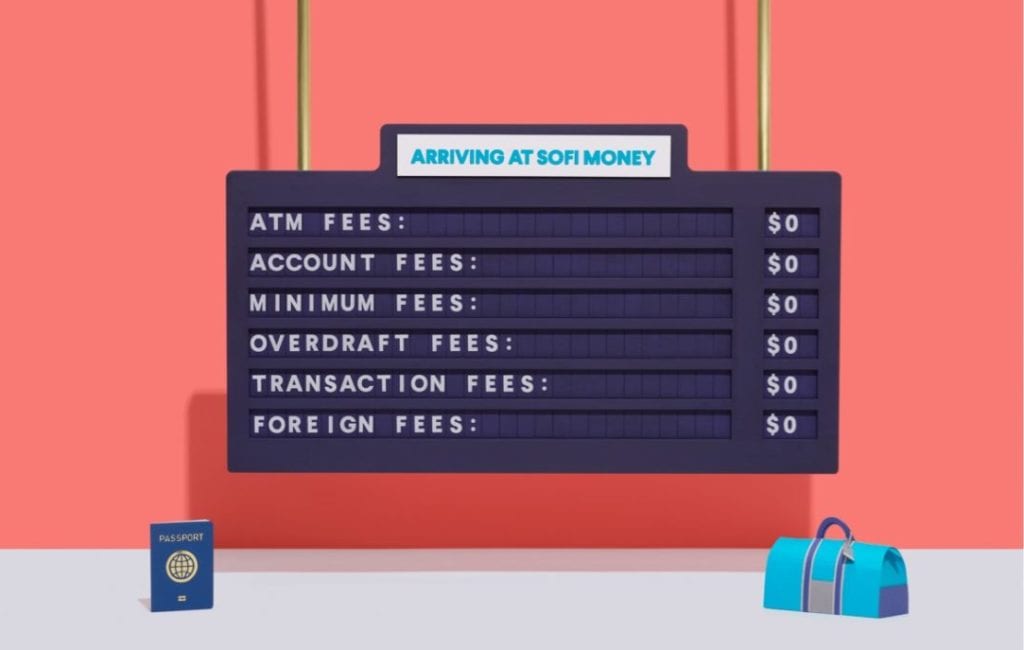 $25 Sign Up Bonus!
This is one of the easiest bonuses to get. Here is what you need to do:
Use a referral link, the only way to get the bonus.
Sign Up for a Checking Account
Deposit $100
A $25 bonus will be deposited into your account in 1-2 days!
Refer friends and family and earn $25 for each referral!
Use our referral link to get $25! (we earn $25 too)
Then Refer your Friends to earn another $25!
You'll still get an extra $25 after you immediately deposit $100 into your new SoFi Money account by opening an account through a referral link. But now, you can earn $25 for every single friend, family member, or complete stranger you refer after you sign up for an account. This is a no brainer and the $25 cash posts within 24 hours of the approved referral. The $25 referral link is in your profile within the SoFi phone app.
Read our guide on how to refer friends and family to earn $25 each!
Too Good to Be True?
No fees, high-interest rates, plus $25!? Where's the catch?
After using SoFi Money for ourselves, we can say there is no catch – it really is that good. Clearly, SoFi is hoping you like their free service enough to trust them with the rest of your business – SoFi also offers auto and life insurance, loans, and loan refinancing, investing, financial planning, and more.
The one thing to be concerned about, if you were thinking of making this your primary account, is that SoFi  Money is not a banking institution in the traditional sense. Your money will not be FDIC insured until it is transferred to their banking partners, two days after deposit. That means this account may be best used as a travel-only account, rather than for everyday use. That is our team's primary use of the account.
SoFi vs Charles Schwab
Here at Thrifty Traveler, we have been sharing our love for Charles Schwab for a long time. So now that there's another option for getting cash abroad without fees, what's the difference?
SoFi Money:
A high APY around 1.6% (this fluctuates)
No hard credit pull for applications
Deposits to SoFi clear in 2-3 days
ATM fees reimbursed within days
Not a banking institution
Charles Schwab:
0.2% APY
Hard credit pull required at account opening
$100 bonus when you deposit $1000
Deposits to Schwab clear in 4-5 business days
ATM fees reimbursed at the end of each month
A banking institution
Read our full comparison of the Charles Schwab Debit Card and SoFi Money. 
Bottom Line
No fees, no hard credit card pull, a slick phone app, plus the $25 sign up bonus may be enough to make SoFi the easy choice. Having a card like this while traveling will save you money on ATM fees, foreign transaction fees, and you'll never get a bad conversion rate again!
Sign up today using our referral link to get $25 (we earn too).
Want the best flight deals and travel tips delivered to your inbox?
Sign up for Thrifty Traveler, and like us on Facebook or follow us on Twitter & Instagram

Editorial Note: Any opinions, analyses, reviews, or recommendations expressed in this article are those of the author's alone, and have not been reviewed, approved, or otherwise endorsed by any card issuer.