There I was, sitting in China Southern Premium Economy for the very first time for a 15-hour flight across the ocean. So what's the first thing I did? Kicked off my shoes and put on the complimentary slippers! Time to stretch out and get comfortable for the long flight ahead.
China Southern is based out of Guangzhou, China (CAN), and has been a SkyTeam partner with airlines like Delta, Air France, KLM and more. But the airline is leaving SkyTeam at the end of 2018. So before that SkyTeam partnership ends, I decided it was time to hop on China Southern to earn some last-minute Medallion Qualifying Miles and Medallion Qualifying Dollars with Delta to hit status for 2019. 
Keep reading to see what it's like to experience the extra room, a few added luxuries, and some disappointments in China Southern's Premium Economy cabin.
All About China Southern Airlines
China Southern is one of the largest airlines in the world, with 750 cargo and passenger planes. It's played a huge role in China's aggressive aviation industry expansion in the last several years. And we're constantly seeing great fare deals from the U.S. to Asia on China Southern through our Thrifty Traveler Premium service, so your chances of getting onboard are only growing.
China Southern might not win big awards, but it's a firmly four-star airline as ranked by SkyTrax, securing a spot among the top 15 carriers in 2018. 
With hubs in both Guangzhou (CAN) and Beijing (PEK), China Southern operates plenty of flights within China but also has service in and out of the Middle East, Africa, Europe, North America, and Australia. The airline flies into Guangzhou from several U.S. gateways, including Los Angeles (LAX), San Francisco (SFO), amd New York City-JFK (JFK). Not interested in visiting Guangzhou or Beijing? No problem – connect onward throughout Asia or elsewhere on China Southern.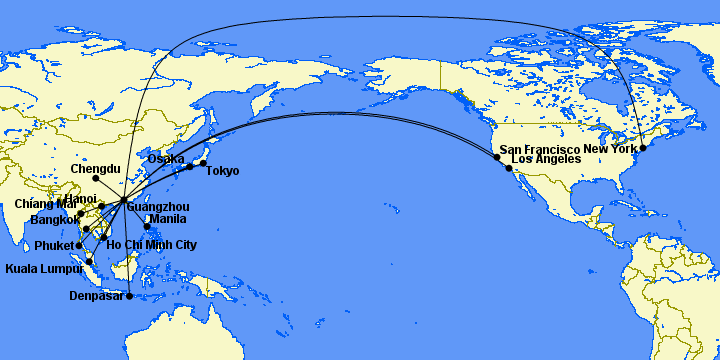 Unfortunately, the days of flying China Southern to earn Delta SkyMiles or status are soon ending. The airline announced last month it would leave the SkyTeam alliance, quickly building closer connections with American Airlines instead. There's speculation China Southern will try to join the Oneworld alliance with American, but that's far from final.
Booking
I was able to snag this a seat in Premium Economy from LAX to CAN for $1,000 roundtrip. That was just $200 or so more than a standard economy seat at the time, but don't be surprised if China Southern wants far more. Luckily, I was flexible on dates and times and able to snag the flight at a great price.
Thrifty Tip #1: Use Google Flights to search for your flight by narrowing down airlines and class of service to find the best deals!

Cabin
China Southern's Premium Economy cabin is laid out in a 2-4-2 configuration on their Boeing 777s, in comparison to their 3-4-3 configuration in economy. And it's a big difference.
That means your seat is more than 1 1/2 inches wider than the standard economy seat. While that might not sound like much, it makes a huge difference. For comparison, the standard economy seats on China Southern (17 1/5 inches) are actually skinnier than Spirit airlines (17 3/4 inches). So the extra room was welcome on this 15-hour flight.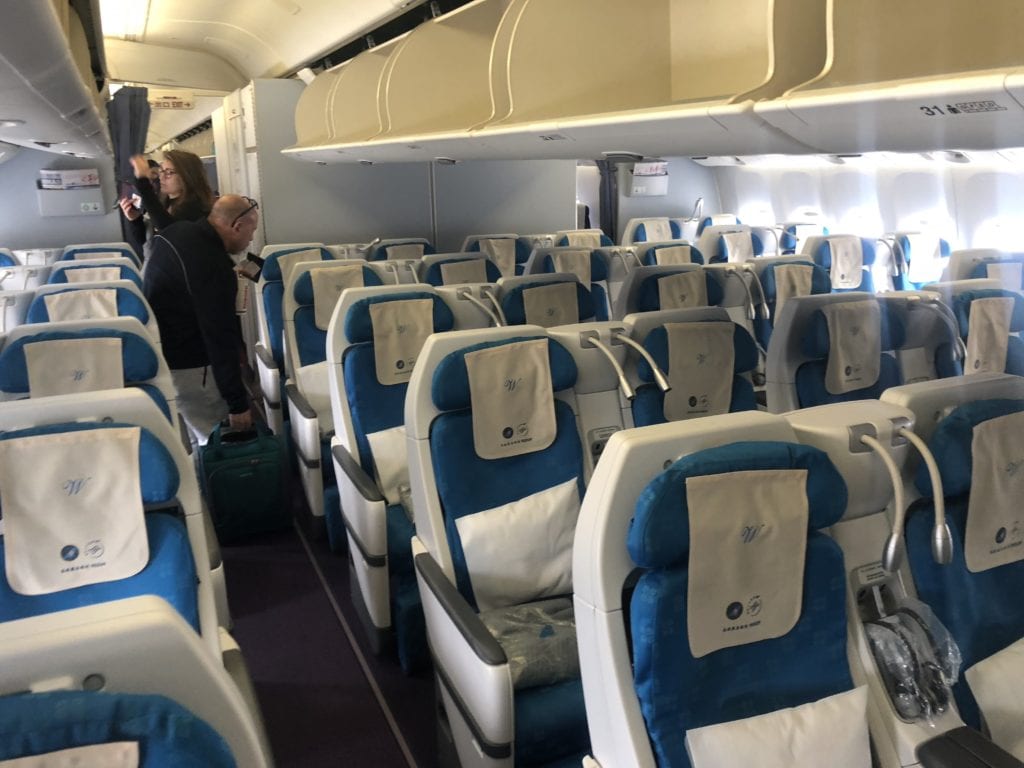 The cabin was sectioned off from both the business and economy sections. This added some additional privacy between the cabins. There were only six rows in Premium Economy – fewer neighbors mean fewer potential distractions! The Premium Economy cabin also had its own bathroom, so I rarely had to wait to use the restroom.
Seats
This might not be the newest Premium Economy seat available on the market, but the extra legroom and seat width were key to getting off the long-haul flight not completely beat. My companion and I were seated in one of the two-seat sections along a window. That left plenty of elbow room between our seats – no knocking elbows with your neighbor here!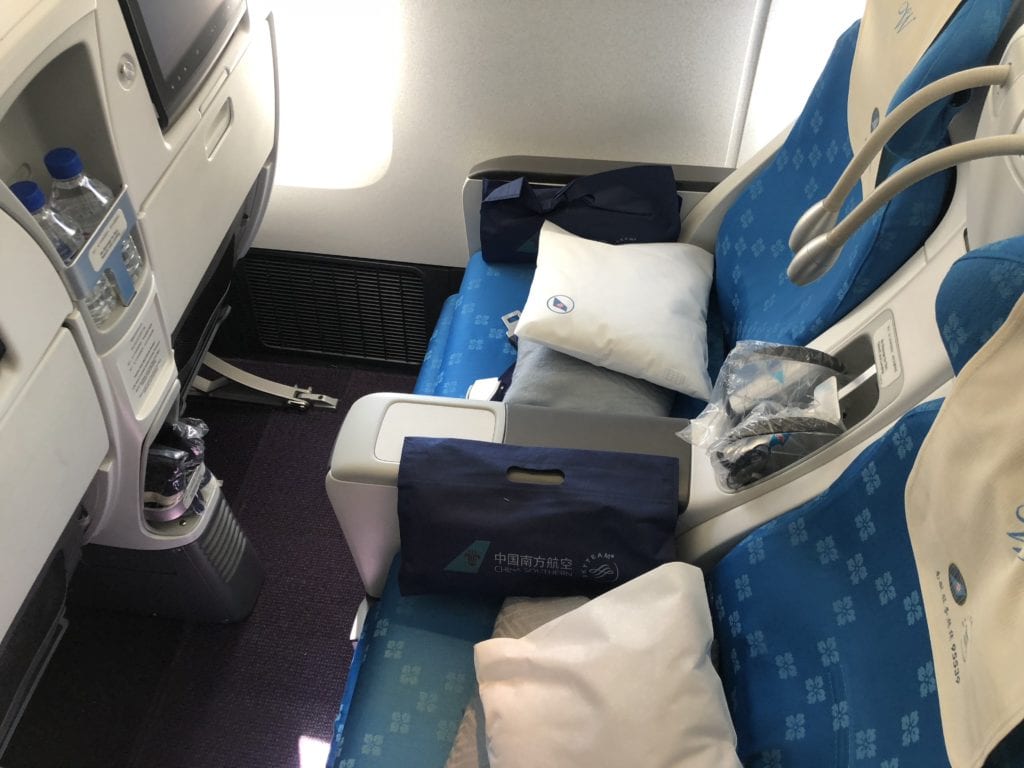 I am 6 feet tall, so the extra legroom in Premium Economy really paid off. With 38 inches of legroom, my knees weren't even close to being cramped up against the seat in front of me. But another major benefit of Premium Economy was having a footrest. It's a minor addition, but my flight experience was significantly more comfortable with this feature. Time to kick back and try to relax for the next 15 hours.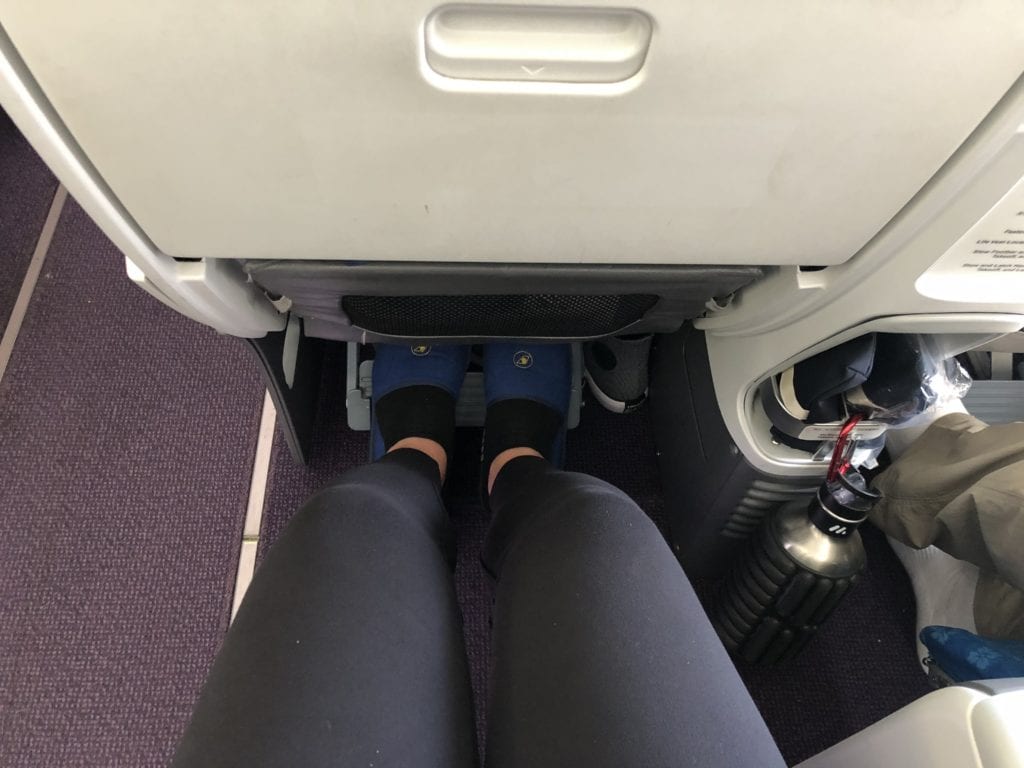 Before this flight, I didn't place huge value in having a footrest. But being able to recline with the extra leg room and put my feet up drastically improved my sleep, comfort, and overall experience. If you ask me, the extra space in Premium Economy is well worth the additional cost.
Entertainment & Amenities
When arriving at your seat, you'll find a pair of slippers, shoe horn, water bottle, headphone, a small amenity kit, a pillow, and a blanket. Each seat also had its own reading light, of course, a seatback TV to watch movies, play games, and watch your flight path. One thing to note: the movies all had subtitles that could not be turned off.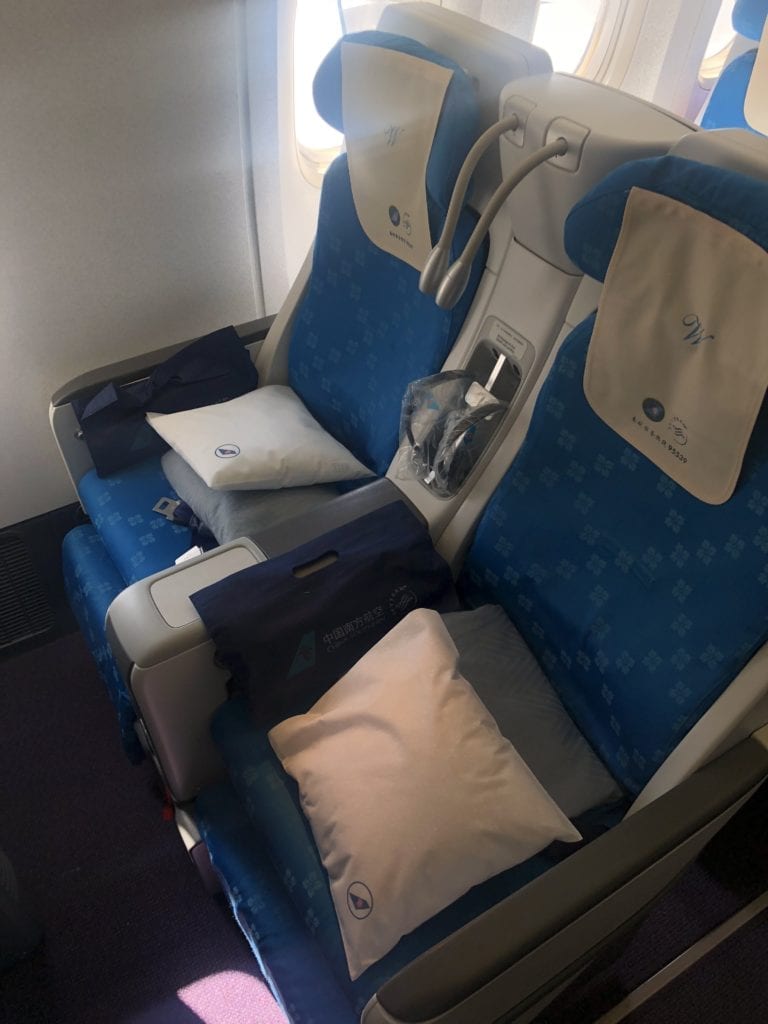 It might seem simple, but the amenity kit had all of the basics you need on a 15-hour flight: a toothbrush, toothpaste, sleep mask, comb, and earplugs. All were crucial items to have  – especially if yours are stashed away in your carry on!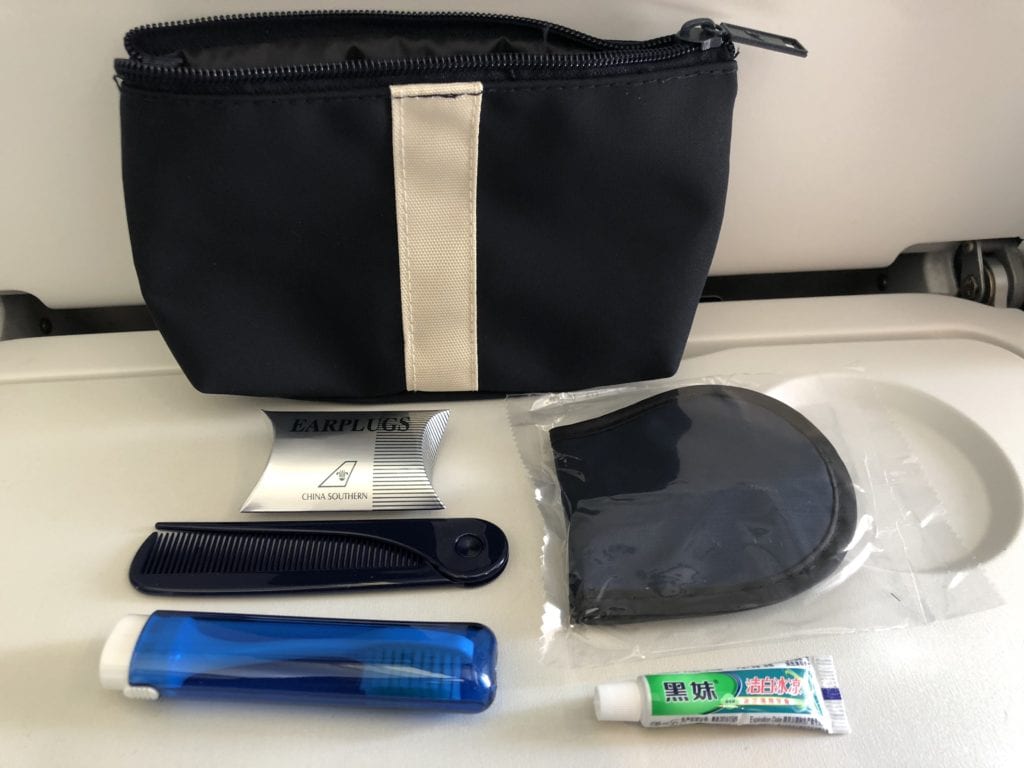 The slippers were also a nice touch. I took advantage of these when using the footrest to avoid having to rest my feet directly on the metal bar.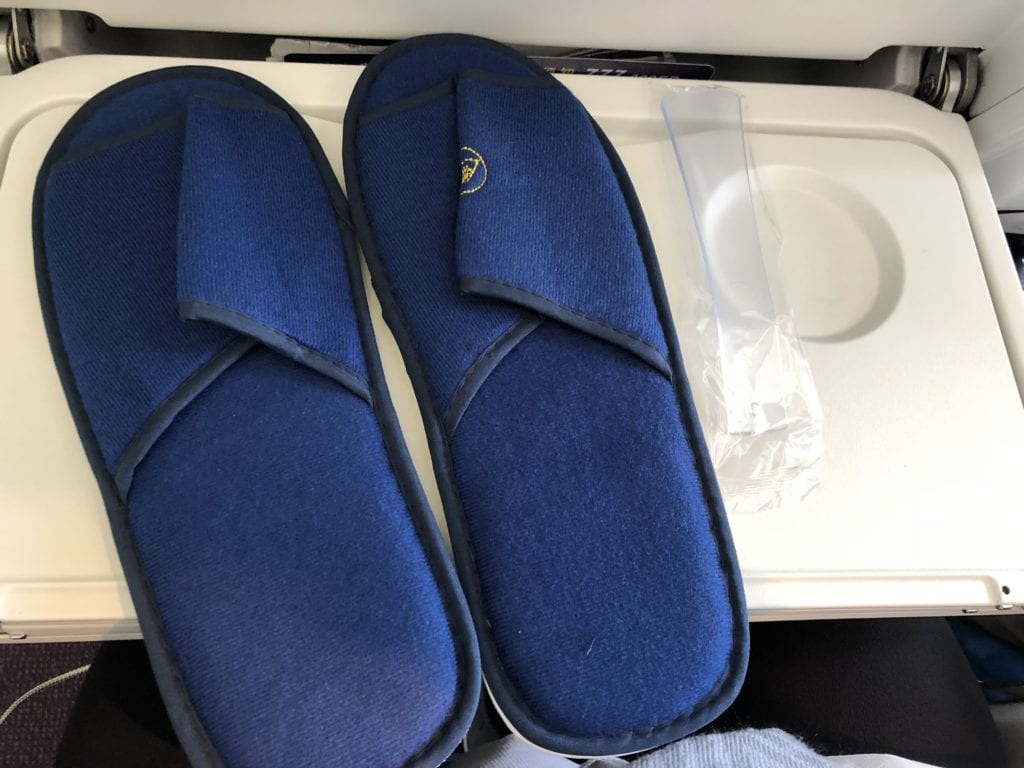 Service
Having never flown China Southern before, I did not know what to expect from their crew. Mainland Chinese airlines don't have the best reputation. But I was pleasantly surprised! The crew was friendly, accommodating, and never hesitated when their help was needed.
Compared to my experiences in other economy cabins, service in China Southern Premium Economy was a definite step up. The crew was attentive – likely a result of the far fewer number of seats to keep track of in Premium Economy.
One shortcoming, though, was with drink service. Alcoholic drinks are available for free to all cabins on international cabins, and that's true with China Southern. But those beverages were only on the cart for the first drink service. In order to get a second glass of wine three or four hours into the flight, I had to use my call button and ask a flight attendant directly.
At the end of the flight, the lead attendant went through the cabin row-by-row, asking about our flight and how they could have improved the experience. It was a much-appreciated gesture after spending the last 15 hours under their care.
In short, my experience with China Southern's service was on par with what one would hope to expect with any airline!
Dining
The seats, amenities, and service were all a big improvement over economy. But that stopped short at dining.
If you're expecting a premium dining in China Southern Premium Economy, don't hold your breath. We were served the exact same meals as the standard economy cabin. And while there was plenty of food quantity-wise, the quality of it left plenty to be desired. Safe to say I won't be asking for these recipes at home.
Every meal was served with a side of fruit, dinner roll, Nutri-Grain bar, and dessert. Luckily, I was able to save both bars from my meals for snacks later in the flight.
During the first meal service, I opted for the Beef Goulash served with potatoes. This was by far my better of the two meals, but it was decent at best. The Goulash had a mediocre flavor. Add in the potatoes, and it combined for a "not terrible" meal. But nothing more than that.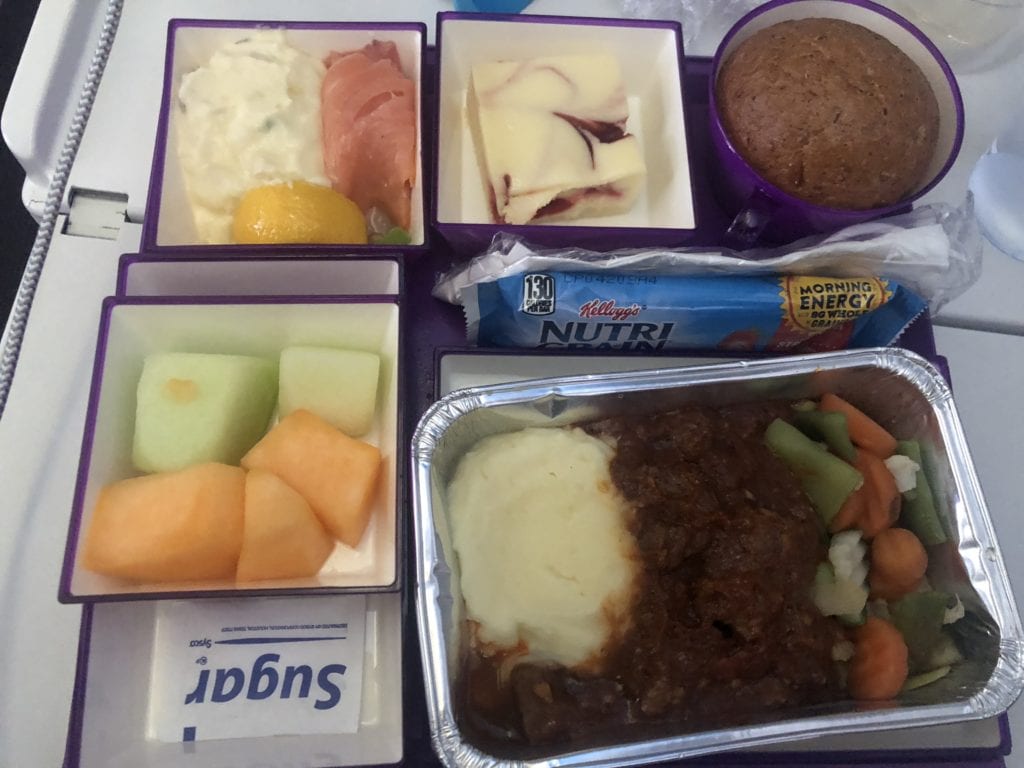 I had hoped for some improvement in the second meal, but was disappointed right as I peeled off the foil off my container. We were served some standard sides with our meal along with our main course. This time I went for the chicken breast meal. The under-seasoned chicken breast doused in a bland sauce had me pining for the mediocre Goulash from our first meal.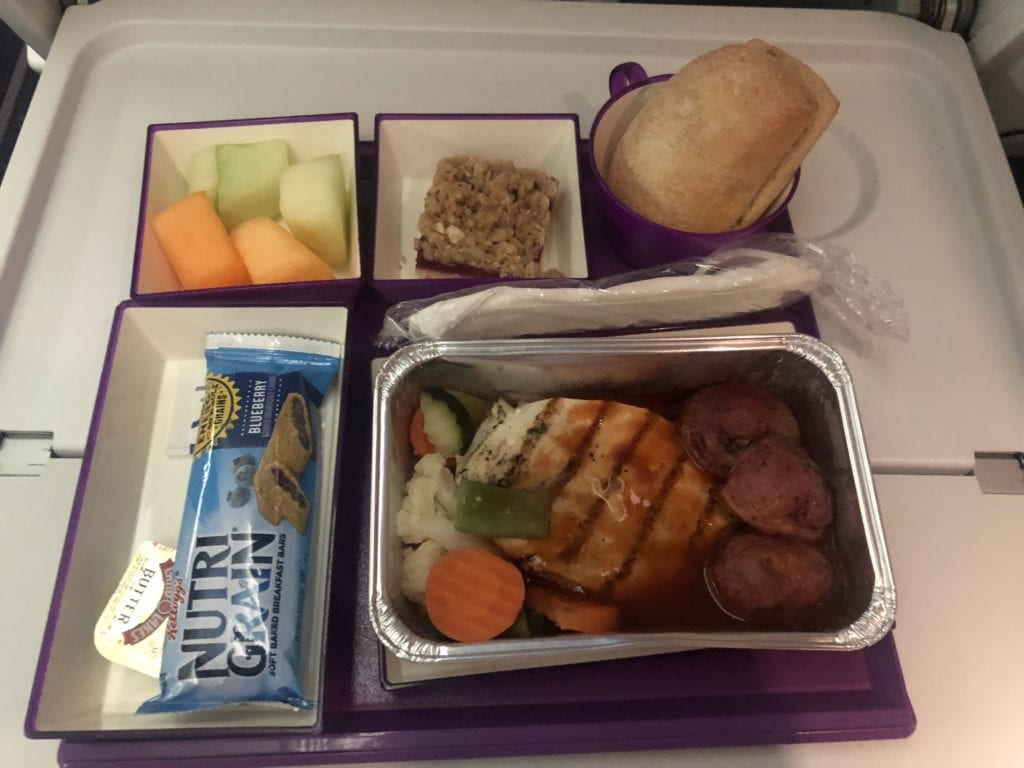 During each meal service, there were three protein choices: chicken, beef, or fish, paired with either potato, rice, or noodles. I found the food extremely bland. If you don't want to be at the mercy of the airline for your meals, be prepared to pack your own.
Many airlines are upping their game in Premium Economy when it comes to food. Delta's new Premium Select cabin has some seriously quality food.
But there was nothing "premium" about my dining experience with China Southern. Our drinks were served in plastic cups, we still ate with the standard plastic cutlery and out of aluminum tins, and the food itself was mediocre to bad.
Long story short: Don't book this ticket for the food.

Bottom Line
There were upsides and downsides during my flight in China Southern Premium Economy. But at the end of a 15-hour flight, the additional $200 or so I spent on the seat was well worth it for the extra space. That upgrade helps so you can hit the ground running after a long-haul flight across the Pacific Ocean!