The Transportation Security Administration (TSA) has been testing the use of facial recognition technology at airport security checkpoints for years, hoping to improve and even speed up the identity verification process. Now, the agency is expanding that technology to even more airports across the U.S. despite some privacy concerns and calls from Congress to stop.
The security agency has steadily expanded the use of facial recognition since starting tests at a handful of airports in 2020. Even earlier this week, the TSA was reportedly deploying this technology at 16 U.S. airports. But a TSA spokesperson told Thrifty Traveler on Wednesday that list has grown to 25 U.S. airports, from major hubs to some smaller regional airports.
The list of airports where you'll now find facial recognition in use in some TSA lanes includes: Atlanta (ATL); Baltimore (BWI); Boston (BOS); Dallas-Fort Worth (DFW); Denver (DEN); Detroit (DTW); Cedar Rapids (CID) in Iowa; Cincinnati (CVG); Columbus (CMH) in Ohio; Gulfport-Biloxi (GPT) and Jackson (JAN) in Mississippi; Honolulu (HNL); Las Vegas (LAS); Los Angeles (LAX); Miami (MIA); Nashville (BNA); New Orleans (MSY); Oklahoma City (OKC); Orlando (MCO); Phoenix (PHX); Richmond (RIC); Salt Lake City (SLC); San Francisco (SFO); San Jose (SJC); and Washington, D.C.-Reagan (DCA).
The technology is not in use at every TSA checkpoint or even every checkpoint lane, so it's possible you might not see it even if you're going through security at one of these airports. But an agency spokesperson said they're expanding the use of facial recognition to additional locations after previous rounds of testing have shown positive results.
"Right now we're seeing good results from it," the spokesperson said. "In fact, we're seeing very very positive outcomes in terms of how the technology matches the person standing in front of the travel document checker program to the picture on their identification document."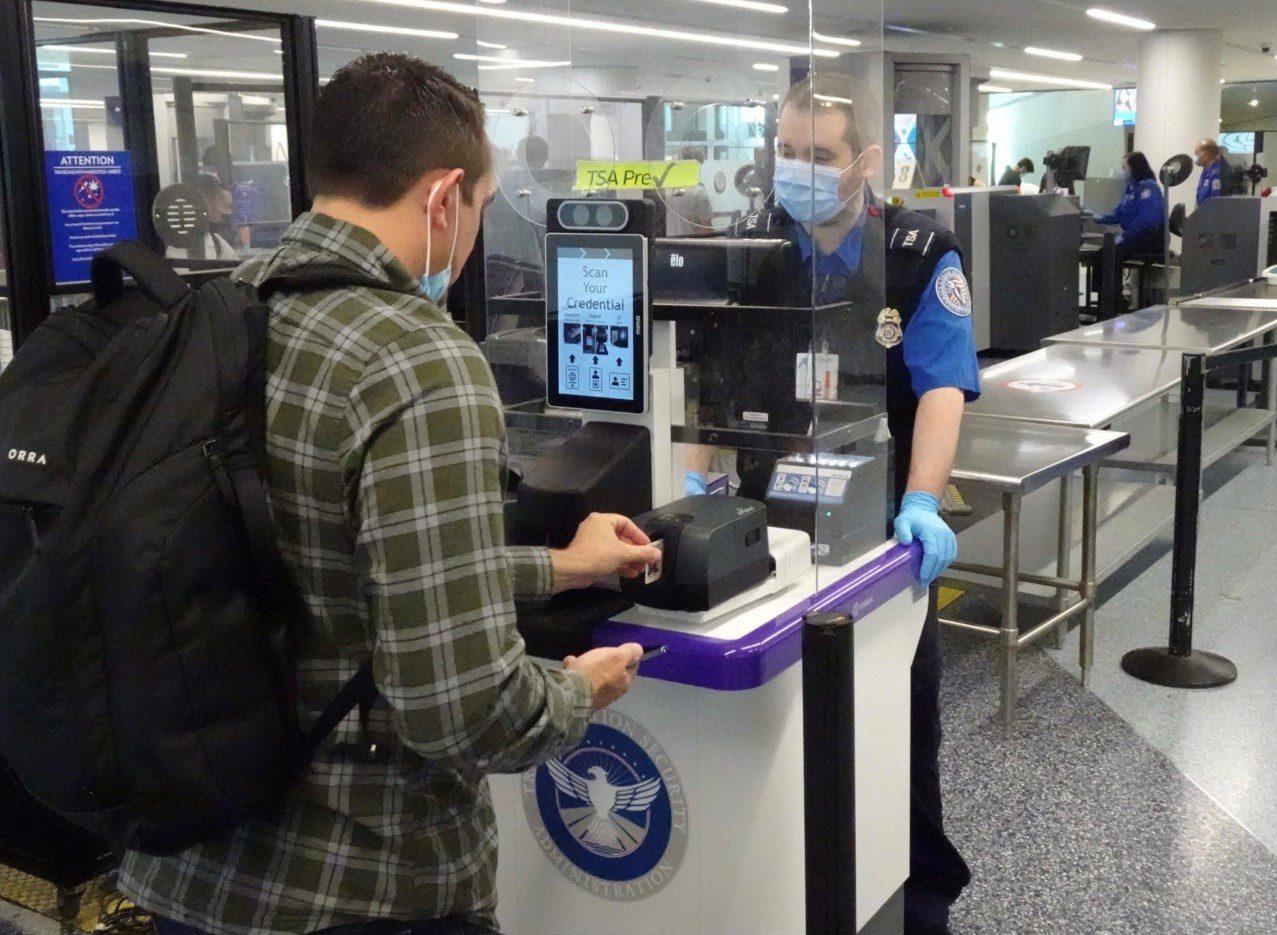 In previous news releases, TSA has argued that using facial recognition at airport security checkpoints ensures they can accurately confirm travelers' identity – and that their ID documents aren't fraudulent. A TSA officer will still be present and has to sign off before the traveler can proceed through the security checkpoint, but the process eliminates human error in checking IDs and helps speed up the security process, according to the agency.
It works like this: Travelers insert their driver's license, passport, or another form of ID into a machine, which then uses cameras to take a picture of the traveler's face and match it to the photo that appears on their ID. If their ID is validated, they then move on to the next step of the security screening process.
Biometrics like facial recognition or even iris scans are becoming more and more common at airports and with airlines as they try to ease and speed up the air travel experience. Biometrics are already being used for trusted traveler programs like TSA PreCheck, CLEAR, and at Global Entry kiosks as travelers return to the U.S. Delta has been rolling out a curb-to-gate biometric experience at some of its hubs, and other airlines like American and JetBlue have tested facial recognition boarding in the past.
The expansion of TSA facial recognition to additional airports may not come as a surprise, but not everybody is on board. Privacy advocates have sounded the alarm about the technology and data security while other experts have expressed concerns that facial recognition has a harder time identifying certain minority populations.
A group of U.S. Senators called on the TSA back to halt the use of facial recognition in airports in February, saying the technology is "a risk to civil liberties and privacy rights" and "likely to exacerbate racial discrimination."
The TSA has said facial recognition remains voluntary: Even at airports where it's being tested, travelers will have the option to opt out and go through the traditional security screening process as normal. And the agency says it doesn't store the information or images it collects through the program. The TSA has also tried to address concerns about the equipment's accuracy.
"Accuracy in biometric solutions is a priority for TSA, and one that is being carefully studied to ensure TSA is realizing the full benefits of this technology and making informed decisions to mitigate risks," a TSA spokesperson said in a statement.
This facial recognition technology the TSA is piloting at security checkpoints doesn't go quite as far as the biometric scans used in conjunction with trusted traveler programs like TSA PreCheck and Global Entry, which requires fingerprint scans in order to sign up. CLEAR, the privately-run trusted traveler program, takes it another step further and takes both your fingerprint and iris scans at its kiosks to confirm your identity before security screening.
Bottom Line
Facial recognition is rolling out to more and more airports across the country, with 25 U.S. airports now deploying the technology at select TSA checkpoint lanes.
It's the latest instance of biometrics being deployed at airports and by airlines. And while there's no concrete timeline, the TSA is clearly moving toward expanding this technology to airports nationwide.