The head of the Federal Aviation Administration told U.S. senators Wednesday that he's calling a safety summit to examine potential changes in U.S. aviation after a national airspace system outage led to an unprecedented nationwide grounding along with a string of near-crashes in recent weeks.
Wednesday's hearing of a U.S. Senate committee centered on the Jan. 11 outage of the Notice to Air Missions system, or NOTAM. That outage prompted the FAA to issue its first nationwide ground stop since the Sept. 11 terrorist attacks, resulting in thousands of flight cancellations and delays long after planes were allowed to resume flying.
Appearing before the U.S. Senate Commerce Committee, Acting FAA Administrator Billy Nolen told the U.S. Senate Commerce Committee that the outage was caused by a contractor unintentionally deleting files during a system update, with no sign of a cyber attack "or other malicious intent." He assured lawmakers that new procedures will ensure a repeat of last month's outage doesn't happen again.
"After the incident, we implemented a synchronization delay to ensure that bad data from a database cannot affect a backup database," Nolen said in his prepared remarks. "Additionally, we have implemented a new protocol that requires more than one individual to be present and engaged in oversight when work on the database occurs."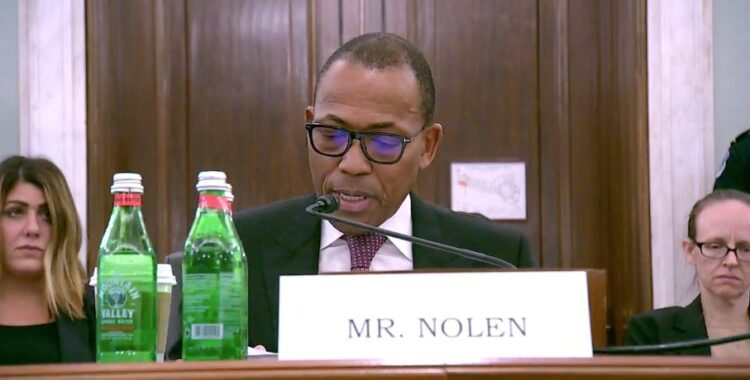 Lawmakers repeatedly emphasized the need for more "operational redundancy" in the NOTAM system to ensure there are no potential single points of failure that could cause another outage. Committee Chair Sen. Maria Cantwell, a Democrat from Washington, said she wants the FAA to ensure there is true redundancy between the NOTAM system and the backup databases.
Sen. Ted Cruz, the highest-ranking Republican on the committee, continued to press Nolen on improvements to the NOTAM system, asking if a "single screwup" could again ground air traffic nationwide.
"Could I sit here and tell you there will never be an issue with the NOTAM system? No, sir, I cannot. What I can say is we are making every effort to modernize and look at our procedures," Nolan replied.
FAA Administrator Addresses Close Calls at U.S. Airports
Nolen also faced questions from lawmakers on the recent close calls between airplanes in New York and Austin, Texas.
On Jan. 16, a Delta aircraft and an American Airlines-operated plane narrowly avoided a collision on the runway at New York's John F. Kennedy International Airport (JFK). A second, similar incident occurred at the Austin-Bergstrom International Airport (AUS) on Feb. 4 when an air traffic controller cleared arriving and departing flights to use the same runway, nearly causing a FedEx cargo plane to land on top of a departing Southwest Airlines flight. The FedEx plane came within 100 feet of the Southwest plane before quickly reversing course, and both planes were able to take off and land safely.
Texas Republican Sen. Ted Cruz said these near misses "almost killed hundreds of people."
Cruz played a simulation of the incident in Austin at the hearing. The video, which Cruz said was a recreation based on the flight data, shows the FedEx plane approaching the runway as a Southwest plane begins its takeoff, nearly landing on top of the departing plane before quickly reversing course and ascending.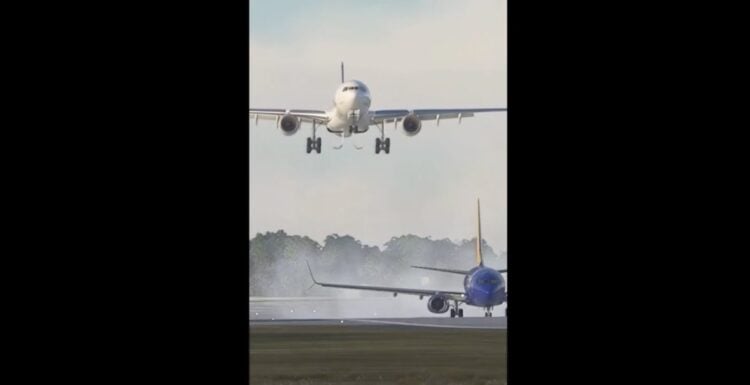 "If you were sitting on that Southwest flight and you knew how close a plane came to landing on top of you, killing every person on that plane, you would understandably be horrified," Cruz said. "It is only through the heroism of the pilots, being alert and seeing what was happening, that this tragedy was averted."
Nolen said the recreation video does not accurately portray the near-zero visibility conditions at the airport that day.
"It was not what we would have expected to have happened," he told the committee. "But when we think about how we train both our controllers and our pilots, the system works as it's designed to avert what you referred to as a 'horrific outcome'."
Lawmakers pressed Nolen to say what caused the incidents and share what the FAA is doing to prevent similar ones in the future. However, Nolen had few answers for them.
"We are letting the investigation play itself out," he said. "We'll go where the facts take us."
In a memo Tuesday, Nolen said he is forming a safety review team to "examine the U.S. aerospace system's structure, culture, processes, systems, and integration of safety efforts."
It also came out this week that in December, a United Airlines flight departing the Kahului Airport in Maui entered a steep dive, coming within 800 feet of the surface of the Pacific Ocean before regaining altitude. The incident was first reported by The Air Current after analyzing flight data from the Dec. 18 flight. The NTSB announced on Tuesday it is investigating the incident.
"We are experiencing the safest period in aviation history, but we do not take that for granted," Nolen said in the memo. "Recent events remind us that we cannot become complacent and that we must continually invest in our aviation system."
Both the NOTAM modernization issues and the recent safety incidents are likely to resurface during the FAA reauthorization process later this year.
Bottom Line
Acting FAA Administrator Billy Nolen appeared before the U.S. Senate Commerce Committee on Wednesday in an effort to reassure lawmakers that the NOTAM system outage that led to a nationwide ground stop in January would not happen again.
Nolen had few answers for the committee members' questions about the several close calls at airports in recent weeks, only saying his office is reviewing its safety efforts.