Rideshare service Lyft and Hilton Hotels announced a new partnership on Tuesday morning that allows you to earn Hilton Honors points on each ride.
After linking your Lyft and Hilton accounts, you will earn 3x Hilton Honors points for every $1 spent on Lyft ride, as first reported by The Points Guy. And the best part of this is that if you already have your Lyft and Delta accounts linked, you can earn points in both programs for the same ride. The same is true with their partnership with jetBlue.
Additionally, these Hilton points and Delta miles will be in addition to any points or miles earned on the credit card you use to pay for the ride.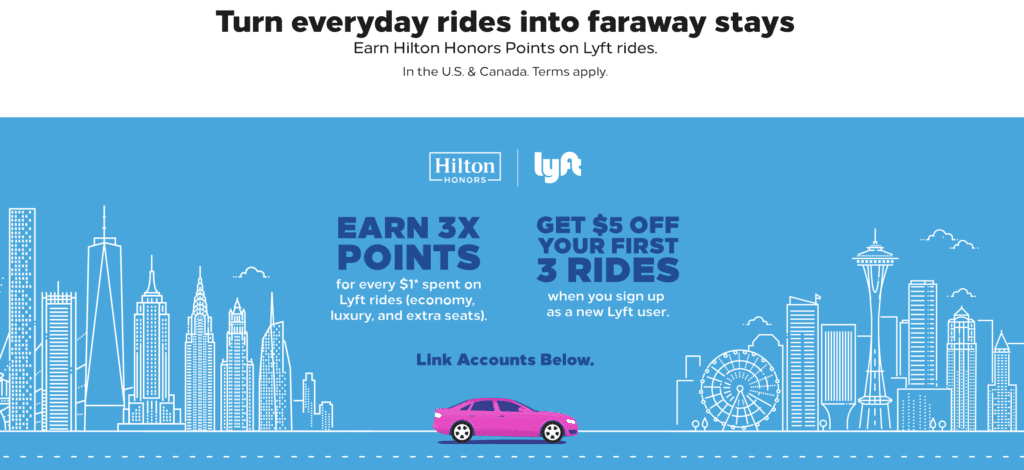 What You Need to Know
Link your Lyft and Hilton accounts by following this link.
You will earn 3x Hilton points per dollar spent on Lyft rides up to $10,000 of total Lyft spending each year.
2x points per dollar spent on shared Lyft rides with other members
You can stack this offer with the existing partnerships Lyft and both Delta and jetBlue and earn in all programs on the same ride.
Earning rates will be based on only the cost of the ride (excludes local taxes and surcharges)
Redeem Hilton Points for Lyft Rides in the Future
As a part of this new partnership, the two companies are aiming to add the ability to redeem Hilton points for Lyft rides at some point in 2019. There's no definitive timeline for the rollout of this functionality yet and it's unclear just how many Hilton points you will need to take a ride.
As more information becomes available on redeeming Hilton points for Lyft rides, we will be sure to keep readers updated.
Bottom Line
This is a great new partnership and I love that you can stack it with the existing Delta and Lyft partnership. Earning additional points and miles for a ride is a no-brainer. And now you can earn both hotel points and miles with Delta and JetBlue. Win, win, win.