Editor's Note: This story was originally published July 3, 2018 – long before coronavirus upended professional sports, travel, and everything in between. We're republishing it to give readers an inside look at how one of the NHL's best beat reporters looks at travel at a time when travel isn't possible. 
Need some advice on booking your next trip? Ask renowned Minnesota Wild reporter Michael Russo. An unrivaled sports reporter who has spent two decades following NHL teams across the country for 40-plus road games each year, Russo knows team general managers by name and top trade targets across the league.
He has also built up huge airline and hotel loyalty, mastered multitasking to book his work trips and leveraged that grueling travel schedule into lots of free off-season vacations.
Russo hit pause on his relentless tweeting and put down his phone for an hour recently to talk with Thrifty Traveler about travel planning for the upcoming NHL season, hotel and airline loyalty and his favorite destinations – whether they've got an NHL arena or not.
The Scheduling Rush
Russo was in Dallas for the NHL draft in June 2018 when the Minnesota Wild's full, 82-game regular season schedule was released. By the next morning, he had two months worth of hotels booked for Wild road games.
"This just shows you how certifiably insane I am," he joked.
He goes on a tear right away, booking all but the most expensive hotels for nights on the road traveling with the Wild. With flights, he tries to be a bit more methodical, booking when he knows he's likely to get a better deal – and not saddling his employer with a huge airfare bill upfront.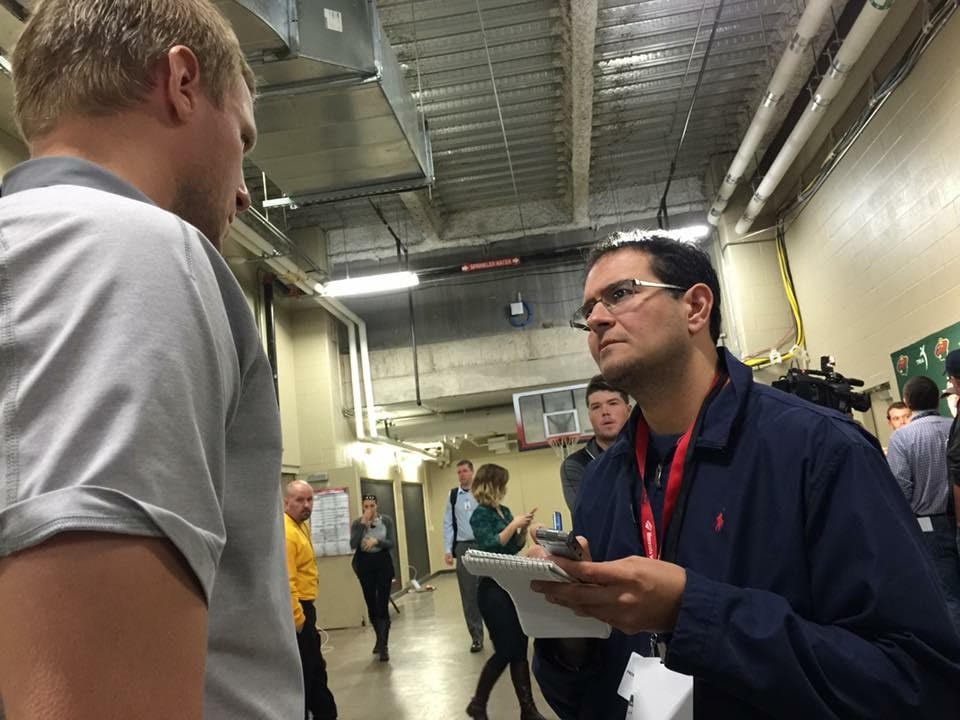 Russo has perfected the art of juggling the game schedule itself with his own, admittedly selfish travel goals. When each schedule drops, he scopes the Wild's travel for opportunities like this – ways to mix in some play during the grueling regular season work.
For a game against the Vegas Golden Knights, he might fly in a day or two beforehand to spend some more time in one of his favorite NHL cities.
"I don't even have the schedule in front of me and I know that from St. Louis in early November, I'm going right to California to go to Napa for two days," Russo said. "You start to think like this and you're like: 'Holy mackerel, I'm like the most unprofessional person ever.'"
Staying Loyal
After his first full season covering the NHL, Russo was Florida Panther red with jealousy as he watched his peers take off for trips to Europe and Hawaii. How could they afford that?
His mistake? He booked whatever flight was cheapest rather than sticking with one airline or hotel chain, where he could build status and pile up miles to use for personal travel. 
"Nobody told me the tricks of the trade," he said. "This is the biggest perk of the game."
But that's changed. He flies 100,000 or more miles with Delta annually, easily qualifying for Delta Platinum Medallion Status every single year. He pines for Delta's top-tier Diamond Medallion status, but that's just out of reach. 
"It's ridiculous but you ask any sportswriter and we wear our status as a badge of honor," he said.
Russo laughed as he remembered a December many years ago when he was based in Florida and was a few flights short of requalifying for Platinum. 
"On my day off, I flew from West Palm Beach to Tampa three times in a row to get my six segments to get me to Platinum next year," he said, "The crew was laughing."
Yes, even professional sportswriters go on mileage runs. 
While free upgrades to first class are sporadic even with Platinum status, he can reliably score a Comfort Plus seat. And that extra space makes all the difference when he needs to spend the flight typing away. 
"You'll never find me … watching a movie or reading a book. I'm writing. I'm transcribing," Russo said. Oh, and the occasional onboard selfie with a reader.
Russo pulls out his phone to show me his app for Marriott, his go-to hotel chain. Lifetime stays? 2,130 nights. A Marriott representative assured him recently that he'd never have to worry about his Lifetime Platinum status. 
"She said that my lifetime status at Marriott was enough for six lifetimes," he said. "And you get nothing for those extra lifetimes."
Russo stopped using Uber in favor of Lyft to earn even more Delta SkyMiles. The ridesharing app has a partnership with Delta that allows you to earn 1x points on rides, and 2x points on rides to/from airports.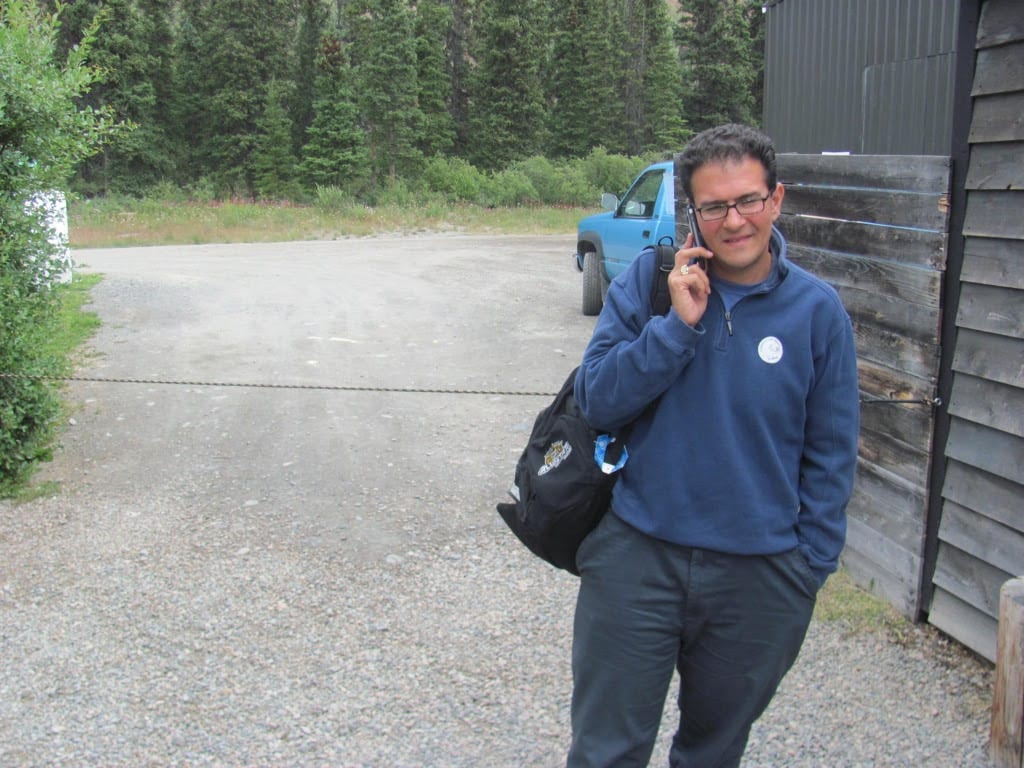 These days, Russo is the resident points pro among Wild beat reporters. When a new reporter comes to town, he helps to show them the ropes.
Russo can't help but rib one of them. When a former competitor booked a cheaper flight with a connection on the way to San Jose, Russo was already on the ground. He scooped the team's biggest trade that year, for former Wild winger Jason Pominville.
"His first road trip ever … he was flying to San Jose through Arizona. I'm like, 'What are you doing kid?' He's in the air while I'm breaking the Pominville deal," Russo said.
The Big Switch
Russo spent 12 years covering the Minnesota Wild for the Minneapolis Star Tribune, gaining a huge following and earning a reputation as one of the best reporters in North America covering the NHL.
And then he made a huge change in 2017. He joined the Athletic, then a scrappy but fast-growing sportswriting startup with outposts in 20 cities and counting. Amid the existential questions of such a consequential career move, he couldn't help but think of his points and miles. 
"It was one of my first questions at the Athletic: Am I going to travel? Do I get to keep my own points?" he asked.
The good news is his points are safe. And it's gotten even better, as he simply uses his personal credit cards to pay for his work travel and gets reimbursed, allowing him to double-dip on both the purchases and the miles flown.

It's no small matter to Russo. Points and miles are how he went to Cancun during the Wild's bye week in 2017 for free (not counting some pesos for tips). He also makes an annual trip to Colorado to see Trampled by Turtles at Red Rocks Amphitheater, staying for free with points. He's been to Italy and trekked around Europe 20-plus times.
With nearly 150,000 followers on Twitter (including a handful of pretty weird fan parody accounts), Russo has a devoted following. And it follows him on his travels. 
"I must have tweeted from like Calgary or Edmonton that I was flying home. All of the sudden, the pilot gets on and says 'Welcome back, Michael Russo, from Air Traffic Control."
The career change has also led to a mindset change for Russo and his travels, especially given The Athletic's subscriber-based business model. 
"Any time that hotel bill comes under the door in the morning and I pick it up and a hotel costs me. Now all of the sudden I think of it as subscriptions. I'm like 'well there's 12 subs that have gone.'"
Top Cities and a Growing Bucket List
Just like the Wild, Russo visits each of the NHL's 31 cities at least once a year. And like every sports reporter he has his favorites. Vancouver, Chicago and Las Vegas are all top-notch. San Jose is great for the winter months, but the craziness of Los Angeles makes it miss the cut.
"Every city I go to has its pros and cons," he said. "Sometimes it's 'How cool is the press box? Is the hotel walking distance to the arena?'"
His travel goals go far beyond the home bases for NHL teams. Russo again whips out his phone and pulls up a note he wrote himself: his travel bucket list: Iceland, Australia, and Sicily in Italy. He's never gotten to Aspen, Tahoe or Cape Cod. "No Marriotts in Iceland or I'd be there tomorrow," he said.
Just a heads up, Russo: Now that Starwood Preferred Guest and Marriott have merged, you can book a trio of hotels in Iceland with your stash of Marriott points.
You can find Michael Russo at @RussoHockey on Twitter and follow his work at The Athletic.
All photos courtesy of Michael Russo