Last week, the mobile app Hopper released a new feature in which they have branded secret fares. If you are not familiar with Hopper, it is a service that uses historical data to predict and analyze flight prices.
Hopper provides information on typical flight prices over time, predicts increases and decreases in flight cost, recommends the best time to purchase, and notifies users when prices for their flights are at their predicted lowest points via push notification on your smartphone.
Hopper Secret Fare Feature
According to a Hopper press release on May 2nd, Hopper has been beta-testing and just recently launched Secret Fares. Currently, Hopper fares are based on current airline prices. You can book the lowest price through Hopper, just like you would through Priceline or any other flight booking site or app. The prices Hopper offers are the publicly listed prices: what Hopper refers to in the press release as "public discounting".
However, this new feature, Secret Fares, would now send a private "Secret Fare" offer to users who search a route they are interested in. Hopper states: "By offering Secret Fares on Hopper, airlines are able to reach a valuable audience via a private communication channel and secure bookings months ahead of departure." Hopper says Secret Fares will be private offers that can be hundreds of dollars cheaper than the public listed price for a flight.
Hopper says it is releasing Secret Fares on 60,000 routes. This feature currently only applies to international destinations. Hopper lists some of the international destinations included in the feature: Tokyo, Melbourne, Paris, Barcelona, Rio De Janeiro, and Costa Rica.
The process of purchasing a Secret Fare ticket would be the same as purchasing a regular-priced ticket on Hopper: users will know the airline, departure and arrival times, etc. before booking.
My Experience With Secret Fares
It is currently unclear how Hopper users are targeted for Secret Fare offers, which domestic departure cities are able to receive Secret Fare offers, which destinations are most likely to have Secret Fares, and how long it takes to receive a Secret Fare offer via push notification.
Hopper's press release gave examples of flights users purchased via the Secret Fare feature during beta testing; see below for examples of departure and destination cities that successfully used Secret Fare, and how much users saved in the beta testing phase.
To test out this Secret Fare feature, I took to Hopper and searched for international flight deals. First, I searched for flights from the table above: Chicago to Tokyo. When I searched this route and selected a travel period, the page below pops up. Hopper told me the current lowest price ($1,173), told me I should wait for a better price (predicted price drop of $217) over the next few months, and then told me I could save $158 on this flight with Secret Fare.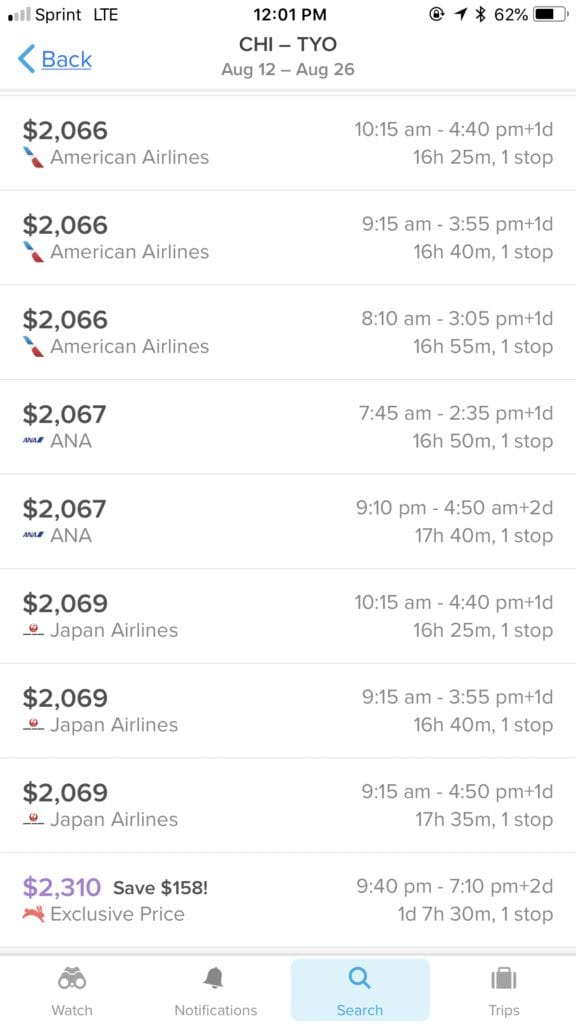 So, I clicked on the little undercover bunny to see what the Secret Fare offer for Chicago to Tokyo, currently $1,173 for my selected dates, would be. I was underwhelmed to find that the "Exclusive Price" offered by the Secret Fare feature for this flight was over $1,000 more than the current lowest price, and travel time was actually multiple hours longer than the cheapest airfare right now. This didn't seem very exclusive at all, especially if Hopper itself is recommending users wait and buy for hundreds cheaper than the publicly listed price.
I checked the other airfare examples Hopper gave in their press release and can confirm that for some of the other routes, Secret Fare did offer some modest savings. Here is an example of the search I did for Miami to Madrid. Currently, the lowest price through the Price Predictor feature on Hopper is $543. Waiting to buy will only save users $31, the app reports. However, the Secret Fare feature offers a flight $80 less, and it checked out!
When I searched origin and destination cities that were not included in the table from Hopper's press release, I had no luck. As previously mentioned, it is currently unclear which departure and destination cities are able to receive Secret Fare offers from Hopper. Here is a list of a few flights I tried with no luck receiving a Hopper Secret Fare offer:
Minneapolis – Sydney, Australia
San Francisco – Bangkok, Thailand
Minneapolis – Tokyo, Japan
Washington DC – Rio de Janeiro, Brazil
Los Angeles – Rome, Italy
New York – Beijing, China
Dallas – Paris, France
I first tried testing out different cities that were not the few major departure airports listed in the press release. In beta testing, the departure airports of Dallas, Chicago, Los Angeles, Miami and New York were successful in booking with Secret Fares. I tested Minneapolis, San Francisco, and Washington DC for Secret Fares, and for multiple international destinations, no Secret Fares were offered.
Next, I tried using the departure cities listed as successful in beta testing and changing the destination. These were also unsuccessful. Los Angeles, New York, and Dallas did not trigger Secret Fare offers to other international cities. Even though Paris, Beijing, Paris, and Rio de Janeiro are listed as successful purchases in the press release, it seems there are select pairings of departure and destination airports that will trigger an offer. View from the Wing states that Hopper has disclosed that they are working with at least the following airlines to offer Secret Fares:
Air Canada
Air China
Copa
LATAM
Turkish
WestJet
Therefore, it seems that as of now, we can only confirm that Secret Fare offers are available for the specific routes from the table above that were successfully booked during beta testing. It is unclear what other routes will be targeted with Secret Fare offers. Because it is currently unpredictable and unclear which routes will get these offers, don't get your hopes up for a crazy deal. Instead, I would recommend doubling up: set a Price Watch on Hopper and keep an eye out for Secret Fares while also watching for a flash sale through Thrifty Traveler Premium to make sure you don't miss the best price possible.
Bottom Line
While the savings can be up to a few hundred dollars for international airfare by booking during a certain time on Hopper or finding an elusive Secret Fare, it appears that as of now, Hopper secret fare is only confirmed on a few routes.
Hopper is a great app to use for discovering the best time to purchase a flight and checking out predictions of when flight prices will be cheapest. However, Hopper does not offer the crazy half-off savings that a mistake fare, flash sale, or fare war can provide.
Services such as Thrifty Traveler Premium notify users of flash sales and mistake fares that are unpredictable, and often hundreds of dollars lower than airfare prices Hopper predicts. Mistake fares and flash sales do not follow a calendar pattern, so there's a bit more thrill in the hunt there, with greater savings reward.