AutoSlash is a criminally underrated site and our go-to resource for scoring the cheapest rental car possible. Now, the company is diving headlong into the world of hotels with a potentially game-changing tool to save on your hotel stays.
Surprise, surprise … it's called HotelSlash. Officially opened to the public on Wednesday after years of work and months of user testing, HotelSlash mimics the same formula that has made its automotive sister site a smash hit. It tracks your hotel reservations, alerting you when prices have dropped so you can rebook and save. But the site also offers something brand new that its predecessor doesn't: Discounted rates at 1 million properties across the globe when you book directly with HotelSlash.
At a time when many Americans are staring down eye-popping nightly rates at home and abroad, the timing couldn't be much better. HotelSlash's founder and CEO, Jonathan Weinberg, is confident that the platform's one-two punch of discounted rates on the front end, then alerts to potentially rebook and save even more, will be a winning formula.
"Now that $200 a night hotel is $379 … it is a great time for us to be launching," Weinberg, who also founded and runs AutoSlash, said in an interview. "We've been down this road with cars. We understand how things work."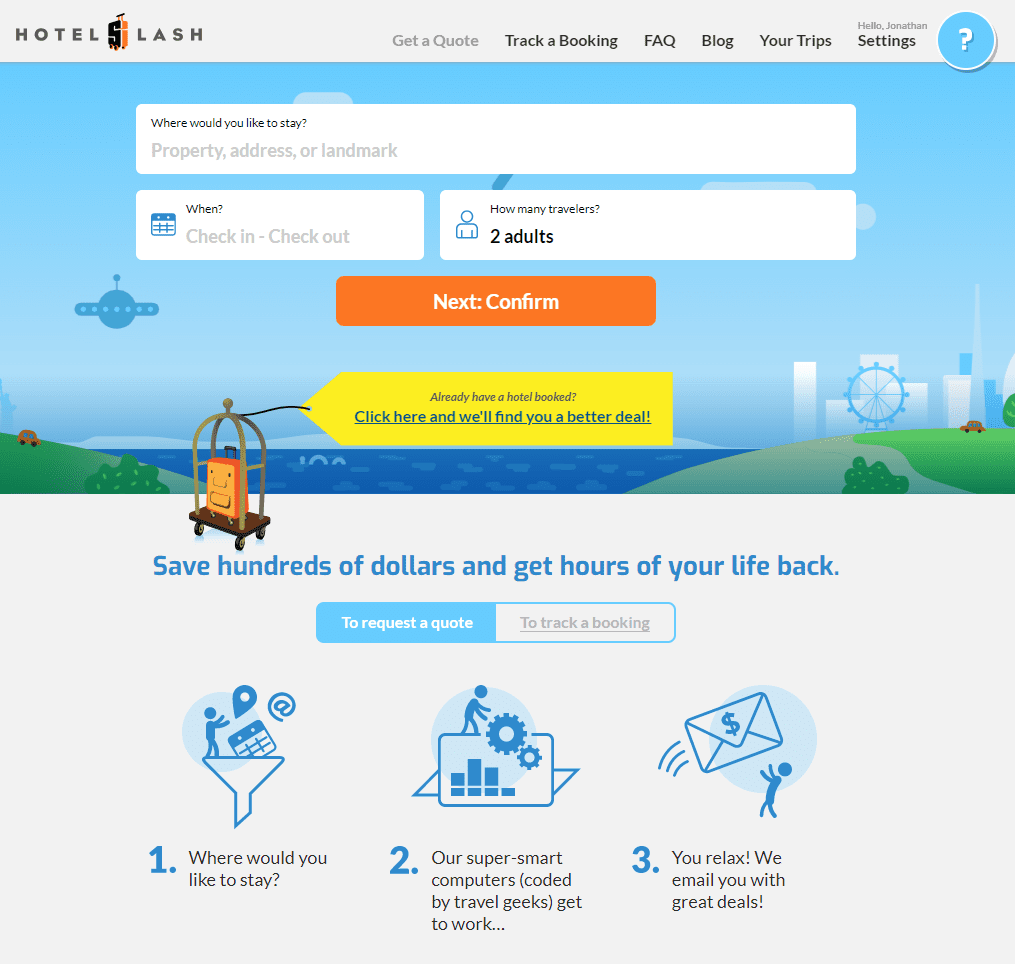 Unlike AutoSlash, HotelSlash won't be free: You'll need to join at $29.95 a year. But the site is luring in travelers with a 90-day free trial to give the platform a spin – plus a 100% money-back guarantee if you're unhappy with the service after paying.
How HotelSlash Works
HotelSlash looks and feels nearly identical to AutoSlash. In many ways, it is.
The signature price tracking feature that has won AutoSlash accolades is front and center here for hotels, too. No matter how you booked your hotel stay, you can forward your reservation details and HotelSlash will automatically monitor if prices drop, sending you an email if they do. So long as you booked a refundable hotel stay, you can rebook yourself at the lower price in just a few clicks.
From rental car rates to flight prices to, yes, hotel rates too, Weinberg said most travelers would be shocked at just how much prices fluctuate after booking travel. In his mind, not tracking prices is akin to leaving money on the table – and HotelSlash can now do it for your paid hotel stays. The company said early users testing the platform have saved 30% on hotel prices, on average.
"We're repricing your hotel stay every single day," Weinberg said." If you booked a refundable rate, you can easily cancel and rebook and capture those savings."
HotelSlash doesn't just alert users to cheaper stays but also flags when travelers can book better rooms (like a king suite for the same price as a queen studio) or even get free breakfast included in their rate.
But HotelSlash also took a markedly different approach than its rental car predecessor.
Cheaper Rates Upfront, Too
With HotelSlash, the company isn't just scouring the internet for the lowest prices available via coupon codes, rental car companies, and the bottomless network of online travel agencies. They're actually selling rooms themselves, too – and at a steep discount compared to the rates you can find elsewhere, Weinberg said.
HotelSlash partnered with travel companies, hotel room wholesalers, bulk discounters, and so-called "bed banks" to offer members exclusive access to discounted room rates cheaper than you may find from the big box chains or other go-to travel sites. That's what you'll likely see when you search for a hotel, like this search for a two-night stay in Sydney, Australia next year.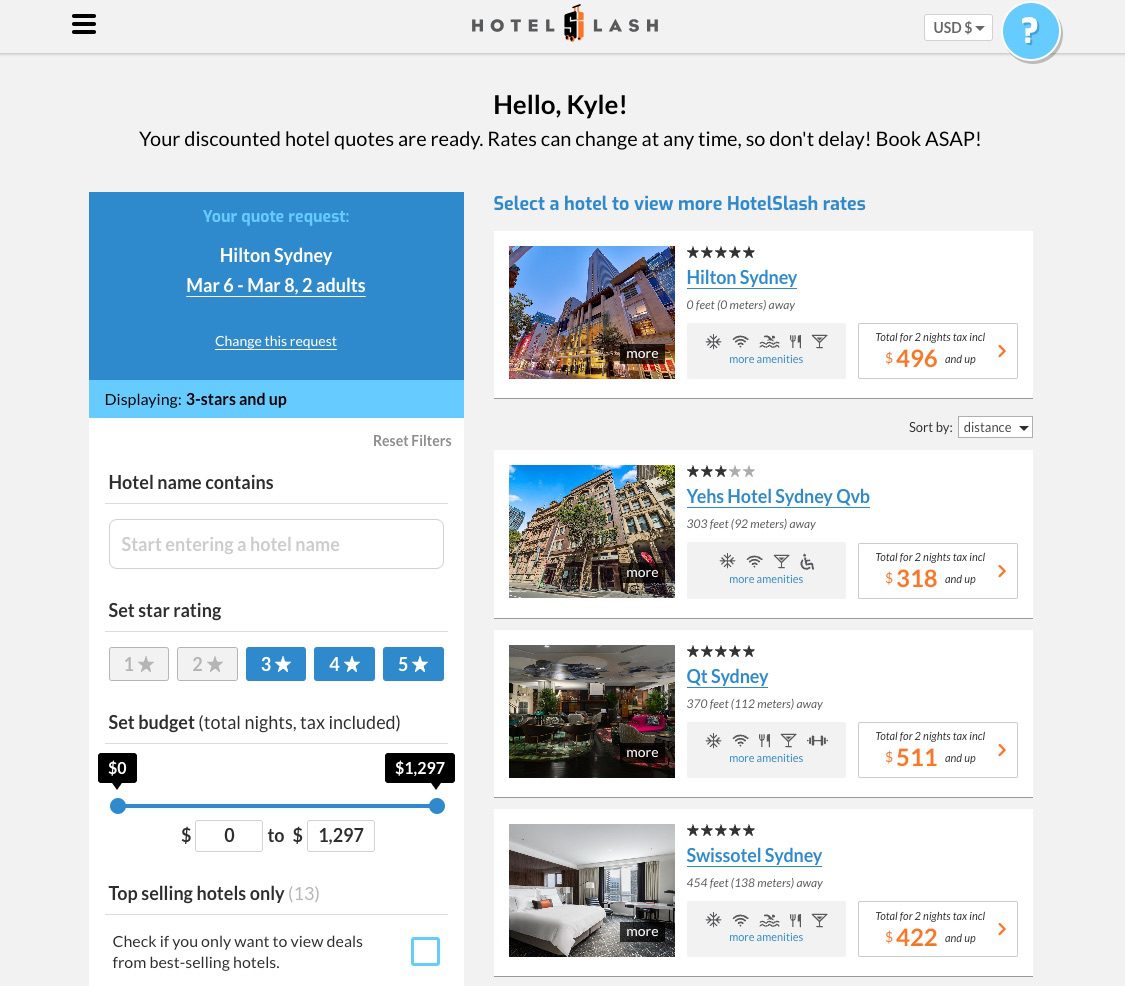 Rates include all taxes and fees aside from the pesky resort fees you'll pay in destinations like Las Vegas, New York City, or Hawaii – though HotelSlash displays those, too, during the checkout process. The default options in these results are typically fully refundable bookings – and HotelSlash immediately starts tracking prices on whatever you've booked.
Worried about earning hotel points or getting elite status perks with chains like Hilton or Hyatt? Weinberg doesn't blame you. There's a field to enter your loyalty program information but, much like most third-party booking platforms, there's no guarantee your hotel will honor or recognize that.
While Weinberg said most HotelSlash customers won't be business travel road warriors who prize hotel status, he added: "I'll be the first to admit … you may be better off booking with your status and booking direct."
But in many cases, Weinberg is confident the savings when booking through HotelSlash could outweigh those perks for many travelers. Case in point: My search for a two-night stay at the Hilton Sydney next year with HotelSlash was more than $110 cheaper than booking the same room direct with Hilton.
At the very least, it's worth doing the mental math. And you can always book directly with the hotel, then forward your information to HotelSlash to begin monitoring for price drops.
Why Charge a Fee?
The biggest difference between HotelSlash and its predecessor is in the price tag.
While AutoSlash has been free and open for all since its launch more than a decade ago, HotelSlash will charge a $29.95 annual membership fee in order to book hotels directly through its platform as well as track prices. A 90-day free trial will give travelers a chance to take it for a test run before buying – and there's no need to enter credit card information in order to get started.
You can sign up now and start searching or tracking hotel prices for free.
While the company will no doubt enjoy more revenue rolling in through subscription fees, Weinberg said the decision to charge for HotelSlash was less about making money than about creating a barrier to entry. If they copied the free-for-all approach of AutoSlash, HotelSlash wouldn't have been able to get those deeply discounted room rates it can now offer on the front end, he said.
But don't assume that means AutoSlash will start charging, too.
"We have no plans to implement a membership fee for Autoslash at this time. Personally, I don't think that we ever will," Weinberg said. 
Bottom Line
There are Google Flights price alerts to track changes in airfare, Autoslash has been tracking rental car rates for years, and now HotelSlash is here.
Honestly, it's almost a wonder it took this long for a smart company to find a way to make this work. But HotelSlash could seriously shake up how you book hotels – and save you money each time you do, too.