One of the beauties of traveling to Europe is how easy it is. You can cross the Atlantic Ocean in six hours or less from the East Coast. And while many countries across the globe require visas for entry, it's as simple as showing your passport to get through immigration and start exploring much of Europe.
But that's changing. Starting in January 2021, U.S. citizens will be required to apply for an ETIAS (European Travel Information and Authorization System) visa. The European Union has been debating adding this step for U.S. travelers for years as a way to boost security measures, One Mile at a Time reports. 
There's no word yet on how much these visas will cost. But the online application process should be fairly painless. The EU government says the application "will not require more than 10 minutes."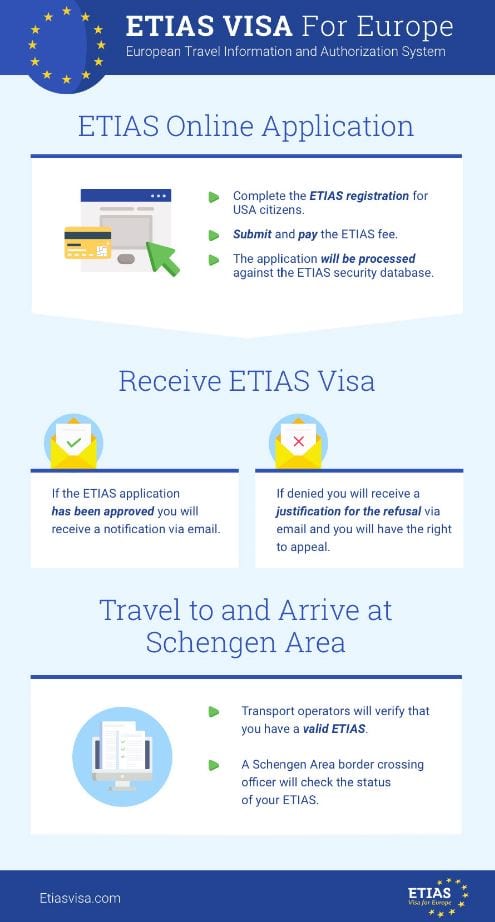 Visas will be good for three years and for multiple entries. So if you plan multiple European trips over a three-year period, your first visa should hold up.
And once you land within the European Union, it should be easy to dash around much of Europe thanks to the Schengen Area. This is the agreement between 26 different European countries that allows international travelers to move around visa-free.
One notable exception where these new visas will almost certainly not be necessary? The United Kingdom. Given its impending – but troubled – exit from the European Union, its own visa rules will likely still apply. And the U.K. does not currently require U.S. citizens to get a visa.
Bottom Line
This is a bummer that adds another layer – and cost – to visit Europe. Still, it could be far worse. We're anxious to see how much these new ETIAS visas will cost in the coming months.
Subscribe to our Newsletter, like us on Facebook, and follow us on Twitter & Instagram

Editorial Note: Any opinions, analyses, reviews, or recommendations expressed in this article are those of the author's alone, and have not been reviewed, approved, or otherwise endorsed by any card issuer.