Chase set the travel rewards credit card world on fire when it released the Chase Sapphire Reserve® in 2016 with a 100,000-point welcome bonus. And miles fiends have been crossing their fingers for the return of that huge bonus ever since it disappeared.
But that's always been a long shot. And a top Chase executive recently confirmed to The Points Guy on his new podcast, Talking Points, that those days are over.
"Probably not," JPMorgan Chase chief marketing officer Kirstin Lemkau said. "That was a launch thing."
While it's not a surprise, this will certainly be disappointing news to many travelers. Getting 100,000 Chase Ultimate Rewards points in one fell swoop is alluring, as Ultimate Rewards points are the most versatile and valuable in the world of miles and points. That's a big part of the reason why we've named the Chase Sapphire Reserve our #1 travel rewards credit card.
Points from a Chase Sapphire Reserve are worth 1.5 cents apiece when booking through the Chase travel portal. That means the 60,000-point sign-up bonus you earn after spending $4,000 in the first 3 months is worth $900 in travel.
However, you can also send your points to more than a dozen different Chase transfer partners, a great way for more advanced users to get far more than $750 of value out of their points.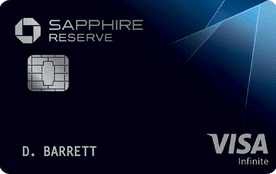 Click Here to get more information on the Chase Sapphire Reserve
Our Analysis
Chase launched the Sapphire Reserve card in 2016 with little fanfare or advertising. Chase relied on the 100,000-point sign-up bonus and rich set of travel perks to do that work for them. And that's just what happened.
Fast forward two years, and it's not a big surprise to hear a top Chase executive say that that big bonus won't return to their top-tier card. The company's plan to make a splash and putting the Chase Sapphire Reserve on the map succeeded.
So now, there's not much reason for Chase to offer such a lucrative welcome bonus. American Express ups the ante a bit with a standard 80,000-point offering on The Platinum Card from American Express. And some new Amex users may qualify for a 150,000-point bonus through the CardMatch tool, but that's about it.
It appears that roughly 60,000 points is the standard now in the premium travel rewards card realm. Don't count on that changing anytime soon.
Bottom Line
If you've been holding out for the return of a 100,000-point sign-up bonus on the Chase Sapphire Reserve, it's time to give up the ghost.